This post may contain affiliate links.
This Simple Slow Cooker Shredded BBQ Chicken is a perfect weeknight dinner especially when eating needs to be in "shifts' thanks to practice, dance lessons and more. Bonus: leftovers are the best!
This post contains affiliate links, meaning, at no additional cost to you, if you click through an affiliate link and make a purchase, I may make a commission.
---
Simple Dinners are what the slow cooker is all about
What do we all want out of weeknight dinners? Simple, no nonsense and delicious. Sounds about right? While I know that Instant Pots are all the rage right now, I will never let my crock pot go--ever. I love that I can put the ingredients in and walk away for the day without thinking. Dinner is ready when I get home and the slow cook taste is like no other.
Let me tell you what my husband is not a fan of: Slow Cooker Shredded BBQ Chicken, ya know, exactly what this recipe is. But he just so happens to like this one right here friends. The reason he dislikes it is because one, it's what every family picnic seemed to have when we were first dating. Graduation parties, summer baptisms, and other summer gatherings.
So it was overdone for him to say the least. But that's the point of this recipe is that it is so perfect for open houses and any situation where everyone is not necessarily eating at the same time.
The other reason? (Sorry family) He thought it was always thin and bland. The problem is, I looooove this stuff. I love shredded BBQ that has been slow cooked in a BBQ sauce. I admit though I like mine a bit thicker but that is what I set out to do in this recipe so that Anthony would be okay with it. And I have to say I was pretty successful.
This slow cooker shredded bbq chicken is dinner at its easiest!
A lot of similar recipes will have you dump your favorite BBQ sauce over chicken and then walk away. At least that is what we always did. I decided to add more. I went for some other spices as well of plenty of garlic.
As for the thickness? I found that adding a little corn starch in the end did the trick. It absorbed any runny or watery liquid and made this shredded chicken nice and thick. This helps so that you don't have a super soggy bun as you eat it as well, right?
I love that this recipe is more of a small batch so if you are just feeding one or two you don't have a ton extra--even though leftovers are ah-maazing. You can easily double, triple and more in case you have lots mouths to feed or want to have it over several nights as well. Either way, you are gonna have some very happy bellies!
What to serve with this Slow Cooker Shredded BBQ Chicken: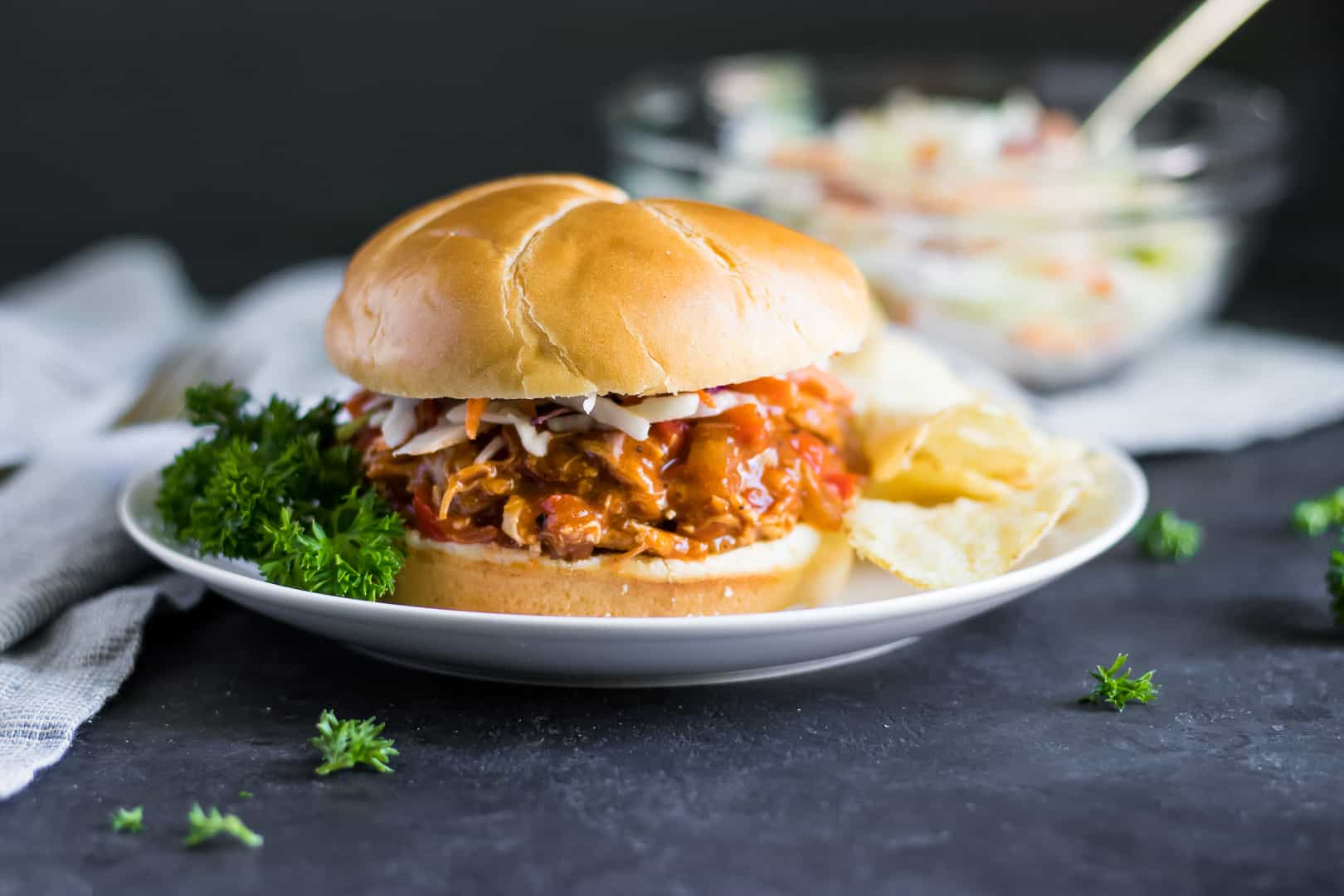 Love this Slow Cooker Shredded BBQ Chicken? Check out some of my other FAVORITE simple dinner recipes!!
DID YOU MAKE ONE OF MY RECIPES? LEAVE A COMMENT AND LET ME KNOW! I ALSO LOVE TO SEE YOUR LEMONS + ZEST RECIPES ON SOCIAL MEDIA–TAG ME @LEMONSANDZEST ON INSTAGRAM OR FACEBOOK!
Instructions
Place chicken at the bottom of slow cooker. Cover in garlic and season with salt and pepper.


Add onion and peppers on top and around chicken.


Add BBQ sauce, chili powder, onion powder and paprika and spread sauce to cover chicken.


Close and heat on low for 6-8 hours or high for 4-6 hours depending on your crock pot.


When chicken is cooked through, using two forks, shred chicken and stir well to allow it to absorb the sauce.


Stir in corn starch to thicken about 20-30 minutes before serving.