Berry season has been waiting for this Strawberry Goat Cheese Salad. Crunchy Pretzel Crusted Chicken adds so much to this salad that makes it a full and fresh healthy meal. Quick and simple dinner for the win all summer long!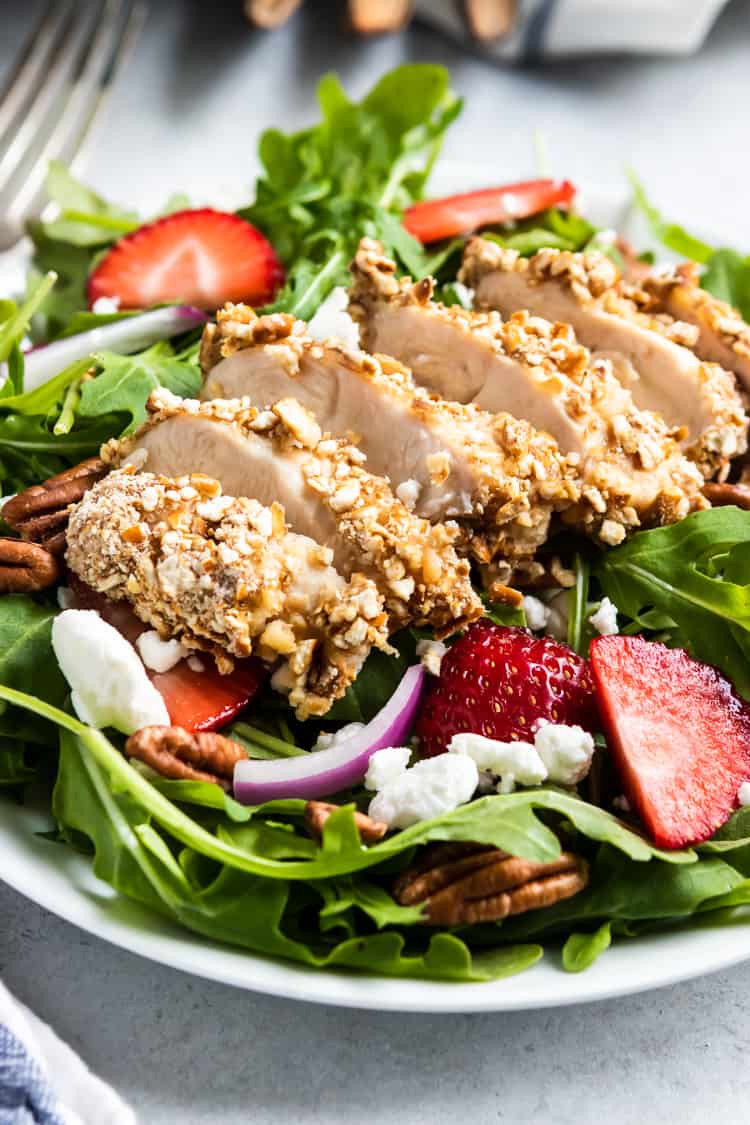 Almost every salad I make around the house has pretzels on it. I am not a big store bought crouton girl so if the croutons aren't homemade, I skip them. And in their place, I crush up pretzels. Haven't tried it? Please do. And soon.
What I haven't done--until now, that is--is crushed up the pretzels and coated my chicken in it to then add to my salad. So from here on out, I am certain I now won't want a salad unless it contains pretzel crusted chicken. All things pretzel!
This Strawberry Goat Cheese Arugula Salad was made for Pretzel Crusted Chicken!
I would love to say that my husband, my main taste tester in the lemons + zest kitchen adored and raved over everything I made for the blog. I mean, I wouldn't want him to be dishonest about how he feels about the recipes, but he is certainly my biggest critic. It's not often that I get a, "Wow, this is really good," the first go at recipes.
More often than not, he knows that it drives me mad when he says, "Not bad," to a recipe so that's typically what I get out of him. I grit my teeth and take a deep breath and walk out of the room. He gets me every time with that one. Unless of course its a real winner.
I got a wow on this recipe. The first go. That is a huge win--for all of us.
As for this Strawberry Goat Cheese Arugula Salad? Its just such simple perfection. Strawberries, goat cheese, arugula, oh my! What a wonderful combination already. Toss in some pecans (toasted if you'd like), and this juicy, crunchy chicken and you have yourself a summer meal that you will want to sit outside in the warm breeze and enjoy. Again, and again and again!
Leftovers of this Strawberry Goat Cheese Arugula Salad, if there are any, will be happily eaten days later! I certainly look forward to it when I make it!
Notes:
What kind of pretzels should I use? Pretzel sticks or twists will work great. Your favorite brand, as long as they are crunchy should work great. Gluten free pretzels will work great. I am a fan of Snyder's gluten free pretzels--just make sure you also use a gluten free all purpose flour as well.
So you are not a fan of arugula... Not to worry, my friend, you can still enjoy this salad as well. Pick your favorite green and go for it. Spinach? Spring Mix? Romaine? All will be great. Never force yourself to eat a green or lettuce you hate. Life is too short. I absolutely LOVE arugula, but if you gave me this salad with kale, I would probably not be quite as excited to eat it. And that is ok!
I kept this one pretty slim on the onions. The hubby is not a fan so it's not worth adding a lot. I would maybe even chop them and then put them on the side for others to serve themselves the onions--that is a great way to play it safe.
Feeling a touch lazy? Use store bought dressing. There's no shame in that! I love a homemade balsamic but sometimes I feel like I am only re-inventing the wheel when I have a bottle in the fridge already!
Looking for other fresh salads? Check these out:
DID YOU MAKE ONE OF MY RECIPES? LEAVE A COMMENT AND LET ME KNOW! I ALSO LOVE TO SEE YOUR LEMONS + ZEST RECIPES ON SOCIAL MEDIA–TAG ME @LEMONSANDZEST ON INSTAGRAM OR FACEBOOK!
Strawberry Goat Cheese Arugula Salad with Pretzel Crusted Chicken
Berry season has been waiting for this Strawberry Goat Cheese Salad. Crunchy Pretzel Crusted Chicken adds so much to this salad that makes it a full and fresh healthy meal. Quick and simple dinner for the win all summer long!
Print
Pin
Rate
Ingredients
For Pretzel Crusted Chicken:
1 ½

lb

chicken tenders, uncooked

½

c

flour

(gluten free if needed)

1

teaspoon

garlic powder

½

teaspoon

mustard

½

teaspoon

pepper

½

teaspoon

salt

2

eggs

1 ½

c

crushed pretzels
Salad Ingredients:
5

oz

baby arugula

¼

red onion, sliced

¾

c

goat cheese, crumbled

1

c

pecans

1

lb

strawberries, sliced
Instructions
Preheat oven to 400°F. In a small bowl, combine flour, garlic, mustard, salt and pepper and whisk to combine. Whisk eggs in a separate bowl well. Add crushed pretzels into a third bowl.

Lay the three bowls in a line in this order: flour mixture, eggs, and then pretzels. Dip chicken tender into flour to coat. Remove and then dunk into egg wash and coat fully. Allow any excess to drip off. Dip chicken finally into pretzels and coat well.

Place on parchment lined baking sheet and repeat with all other tenders. Bake for 17-19 minutes or until chicken reaches an internal temperature of 165°F. Remove from oven and set aside.

While chicken is cooking, combine all salad ingredients in a large salad bowl. Whisk together dressing ingredients (or pull out your favorite from the fridge because sometimes that is just life). Slice chicken after sitting for several minutes, and add to salad. Add desired amount of dressing, toss it all together and enjoy!
Notes
Nutrition information is slightly skewed. You will more than likely not use all of the pretzels, flour and egg in the recipe but it is good to have a bit extra than not enough. I never use all of the dressing either. 
Nutrition
Calories:
665
kcal
|
Carbohydrates:
33
g
|
Protein:
41
g
|
Fat:
41
g
|
Saturated Fat:
10
g
|
Cholesterol:
135
mg
|
Sodium:
656
mg
|
Potassium:
852
mg
|
Fiber:
4
g
|
Sugar:
12
g
|
Vitamin A:
1124
IU
|
Vitamin C:
59
mg
|
Calcium:
133
mg
|
Iron:
4
mg