This Crunchy Strawberry Poppy Seed Chicken Salad is a great way to celebrate berry season and beyond! Crisp celery, pecans and poppy seeds give this simple chicken salad a fun twist on the traditional chicken salad recipe.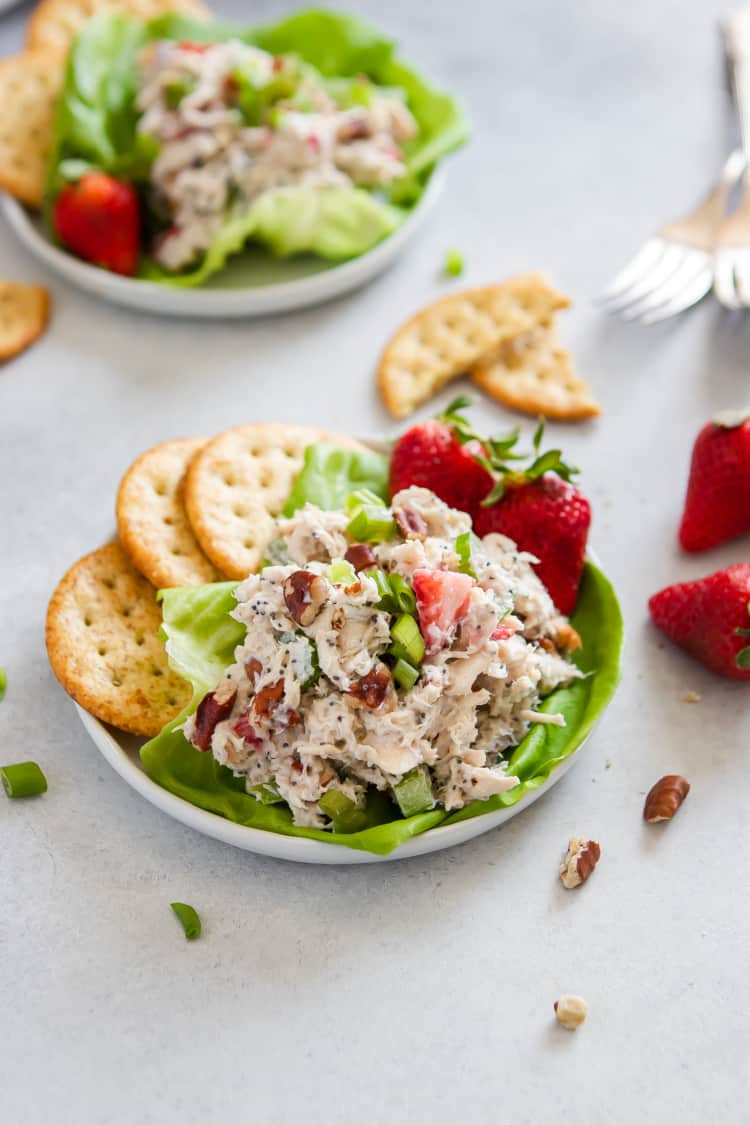 I like Chicken Salad–the kind with mayo
Ok, I have a confession to make.
Actually, I may have already confessed it here, but just in case I didn't, I will let you know today. There was a time that I used to act like I didn't like mayo because it was on my "bad food" list– ya know, the made up list of no-no's and off limits food becasue in my mind they were deemed evil. I mean, to say that I didn't like a food just so I wouldn't have to eat it?? Come on, Lorie!
But it's true, and I did it on more than several occasions. It was one of the "tricks up my sleeve" to make it easier to turn down foods I thought were not "clean" or "healthy." So sad, but sadly that was reality. That was the warped thinking that I had over the years of restriction and my own form of dieting.
So you can imagine then where this is going.
The key to this Strawberry Poppy Seed Chicken Salad
Yep. I like mayo. I like it. It's not my favorite food and I am not going to drink it straight from the bottle, but if I want something with mayo, gosh darn it, I am gonna eat it! And enjoy it a bunch. End of story.
Where I am now, I can easily sit back and realize how stupid all of that sounds, but in the thick of it, not so easy. And sadly, this sort of thinking is not uncommon. And the food and diet industry play on the good food/bad food concept in a major way. Think of how many times you have seen the term "guilt free" or something along those lines on a food product at the grocery.
I mean just take a walk down the ice cream aisle these days. EVERY ice cream company just about has jumped on the bandwagon of these low calorie ice cream imposters that aren't nearly as satisfying as a big bowl of the real stuff, but the trend is to "enjoy an entire ice cream without the guilt."
Food and guilt do not go together!
I can tell you it was tricky in my first few months of throwing away all the food rules. It was hard not to feel devilish as I bit into foods that had once been forbidden, but over time, the taboo of eating things like this wore off and then it just became life. Being able to go to events and restaurants without worrying about what would be served was so freeing!
So many other new freedoms came along with letting go.
I can say that in this world right now, it can be easier to live sometimes with that diet mentality of good and bad foods because it is EVERYWHERE we go. It is more of the standard or the norm to eat in a way the will help us lose weight, or get lean, or any other buzz phrases, but I can vouch that it is better living to deny this way of life. I just wish it wouldn't have taken me so long!
So I am sure you are wondering where this is all going, right? We are headed straight to a recipe that includes mayo of course! Yep, that stuff that I do not hate and never have. And the stuff that makes this recipe taste aaaamazing!
This Crunchy Strawberry Poppy Seed Chicken Salad is a celebration–
A celebration of the fact that I can enjoy all foods that I love–and no guilt is gonna be connected to it.
Summer time means a lot of things but in the kitchen it means a whole lot of berries to me! Strawberries are one of Sam's favorites so we have these in the house at all times these days. Recently I grabbed a rotisserie chicken from the grocery and leftover rotisserie chicken makes a mean chicken salad. A few strawberries were on their way to going bad so one thing led to another and this crunchy summer chicken salad was born.
This salad is a sign that I really am turning into my mom. She used to add celery, apples and other crunchy goodies to her chicken salad growing up and I wasn't that much of a fan then. However, that is all in the past and everything I can toss into my chicken salad is fair game. The celery is always a must for me.
I don't always add nuts to mine, but pecans along with the strawberries was the perfect combo. The poppy seeds add a bit of beauty to any recipe in my honest opinion but they also add a tiny crunch and add to the overall flavor. A hint of Dijon mustard, mayo and Greek yogurt give the salad a nice tang. It's seriously going to be one of my 2018 summer salads for sure. And it can be all yours too!
Some common questions about this Strawberry Poppy Seed Chicken Salad:
Can I use Rotisserie Chicken for this Strawberry Poppy Seed Chicken Salad?
You bet you can! That's typically what I do with leftover rotisserie chicken. Shred it up and toss is into a chicken salad. It really doesn't get easier. You could even use canned chicken if desired.
How should I serve this Strawberry Poppy Seed Chicken Salad?
Crackers! That's one of my musts when it comes to a good chicken salad.
Toss the chicken salad on some toast and you have got a nice sandwich with all the more crunch.
Add some color by adding the chicken salad to lettuce wraps.
Add it on top of a big salad.
Eat it straight from a spoon–no extra anything required!
I am not a fan of mayo, can I still make this chicken salad?
It certainly won't be the same, but you could use all Greek Yogurt and skip the mayo if it's really not something that you like at all. It will be a bit more tangy but still should be good. Maybe add a bit more dijon mustard to taste.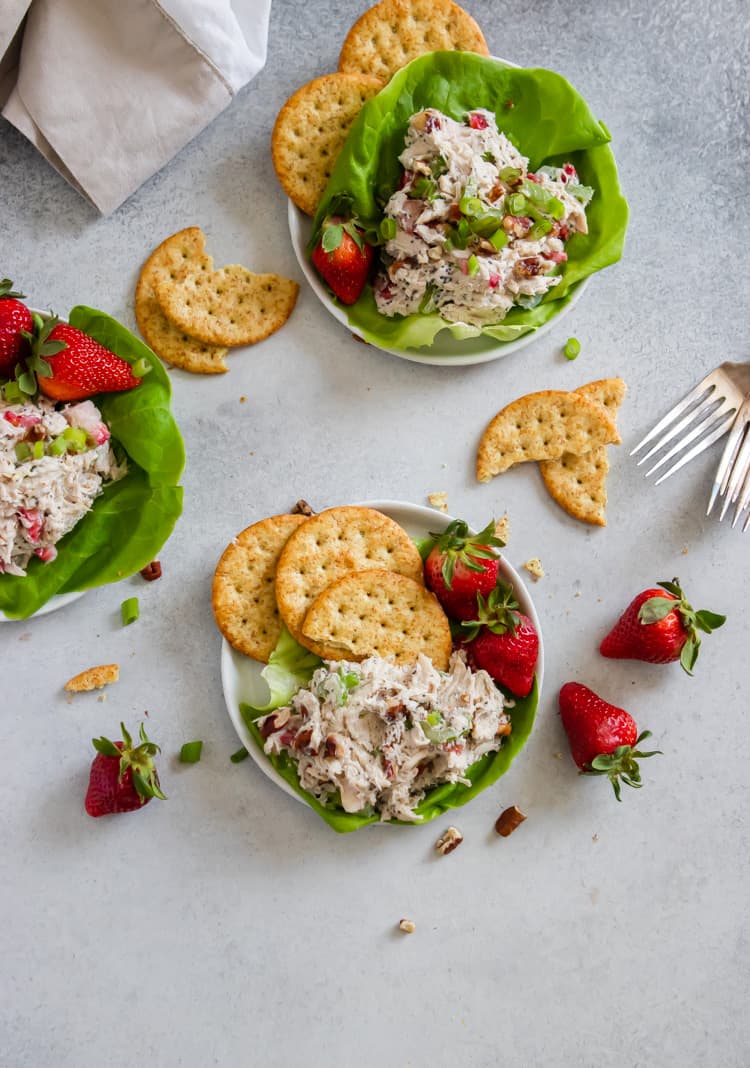 Check out these other salads you will love!
DID YOU MAKE ONE OF MY RECIPES? LEAVE A COMMENT AND LET ME KNOW! I ALSO LOVE TO SEE YOUR LEMONS + ZEST RECIPES ON SOCIAL MEDIA–TAG ME @LEMONSANDZEST ON INSTAGRAM OR FACEBOOK!
Ingredients
2

c

shredded chicken

2

celery stalks, chopped into 1/4 in. pieces

1

green onion, chopped thin

5-6

large strawberries, diced

1/3

c

chopped pecans

1/4

c

mayonnaise

2

T

Greek yogurt, plain

1

tsp

dijon mustard

1

tsp

lemon juice

1

T

poppy seeds

sea salt and pepper to taste
Instructions
Cut and chop ingredients accordingly.

In a medium bowl, combine chicken, pecans, celery and onion. Stir to evenly mix.


Add mayo, yogurt, mustard, poppy seeds, lemon juice and salt and pepper and mix well to evenly coat.

Fold in strawberries.


For best results, allow to chill for about 30 minutes before serving.