This simple Caprese Farro Salad recipe comes together so easily and is full of flavor and hearty farro. A perfect side dish for your favorite piece of meat, or a great addition to any dinner party spread!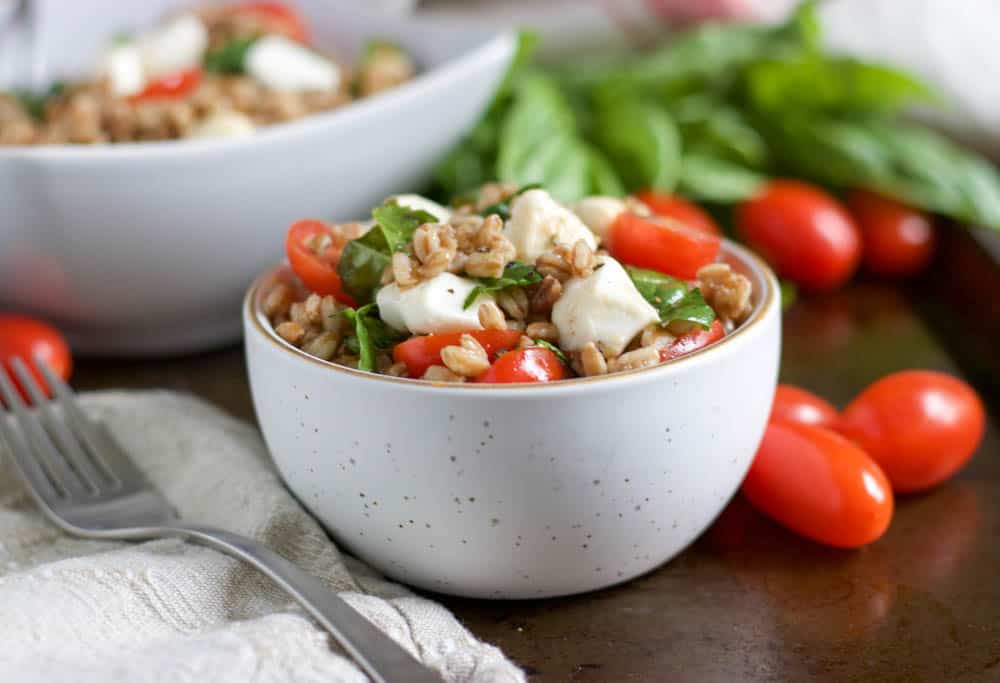 I am coming back to this post just to update some things on the recipe, and cannot help but smile and feel so amazing, because this dream came true. Those weeks before Sam was born were agonizing. So much anxiety, like I had never experienced in my life.
And it is true, we did love so much well before he was here, and even without the promise that he would be ours. And now that he is ours? Well, life really couldn't get much better.
From August 20, 2017...
I am sitting here having a nice easy Sunday. I have my pup on one side and my husband on the other. All feels right with the world. My world. And yet at the same time, my thumbs twiddle, my breath stops and I continue to live in a 'what if' state of mind.
The next 7 and a half weeks may very well be the absolute longest weeks of my life.
We are currently hanging by a thread, a thread of hope. There is no guarantee and there is no reality until he is here and the papers are signed and we bring him home. Big. Deep. Breath. And siiiiigh. And to tell you I am treading through this time with grace would be an absolute lie.
I fall into two main categories lately. The first is to disconnect from it and try not to become too emotionally involved so that I can be much more guarded and then in the event things don't go as planned, I will be protected.
And then there is the other part of me that talks about it excitedly, wants to buy little trinkets for him, toys, stuffed animals and tiny outfits. This part of me has no inhibitions and is completely wrapped up in the joy this baby has brought me.
The pendulum swings back and forth
And I bounce, back and forth and find myself somewhere on the spectrum at all times. When I go too far one way, I yank myself back in the opposite direction and try to reason with myself why that is the better place to be.
There is absolutely no guarantee and whether this baby is ours or not in the end is 1,000% out of our control. THAT is what is killing me the most. We want to dive in, but we also know that we should probably suit up in a life vest and possibly a helmet as well for protection.
But we are opening our hearts to this baby boy and planning our lives with him and our futures. And until it is a reality, it is really only a dream.
Today, the anxiety is high. Maybe it's because I sit here so calm and comfortable with my crew and as I do so I am aching for this dream to become a reality and to not slip through our fingers.
And so we wait
But nothing I can do will push my fate one way or the other. And so I wait. And I try, so hard, to breathe, in and out, in and out.
The deepest part of me just wishes that 7 weeks could pass in a blink of an eye. Again, a dream.
So here's to reality, and here is to our perfect angel who we already love so much and hope that we will get the privilege of being his mommy and daddy, forever.
---
Farro, what?
Is farro one of those foods you know very little about or maybe haven't ever had?
Foods you have never cooked with or have never eaten are often more easily avoided, right? I feel that way about many things, until I try them and realize what an idiot I was for waiting so long.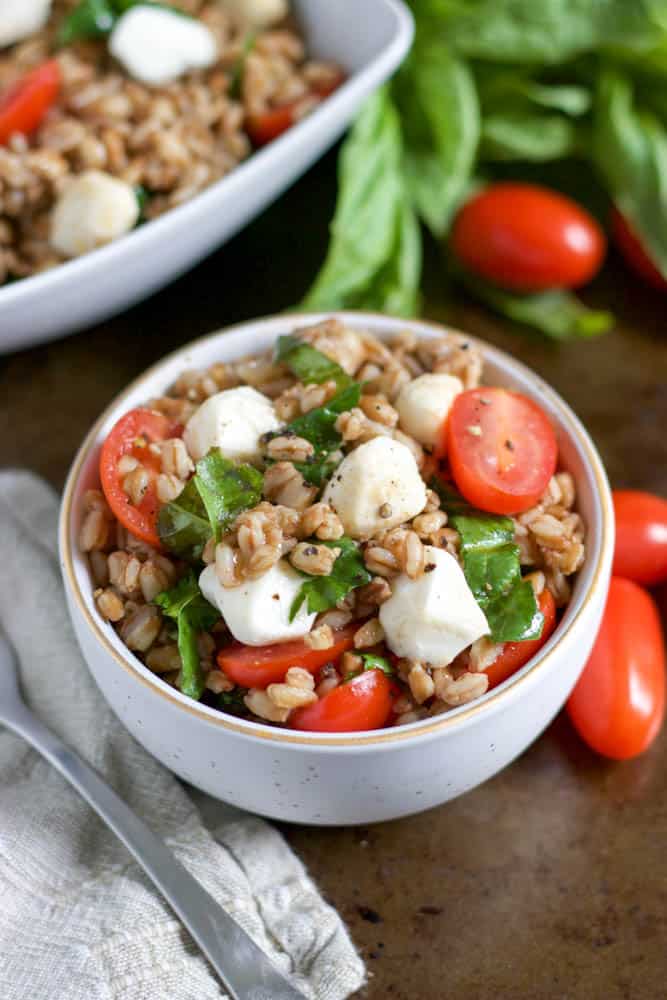 Farro was one of those foods for me for a long time. This stuff is so good and so easy to make. I have got to stop sticking to my same old, same olds, because there really is so much out there!
I mean, Farro is really just a matter of boiling water and cooking. Done.
And the bonus of this farro salad recipe, aside from the fact that it is so good, is that when I make it during the summer, I get to grab most of what's needed straight from the garden!
What you need for this Caprese Farro Salad Recipe:
farro: Gonna be real for a minute, I have seen pre-cooked farro at Target. I wouldn't put it past anyone to opt for this versus boiling their own farro. Sometimes we need these kind of hacks.
cherry tomatoes: I have used grape and even Roma when in a pinch. All still delicious!
spinach: This is the one ingredient that you could opt out of if desired. I love it in this farro salad though.
basil: the fresher the better!
mozzarella: I use mozzarella pearls. No rule that says you can't cut up a fresh ball or log. Whatever makes the most sense to you.
olive oil
garlic
balsamic vinegar
Notes and Pro-Tips for making this Farro Salad Recipe:
It's best if you can allow this salad to soak for a bit, maybe 30 minutes to an hour before digging in. That really gives it some time for all of the flavors to meld.
When this salad sits overnight, it's best to add a touch of olive oil before serving and toss it again. It can get a bit dry from sitting in the fridge for a while.
Wondering how to serve it? Toss some grilled chicken right on top! You could also serve it along a nice juicy steak. Straight from the bowl is perfect too, always.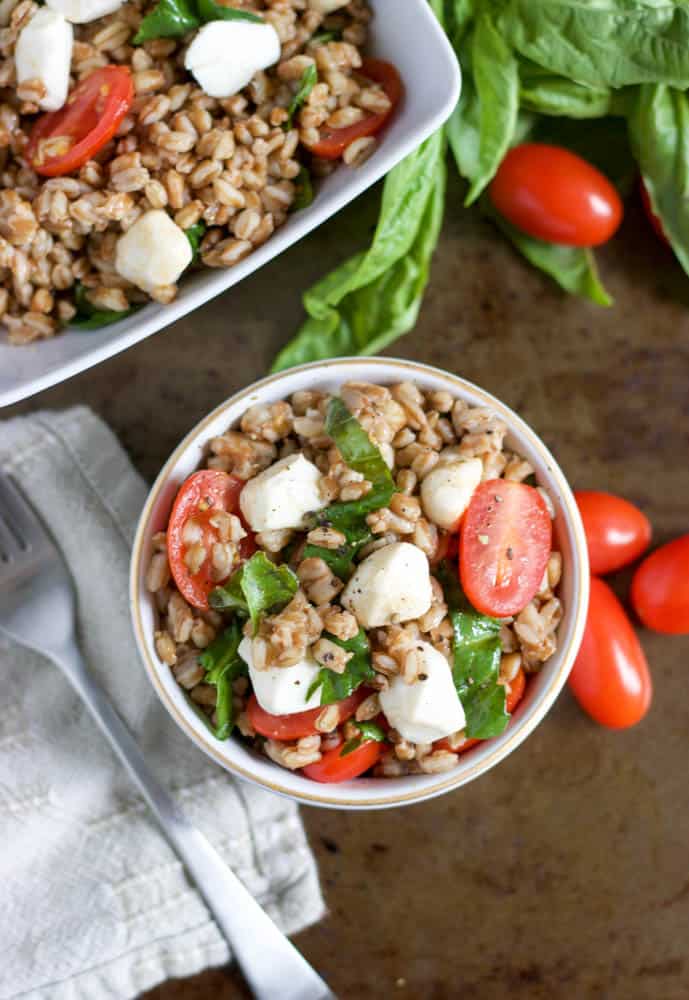 Fresh basil, mozzarella pearls, juicy tomatoes, balsamic--need I say more? This salad is bursting with flavor and so simple to toss together. Perfect as a side for dinner or on it's own for lunch. I hid this one in the back of the fridge because I was NOT in the mood to share it with Anthony.
Guilty! I didn't need any taste testing on this salad, I knew it was a winner from the get go. It looks so fancy, but is so simple you can't go wrong!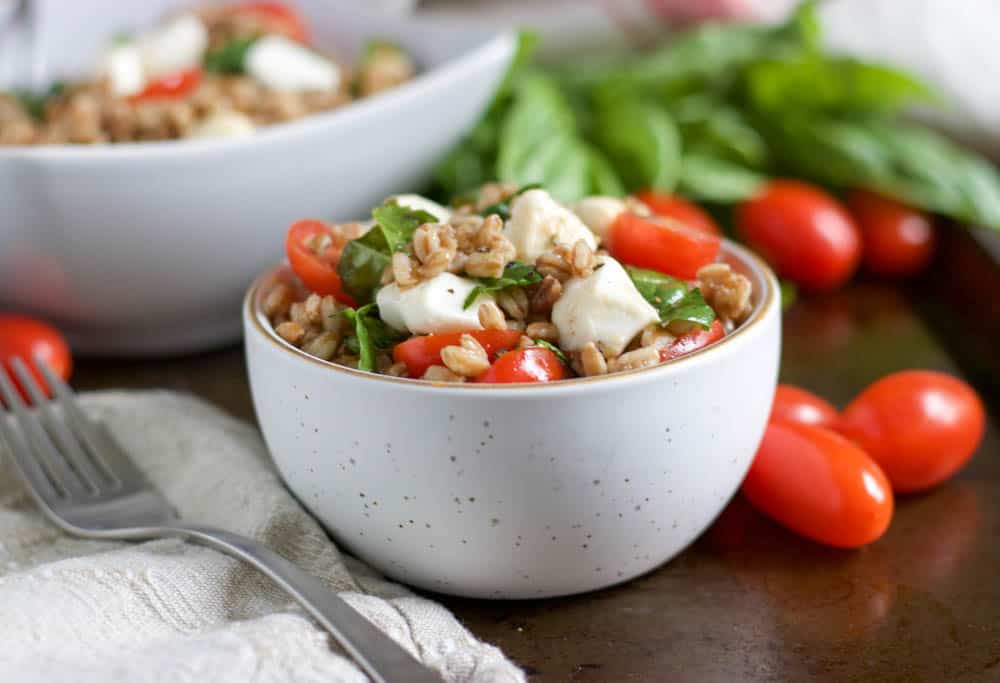 CHECK OUT THESE OTHER SALAD RECIPES:
SIMPLE BLACKBERRY SPINACH QUINOA SALAD WITH BLACKBERRY THYME INFUSED OLIVE OIL
KALE, WILD RICE AND ROASTED CHICKEN SALAD
DID YOU MAKE ONE OF MY RECIPES? LEAVE A COMMENT AND LET ME KNOW! I ALSO LOVE TO SEE YOUR LEMONS + ZEST RECIPES ON SOCIAL MEDIA–TAG ME @LEMONSANDZEST ON INSTAGRAM OR FACEBOOK!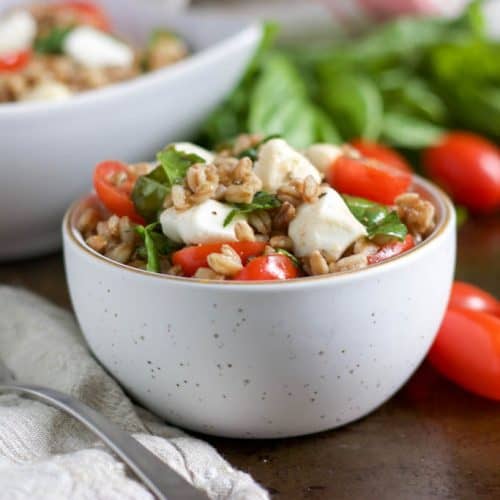 Caprese Farro Salad
This simple Caprese Farro Salad comes together so easily and is full of flavor and hearty farro. A perfect side dish for your favorite piece of meat, or a great addition to any dinner party spread!
Print
Pin
Rate
Ingredients
1

c

Farro

uncooked

1

c

cherry tomatoes

sliced in half

1

large handful baby spinach

½

c

mozzaraella pearls or ½ inch mozzarella cubes

⅓

c

fresh basil

chopped

3-4

T

olive oil

1

garlic clove

minced

1

T

balsamic vinegar

Sea salt and cracked pepper to taste
Instructions
Cook farro according to package instructions.

When farro is ready, drain and then toss spinach with farro in a medium bowl to wilt spinach.

Add in garlic, basil, tomatoes, balsamic, olive oil and salt and pepper. Toss to coat all ingredients.

Allow to cool for a few minutes and then add in mozzarella and toss to combine.

You can eat this slightly warm or allow to chill for 15-20 minutes before serving.
Nutrition
Calories:
280
kcal
|
Carbohydrates:
41
g
|
Protein:
8
g
|
Fat:
10
g
|
Saturated Fat:
2
g
|
Cholesterol:
5
mg
|
Sodium:
19
mg
|
Potassium:
221
mg
|
Fiber:
8
g
|
Sugar:
2
g
|
Vitamin A:
311
IU
|
Vitamin C:
9
mg
|
Calcium:
67
mg
|
Iron:
2
mg