Add this Tomato Basil Pasta Salad to your next BBQ and add lots of flavor with fresh basil, cherry tomatoes, avocado and freshly shredded Parmesan. This is not your average pasta salad recipe by any means!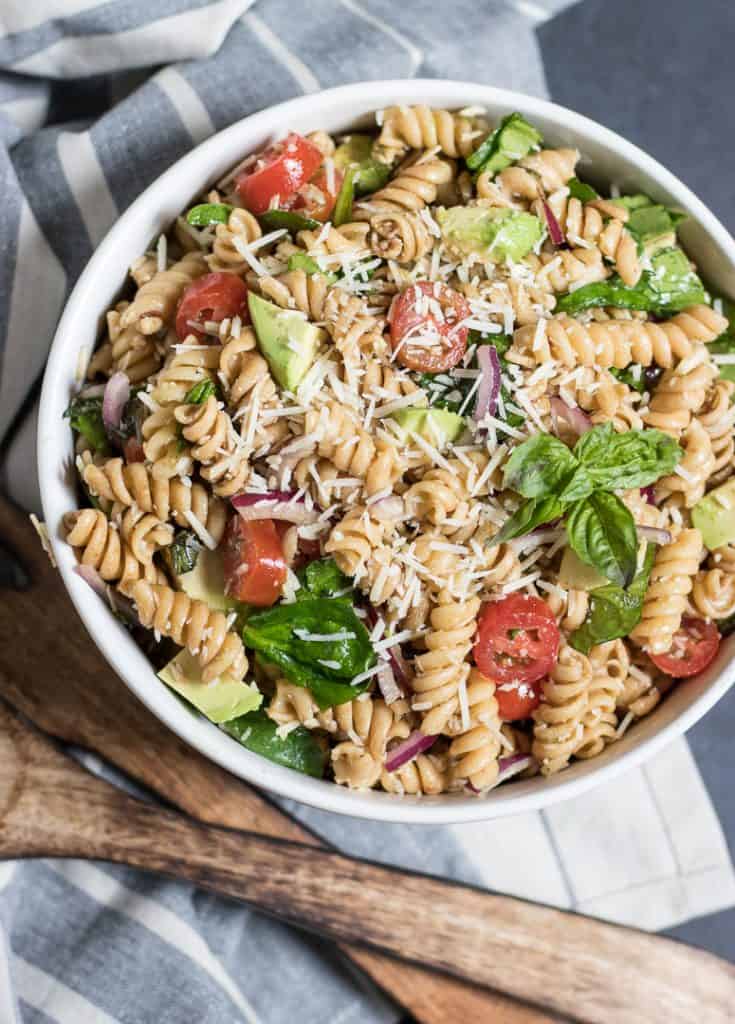 Bringing this recipe out from the archives to give it a little update. It's an oldie but a goodie but really needed a little facelift. Updating old posts is quite a fun trip down memory lane as well!
The other night my husband and I were grilling out. We have the same sides often when we grill and he asked if I would switch things up. His suggestion? Pasta Salad.
But who wants the same old Pasta Salad?
Now, pasta salad is typically one of the things I don't waste my time on at BBQs. I find them to be the same thing over and over: pasta, Italian dressing, some veggies and cheese. It gets old. I was not in the mood for that at all! I knew it would be a challenge since my husband can be a bit picky when it comes to food, but I was up for it!
The final product, a Tomato Basil Pasta Salad was a hit. There was none left on Anthony's plate and he even commented that it smelled good as I was putting it all together in the kitchen. Fresh basil paired with spinach, tomatoes and avocados make this your not so average pasta salad.
If Anthony leaves nothing on his plate, that is a BIG deal. He doesn't waste any time on dishes that are just okay. He wants to dine on the very best–and that is a fact. I have known him long enough now to know.
This Tomato Basil Pasta Salad is so versatile!
We had it as a side dish, but throughout the week I tossed it with some mixed greens, added more avocado and also added some leftover grilled chicken for lunch one day. Yum!
You can alter this to fit your dietary needs. Gluten free pasta can be used and vegan cheese or no cheese at all is fine if you are skipping the dairy. The avocado gives it a rich creaminess that you won't even miss the cheese!
Next time you are invited to a BBQ, maybe you will even offer to bring pasta salad. This dish will certainly not be skipped over!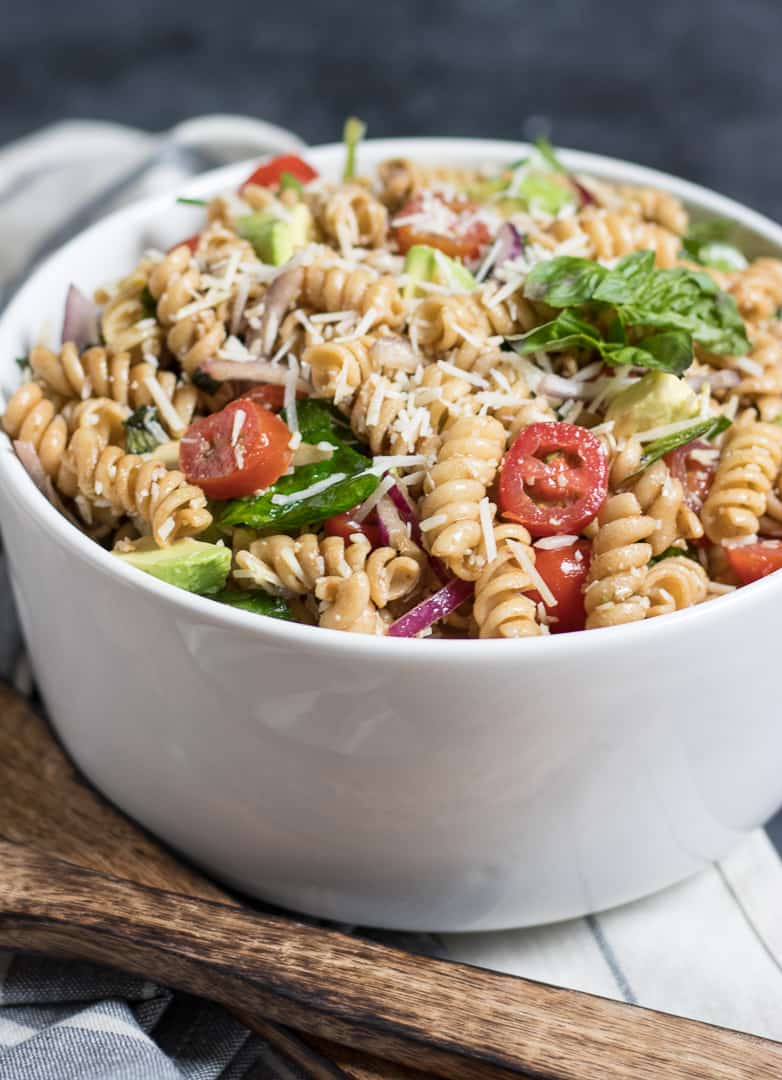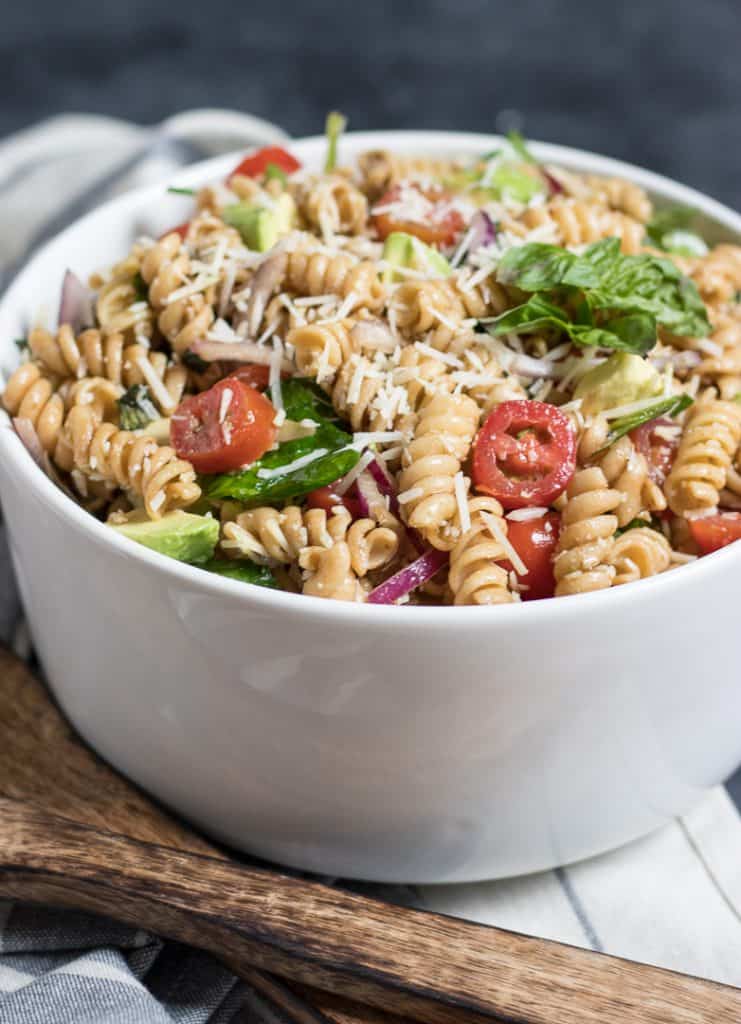 What Should I serve with this Tomato Basil Pasta Salad?
By all means: burgers! I have an amazing Sun-Dried Tomato Turkey Burger that would pair well with this pasta salad. If you are looking for a vegetarian option, then go with these Black Bean Burgers instead.
Grilled Chicken, plain and simple right on top is amazing with this as well.
Mozzarella Stuffed Chicken–now that is what you pair with this Tomato Basil Pasta Salad!
Toss some steaks on the grill to round out this pasta salad, or even some grilled salmon!
Can I make this Tomato Basil Pasta Salad the night before serving?
You absolutely can! I prefer it to be made somewhat in advance to give the spices and flavor to really soak in. The only thing I would suggest is to wait to add the avocado until serving. Just before serving, you may also want to toss it with a touch more olive oil to add moisture back in. Other than that, you should be fine!
Is this pasta salad vegetarian? Can I make this pasta salad vegan?
I have read that parmesan cheeses are not necessarily considered vegetarian as they can contain animal products. If this concerns you, maybe select a different cheese. In order to make this pasta salad vegan, all you would need to do is omit the cheese all together. If you have a vegan cheese you like that is similar to parmesan, toss it in!
I have heard great things about some vegan feta cheeses and that could pair nicely with this pasta salad as well.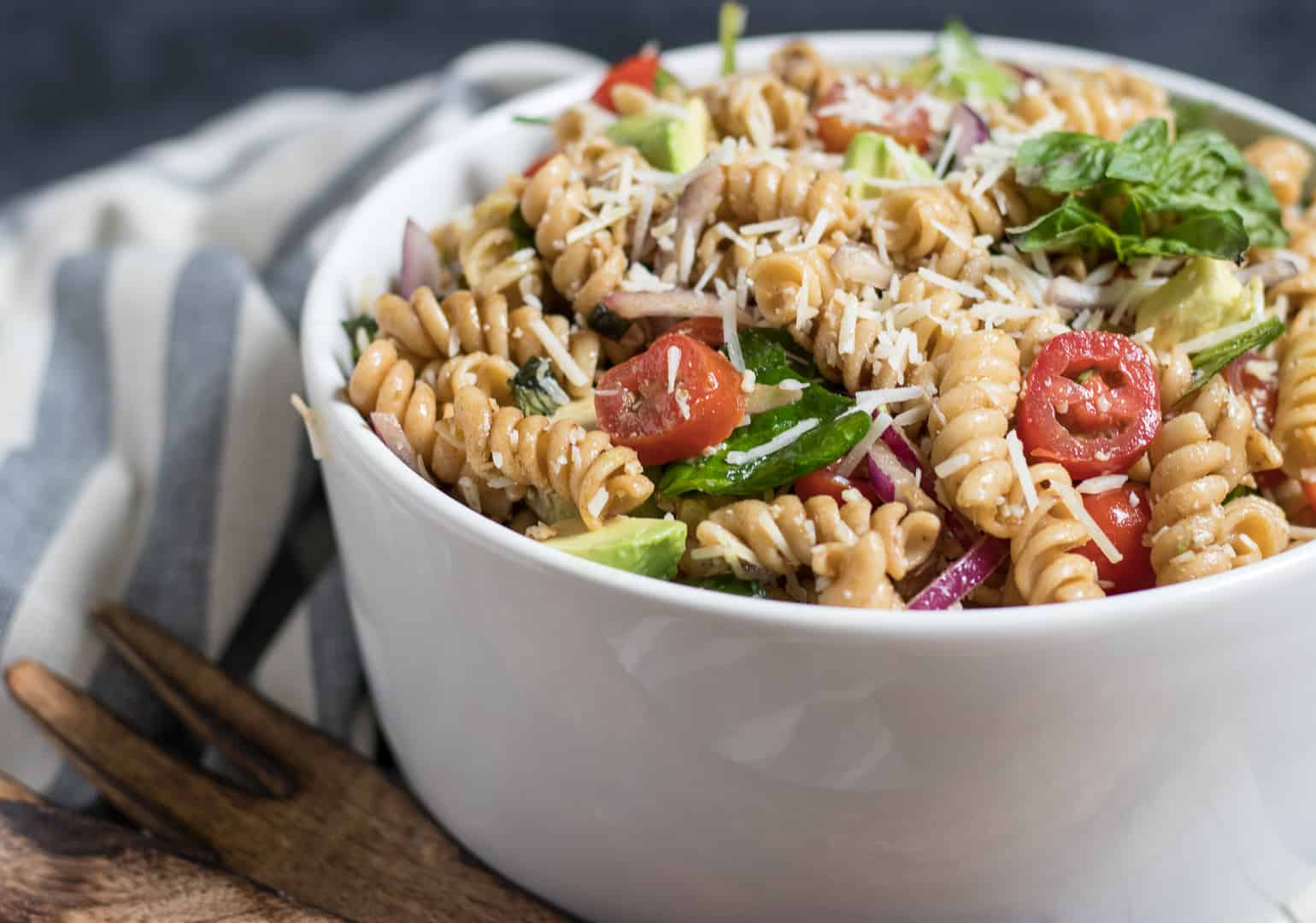 Is this pasta salad gluten free?
Is someone you are sharing this with unable to tolerate gluten? No problem! Use your favorite gluten free pasta. Cook according to the package and serve everything else up as noted.
Other Summer BBQ recipes that are must haves all summer:
DID YOU MAKE ONE OF MY RECIPES? LEAVE A COMMENT AND LET ME KNOW! I ALSO LOVE TO SEE YOUR LEMONS + ZEST RECIPES ON SOCIAL MEDIA–TAG ME @LEMONSANDZEST ON INSTAGRAM OR FACEBOOK!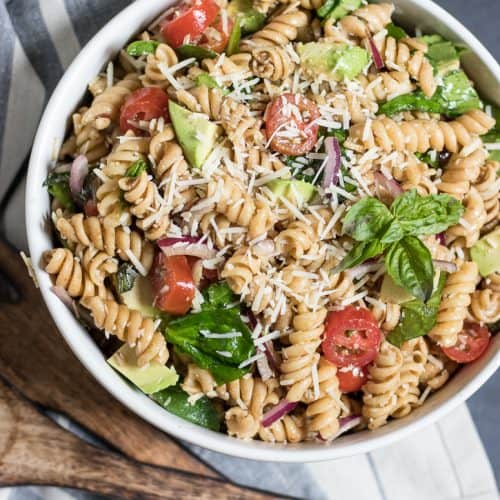 Ingredients
8

oz.

Rotini pasta

whole grain or gluten free

2

cups

baby spinach

2

garlic cloves

minced

1

cup

sliced cherry tomatoes

1

avocado

1/3

cup

chopped fresh basil

1/4

cup

thinly chopped red onion

1/8

tsp

crushed red pepper

cracked pepper

sea salt

1/3

cup

balsamic vinegar

3

T

olive oil

1/3

c

grated parmesan

romano and/or asiago cheese (optional)
Instructions
Boil pasta according to package instructions.

Prep and cut all of the vegetables.

In a small bowl, whisk together oil, vinegar, garlic, salt and pepper.

Once pasta is cooked drain and transfer to a large mixing bowl.

Add spinach immediately and stir. This will allow the spinach to wilt a bit from the heat of the pasta.

Add tomatoes, basil and onion.

Pour the dressing in and stir to coat evenly. If it seems a bit dry add more balsamic or olive oil.


Finally, stir in avocado and cheese (if using).

Refrigerate for about 30 minutes to one hour before serving.
Notes
Have this as a side dish or toss some chicken or other protein in for a full meal!
I would say the avocado is optional on this recipe–sometimes I add it and sometimes I don't and both ways are still amazing!