Rich and buttery, this flaky Butter Herb Instant Pot Salmon can be made with fresh or frozen salmon. Simple and delicious–just what dinner should always be!
For a long time I swore off butter. It was the enemy. I tried all of the "healthy" options and all of the substitutions–and I mean ALLLLL of them. But you know what? For me, there is absolutely nothing like the real deal. Nothing.
And that's why this Butter Herb Instant Pot Salmon is full of the real deal my friends.
But why Salmon in an Instant Pot?
I am 100% for salmon on the grill. That's my favorite way to enjoy it. But over lent, when fish prices were so low, I stocked up on salmon and had to either eat salmon 7 nights a week or toss some in the freezer. Any guesses what I chose?
And that is where my Instant Pot has come in. Remembering to pull out the salmon, or any meat for that matter, from the freezer at the right time is the most difficult thing for me some days. Planning what we are eating for dinner some days until the last minute is also a challenge.
So I have my Instant Pot for my nights of needing to toss in frozen meat or fish. Thank goodness for pressure cookers–am I right?!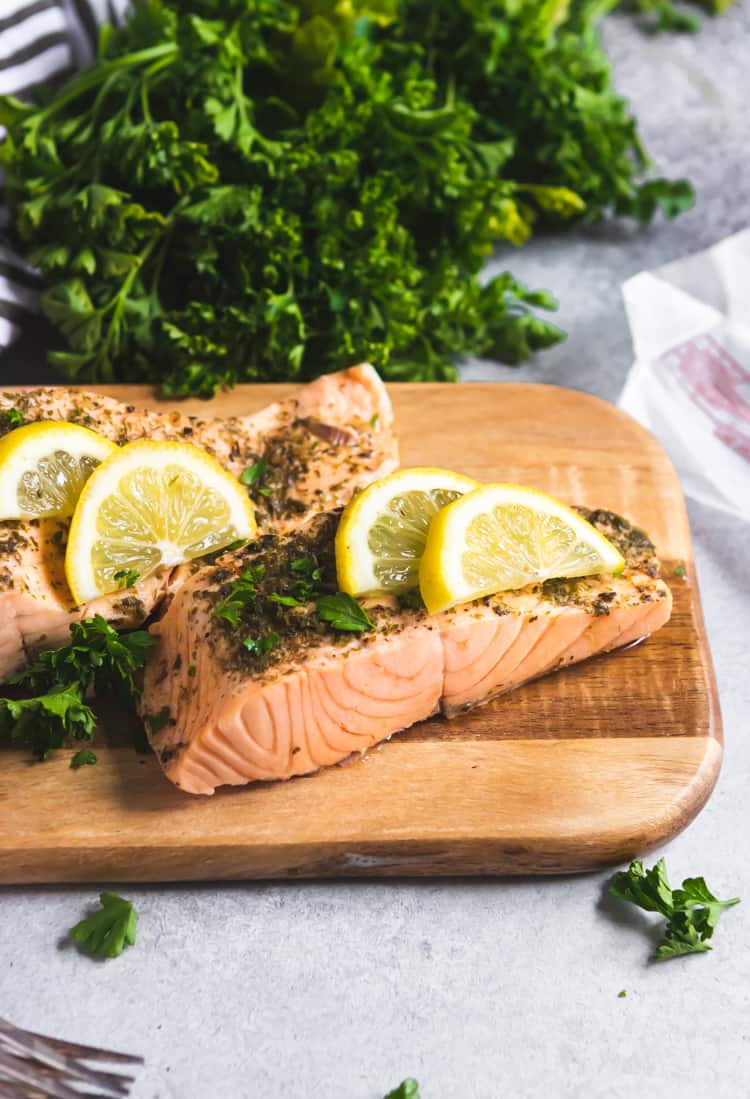 Sure, fresh fish is best, but that is not always the way life goes. So let this Butter Herb Instant Pot Salmon be the saving grace for you on those nights as well. I've got you!
What to Serve with This Instant Pot Salmon
Keep it classic: veggies and some rice. I am all about the minute rice and I am not ashamed to say it! You can get so many flavors these days!
I am a HUGE sucker for salmon on a big salad. My two faves to add salmon to these days are this Spinach Mandarin Salad and my latest favorite, this Spring Green Salad with Sourdough Croutons.
If you have a favorite yogurt sauce or dill sauce, that would be another great addition to serve it with!
If you have leftovers, you could easily add this into a fancy frittata.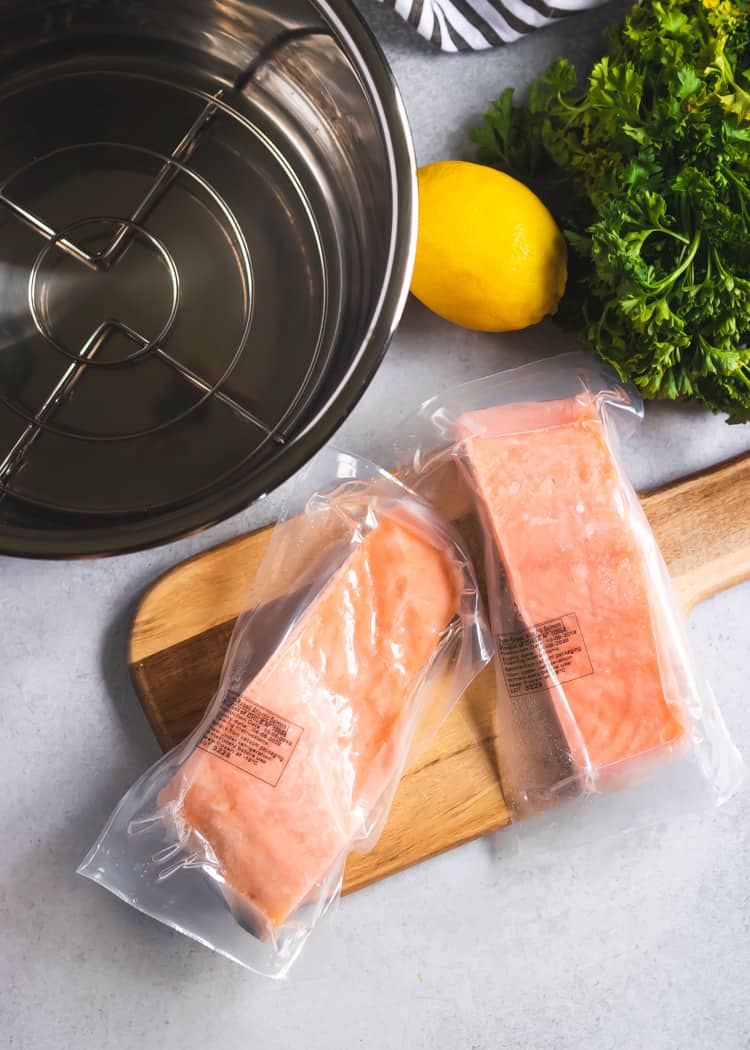 Things to Know When Making this Butter Herb Instant Pot Salmon
Fresh or frozen– either one can be used for this recipe!
I prefer my salmon cooked through although I know that there are those who prefer a more medium cooked salmon. If you like yours more done, opt for 6 minutes in the Instant Pot if frozen. This should cook it through.
Fresh or dry herbs? Up to you! I used dry in this recipe but you could certainly toss in some fresh. What you have available and on hand is always a win–no need to run out for an extra trip.
I have only tried this with real butter. I haven't tried with any butter alternatives or margarine. The flavor will certainly not be the same if you opt for something else, but if that is necessary, work with what you have!
DID YOU MAKE ONE OF MY RECIPES? LEAVE A COMMENT AND LET ME KNOW! I ALSO LOVE TO SEE YOUR LEMONS + ZEST RECIPES ON SOCIAL MEDIA–TAG ME @LEMONSANDZEST ON INSTAGRAM OR FACEBOOK!
Ingredients
1

lb

salmon, fresh or frozen (can be cut into filets)

3/4

c

water

2-3

T

butter

1/2

tsp

garlic powder

1/2

tsp

oregano

1/2

tsp

oregano

1/4

tsp

dill

1/2

tsp

pepper

1/4

tsp

sea salt

lemon for serving (optional)
Instructions
Pour water into pressure cooker and place steam rack in pot. Spray rack with cooking oil.

Place salmon on top of rack. Season with salt, pepper, garlic, and herbs. Cut the butter into 1/4 in. pieces and spread on top of salmon.

Close Instant Pot and lock, set vent to sealing. Set to pressure cook on manual at 5-6 minutes for frozen or 3-4 minutes for fresh.

When cooking cycle is done, do a quick release on your instant pot to release remaining pressure. Remove salmon and serve as desired with a squeeze of lemon! Refrigerate any leftovers.