I am a sucker for quotes, little one liners that bring a big bang to my brain. I collect them. I take screen shots on my phone of my favorites on Instagram and Facebook. In journals and the notes section of my phone, you will find all sorts of random one liners that I want to remember. To be honest, I forget a lot of them, but then I come across certain quotes that I know are needed to be seen at just that exact point in time.
The quote that I have come across a lot lately pertains to yoga. It states,
"Yoga is not about touching your toes, it is what you learn on the way down"
The truth of this quote has been captured so strongly in the past month for me.
Over the past two years I have been more of an on again off again yogi. My mat has been my greatest haven and at times also my worst enemy. I have needed it, ached for it but then in the same breath, avoided it at all costs. The reason? I was afraid to get quiet. I was afraid of what may come up, the emotions, the thoughts, the things that I've wanted to avoid noticing in my mind. I wanted nothing to do with any of it, and yet I still knew that my mat could be a powerful form of therapy.
About a month or so ago, I said enough of this and had my own personal re-commitment to my practice. I knew for a fact that it would be more help than harm and there was no more excuses for only practicing here and there.
It is said that yoga is the stilling of the fluctuations of the mind. There is nothing that says it is the complete silencing of the mind or that it will teach you to avoid all thoughts altogether. Nope, that would be too good to be true. It is also called a practice for a reason. It is just that, a practice. Something you come each day to and you practice–not for the hopes of perfection, no, no, no. That's not the end result here, if it were, then every type A personality like me would have a whole new basket of issues to deal with. No, practice brings presence. It brings an awareness, a sense of being in tune with the body, the breath and the action that occurs in the mind.
So back to my re-commitment. I started out saying I would practice at least 4 times per week. This is a LOT for me compared to what my love-hate cycles have brought about over the past year or so. I did not put a time limit or any limitations other than I just had to come to my mat, 4 times each week. That's it. 5 minutes, 20 minutes, two hours, whatever, I just had to show up. Easy enough, right?
Eh, not so easy all of the time, but I will say it happened. And that's where the magic happened.
And you know what? Some weeks, I came more than my allotted 4 times. And it wasn't all good, and it wasn't all bad, but it happened and I suddenly remembered why I had fallen so madly in love with yoga in the first place. And in just 4 short weeks I learned so much more than I probably learned in all of my 5 years of practicing. And the reason was the way I approached my practice this time. It was different these past 4 weeks. It wasn't to nail a handstand– (even though I did and felt pretty damn cool about it, but then I remembered that whole yoga isn't about the ego stuff my teacher taught me so I just continued on my way after a little personal high five.)– and it wasn't to loosen up my hamstrings which I am constantly complaining about the fact that my legs will never be perfectly straight in any forward fold due to them.
Nope, none of that. This time, I came to my practice as a completely open book. A learner, an observer. I remembered that there was something I needed so badly from this practice but couldn't seem to remember just what it was. And in just a short time, I remembered. So with no further ado, I will shed some light as to just what it all was and the sparks that flew over these past weeks and how my love affair with yoga came back to life.
I learned that yoga really does have something to do with fluctuations–and it's all about how I deal with the day to day fluctuations–how I deal with life. The reality of life is that we will not be 100% happy, energetic and raring to go every waking moment of our day. Life happens. We are tired. We get upset. We don't take care of ourselves, get enough sleep, etc. Some days we are bloated, some days things are tight. Sometimes things feel amazing and other times not so much at all. The more I come to my mat, the more I am aware of the day to day fluctuations of my body, my mind, myself. And the more I become aware of this, the easier it becomes to move through it with grace. On a day my clothes feel a bit tighter than they did the previous day, I am aware that this is just today. Today, my body is different. It's different than it was yesterday and it will be different tomorrow. And then I move on. In my days before yoga, a day waking up bloated would have caused a fury of extra working out, less eating and a day of torture in the mind. I would not see past it and was certain it was permanent. Now I see these fluctuations happen. Things ebb and they flow. Such is life, and I am willing to flow a bit more steadily with it.
I learned that there is time, always time, to slow down and there is no excuse not to. I am the first to throw my hands up and say there's not enough time. However, this is so completely wrong. Not putting any time requirements on my practice meant that even just getting on my mat for 5 minutes was perfectly acceptable. And there were days that it came to just telling myself that all I needed to do was 5 minutes and then I could be done. Most of these days, that 5 minutes ended up being 20, 25 or more. And the days that it was just 5 minutes, it was just that. Trust me, there is time. There is always time. Even if that time ends up being more of a, Yikes, I really need a pedicure. Hmm, what should I have for dinner? Sniff, did I put deodorant on today?? Breaaathe…….. Wait, did I remember to close the garage door? Oh no, someone is probably in my house right now running off with everything…. Yep, it happens. More often than not, but again, the more you get there, the more you find time to breathe.
I remembered that my body is so much more than the way it looks. Again and again and again the obsession with our bodies and the way we look takes precedent over how we feel. At least it has in many phases of my life. Back in my days of calorie free sweeteners and the lowest calorie content foods I could find, I could have cared less how I felt as long as I looked a certain way. And you know what? Even when I looked that way, it still wasn't enough and I still wasn't happy. The more I come to my mat though, the less I give a crap about whether my abs are tight or if anything on my body jiggles. Instead, my body becomes this powerful being that I am living inside of, breathing inside of and it is the one I have been given and it is all mine. I feel and notice the changes each day—there's more space today, this is looser, my body couldn't do that last week, and so on. No mirrors in yoga. No need to worry so much about how you look. Just all about how you feel.
Every day, every moment, every breath, I am brand new. I have always been a very all or nothing kind of person. In the days of my most disordered eating, the slightest "mess up" (aka, eating something that I thought I shouldn't) meant that my entire day was ruined. I was done, I had blown it and now I had to spend the rest of the day making up for my terrible decision. And then came along yoga. And yoga freed me from this sort of thinking. Now, each breath is a new gift, a new opportunity and a new chance to create, to serve, to love. I know that sounds kind of cheesy, but I promise it's something you will find if you practice. At the end of a yoga practice, you take what is called savasana which translates to "corpse pose." It is always the final pose of any class or practice. As you move out of this pose, there is a sense of renewal, rebirth, new beginnings, whatever you want to call it. It's just that. When I move out of the pose, I am new, and each and every breath that follows, I get another chance, another opportunity.
The more I connect, the more I crave that connection. By the end of the 4 weeks, I found myself craving yoga. I wanted to be in that space where it was quiet, calm, where I could just be. This is the one thing I have been fearing the most that on my mat I would be lost or alone or afraid. It would just be me and my thoughts, the thoughts I so badly wanted to avoid. But that was not the case at all. The connection brought me to a place where I felt connected, supported and in a way loved even. In a class, breathing with a group of people, knowing that they are there right along with you, most likely with their own issues and their own baggage, but here they are just breathing with you. After a little bit of time, you will want it, a lot, and often.
I could really go on and on about so much more but at the end of this journey, I have learned that the last thing I should be doing is avoiding my mat, my practice. I was so fearful of what may come up if I stepped back and found some quiet, but in the end it has brought me more healing than I imagined. And I will continue to breathe. And I will continue to practice. And I will probably bookmark this post for those days that it is a bit more of a struggle to get myself to my practice.
So that is my project, my Project Om, if you will. Perhaps you may need a little bit of time as well to get quiet. Maybe a little project Om could do the trick for you as well!
---
I think it's quite interesting that I am completing this post on none other than International Yoga Day. Seems pretty perfect to me!
I recently have been buying lots of berries and fruit now that summer is in full swing. And these Mixed Berry Oatmeal Bars came to be based on a big old stash of berries that needed to be eaten fast. If you have any sort of allergy or dietary restriction, most likely these bars will be okay for you. They are nut free, gluten free, vegan and dairy free. Did I mention how easy they are to make? You can add any kind of berries and mix it up a bit each time you make them.
I saw a very similar recipe recently but it was packed with refined flour and sugar so this is my own take on it with real, whole food ingredients. Enjoy!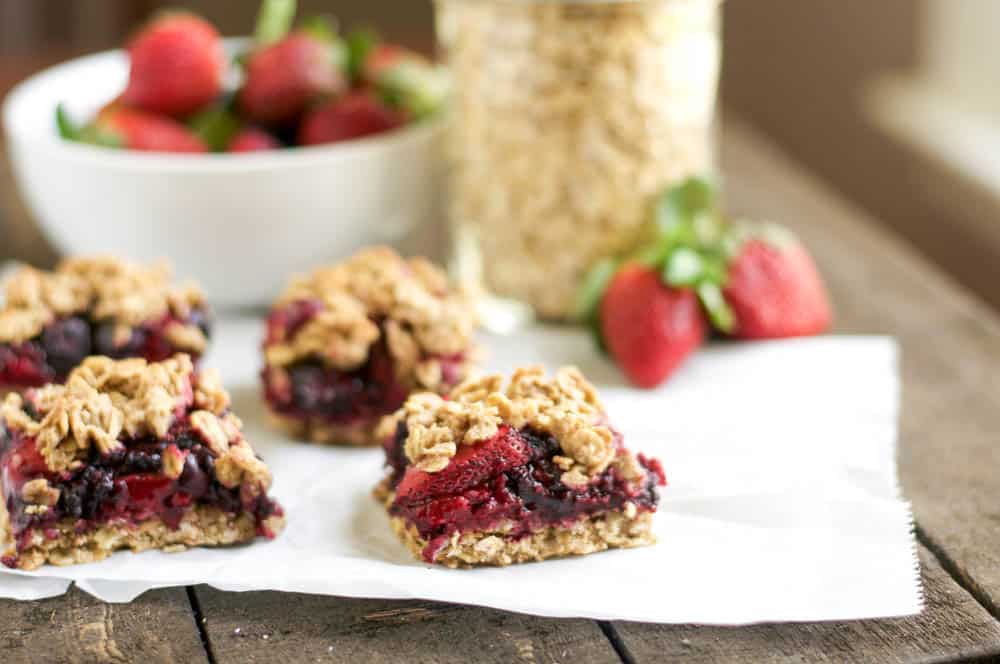 Print Recipe
Mixed Berry Oatmeal Bars
Ingredients
1 1/2

c

rolled oats

regular or gluten free

1

c

oat flour

you can make this by processing rolled oats

1/3

c

pure maple syrup or honey

more for sweeter bars

1/3

c

plus 1 T coconut oil

melted

1

tsp

cinnamon

1/4

tsp

sea salt

1

tsp

vanilla extract

2

c

berries of choice

I used raspberries and blackberries, cut into small pieces

Juice of 1/2 lemon

1

tsp

arrow root powder

corn starch would work too.
Instructions
Preheat oven to 375°F.

In a mixing bowl, combine oats, oat flour, maple, coconut oil, sea salt, vanilla, and cinnamon.

Stir well to combine.

Reserve about 2/3 c of the oat mixture.

In a parchment lined 6x8 pan, press the rest of the oat mixture firmly into the pan.

In a small bowl, mix berries with arrow root and lemon juice along with maple if desired.

Spread berries over the mixture and make sure they cover the entire pan. Press them gently.

Sprinkle over the reserved oat mixture to cover the berries.

Place in the oven and bake for 35-45 minutes or until berries are bubbling and oats on the top are browned.

Allow to cool before cutting.

Enjoy!
Notes
If your berries seem a bit sour, feel free to drizzle a bit of maple over them in a small bowl and stir to coat before adding to recipe.