This Blueberry Lemon Dump Cake is the best easy dessert recipe you will ever get your hands on. Fresh blueberries with pops of citrus and a rich, buttery topping--all baked up using only one dish. So simple and perfect with a scoop of ice cream!
In the words of Uncle Jesse, Lord have mercy.
Hoping you grew up on Full House and if you did not then maybe Fuller House is more of your thing. But I promise after you take one bite out of this Blueberry Lemon Dump Cake, you will be going full on Uncle Jesse. Full. On. All the Lord have mercies will be just streaming from your mouth.
I am slowly nearing one of my biggest fears: to create a gorgeous layer cake for the blog. In my head it looks so beautiful, smooth and just absolute perfection. And then I get closer and closer to diving in, and all I see is one of those slanted, lop-sided, messy Pinterest fails.
I know I am just going to have to bite the bullet and do it--I won't get anywhere if I never even try, but I am currently opting to take it nice and slooooooow. Starting off with a "cake" that is basically fail proof--like, FAIL. PROOF.
Blueberry Lemon Dump Cake--The Cake for the Not So Pro Cake Makers
I was in a slight recipe rut the other day--couldn't decide which recipe to test next. I keep a running list and nothing was jumping out at me. I asked the hubby what he thought I should work on and he said, "You should work on some sort of blueberry lemon sort of recipe, you never do that combo..."
Oh if you could have seen my face after that one. This comment came only days AFTER I had him taste test this recipe. Seriously?!
But I digress, the real topic is this treat and how little effort you will need to make it.
I am a huge fan of lemon (ha, naturally!) and blueberry together. From my Blueberry Lemon Energy Bites, to Blueberry Lemon Overnight Oats, I do indeed have quite a few options for the combo but this Dump Cake LITERALLY takes the cake.
Since blueberries are in season, they are very very cheap right now and the flavor is the best.
Beyond the berries, you don't need much more than lemon zest, sugar, cake mix and butter. Seriously, I am not joking. Not only is this dessert simple, but it is very easy on the wallet. It can easily come together in under $10! Yet another reason you get to have your Blueberry Lemon Dump Cake and eat it too.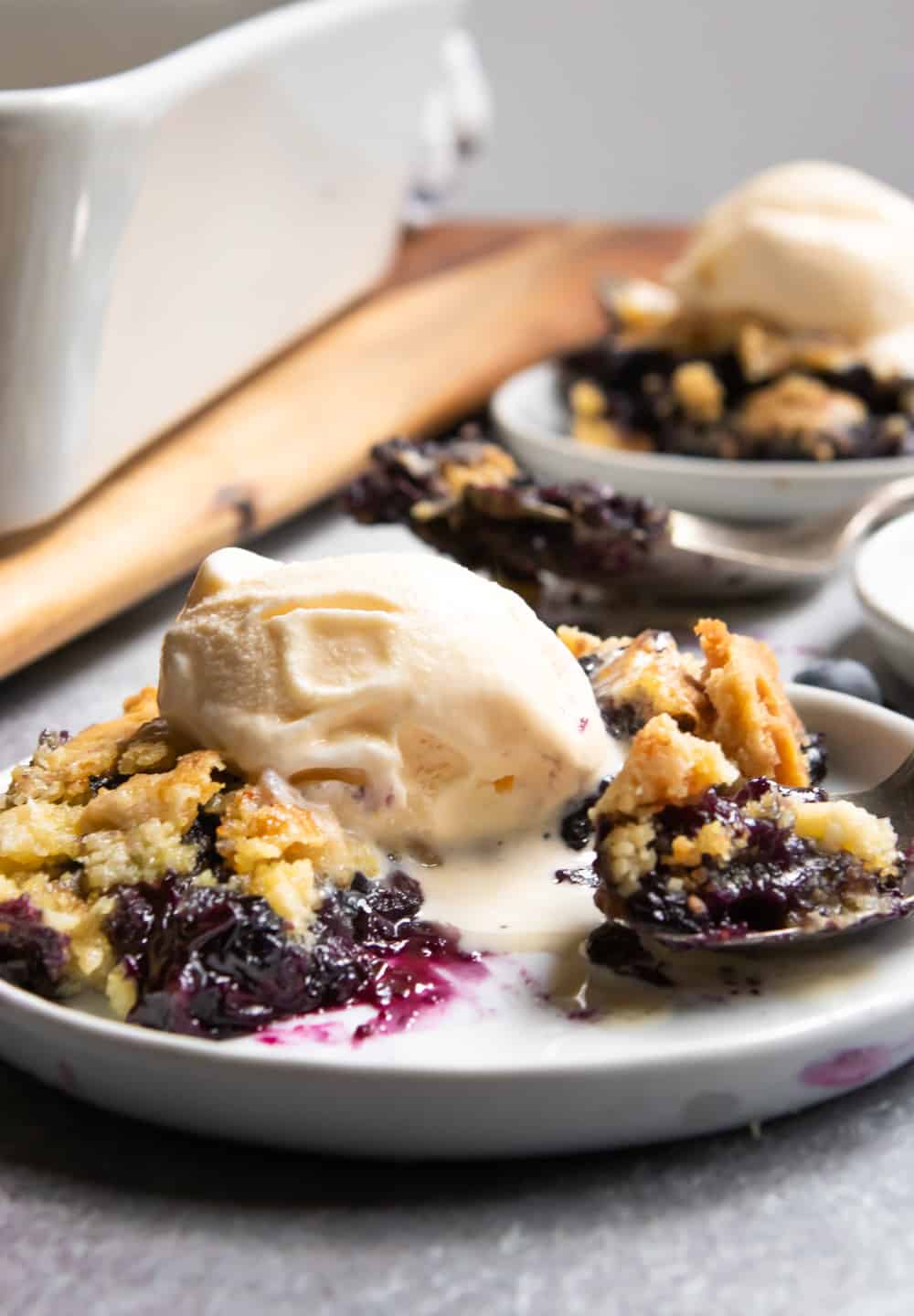 What is "Dump Cake"?
It may sound off putting, but I promise it's not. It's a "cake" that is more like a cobbler that is the EASIEST cake you will ever make. The word "dump" represents the fact that you simply dump all of the ingredients into a pan and then bake it. No joke, dump and bake--that's the magic of a dump cake.
And for me, one who is slowly venturing into the baking world, I am in love with this form of cake. If you need a fail proof kind of dessert, this would most certainly be the ONE.
The magic happens when you layer butter on top of a cake mix and as it bakes, the butter melts into the cake mix and forms this rich, crusty layer that is so very perfect. It's like crumble but since the amount of effort needed to make it was so minimal, it is so much better than any crumble out there!
What you will need:
blueberries (I used fresh, but you could most certainly use frozen as well.)
sugar
lemon zest (the key is adding the zest to both the berries AND the cake mix. Sure you could use a lemon cake mix but I promise, fresh lemon zest is always, always, always better.)
yellow cake mix (I used Betty Crocker's Super Moist Yellow Cake)
butter
vanilla ice cream (not necessary but HIGHLY recommended.)
How to make this recipe:
All you have to do is prep the berries, pile on cake mix, mix the cake mix with some lemon zest and then layer butter from edge to edge. Toss it in the oven and when it comes out, try your very best to let it cool for at least long enough that you won't burn your tongue. Promise me you will wait!
Pro-Tips and Notes:
You can literally use the same pan for this entire recipe. Toss the berries, sugar, and lemon zest together in the pan and then layer everything right on top. Nothing tastes better than a dessert that made the bare minimum amount of dishes. Nothing.
When lining up the butter, you want to keep the butter close and spread it so that it will cover the entire pan. I found halfway that a few spots didn't have enough butter spread on them and so I just added more in the middle of baking. Another solve for this: cut your butter slightly thinner and leave less space between the edges. I had no problem adding a touch more here and there.
Feeling a bit funky?? Switch up the berries or even make it a mixed berry dump cake with all of your favorite berries!
Dump cakes are fairly thin (in height) but they are rich. Using a 9x13 pan works well but if you want your dump cake to be a bit deeper, use a slightly smaller pan--some casserole dishes that measure in quarts versus length can be another good option. You may just need to extend the time slightly.
Bake this to the color brown that you prefer. If you like your crumble toppings on the lighter side, feel free to pull this out of the oven a bit early. And you can also leave it in a touch longer to get it nice and extra brown--my personal favorite.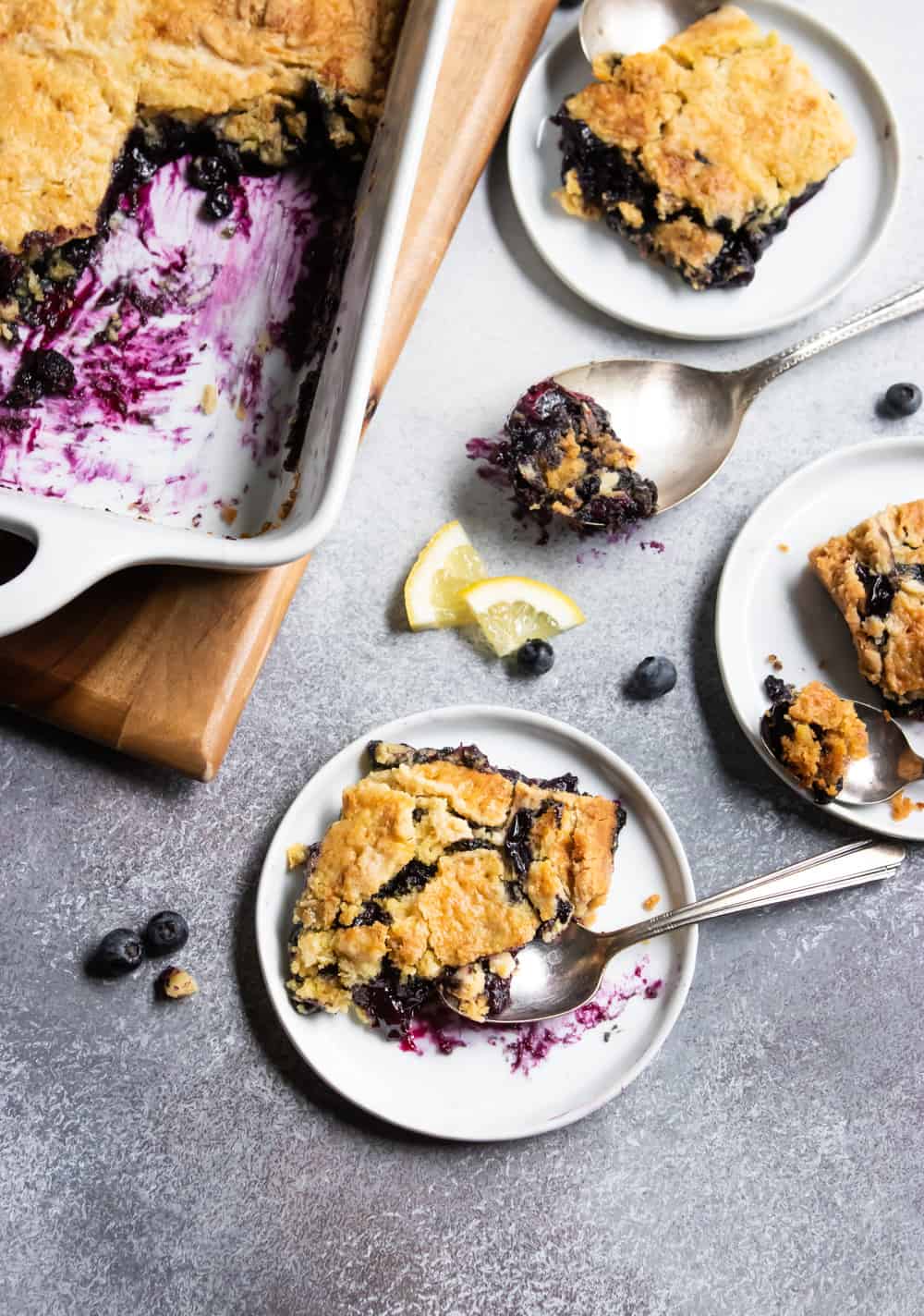 Check out these other desserts:
DID YOU MAKE ONE OF MY RECIPES? LEAVE A COMMENT AND LET ME KNOW! I ALSO LOVE TO SEE YOUR LEMONS + ZEST RECIPES ON SOCIAL MEDIA–TAG ME @LEMONSANDZEST ON INSTAGRAM OR FACEBOOK!
Blueberry Lemon Dump Cake
This Blueberry Lemon Dump Cake is the best easy dessert recipe you will ever get your hands on. Fresh blueberries with pops of citrus and a rich, buttery topping--all baked up using only one dish. So simple and perfect with a scoop of ice cream!
Print
Pin
Rate
Ingredients
3 ½

c

blueberries

⅔

c

sugar

½

c

butter (plus 1-2 T more if needed)

1

15.25 oz.

cake mix (I used Betty Crocker super moist yellow)

2 ½

tsp

lemon zest, separated
Instructions
In a greased 9x13 baking pan, toss together sugar, blueberries and 1 tsp lemon zest. Spread out evenly into the pan.

Pour cake mix over top of the berries to cover completely. Sprinkle the other 1 ½ teaspoon of lemon zest (can always use a bit more if desired!) over top of the cake mix and using a spoon or your fingers try to gently incorporate it into the cake mix.

Slice the butter thin, into about ¼ in thick pieces and spread evenly all over the cake mix. Place in the oven and bake for about 45-55 minutes or until bubbly and to the desired brown color.

Remove and allow to cool. Serve warm with a big scoop of vanilla ice cream. Refrigerate leftovers for 2-3 days.
Nutrition
Calories:
294
kcal
|
Carbohydrates:
53
g
|
Protein:
2
g
|
Fat:
9
g
|
Saturated Fat:
6
g
|
Cholesterol:
20
mg
|
Sodium:
382
mg
|
Potassium:
53
mg
|
Fiber:
2
g
|
Sugar:
34
g
|
Vitamin A:
260
IU
|
Vitamin C:
4
mg
|
Calcium:
96
mg
|
Iron:
1
mg