This post may contain affiliate links.
This post contains affiliate links, meaning, at no additional cost to you, if you click through an affiliate link and make a purchase, I may make a commission.
If you grew up in the era of Land Before Time, then you may remember Ducky's line, "Don't step on the crack or else you'll fall and break your back!" Well, there is one thing for sure-- I stepped on a LOT of cracks in my day!
Last week, I was vacuuming, yes, VACUUMING, and got the sudden feeling I knew too well. My. Back. Hurt. I was just trying to tidy up the house, and a minor movement set things into the wrong direction and there I was, again, on my back, and not feeling so great at all.
I am a mover. I very seldom sit still. So what is a girl to do when she is forced to relax?! Well, a girl is to do just that. And so I did. Something that for some crazy reason I put up a fight for in the beginning, as if it's a punishment. And yet, it's something I so very rarely actually get to do. So if it takes a pain in the back to get me to do what my body needs, then I guess it was just a way my body had to tell me to take a load off for a bit.
So often it is injury or pain that helps me really appreciate movement all the more. I realize the therapeutic effect it has and how it also settles my mind, not to mention the energy it gives me. I tried during my week of very little movement to take a simple walk and hobbled back home very shortly realizing that wasn't happening at all. Each day, I gained the tiniest bit of mobility back and was in a little less pain each day.
I had to be very honest with myself as I stepped back onto my yoga mat and remind myself over and over only to do what I can and not to push. Lord knows I don't need another week laying on a heating pad. One week was plenty!  And tonight, things opened up a bit more on my mat and I thought, wow, I was literally not able to move much at all last week. Slowly but surely, I am back, but reminded how lucky it is that I am able to move, and how refreshing it is just to do something as basic as go for a walk. Sometimes it's just the littlest things that can remind us of how important the simple things in life really are.
__________________________________________________________________________________
Speaking of simple, I am 100% sure that things in the kitchen should be just that. And my food processor has been the tool that has made life a little bit smoother day in and day out. I use that thing at least several times a week. And when a piece cracked off of the lid and I had to wait for the manufacturer to send me a knew one, I realized how important it is in my own everyday recipe making. But I promise I more than survived.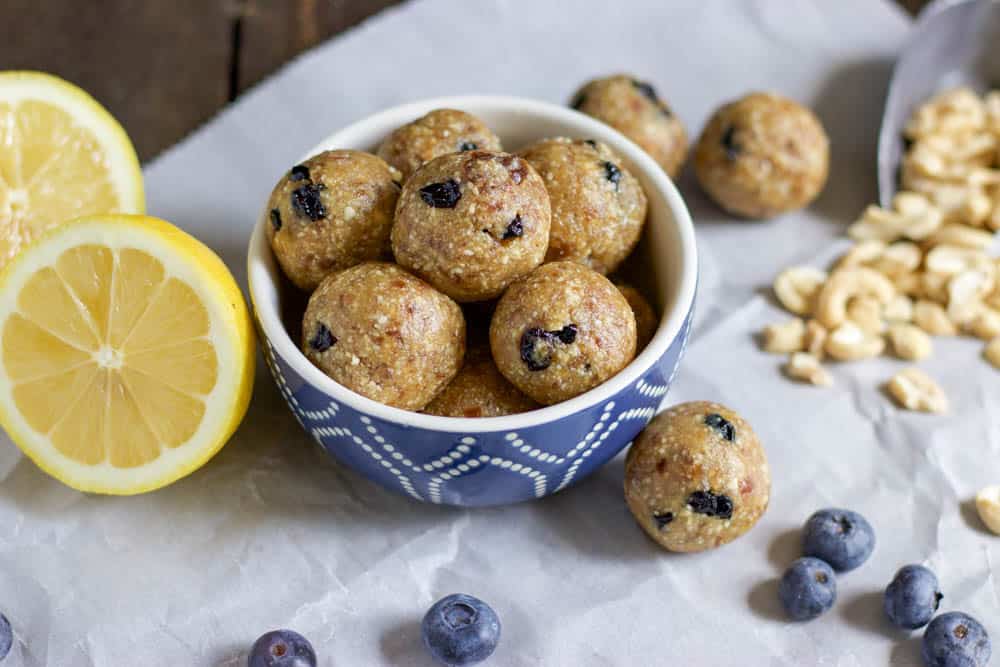 Energy bites and things of the like are always in our house. And these little nuggets have become the very favorite of all for my husband. They don't stick around long at all. And they are actually one of the simplest to make so I have no problem whipping them up for him! Just pop everything in the food processor and roll it all up! Boom. They are so refreshing and so a great summer snack. Sweetened just with dates and only a handful of ingredients make these a snack that you can always count on. They will fill you up and keep you going! Good enough for breakfast on the go if you ask me!
One last thing, if you LOVE the combo of blueberry and lemon, try my Blueberry Lemon Coconut Overnight Oats, these Blueberry Lemon Oatmeal Pancake Muffins or a superfood packed Blueberry Lemon Chia Jam. Can you tell I am obsessed??
Instructions
In a food processor, process cashews until fine and grain like.

Add lemon zest, dates, vanilla and sea salt. Process until a dough starts to form.

Stir in dried blueberries.

Roll into bite sized balls.

Chill to set for about 15-25 minutes.

Enjoy!