This Blueberry Lemon Overnight Oats recipe is so easy and ready in the morning for you! Chia seeds, almond milk, fresh blueberries and more are a healthy way to start your morning. Can be made vegan as well!
The words that have recently changed everything for me when it comes to food choices:
I can have anything I want. I can have anything I want. I can have ANYTHING I want.
Who would have thought it would be that simple? And after years and years and YEARS of the journey to find peace with food, even when I thought I had made peace, these were the words I needed to learn more than anything.
I have been changed–for good!
I have been changed. I have been changed forever, and for good. I won't go into everything in one post, so this will be over the next series of posts as to what I have learned and how I have changed by kicking everything I know about food to the curb and starting completely from scratch.
And the beginning is right where I let go and decided I can have ANYTHING I want. No good foods. No bad foods. None of it. And I feel more free than ever before. Even over the past several years, as things have been pretty great, I realized I was still pigeon holing myself and in a way cutting off certain foods–essentially, another form of restriction which is the last thing I ever want to fall back into.
So basically, I was fine with food as long as I made the healthiest choices, but if I did not, there was still a little itching of guilt, even when I tried so hard to separate food and guilt.
My mantra: I can have anything I want
So step one, my new mantra became "I can have anything I want." And I have been so happy for it. I have eaten foods I haven't had in years. I have started to gain more awareness of my physical hunger signs versus eating based on what time it is or by routine. I have tasted my food. I have learned there are some foods that I considered "bad" but desired them were not even as good as I thought they would be.
And the biggest thing since I crossed over to this new mantra? I haven't binged. Not once. I haven't felt out of control. I have not used food to numb my emotions. And so I invite you to come along with me on this next chapter. Because now that I have had a taste of the other side, I know it is so worth it!
After An Overnight Oats hiatus, I give you Blueberry Lemon Overnight Oats!
Please, please, PLEASE forgive me. It has been months, MONTHS since the last time I shared a new Overnight Oats recipe. How can that be? Not a clue! I even have several in my arsenal of recipes to share but somehow they have not been the priority. So now is the time to get one of these up! And today you will love these Blueberry Lemon Overnight Oats for sure!
My overnight oats recipes are by far the most popular of all of my recipes. For one, they are so easy and two, they are great for meal prepping for busy weeks. There are endless flavors and varieties and you really can't go wrong. I also get more questions about overnight oats so I thought I would make a list of some answers to my FAQs around these, so here goes.
Overnight Oats FAQs
Do you eat overnight oats hot or cold? Either is fine! I prefer them hot for the most part and just warm them up a bit before eating but they can also be just fine cold if you don't have a way to heat them up in the morning or if you are on the road or the run!
What kind of rolled oats do you use? My favorite kind is Bakery On Main's Happy Oats. The reason I like theirs the best is that they are reasonably priced but they also are not quite as thick and so they absorb the milk and soften a bit better than others I have found. You can really use any kind of rolled oats, and if push comes to shove, quick oats will still work as well.
How long can you store overnight oats in the fridge? I have stored them up to 5 days however, you have to be mindful that certain flavors won't be as good after that long. If you are adding banana into them for my Banana Bread version, they probably are only good after three days. You can always hold the banana though until the morning you plan to eat them and then add it in.
Do you cook the oats first? Nope. You use uncooked oats and put them directly into the jar or bowl you are using. The milk is essentially what absorbs and softens the oats.
What kind of containers do you use to make overnight oats? I use the wide mouth 16 oz. Ball jars and they end up about 1/2 full for one serving. The pictures I take are typically much smaller jars and I fill them with sometimes more than one serving. That's just for the photo op! Ha.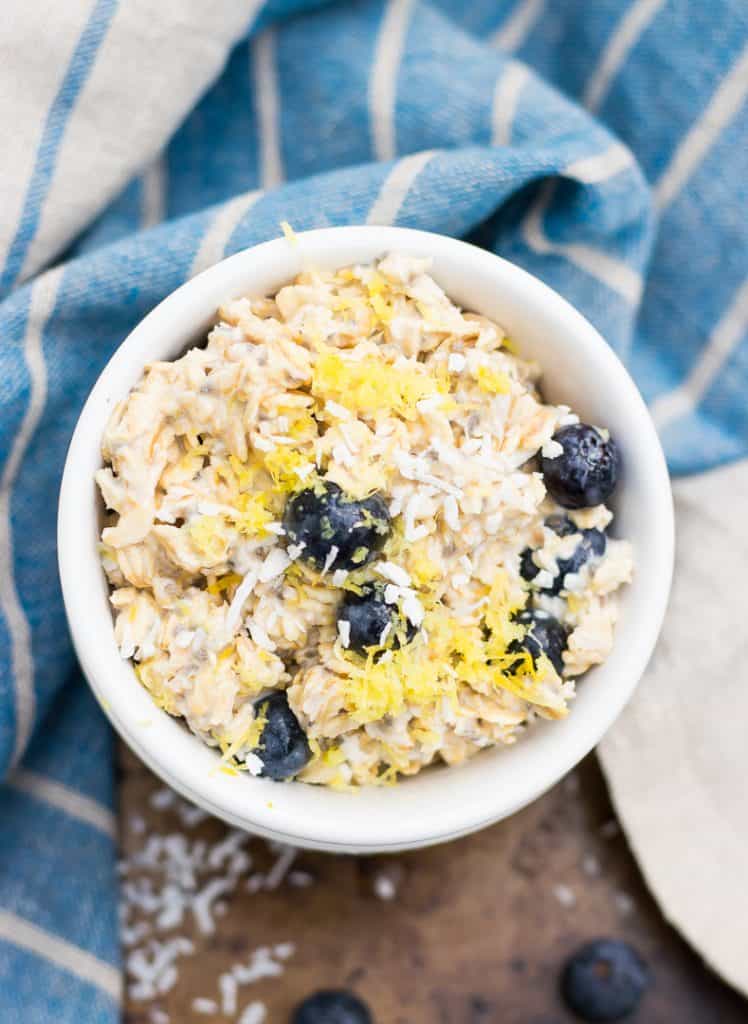 And as for these Blueberry Lemon Overnight Oats?
Those are probably the top 5 questions I get. Hopefully this helps you as well. And now you are all set to try the latest, these Blueberry Lemon Coconut Overnight Oats. So refreshing! They have the taste of summer for sure.
I have been loving the combination of blueberry and lemon lately so if that's your thing, then give these a try as well. Aaaaand, if you love dessert for breakfast, try these eight dessert inspired overnight oat recipes from my friend Julie at Running in a Skirt. She is a big overnight oats guru like me!
If you love overnight oats as much as I do, check out my Overnight Oats Recipe Collection–the options are endless! Enjoy these Blueberry Lemon Overnight Oats and have a great morning every time you enjoy them!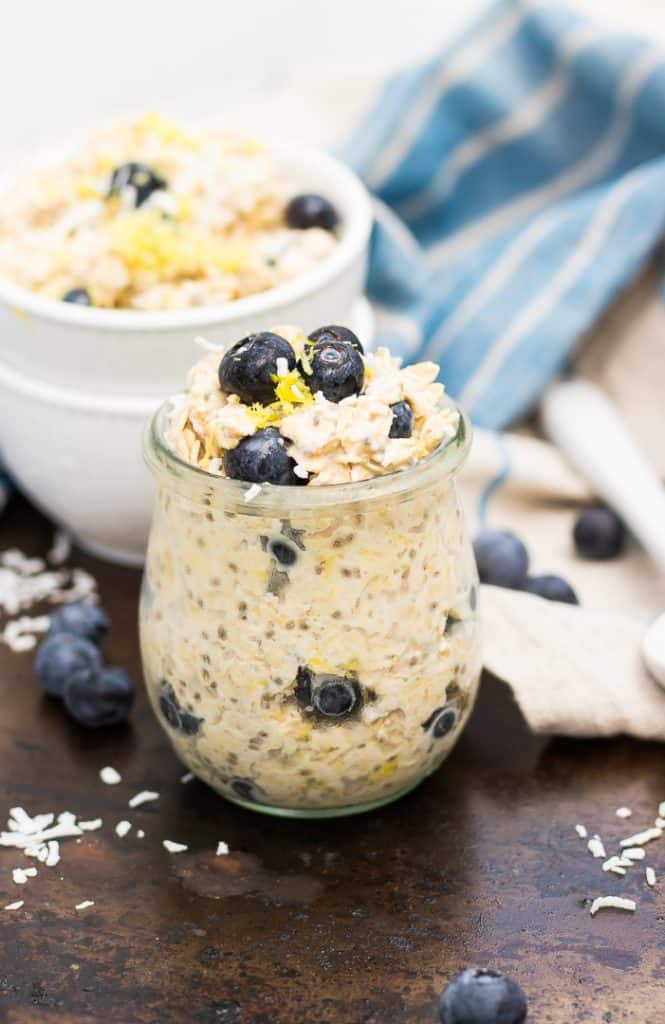 DID YOU MAKE ONE OF MY RECIPES? LEAVE A COMMENT AND LET ME KNOW! I ALSO LOVE TO SEE YOUR LEMONS + ZEST RECIPES ON SOCIAL MEDIA–TAG ME @LEMONSANDZEST ON INSTAGRAM OR FACEBOOK!
Blueberry Lemon Overnight Oats
This Blueberry Lemon Coconut Overnight Oats recipe is so easy and ready in the morning for you! Chia seeds, almond milk, fresh blueberries and more are a healthy way to start your morning. Can be made vegan as well!
Print
Rate
Ingredients
1/2

c

rolled oats

regular or gluten free

1/2

c

coconut milk

not the canned version, or milk of choice

2

tsp

chia seeds

1/4

c

blueberries

2

T

shredded coconut

unsweetened

Zest of 1/2 lemon

Dash of sea salt

1/2

tsp

vanilla

1-2

tsp

pure maple syrup or sweetener of choice
Instructions
Combine all ingredients into a jar or container that can be sealed.

Stir well to combine.

Chill overnight or at least for 4 hours.

Enjoy warm or fresh from the fridge in the morning!