This post may contain affiliate links.
Wondering where to start with overnight oats? Start here! Learn all you need to know when starting out with overnight oats and try these 6 easy overnight oatmeal recipe flavors that will certainly become your favorite!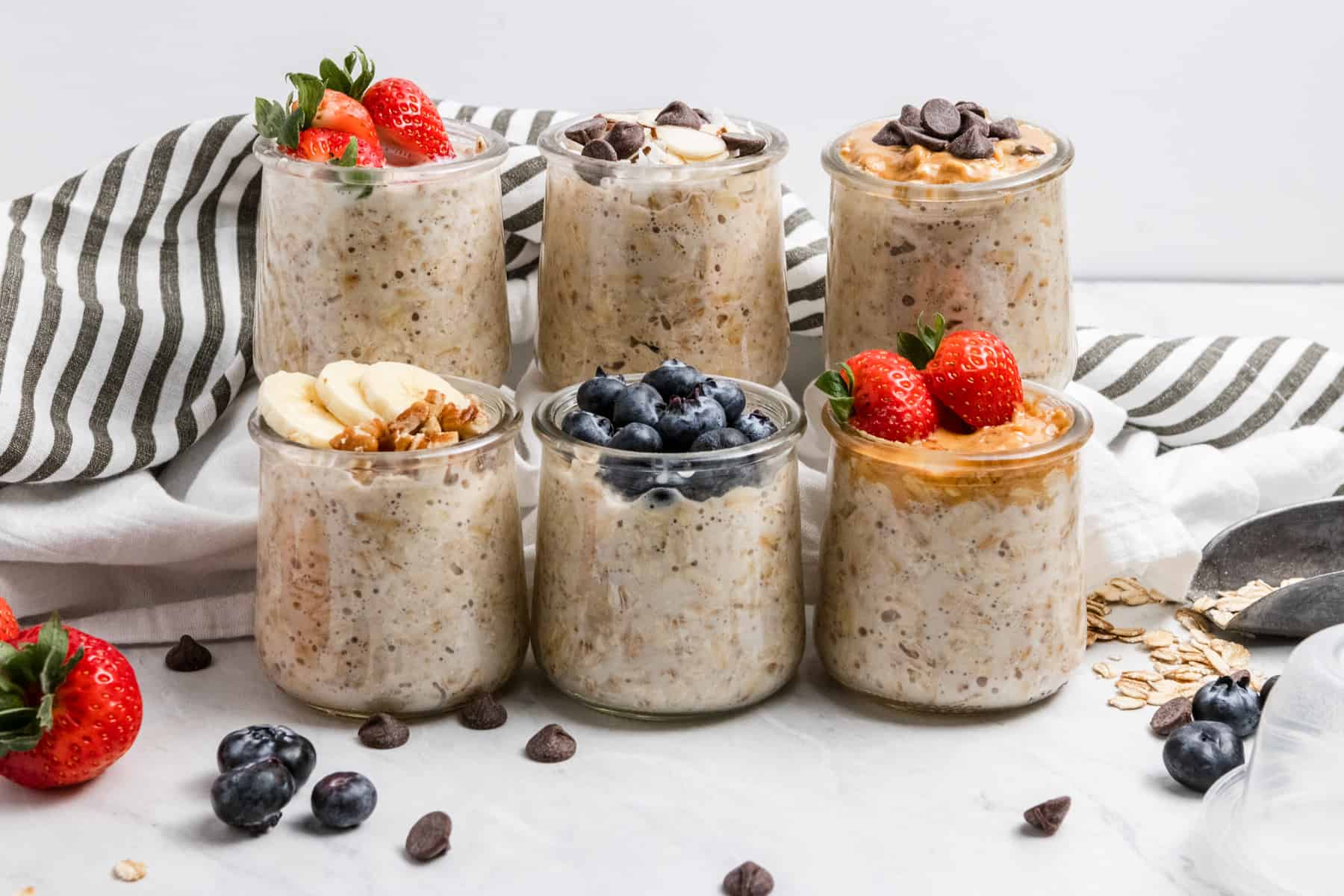 If you have been around here for a while, you know my OBSESSION with Overnight Oats. Quite honestly, obsession may be an understatement.
I have taken small breaks from creating new overnight oats recipes, but always come back to them because you all love them so much as well. They get the most traffic, the most feedback and the most excitement of all the recipes here. So how could I stop?
I mean, Overnight Oats have their own category on here so if that doesn't tell you, then not sure what will.
Recently, I felt like something was missing though. Yes, I have a wide range of these recipes, but I really don't have a sort of "one stop shop" or "start here" post for all things overnight oatmeal. And I feel like that is important especially if you are just starting out or you saw the phrase "overnight oats" and thought, "wait, what the heck is that??"
So let this be just that! This post is a resource. Whether you are a fanatic or a first timer, this resource will still be useful for you. Hoping this resource helps but feel free to let me know if there is anything you still need beyond it!
What you will find in this post:
A little info on what overnight oats are and why I love them
Pro-Tips and FAQs I get about overnight oats
Six 5-minute overnight oats recipes that I think you NEED to start with!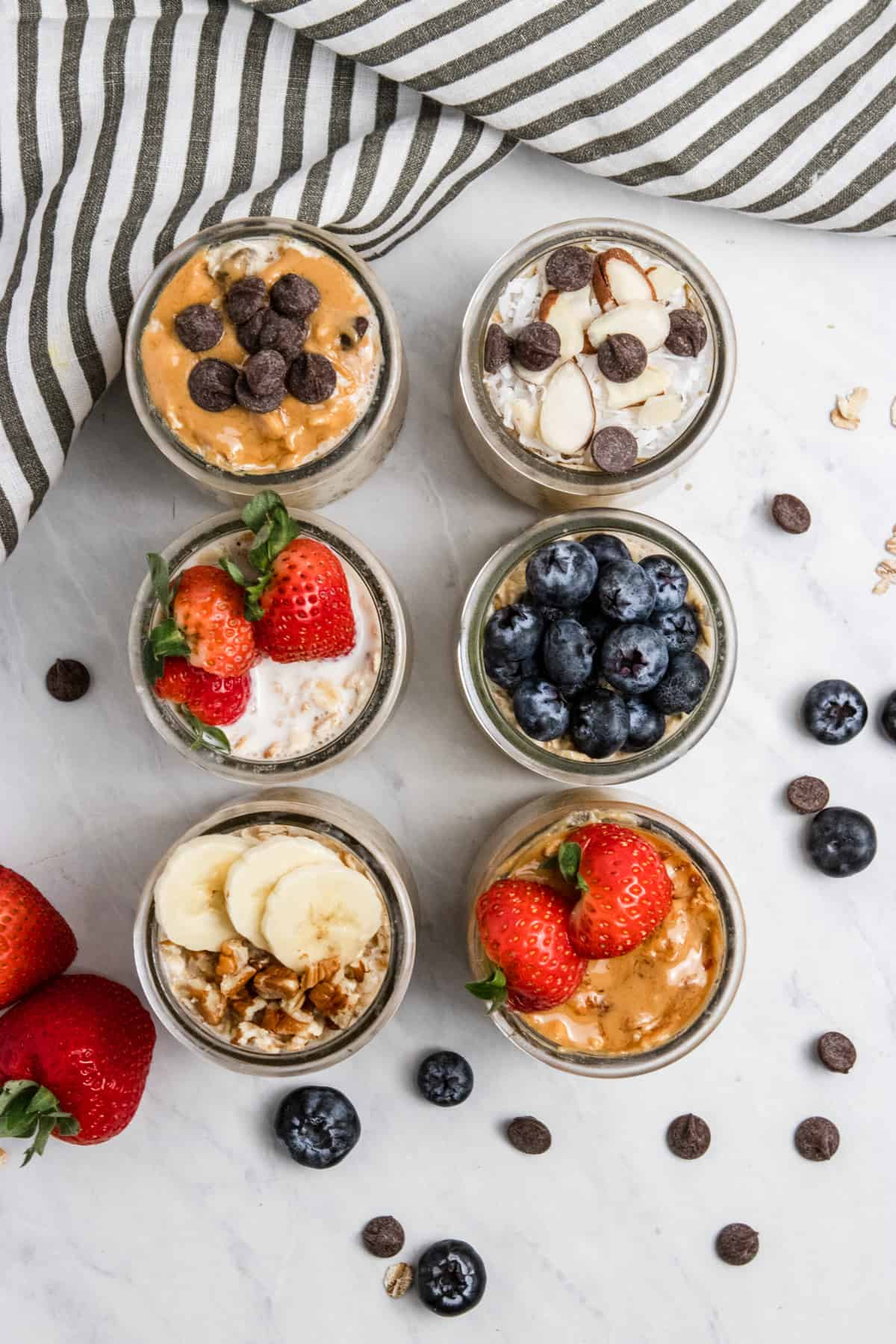 So let's start at the beginning:
What are Overnight Oats?
They are exactly what they sound like--oats that are prepared by soaking all the liquid up and softening throughout the night. If you want to cook rolled oats, you typically have to boil them stove top. However, if you make overnight oats, you are allowing the liquid to soak into the oats and soften them instead of boiling the oatmeal.
That's why they are called what they are called--it takes time for the oats to absorb the liquid and thus, allowing them to soak overnight in the fridge will make them ready to eat right when you wake up!
How do you make them?
All you do is stir together some milk and oats, along with some other goodies for flavor, in a jar or bowl that can be sealed shut. That's it. Then you pop them in the fridge for the night.
This is why everyone is so obsessed with this perfect bresakfast! Minimal effort, infinite flavor combos, hearty and nutritious. The very best!
What you need to make these recipes:
rolled oats: this is what I use. Some people say steel cut oats are great but I find them to be way too chewy. If that's your thing, then you can use them as well.
milk: this can be regular or dairy free. Use the milk that works best for you!
sweetener: I LOVE maple syrup. It is my preferred breakfast sweetener. Use the sweetener you prefer. Honey, sugar, whatever it may be, and adjust to your liking!
chia seeds: not necessary, but a great way to give your oats a boost of protein and fiber. Please do not go out and buy them if you are not interested. They will be fine without.
Pinch of salt: I like to add just a pinch to my recipes for a touch more flavor. Up to you!
These are my base ingredients. Everything else adds fun and flavor!
Ok, so let's get to the goodies!
I have put together 6 recipes that I think are MUST HAVES when you starting out on your oatmeal adventures. Several of these are recipes already on the blog and a few others are new.
The Banana Bread version is the absolute most popular recipe ON THE BLOG. For years it has gotten so much traffic and engagement and many many great reviews. So clearly it works. It has been my favorite for so long as well.
The rest are super simple and delicious so without further adieu, here they are!
These 6 flavors include:
Banana Bread Overnight Oats: Wake up to banana bread but without any of the effort! The perfect way to use up bananas that are about to turn--bonus!
Blueberry Muffin Overnight Oatmeal: Same story, different flavor. Everyone's favorite muffin in a big hearty bowl. No baking required!
Peanut Butter and Jelly Overnight Oats: While I LOOOOVE the banana bread version, I find myself making some form of this variety more often than not. Gotta gotta GOTTA have my peanut butter!
Peanut Butter Chocolate Chip Overnight Oats: I want to call this one something fancy like peanut butter cup or something, but I am just calling this one like I see it. While a basic peanut butter version is fine, when you toss in some chocolate chips, you always take things up a notch, right??
Strawberries and Cream Overnight Oatmeal: Nothing like fresh cream with your berries, right? I love adding just a touch to my oatmeal for that rich creamy flavor. There's nothing extraordinary about this recipe, but I promise it will be a favorite!
Almond Joy Overnight Oatmeal: Because sometimes you feel like a nut, right? My favorite candy turned into one of my very favorite breakfasts!
Overnight Oatmeal FAQs
Here are some of the FAQs I have found I get asked the most when it comes to overnight oatmeal. I will update this if more questions start popping up! (I also try to include this list on many of my overnight oats recipes for future reference.
How long do overnight oats last?
I typically make 3 or so day's worth at a time. 3-5 days is the range that they will last and certain ingredients in different flavors impact this. Oats with mashed banana that I make are typically not good after 2 or 3 days due to the mashed banana but other recipes are good a few days longer. Just keep fruit out of your oats until serving and that should typically help.
What kind of oats do you use?
I prefer rolled oats in mine–I find that they soak up the milk perfectly and are nice and soft after sitting all night. I have seen others suggest steel cut oats for their overnight oats recipe but that is NOT for me. They are too hard and chewy for me. I have found that steel cut oats are best for me in the Instant Pot.
Do you have to make overnight oatmeal in a jar?
When the overnight oatmeal trend hit, it was all the rage to scoop your breakfast out of a ball jar. Heck, I still do. But don't go out and buy cute little jars just yet. If you have a bowl that you can seal, then you are in perfect shape. Don't feel like you have to buy anything extra to make your oatmeal in, bowls can be great as well. I have seen lots of people use the end of a peanut butter jar.
Do you eat overnight oats hot or cold?
I have had readers comment or reach out saying they don't want to eat cold oats. No one says you have to–promise! Pop them in the microwave in the morning and you are all set! Love them chilled? Great, you just get to eat them about a minute sooner!
Can you add protein powder to your oatmeal?
You sure can! Add your favorite protein powder if you like! Just note that you may need to add more milk to balance it out. I usually add a touch more milk in the morning before eating them if they seem a bit thick.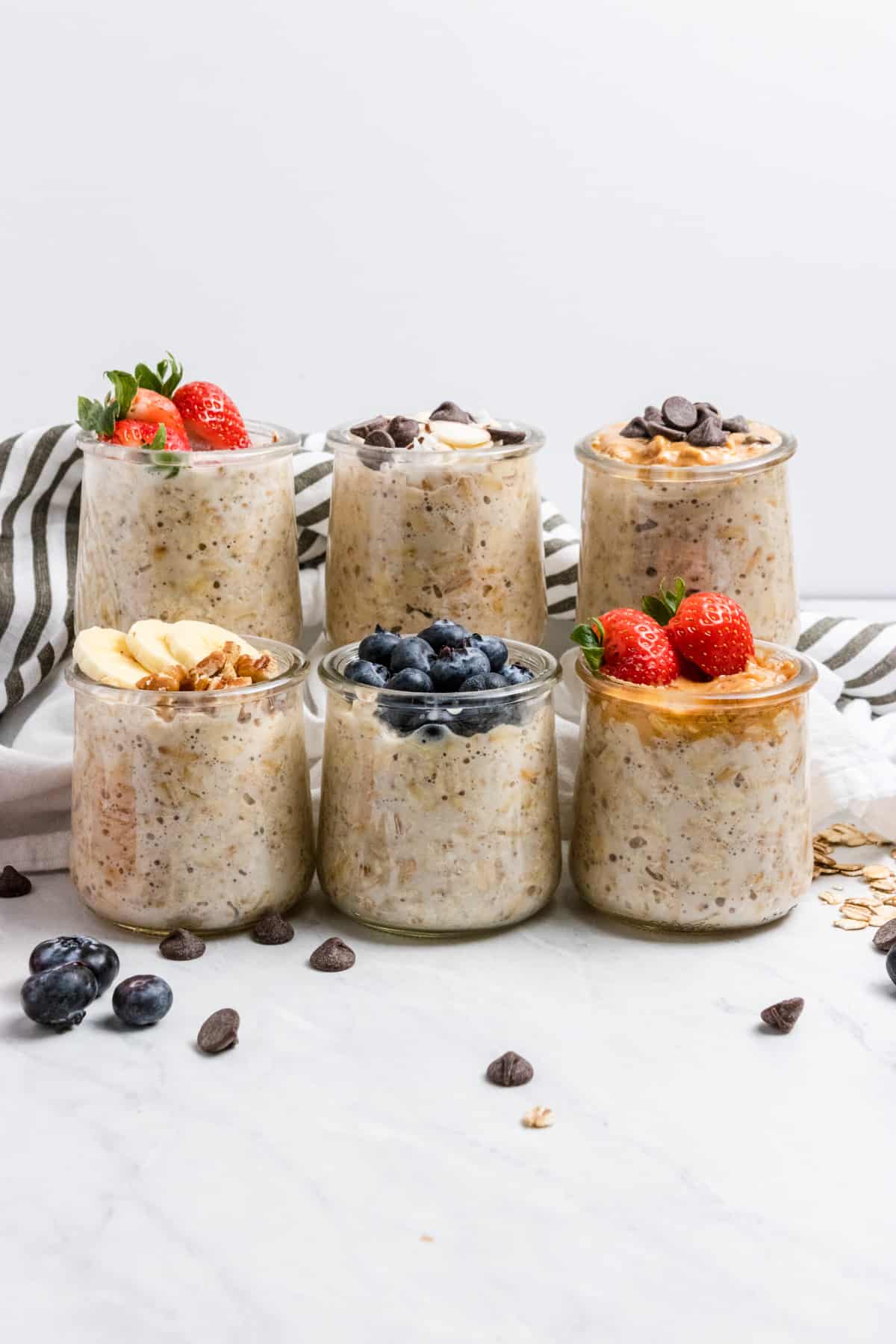 Check out these other top flavors:
HUNGRY FOR MORE? Subscribe to my newsletter and follow me on Facebook, Instagram and Pinterest for all the latest!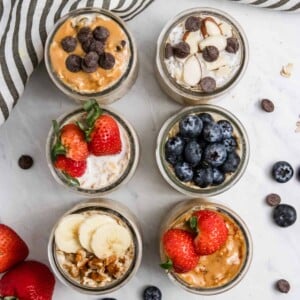 6 Simple Overnight Oats Recipes
Simple and delicious overnight oats--6 ways! So simple to make ahead for breakfast and so many ways to whip them up!
Print
Pin
Rate
Ingredients
Instructions
For All Recipes:
Combine base ingredients plus all ingredients for desired flavor in a bowl or jar that can be sealed and stir well.

Refrigerate overnight.

Add an extra splash of milk if needed before serving. Serve hot or cold.
Notes
Base Nutrition information is based on rolled oats, milk and maple syrup. Please see below for individual recipe calories:
Banana Bread: 387 calories
Blueberry Muffin: 445 calories
Peanut Butter & Jelly: 360 calories
Peanut Butter Chocolate Chip: 420 calories
Strawberries & Cream: 300 calories
Almond Joy: 488
Nutrition
Calories:
250
kcal
|
Carbohydrates:
43
g
|
Protein:
9
g
|
Fat:
5
g
|
Saturated Fat:
2
g
|
Cholesterol:
9
mg
|
Sodium:
59
mg
|
Potassium:
312
mg
|
Fiber:
4
g
|
Sugar:
15
g
|
Vitamin A:
120
IU
|
Calcium:
178
mg
|
Iron:
2
mg