Carrot cake for breakfast? Why yes! These Carrot Cake Overnight Oats are a simple, hearty way to start your morning. Prep your oats at night and breakfast is ready on the go. So easy!
Carrot Cake Overnight Oats, they're what's for breakfast!
It's another snowy day here in Ohio. It's as though the entire season of winter has been crammed into this one week. This is really messing with my routine and I am starting to get some major cabin fever. However, I had quite a bit of time in the kitchen so I am actually behind on recipe sharing. Guessing that's a good thing!
I love the feeling of routine, consistency and predictability. I like to have my day set out before me and know what to expect. So you can imagine that after a few days of non-routine how I start to react. Clearly, this is another part of my need for control and another work in progress, but a week of snow is just not helping.
Sitting on the couch all day or binge watching my favorite TV show is more of a nightmare to me than a holiday as my husband seems to think. I've gotta be moving and feeling like I am accomplishing something each day. And I have learned this week that there is only so much laundry to be done or closets to be cleaned.
Needless to say, I am ready for spring!
And with spring comes one of my favorites: carrot Cake!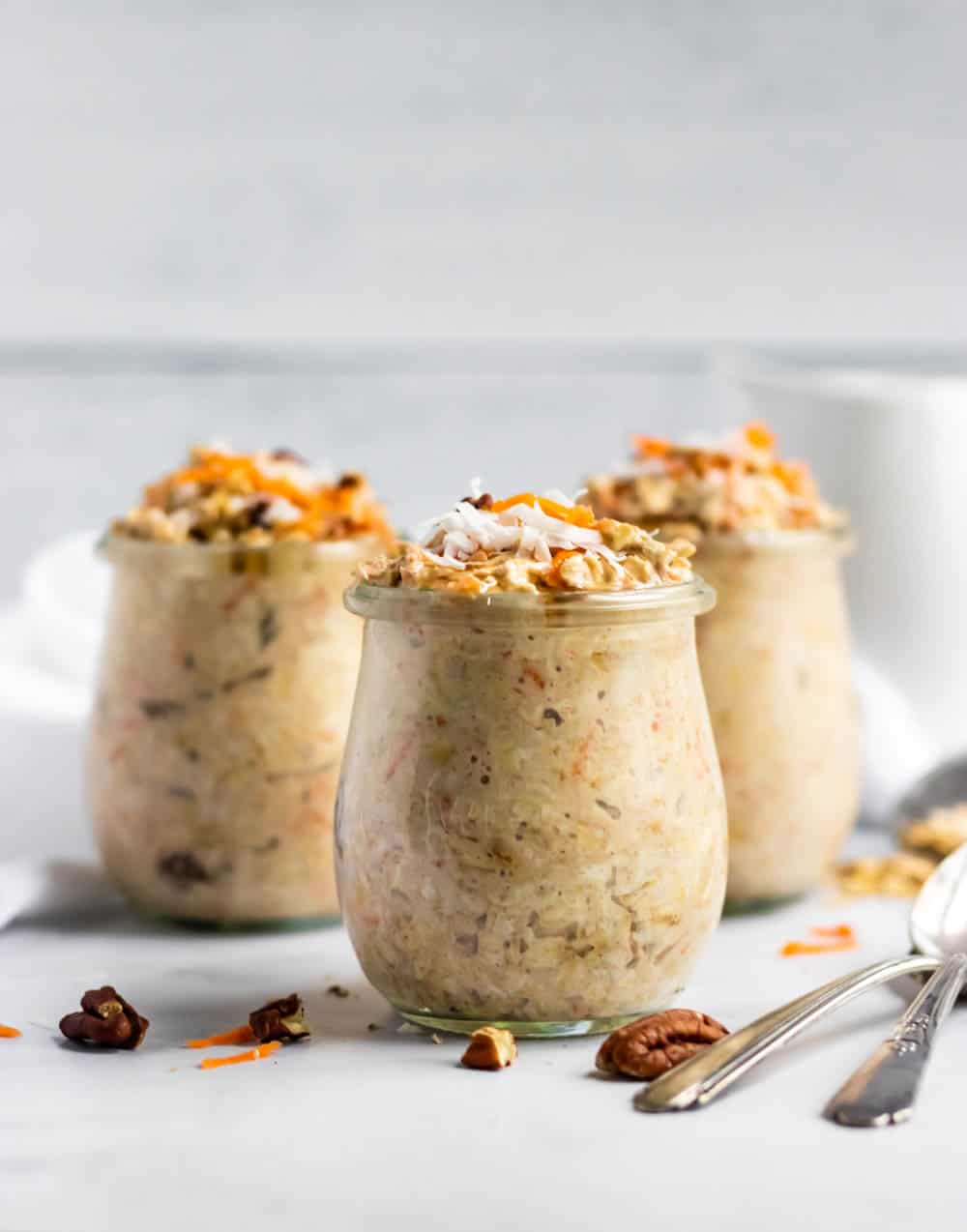 Since I have had so much extra time in the kitchen, I have had more successes than failures with new recipes. Only one was a major flop so I am pretty pleased with the things I have to share right now! I have quite a few recipes for overnight oats and yet lately I have been wanting a smoothie each morning for breakfast even though I have a delicious breakfast already waiting and ready.
Since I haven't really been in any kind of rush, a grab and go breakfast is not really necessary. So I have been having these Carrot Cake Overnight Oats as an afternoon snack and it has been amazing!
Carrot cake is one of my absolute favorites.
The combination of flavors is right up my alley. This Carrot Cake Overnight Oats recipe is an easy way to sneak in some veggies for breakfast. And if you tell the kids they are eating cake, then who could say no to that! Remember that these can be eaten hot or cold. Feel free to use any kind of milk. I typically use unsweetened almond milk. This can easily be made gluten free as well!
WHAT YOU NEED TO MAKE THESE CARROT CAKE OVERNIGHT OATS:
Oats! That obvious?? But what kind of oats is the question. I use rolled oats. I have also made these, adjusting the milk slightly to taste, with quick oats and have found they work really great when I want the same recipe but right now.
Carrots, duh, right? This makes them super Mashable and sweet.
your favorite sweetener. I love love LOVE maple. That's not everyone's jam. Do you!
Nuts–I prefer pecans but others opt for walnuts. They taste amazing toasted if you have an extra few minutes.
Coconut and Raisins: not everyone loves these in their carrot cake but I sure do. Golden raisins are amazing to use so add those if you have any. The recipe is still amazing without either of these if you are not much of a fan.
Milk–I use either whole or unsweetened vanilla almond milk. Honestly it usually depends on what is around or what needs to be used up.
Cinnamon–the more the better in my honest opinion!
Fun add-ins: flax meal for a bit more fiber, chia seeds, a dollop of yogurt when serving, and anything else that sounds delish!
In case these Carrot Cake Overnight Oats are your first…
DO YOU HAVE TO MAKE OVERNIGHT OATS IN A JAR?
When the overnight oats trend hit, it was all the rage to scoop your breakfast out of a ball jar. Heck, I still do. But don't go out and buy cute little jars just yet. If you have a bowl that you can seal, then you are in perfect shape.
Don't feel like you have to buy anything extra to make your oatmeal in, bowls can be great as well. I have seen lots of people use the end of a peanut butter jar–that would be perfect for these Chocolate Peanut Butter Overnight Oats!
CAN YOU WARM OVERNIGHT OATS?
Yes! Yes! Yes! I have had readers comment or reach out saying they don't want to eat cold oats. No one says you have to–promise! Pop them in the microwave in the morning and you are all set! Love them chilled? Great, you just get to eat them about a minute sooner!
WHAT KIND OF OATS DO YOU USE IN OVERNIGHT OATS?
I prefer rolled oats in mine. I find that they soak up the milk perfectly and are nice and soft after sitting overnight. I have seen others suggest steel cut oats for their overnight oats recipe but that is NOT for me. They are to hard and chewy for me. I have found that steel cut oats are best for me I the Instant Pot. (Check out these Banana Bread Instant Pot Steel Cut Oats!)
IF YOU LOVE OVERNIGHT OATS AS MUCH AS I DO, THESE ARE SOME OF MY FAVORITES:
DID YOU MAKE ONE OF MY RECIPES? LEAVE A COMMENT AND LET ME KNOW! I ALSO LOVE TO SEE YOUR LEMONS + ZEST RECIPES ON SOCIAL MEDIA–TAG ME @LEMONSANDZEST ON INSTAGRAM OR FACEBOOK!
Ingredients
1/2

large carrot

shredded

1 1/2

T

coconut

shredded or flaked

1/2

cup

rolled

regular or gluten free

3/4

cup

milk of choice

1

T

chopped pecans or walnuts

1

T

raisins

1/2

tsp

vanilla

1/2-1

tsp

cinnamon

Dash of sea salt

2

tsp

maple
Instructions
Combine all ingredients in a container that can be sealed and stir well.

Refrigerate overnight.

Enjoy hot or cold!
Notes
If you plan to eat this cold, you may want to put the raisins in right before serving or they may be too hard straight from the refrigerator.