This post may contain affiliate links.
Coconut Cream Pie Overnight Oats means pie for breakfast! These simple overnight oats are packed with goodness and tastes like one of my favorite pie flavors!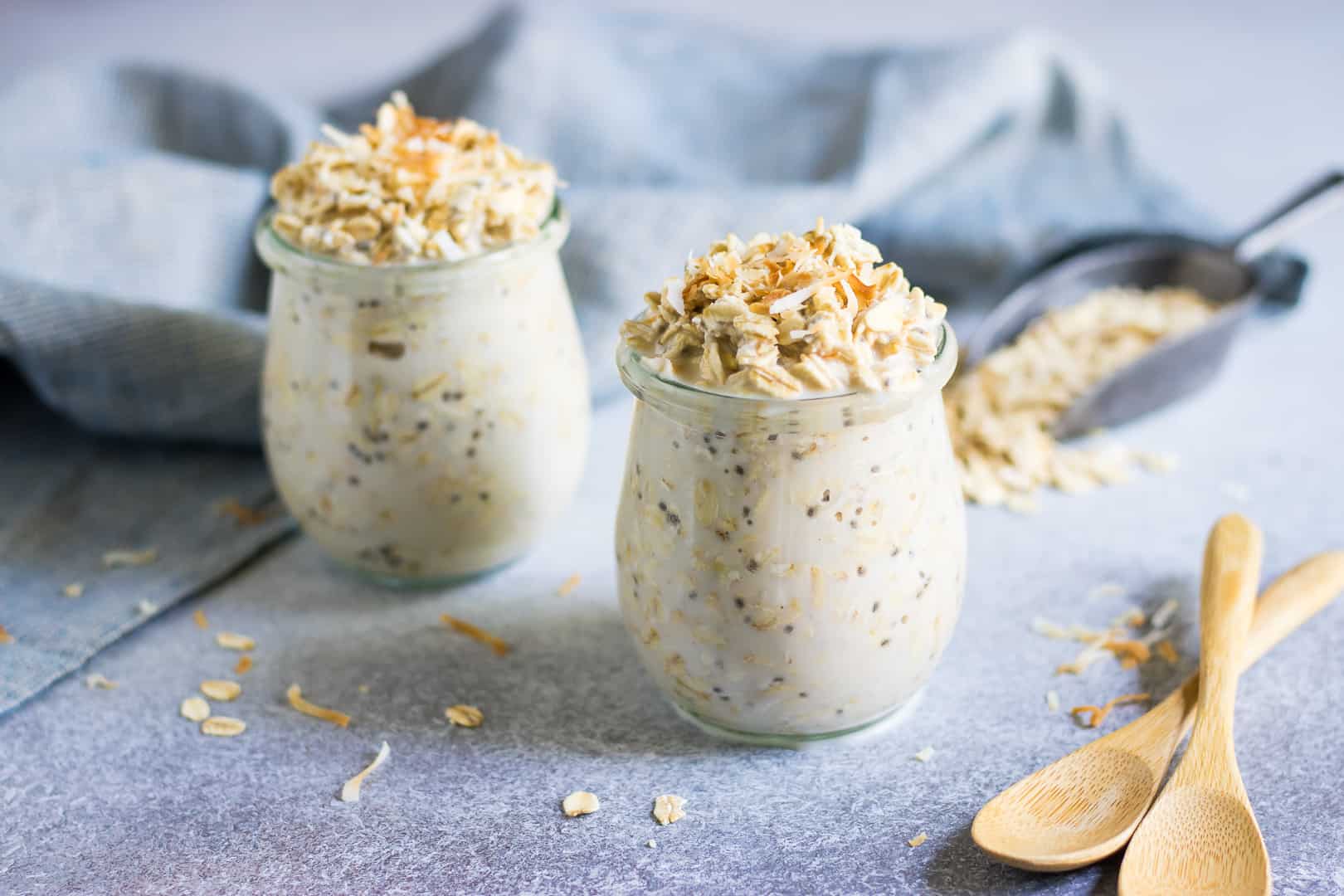 This post contains affiliate links, meaning, at no additional cost to you, if you click through an affiliate link and make a purchase, I may make a commission.
Coconut Cream Pie Overnights make mornings much more enjoyable!
It's that time. Back. To. School.
Yikes. How did this happen? Where did summer go? How am I going to get back into a routine, etc. etc. ETC.!
Friends, you know I always have you covered with these two perfect words: Overnight Oats. There is a reason these are my most popular recipes on the blog.
They are so simple and so practical during the week. Breakfast is literally made and ready the second you wake up for work or school or wherever you have to head in the morning. Grab your jar and hustle out the door. You are all set!
I have made just about every flavor of Overnight Oats under the sun and I am very upset with myself that it took so long for me to create this Coconut Cream Pie version.
I mean, Coconut Cream Pie is my second favorite pie, only being beaten by Pumpkin Pie. This was a big miss on my part not having coconut overnight oats so I hope you will forgive me for the wait on such a creamy, irresistible breakfast. It's a dream come true!
Coconut Yogurt or Coconut Butter: you choose
For these Coconut Cream Pie Overnight Oats, I upped the chia seed game. Often I use chia seeds and flax, but wanted to go a bit heavier on the chia seeds for added protein and fiber--mainly because I assume we all need an extra boost as we move into new routines and new early wake up calls.
I also played around with both coconut yogurts and coconut butter. I prefer the version with the coconut butter but coconut butter isn't something that everyone has on hand so the yogurt is another option to add even more coconut flavor.
Speaking of coconut butter, unless you literally have zero, and I mean ZERO, time on your hands, do NOT buy coconut butter.
It is so easy and soooo affordable to make. All you have to do is add about a cup, or more depending on how much you want, of shredded coconut into the food processor and process until it becomes smooth. It takes about 10-15 minutes and its so good.
Making it will cost you a couple dollars but buying it can cost anywhere from $8-$12. Not worth it in my mind.
If you decide to go with the coconut yogurt, you may not need as much sweetener or maple so add the maple after the yogurt and taste. And then of course the rolled oats, regular or gluten free is fine! I also bounce between unsweetened almond milk and coconut milk for this one.
Your favorite milk is really fine in overnight oats so choose what you like the flavor of best. We just always have almond milk in the house but don't always have coconut milk. And when it comes to regular milk, I feel like every time I grab the carton it's gone or it has gone bad so maybe it's just my luck!
Some things to Know about Overnight Oats in general
I have learned a few things since I have pretty much been making overnight oats on repeat since I first got hooked. Thought I would answer a few questions while I have you here–I am sure the drool worthy oats is really what you are here for but stick around, you may learn a thing or two!
HOW LONG DO OVERNIGHT OATS LAST?
I typically make 3 or so days worth at a time. 3-5 days is the range that they will last and certain ingredients in different flavors impact this. Banana Bread overnight oats are typically not good after 2 or 3 days due to the mashed banana but this chocolate peanut butter overnight oats recipe is good a few days longer. Just keep fruit out of your oats until serving and that should typically help.
WHAT KIND OF OATS DO YOU USE IN OVERNIGHT OATS?
I prefer rolled oats in mine--I find that they soak up the milk perfectly and are nice and soft after sitting overnight. I have seen others suggest steel cut oats for their overnight oats recipe but that is NOT for me. They are to hard and chewy for me. I have found that steel cut oats are best for me I the Instant Pot. (Check out these Banana Bread Instant Pot Steel Cut Oats!)
DO YOU HAVE TO MAKE OVERNIGHT OATS IN A JAR?
When the overnight oats trend hit, it was all the rage to scoop your breakfast out of a ball jar. Heck, I still do. But don't go out and buy cute little jars just yet. If you have a bowl that you can seal, then you are in perfect shape. Don't feel like you have to buy anything extra to make your oatmeal in, bowls can be great as well. I have seen lots of people use the end of a peanut butter jar–that would be perfect for these Chocolate Peanut Butter Overnight Oats!
CAN YOU WARM OVERNIGHT OATS?
Yes, Yes, Yes! I have had readers comment or reach out saying they don't want to eat cold oats. No one says you have to–promise! Pop them in the microwave in the morning and you are all set! Love them chilled? Great, you just get to eat them about a minute sooner!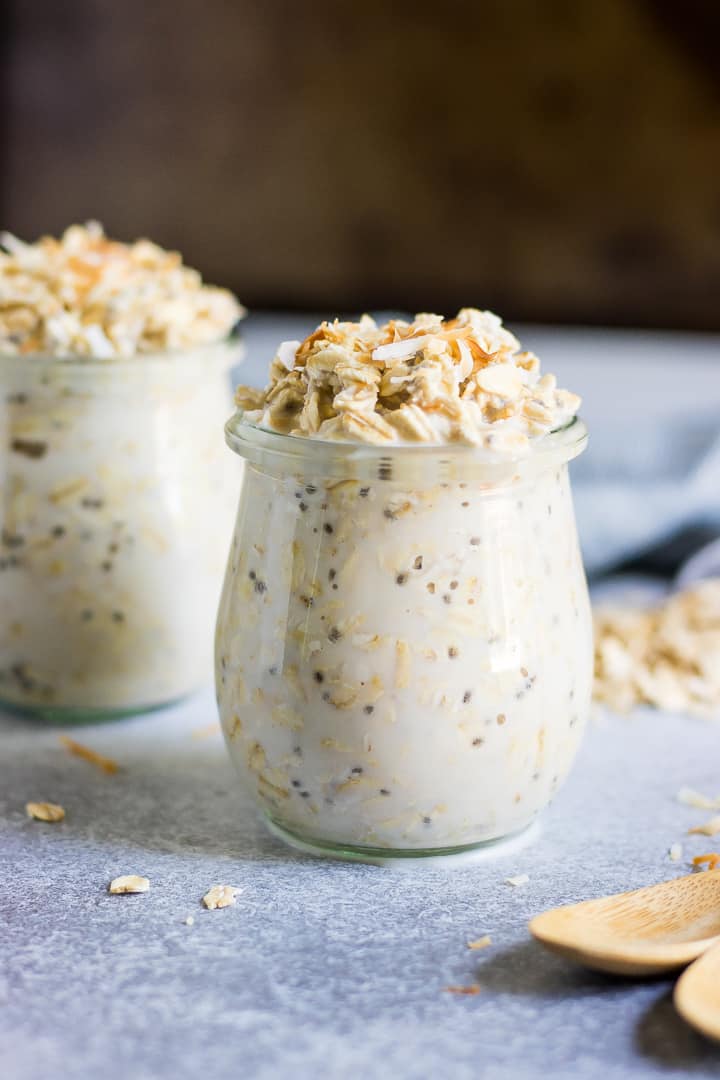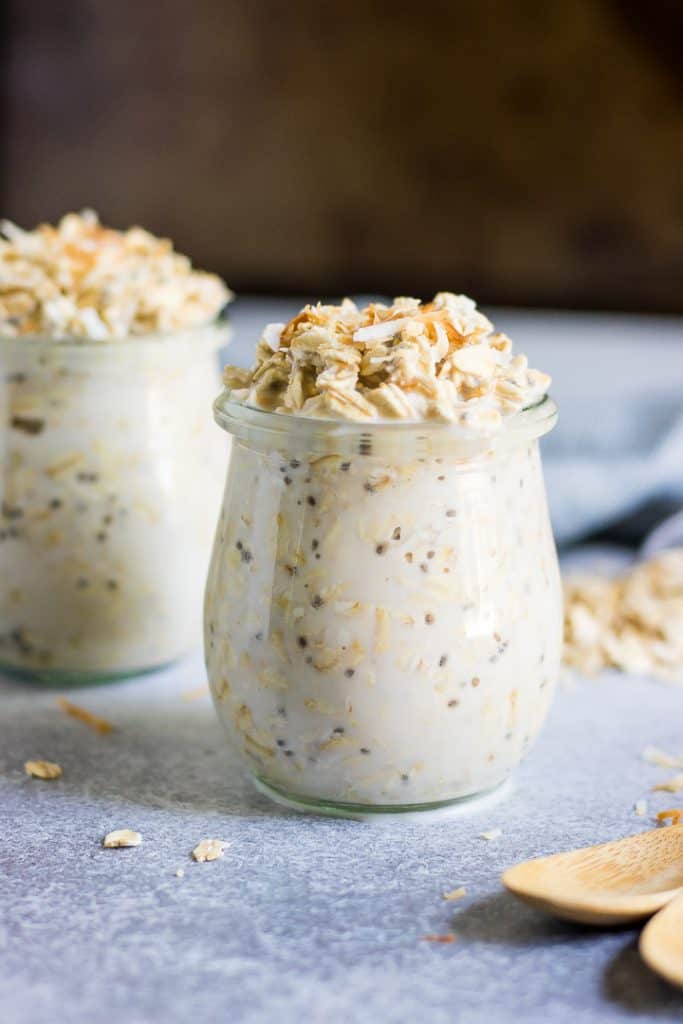 One last thing, I get a LOT of questions about what containers I use to make my overnight oats.
I use these Ball Jars. I prefer the wide mouth. They only end up filled about half way for a serving. Weck Jars are amazing as well! I love both.
TRY MY OTHER FAVORITE OVERNIGHT OATS RECIPES:
DID YOU MAKE ONE OF MY RECIPES? LEAVE A COMMENT AND LET ME KNOW! I ALSO LOVE TO SEE YOUR LEMONS + ZEST RECIPES ON SOCIAL MEDIA–TAG ME @LEMONSANDZEST ON INSTAGRAM OR FACEBOOK!
Coconut Cream Pie Overnight Oats
Coconut Cream Pie Overnight Oats means pie for breakfast! These simple overnight oats are packed with goodness and tastes like one of my favorite pie flavors!
Print
Pin
Rate
Ingredients
1/2

c

rolled oats

regular or gluten free

2/3

c

unsweetened coconut milk

or milk of choice

2

T

shredded coconut

1

T

chia seeds

2

tsp

pure maple syrup

1-2

tsp

coconut butter (optional: a spoonful of coconut flavored yogurt is a great option)

1/2

tsp

vanilla

Dash of sea salt
Instructions
Combine all ingredients in a bowl or jar that can be sealed tight.

Stir well to combine.

Seal jar and refrigerate over night or at least 4 hours.

Serve warm or cold and with desired garnishes such as toasted coconut flakes, fresh berries or even sliced almonds!
Notes
If you are not using coconut butter, a couple spoonfuls of coconut yogurt (or even vanilla) could be subbed or just omit it completely!