Pumpkin pie for breakfast? With these simple Pumpkin Pie Overnight Oats, a touch of cinnamon and pumpkin spice mixed with hearty oats and real pumpkin will make fall mornings extra cozy!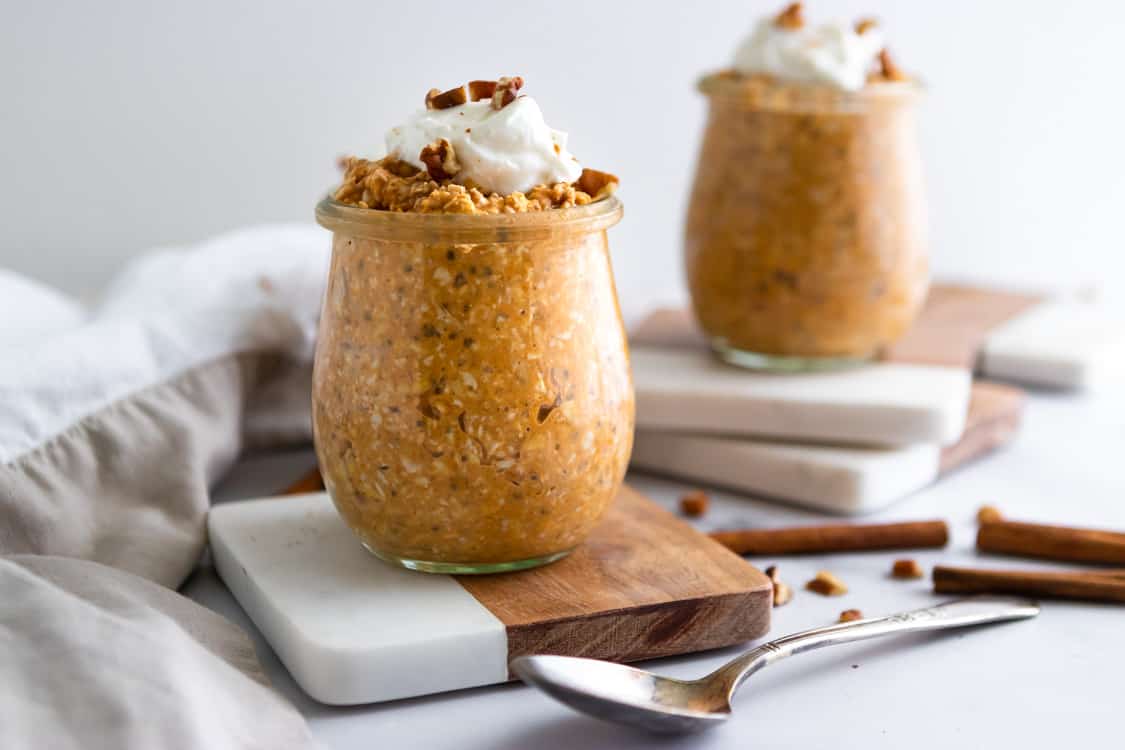 ~Same great recipe, photos updated August 2019~
I have a confession. I do NOT like Pumpkin Spice Lattes.
Nope. Not one bit. There is nothing about this girl that is into the whole PSL trend so I am sorry if that is what you were hoping for today. Now I have nothing against any and all things pumpkin pie, however, there is something about cinnamon and coffee that just doesn't do it for me.
I did my very best and waited until after Labor Day to pull out all of my fall flavors and so naturally that means pumpkin, pumpkin, and a lot more PUMPKIN. I was looking over all the pumpkin recipes I already have here on the blog and realized that my all time favorite dessert was missing from my extensive overnight oats list. I needed to remedy that before fall was here for real.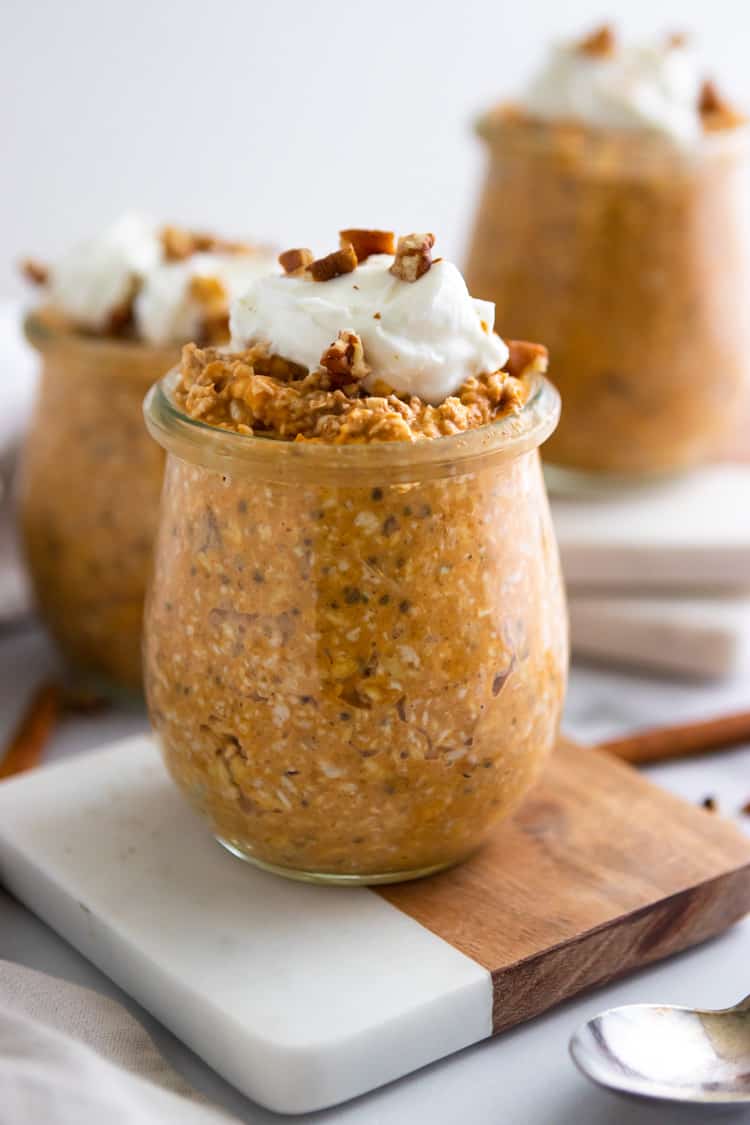 In all honesty, I am really not sure how I missed Pumpkin Pie Overnight Oats for almost four years. It really doesn't make sense considering pumpkin pie is my favorite pie and overnight oats are my favorite breakfast of all time. I love coconut cream pie and made Coconut Cream Pie Overnight Oats years ago. Carrot Cake Overnight Oats? I've got 'em.
Finally we have Pumpkin Pie Overnight Oats.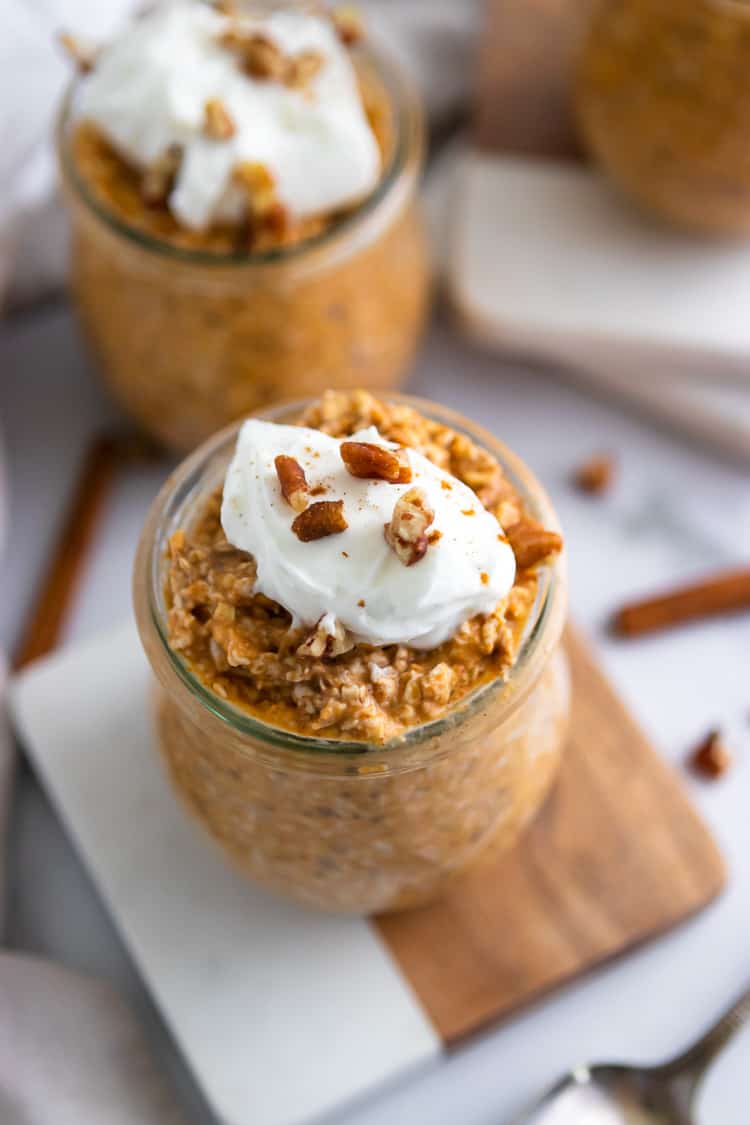 When it comes to pumpkin pie, like the baked goodness that my grandma makes the world's best version, I prefer my ratio of whipped cream to pie a 2:1, meaning I want my layer of whipped cream to be two times as high as the actual pie. I love my pumpkin pie, but I am not one to be seen with a naked piece of pie. Give me all the whipped cream! They were made to be together.
I am now thinking these oats are looking a little naked  without a big dollop of whipped cream so I will let you remedy that when you make them for yourself, k??
Pumpkin Pie Overnight Oats are easier than pie!
If you are new to the whole world of overnight oats, they are, no pun intended, easy as pie.
In fact, they are even easier. Letting the oats soak in milk overnight softens them and allows you to skip the stove top cooking which in turn saves you lots of time. You can prep several at one time and have breakfast ready for you when you wake up in the morning.
There are sooooo many flavor options that you will never get bored. Promise! And, like with these, you get to eat a hearty bowl of oats that tastes a lot like your favorite fall dessert–won't find me arguing with that!
Do you have another sweet treat that you would also like to see as an overnight oats flavor? Let me know!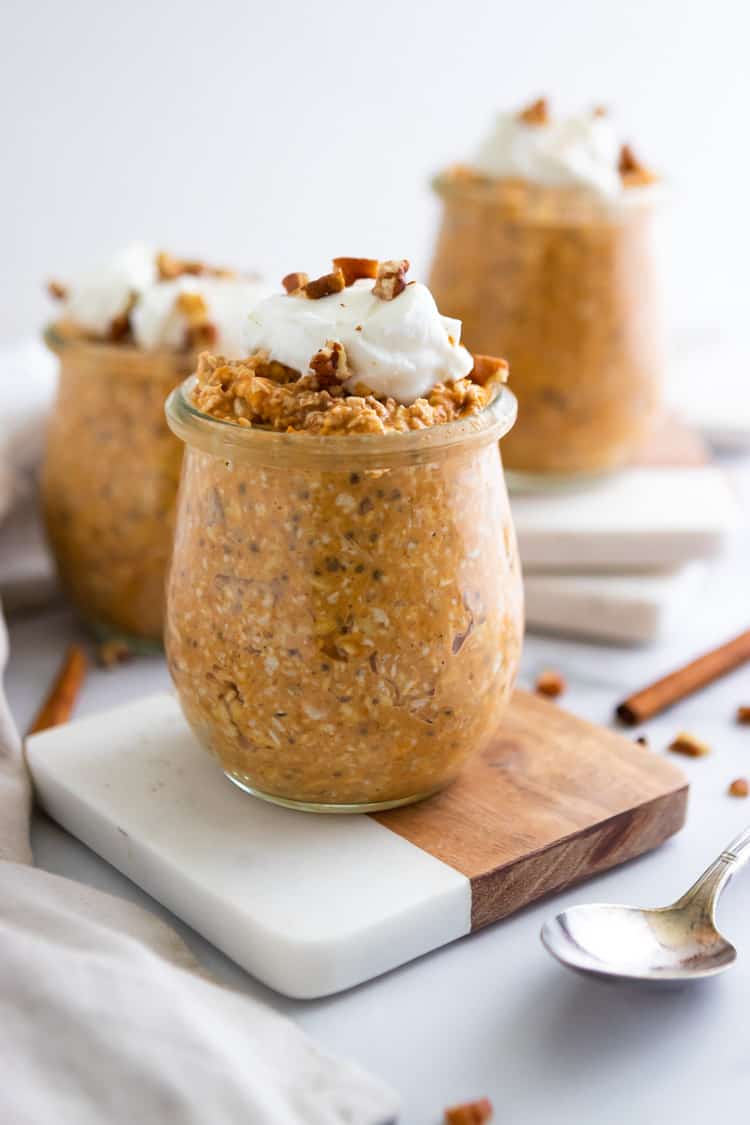 SOME THINGS TO KNOW ABOUT OVERNIGHT OATS IN GENERAL
I have learned a few things since I have pretty much been making overnight oats on repeat since I first got hooked. Thought I would answer a few questions while I have you here–I am sure the drool worthy  oats is really what you are here for but stick around, you may learn a thing or two!
HOW LONG DO OVERNIGHT OATS LAST?
I typically make 3 or so days worth at a time. 3-5 days is the range that they will last and certain ingredients in different flavors impact this. Banana Bread overnight oats are typically not good after 2 or 3 days due to the mashed banana but this chocolate peanut butter overnight oats recipe is good a few days longer. Just keep fruit out of your oats until serving and that should typically help.
WHAT KIND OF OATS DO YOU USE IN OVERNIGHT OATS?
I prefer rolled oats in mine–I find that they soak up the milk perfectly and are nice and soft after sitting overnight. I have seen others suggest steel cut oats for their overnight oats recipe but that is NOT for me. They are to hard and chewy for me. I have found that steel cut oats are best for me I the Instant Pot. (Check out these Banana Bread Instant Pot Steel Cut Oats!)
DO YOU HAVE TO MAKE OVERNIGHT OATS IN A JAR?
When the overnight oats trend hit, it was all the rage to scoop your breakfast out of a ball jar. Heck, I still do. But don't go out and buy cute little jars just yet. If you have a bowl that you can seal, then you are in perfect shape. Don't feel like you have to buy anything extra to make your oatmeal in, bowls can be great as well. I have seen lots of people use the end of a peanut butter jar–that would be perfect for these Chocolate Peanut Butter Overnight Oats!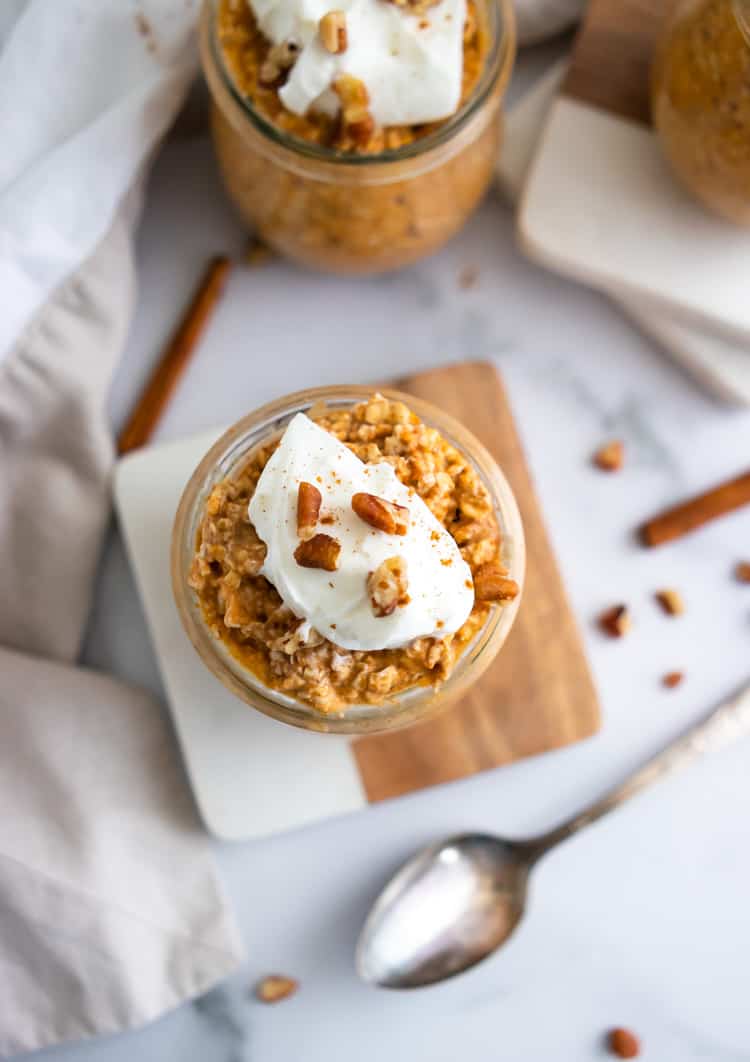 CAN YOU WARM OVERNIGHT OATS?
Yes, Yes, Yes! I have had readers comment or reach out saying they don't want to eat cold oats. No one says you have to–promise! Pop them in the microwave in the morning and you are all set! Love them chilled? Great, you just get to eat them about a minute sooner!
On the hunt for more pumpkin and fall breakfast options? Don't worry, I have got you covered! Take a stab at one of these as well!
Check these pumpkin recipes out:
DID YOU MAKE ONE OF MY RECIPES? LEAVE A COMMENT AND LET ME KNOW! I ALSO LOVE TO SEE YOUR LEMONS + ZEST RECIPES ON SOCIAL MEDIA–TAG ME @LEMONSANDZEST ON INSTAGRAM OR FACEBOOK!
Pumpkin Pie Overnight Oats
Pumpkin pie for breakfast? With these simple Pumpkin Pie Overnight Oats, a touch of cinnamon and pumpkin spice mixed with hearty oats and real pumpkin will make fall mornings extra cozy!
Print
Pin
Rate
Ingredients
1/2

c

rolled oats (regular or gluten free)

1/2

c

vanilla unsweetened almond milk (or milk of choice)

2

T

pumpkin purée

1

tsp

chia seeds

2-3

tsp

maple or sweetener of choice

1/2

tsp

cinnamon

1/4

tsp

pumpkin spice

1/2

tsp

vanilla extract

dash of sea salt

chopped pecans for garnish (optional)
Instructions
Combine all ingredients in a bowl or jar that can be sealed.


Stir well to combine. Chill in the refrigerator overnight or at least for 4 hours.


Eat these warmed up or cold if you are on the go!

Notes
Add a tablespoon or so of milk before serving if oats are too thick for your liking.
Nutrition
Calories:
268
kcal
|
Carbohydrates:
48
g
|
Protein:
7
g
|
Fat:
6
g
|
Saturated Fat:
1
g
|
Sodium:
169
mg
|
Potassium:
256
mg
|
Fiber:
7
g
|
Vitamin A:
4669
IU
|
Vitamin C:
1
mg
|
Calcium:
232
mg
|
Iron:
2
mg