Think crumble/crisp meets pumpkin pie in this simple, warm Pumpkin Pie Crumble. Thick pumpkin layer topped with a buttery oat topping. Change up your favorite fall recipe for this version!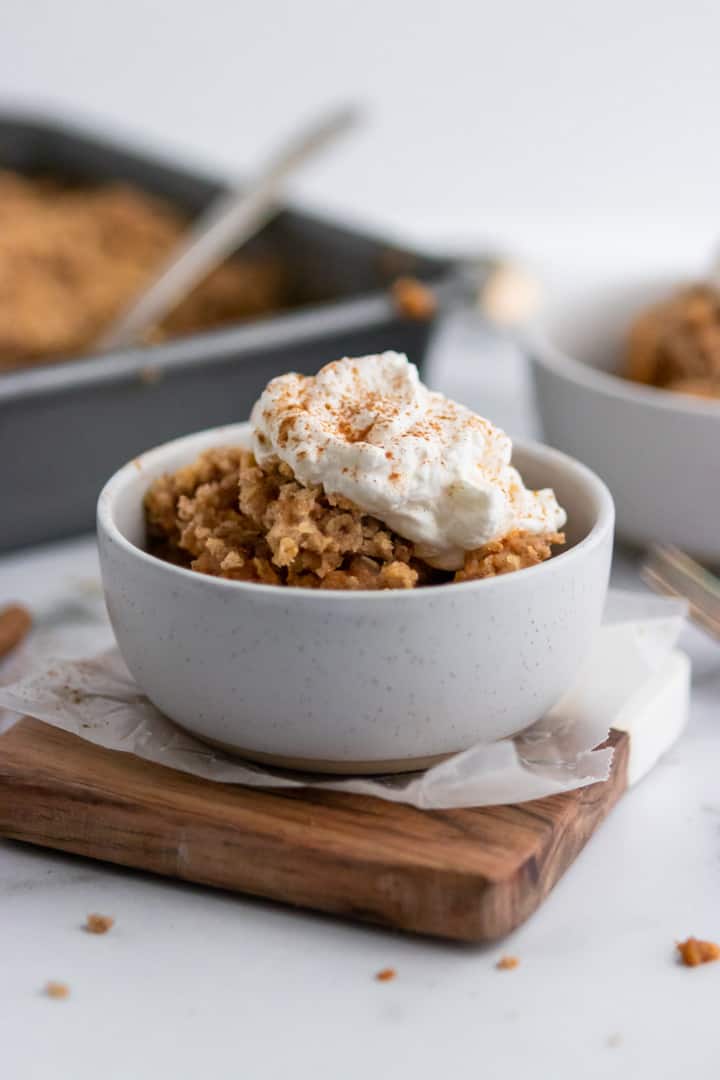 -Originally published November 2014. Updated November 2019-
This week marks one of my absolute favorite holidays. It's funny that I say this as Thanksgiving was once a holiday I did not want to take part in at all.
Sounds crazy, but it's true. During the years that I cared about nothing but being thin and feared weight gain, Thanksgiving was my nemesis. I had anxiety over the fact that all of this food would be in front of me and there was no way I could say no.
Let me remind you that for years I ate not to nourish my whole self but to make sure I could stay thin. Eating was about control.
Thanksgiving is now a celebration for me.
The things I put into my mouth were only what I approved as "good" and to be on the good list, it had to be low calories. My priorities changed when I learned that I am so much more, when I learned to throw away all of the rules.
Everything became so much better. The things I put into my mouth now are to nourish, enjoy, energize, and satisfy. Counting calories is not a thing I torment myself with anymore.
Thanksgiving is now a holiday I can really savor and enjoy being present with my family. I am very blessed and have so many things to be grateful for that they wouldn't fit on 100 pages.
And good food is something to be grateful about, right??
Pumpkin Crumble: Where pumpkin pie meets crisp!
This Pumpkin Crumble combines two of my favorite desserts: Pumpkin Pie and a Crisp/Crumble ( I looked up the difference between crisps and crumbles and while crisps normally have oats and crumbles do not, they are used pretty interchangeably these days.)
I love Pumpkin Pie but I typically just scrape out the filling as I am not a big crust fan. I do, however, love a good crumbly topping on a crisp. In fact, I would be happy without the fruit part and just the topping at times!
Think thick, pumpkin pie base and a crisp, buttery topping–seriously, the best of both worlds in my opinion!
The real kicker is deciding whether you are supposed to eat it with whipped cream or a big scoop of vanilla ice cream. When in doubt, both, right?!
Hoping your Thanksgiving is full of happiness, love, family, friends and plenty of food. And gratitude, of course!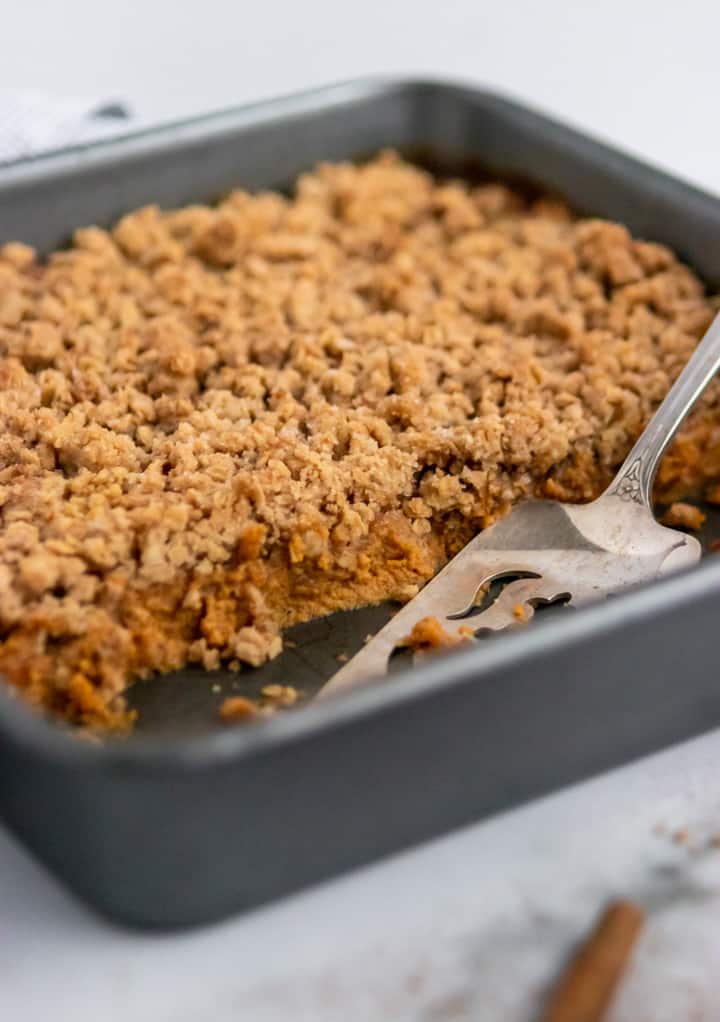 Some things to note about this Pumpkin Crumble:
I typically use an 8×8 inch pan when making this pumpkin crumble. I prefer the pumpkin layer to be nice and thick. I have made it in a 9×9 inch pan as well and that still works–the layers a bit more even.
You really need a solid 20-25 minutes before you add the crumble topping or it will sink to the bottom of the pan. Consider yourself warned!
Once I ran out of brown sugar and made this entire recipe using only white sugar. It still turned out ok. I much prefer the brown sugar and the richness of it, but if you do find yourself in a pinch, you have options!
If you prefer pumpkin pie spice, you can opt for that versus the varying spices I used in the recipe.
If you are looking to make this gluten free, use a 1:1 all purpose gluten free flour and gluten free oats. That should have you covered!
Check out these other amazing pumpkin and fall recipes:
DID YOU MAKE ONE OF MY RECIPES? LEAVE A COMMENT AND LET ME KNOW! I ALSO LOVE TO SEE YOUR LEMONS + ZEST RECIPES ON SOCIAL MEDIA–TAG ME @LEMONSANDZEST ON INSTAGRAM OR FACEBOOK!
Pumpkin Pie Crumble
Think crumble/crisp meets pumpkin pie in this simple, warm buttery Pumpkin Pie Crumble. Thick pumpkin layer topped with a buttery oat topping. Change up your favorite fall recipe for this version!
Print
Pin
Rate
Ingredients
Filling:
2

cups

pumpkin puree

1 15 oz. can or container

1/2

c.

brown sugar, packed

2

eggs

lightly beaten

1 1/2

tsp.

cinnamon

1/4

tsp

ground cloves

1/4

tsp

ground ginger

1

tsp.

vanilla extract

1

can

evaporated milk (12 oz.)

Dash of sea salt
Topping:
3/4

c

flour

3/4

c

quick oats

1/2

cup

butter, melted

1/2

cup

brown sugar

1-2

tsp

cinnamon

1

tsp

vanilla extract

1/2

c

chopped pecans (optional)

Dash of sea salt
Instructions
Preheat oven to 375°

Combine all pie filling ingredients and stir well. Grease an 8×8 baking pan. (9×9 will work as well, the pumpkin layer will be thinner though.)


Pour filling into pan and place in oven to bake.

While filling is baking, combine and stir topping ingredients together.

After about 20 minutes, the filling should set a bit and be able to hold up the crumble topping. Evenly cover the filling with the topping. (NOTE: You really want this to stay on top of the filling as much as possible. In order to do so, it helps to use fingers to lightly crumble and distribute it all rather than spooning all of it in one big dump. )

Bake for another 25-35 minutes or until the topping is a golden brown. Test the pumpkin filling with a toothpick as well. If it comes out clean, then it's ready!

Let cool for about an hour before serving. Store in the refrigerator.