Need a quick weeknight dinner? Try these Vegan Black Bean Quesadillas–fresh avocado, black beans, corn, cilantro and spices. This recipe is so simple and ready in no time. Dairy free for those who may need it!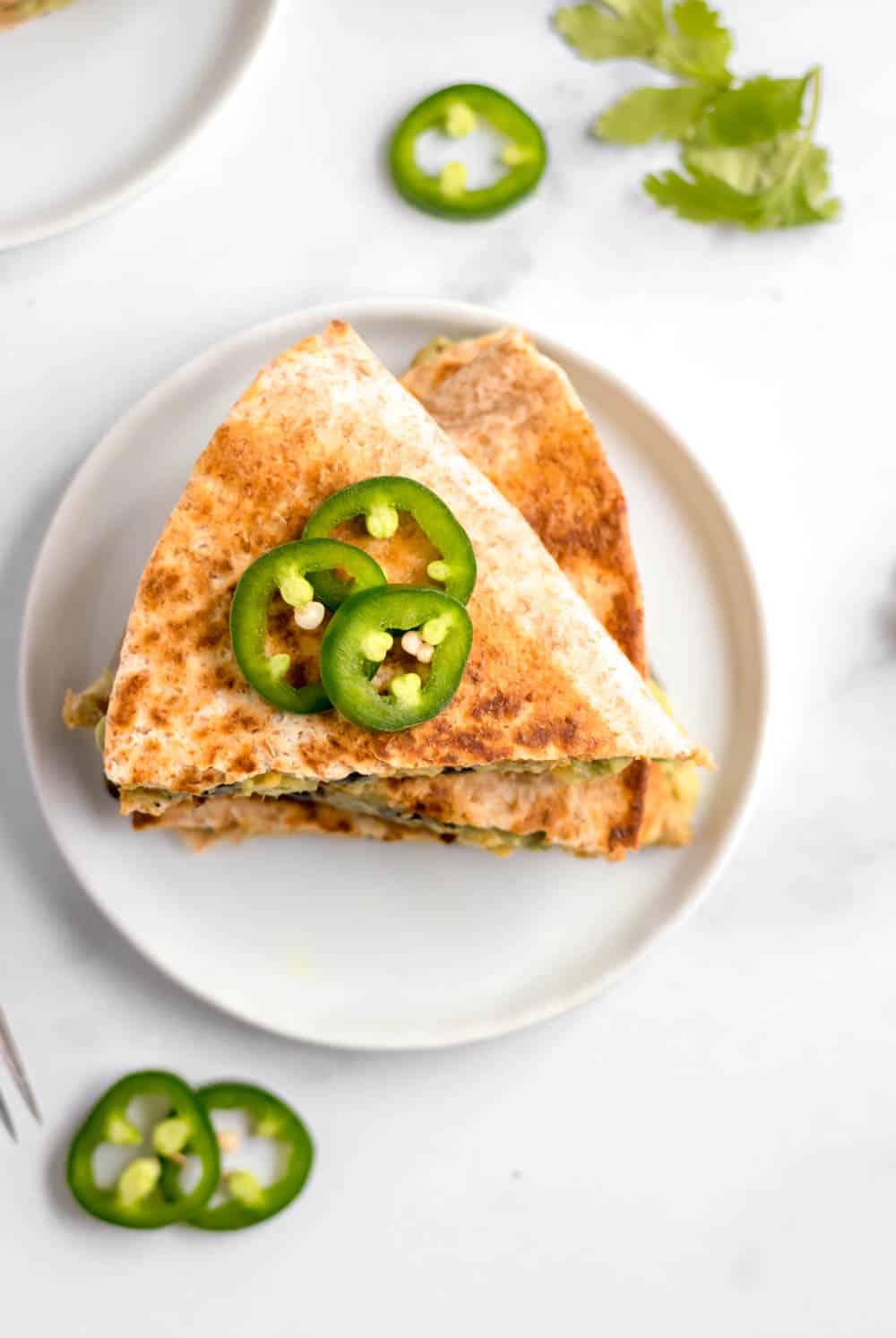 Recently I was going through my closet trying to weed out clothes I don't wear anymore. In doing so, I came across some items that I haven't worn in at least 2, maybe even 3 years and yet I still was holding on to them.
Time to let go
I was reminded of an article I read not too long ago…
The article was one of those how to lose weight in no time but actually had an unusual and unexpected twist. The twist? Buy clothes that actually fit you NOW, right this very moment. Not last year, not before pregnancy, not "if I just lose 5 pounds,"–none of that. Just wear clothes that fit you today. And just like that, you will lose weight, or it will seem so in just a matter of seconds.
There is nothing better then feeling comfortable in what you are wearing. And when you are wearing clothes that are a bit too snug, you can often tend to go into a negative mindset in which you wish you were 5 pounds lighter, wish you hadn't eaten that donut yesterday and so on. But none of that is necessary at all.
If we just allowed ourselves to let go of those "skinny jeans" that we look at as the holy grail and are certain that true happiness will only come when we can easily slip them on–and still breathe while wearing them, then maybe we would allow ourselves to feel comfortable in the skin we are in, right now. In this very moment and not when our bodies change 'one of these days.'
So why won't we? Why won't we let go?
For some of us, there is this ideal body that we strive to have, and we try, day in and day out, to get there–somehow, someway. And when we don't achieve it, we shame ourselves, feel like failures or decide we are not disciplined enough and certainly we can try harder. And we do. We spend so much of our time striving, pushing, aiming, and yet again, no luck.
Certainly, we still aren't trying hard enough. So then, we scold ourselves for our shortcomings, only our shortcomings are things like missing one workout, or eating a piece of birthday cake. And we become so consumed–all over a pair of jeans, a black dress, or some other piece of clothing that we just have to fit into.
But what if we don't? What if we never fit into those jeans? And what if we waste years and years thinking that our happiness really lies in slipping into that little dress? Then what? Well, then we have been miserable for years on years and have missed out on so much, and who wants that?
In thinking of all of this, I decided the time was now for me. Time to get rid of everything that doesn't fit me today. And so I let go. Things that I don't fit in comfortably were sent to someone who may find them to be perfect for their body, but as for today, they aren't fitting mine, so out they go.
And now, everything in my closet fits me, the Lorie I am today. Not when/if I lose 10 pounds and not if I drop a size. And just like that, I have dropped a lot of weight, and it feels really good.
---
Dinner in a minute? Just about with these simple vegan black bean Quesadillas!
Quick weeknight dinners are what I am always happy to find recipes for. I have been trying some things with different quesadilla combinations and so now I think I have found my newest obsession in these vegan black bean quesadillas with allllll the avocado.
Quesadillas are so versatile and they are so much more than chicken and cheese!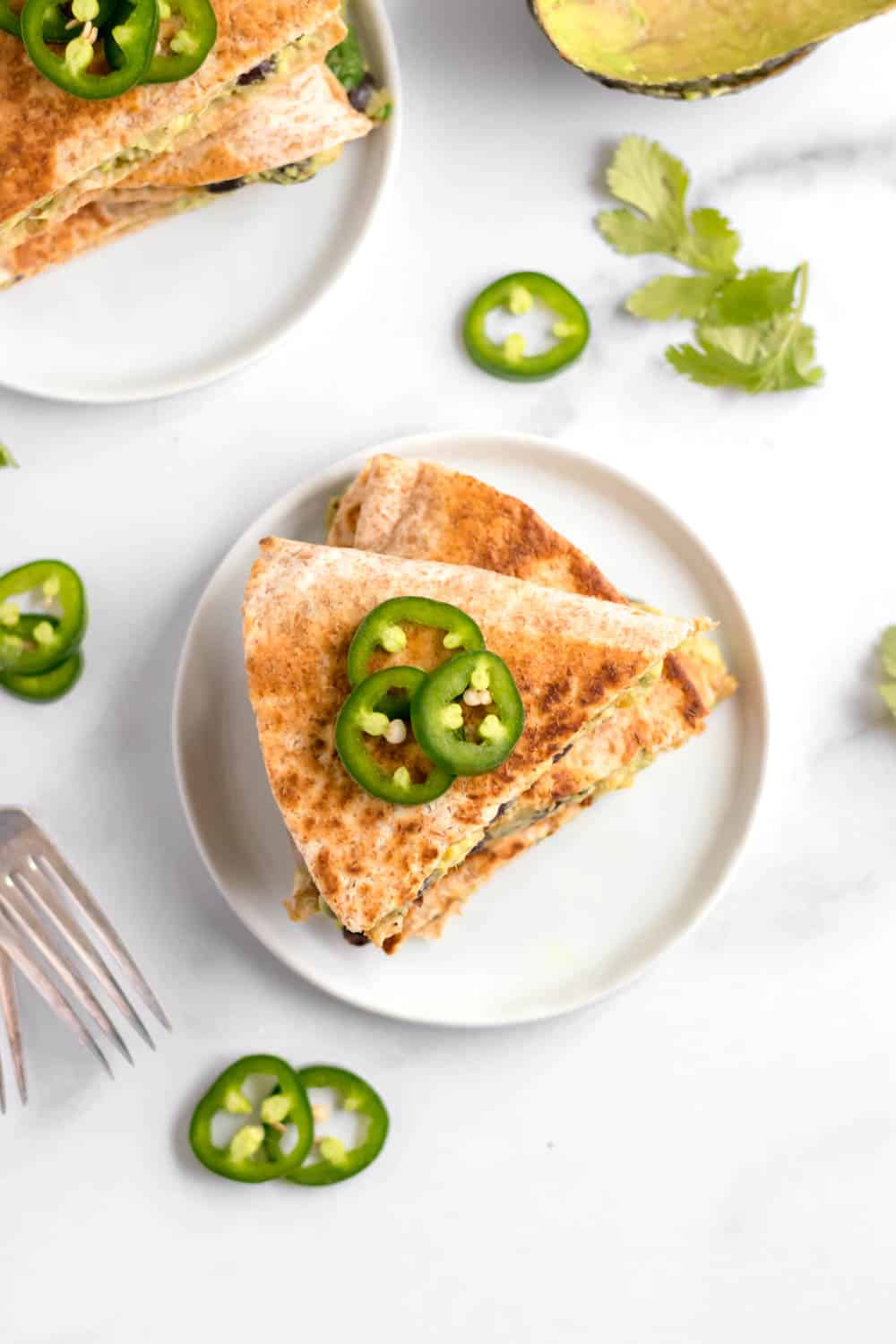 These Vegan Black Bean Quesadillas actually hit it off quite well with my husband even without the meat. So that is like a triple bonus in my house.
Usually the first question is. "Where's the meat?" And so when I didn't hear that after he ate these, I knew these were a winner in a big way.
I didn't use any cheese in these as the creaminess of the avocado was perfect and I didn't want to take aways from that flavor. But honestly, I think some cheese would still be quite nice in these!
This recipe itself is perfect for 2 but can easily be doubled and tripled to feed the whole crew if you need to. They are ready in no time at all. I used the large burrito size tortillas but you can use smaller sizes and also gluten free if needed. Enjoy!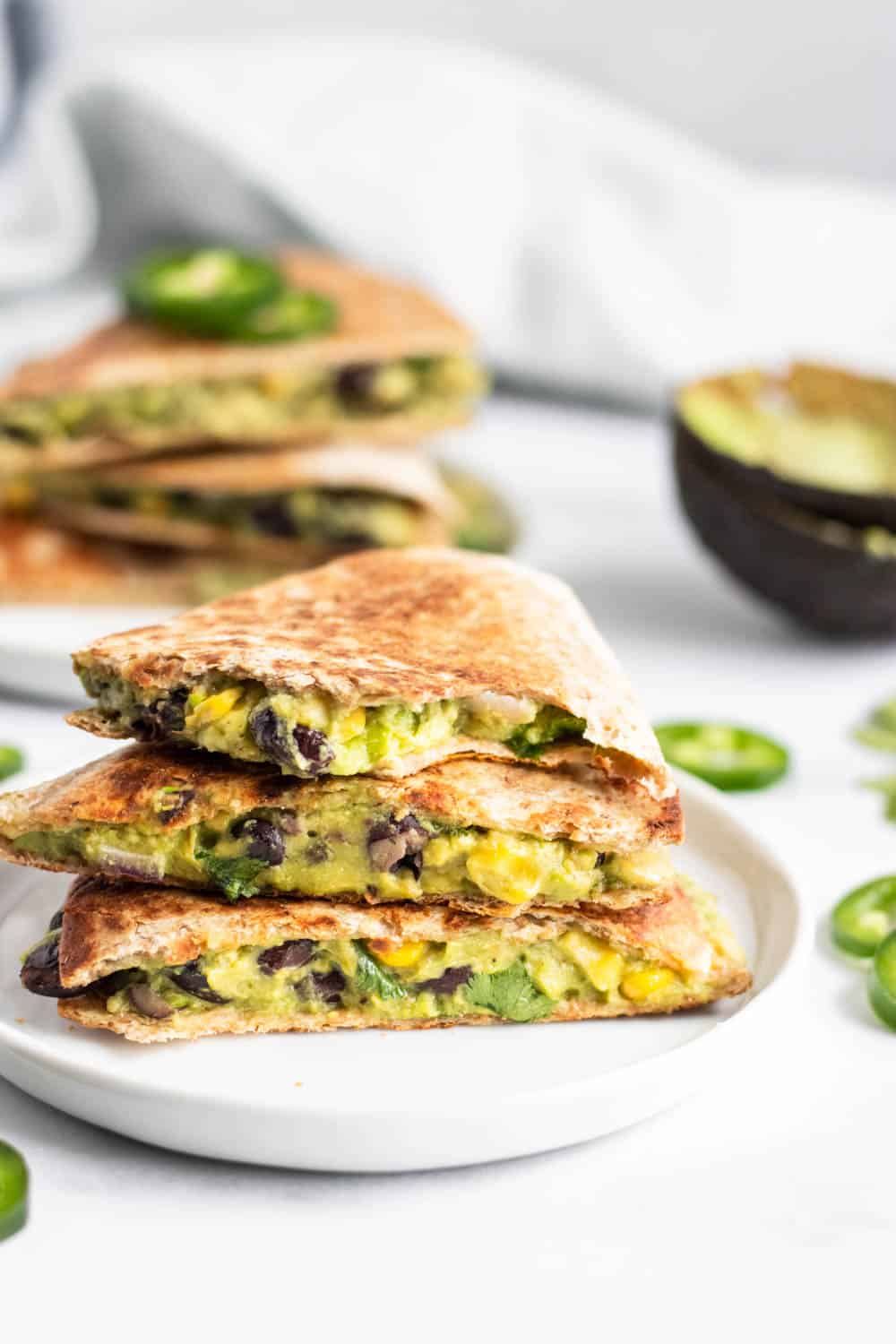 Some things to note about these Vegan Black Bean Quesadillas:
First off, I know these are not technically quesadillas since they don't have cheese. By all means, add some cheese as well! The first time I made these I just went with the avocado and was in love. But I do toss in some cheese on occasion as well!
Make sure your avocados are nice and ripe. You should be able to easily squeeze them and feel softness when you do so. If they are not ripe enough, this recipe won't be as great. Promise.
Want yours spicy? Add in some diced jalapeño! Give it a kick!
Gently cut them as the avocado mixture tends to come out the sides if you press down too hard. It just makes for a big old mess. A tasty one though!
I have also sautéed the onion, corn and black beans for just a minute or so before adding them to the avocado mixture and thought it was delish. But that certainly adds another step, so if you are low on time, just skip it.
Love these avocado quesadillas? Try these Black Bean and Kale Quesadillas! Also, these Almond Butter Banana Breakfast Quesadillas are top notch for sure!
DID YOU MAKE ONE OF MY RECIPES? LEAVE A COMMENT AND LET ME KNOW! I ALSO LOVE TO SEE YOUR LEMONS + ZEST RECIPES ON SOCIAL MEDIA–TAG ME @LEMONSANDZEST ON INSTAGRAM OR FACEBOOK!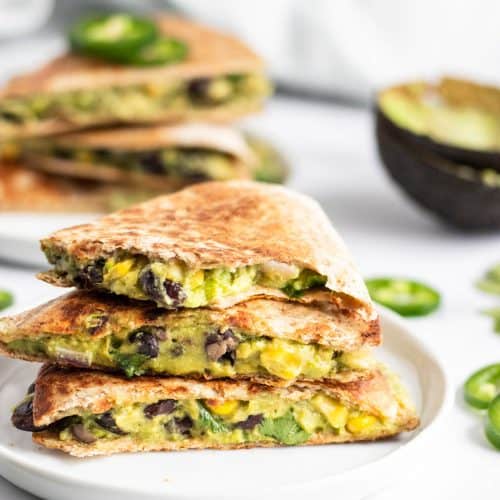 Ingredients
2

large burrito sized tortillas

whole wheat or gluten free if desired

2

very ripe avocado

1/2

c

precooked black beans

rinsed

1/4

c

corn

2

T

diced red onion

Juice of 1/2 lime

1

garlic clove

minced

1

tsp

cumin

1/8

tsp

crushed red pepper

Handful chopped cilantro

Sea salt and cracked pepper to taste

olive oil
Instructions
In a small mixing bowl, mash avocado. Add in garlic, sea salt, pepper, lime juice and red pepper and stir.

Add in cilantro, beans, corn, and onion. Stir to combine.

Heat 1 T olive oil in a skillet. While heating up, spoon half of the avocado mixture on half of a tortilla. Fold over to close. Repeat with other tortilla. You are ready to heat these up!

Heat one side of the quesadilla in the pan until becomes browned.

Flip and heat other side until browned.

Repeat with second tortilla.

Enjoy immediately with a side of salsa or Greek yogurt and a cilantro garnish if desired.