This post may contain affiliate links.
This vegan chickpea tuna salad is an easy recipe that will wow everyone! Perfect as a sandwich, on top of crackers or straight from the spoon. Can be made for a simple lunch or dress it up for a fun appetizer for your guests!
A recipe Challenge
A few weeks ago, I was asked to feed some friends at a small event. The challenge? The food would need to be vegan. And of course, it had to be GOOD. Now trust me, things CAN be vegan and good. I have eaten plenty of vegan treats in my day that have been amazing.
But party food always puts the pressure on. You have to cater to an array of likes and dislikes, you don't know exactly who will be coming. And what you think will be the best thing on the menu never is. So needless to say, it was a challenge.
And wouldn't you know, the recipe I thought would just be so-so, ended up being one that I got the most compliments on, that is aside from the "Reese" Cups I made. I mean, that's just a given.
Chickpea vegan tuna is the best non-tuna ever
I have had several different 'mock' tuna salads and have actually loved most of them. I have had them both with a walnut base and a chickpea base.
The chickpeas have a better texture for a vegan tuna salad in my mind so that's what I decided to go with. It felt safer to me. And I thought a little chickpea salad on top of crackers would be an easy finger food for guests to grab without too much mess.
Now, before I go any further, I have to say something. A sort of confession, if you will. I like mayo. Yep. I said it. There. I like it.
I like it on my sandwiches, in my salads such as this, etc. And for a looooong time, I was constantly finding substitutes for mayo since I had decided it was on the bad food list.
I like mayo-even vegan mayo!
There was even a point I said I didn't like it to avoid eating something that contained it. Ugggghh.
What was my problem?! My problem was that I was living in a warped mindset of healthy and unhealthy foods, black and white, right or wrong. And my relationship with food became so warped that I was willing to insist I didn't like a food in order to avoid having to eat it.
THAT is not okay. But that's exactly what was happening.
But when rules went out the door, I was allowed to like and enjoy the foods I swore off. Freedom. Food freedom. Thank goodness for it!
So back to this recipe. As I mentioned, it is vegan. And so I used a vegan mayonnaise. And it still tasted mighty fine to me. But you can use any mayo at all in the recipe. All I ask is that you use it!
This vegan tuna salad is great as a sandwich, on crackers, toast or just by itself! I even dipped plantain chips in it recently and loved that as well. And if you find yourself in need of a good party platter that will work for everyone in the room, whip this up, grab some crackers, and you are set!
Do you have to make this chickpea tuna salad vegan?
No, you don't If you just have regular mayonnaise then that will work as well. That is really the only ingredient that will make this recipe vegan or not.
And if you are not feeding anyone who needs the recipe to be vegan then there is no sense in buying another ingredient you don't necessarily need.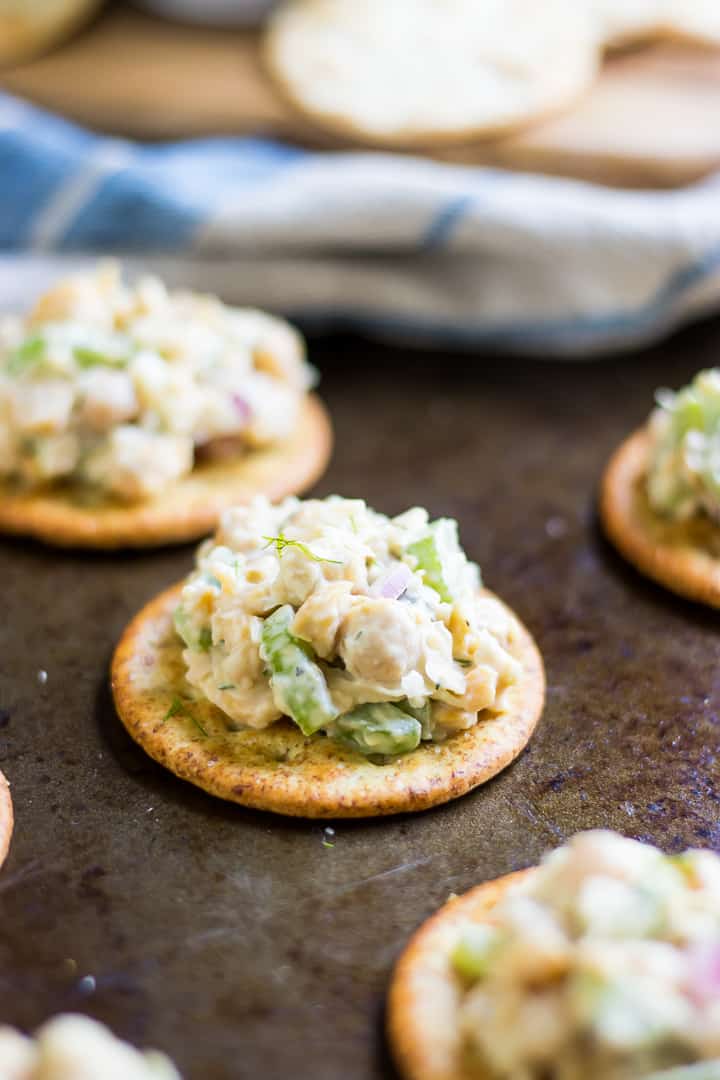 What you need to make this Chickpea Tuna Salad:
Chickpeas: You want them to be pre-cooked and cooled or from the can.
Vegan Mayonnaise: There are both shelf stable and refrigerated kinds. I feel like most of them taste pretty much the same. Again, if you don't have any, you can certainly use regular.
Celery: Gives this salad just the right amount of crunch!
Red Onion: Take it or leave it. My husband isn't a fan so I typically go pretty light if I know he will be eating this as well. Oh wait, who am I kidding, he wouldn't touch this recipe--I just meant for other recipes with onion.
Capers: I 100% believe it is the capers that MAKE this tuna salad recipe. They give it that tuna like flavor for real. I even added extra the last time I made this!
Lemon Juice: Adds a bit of tart to the recipe.
Dill: I personally believe fresh is best. Do what you've gotta do though as I know it's not always readily available.
Sea Salt and Pepper: I add in the end to taste.
How to make this Chickpea Tuna Salad:
It doesn't really get much easier, friends. All you have to do is mash the chickpeas and then mix everything together. I imagine the mashing of the chickpeas is the most challenging to do when making this salad, but I believe anyone and everyone should be able to handle it with a breeze.
Pro Tips/Notes about this Chickpea Tuna Salad:
There are two ways to mash up your chickpeas that I find easiest. One is to use a potato masher. This is what I typically opt for. Another option is to use a food processor and pulse until the chickpeas are broken down, but with chunks still in the mix.
Use fresh dill if possible. I know I already said this, but I find the difference in flavor between fresh and dried dill is major. The dill is a big part of the flavor of this salad so that's why I find it so important.
This chickpea tuna salad can be stored in the refrigerator for about 3-5 days. I have eaten off of this salad for days on end and it has kept very well.
If you can make a vegan mock tuna salad, then you have to be able to make a mock chicken salad, right? I am very interested in trying this Sonoma Chickpea Chicken Salad as well as this Classic Chickpea Chicken Salad. I just have to know!
Looking for more vegan salad recipes? Try these:
DID YOU MAKE ONE OF MY RECIPES? LEAVE A COMMENT AND LET ME KNOW! I ALSO LOVE TO SEE YOUR LEMONS + ZEST RECIPES ON SOCIAL MEDIA–TAG ME @LEMONSANDZEST ON INSTAGRAM OR FACEBOOK!
Vegan Chickpea "Tuna" Salad
This vegan chickpea tuna salad is an easy recipe that will wow everyone! Perfect as a sandwich, on top of crackers or straight from the spoon. Can be made for a simple lunch or dress it up for a fun appetizer for your guests!
Print
Pin
Rate
Ingredients
2

cans chickpeas

rinsed and drained

¼

c

vegan mayonnaise

regular mayo will work as well

4

celery stalks

diced

¼

c

red onion

diced small

1-2

tsp

capers

Juice of ½ lemon

2-3

T

fresh chopped dill

Sea salt and cracked pepper to taste
Instructions
In a medium bowl, using a potato masher or other similar tool, mash chickpeas well until most are completely mashed.

Add in all other ingredients and stir well to combine. Adjust seasoning as desired.

Chill for 10-20 minutes before serving.

Enjoy on a sandwich or however you would usually have tuna salad.
Nutrition
Calories:
243
kcal
|
Carbohydrates:
31
g
|
Protein:
10
g
|
Fat:
9
g
|
Saturated Fat:
1
g
|
Sodium:
73
mg
|
Potassium:
335
mg
|
Fiber:
8
g
|
Sugar:
6
g
|
Vitamin A:
52
IU
|
Vitamin C:
2
mg
|
Calcium:
54
mg
|
Iron:
3
mg