This post may contain affiliate links.
Not sure what to do with the can of chickpeas sitting in the pantry? Make these simple and fun protein filled Peanut Butter Chickpea Blondies! Loaded with chocolate chips, coconut and more--don't knock them until you try them!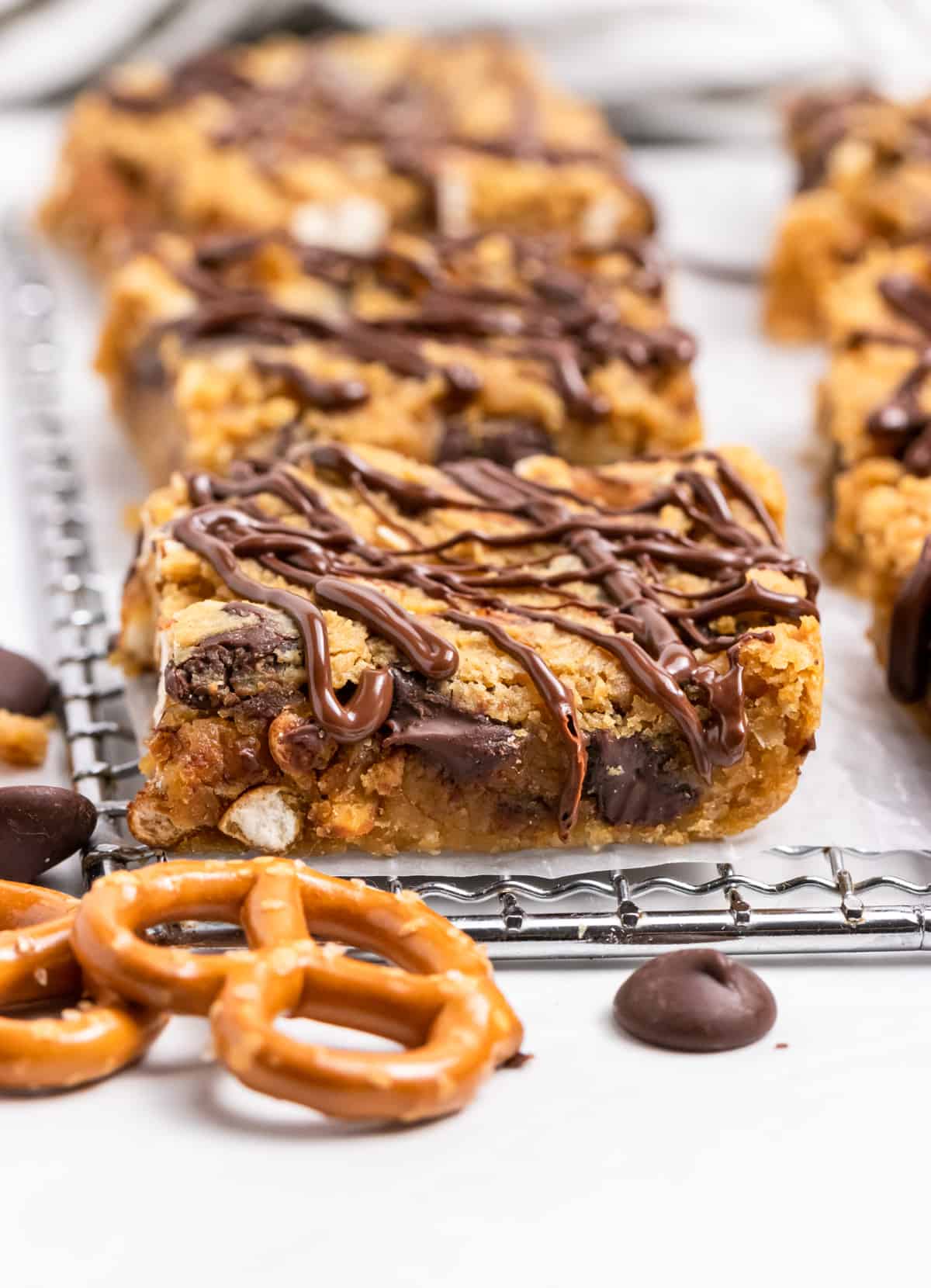 This recipe was originally published February 2017 and updated December 2020. In February 2017, we started our adoption journey and I originally included the story as part of this recipe post--the story is below the full recipe for your reading pleasure or you can see just the recipe notes!
Chickpeas aren't really a regular item in our house but EVERY time I buy them with the anticipation of making something amazing, it pretty much doesn't happen.
And then I am scrambling a month before all the cans are about to expire and need lots of things to add them to. And so these Peanut Butter Chickpea Blondies are one of the fan faves to use up some garbanzos.
A Chickpea Avocado Salad is great and then some Chocolate Hummus. Oh and this Mock Tuna Salad is what I could live on. Other than that, they just aren't a big hit around here with the family.
The family? They will eat these flourless peanut butter blondies and that is the only way to get some chickpeas in them, so that is where we are!
Why this recipe works:
Super simple to make. Toss everything in the food processor aside from the add ins and you are just about there. Easy peasy!
Adds some fiber and protein. Who is gonna complain about a sweet treat with benefits, right? Not me! These chickpea blondies deliver!
Fun flavor variations. Chocolate chip, white chocolate chip, coconut, crushed pretzels, and more can be added. You name it! The coconut and chocolate chips are usually my go-to.
Uses up food that is about to expire. This actually is the main reason I love these. I don't like wasting food so when I buy something and we don't eat it, it is not ok. Everyone loves these, so it works!
What you will need:
The natural, super drippy peanut butter works best in this recipe. It is a thinner texture that mixes really well.
You will need cooked chickpeas for these peanut butter blondies--dry will not work!
Add ins can be all the fun you want: chocolate chips, pretzels, coconut, and more. See recipe details for when to add certain ingredients.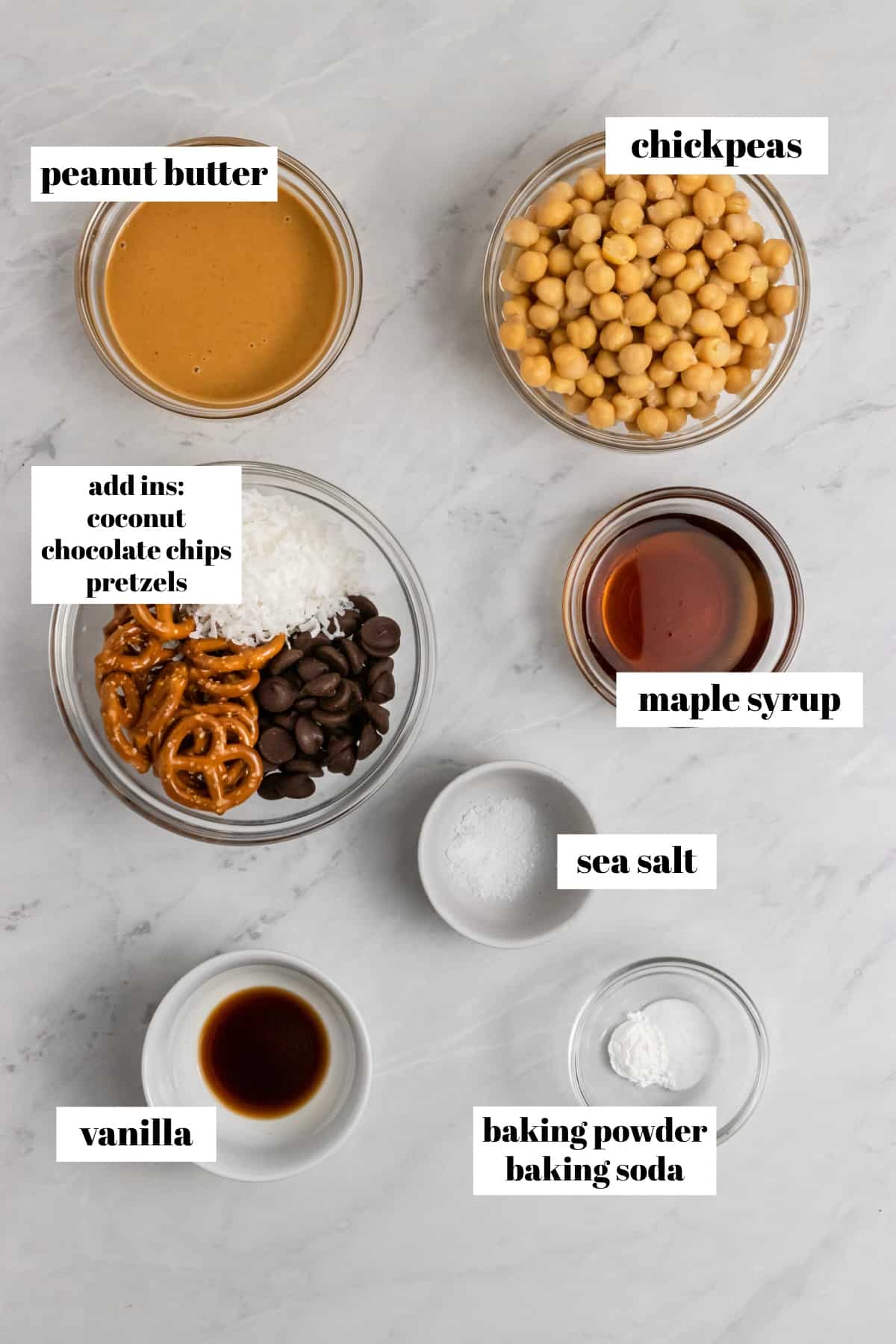 How to make these:
Add the chickpeas, vanilla and maple to a food processor and process until smooth and paste like texture. You will likely need to scrape down the sides several times during this step. It doesn't have to be perfectly smooth, but as close as you can get it. (steps 1-2)
Add in the peanut butter, sea salt, baking powder, baking soda and coconut (if you are using it) and process until fully combined. If you are using coconut in these peanut butter chickpea blondies, there will be texture from the coconut in the batter. (steps 3-4)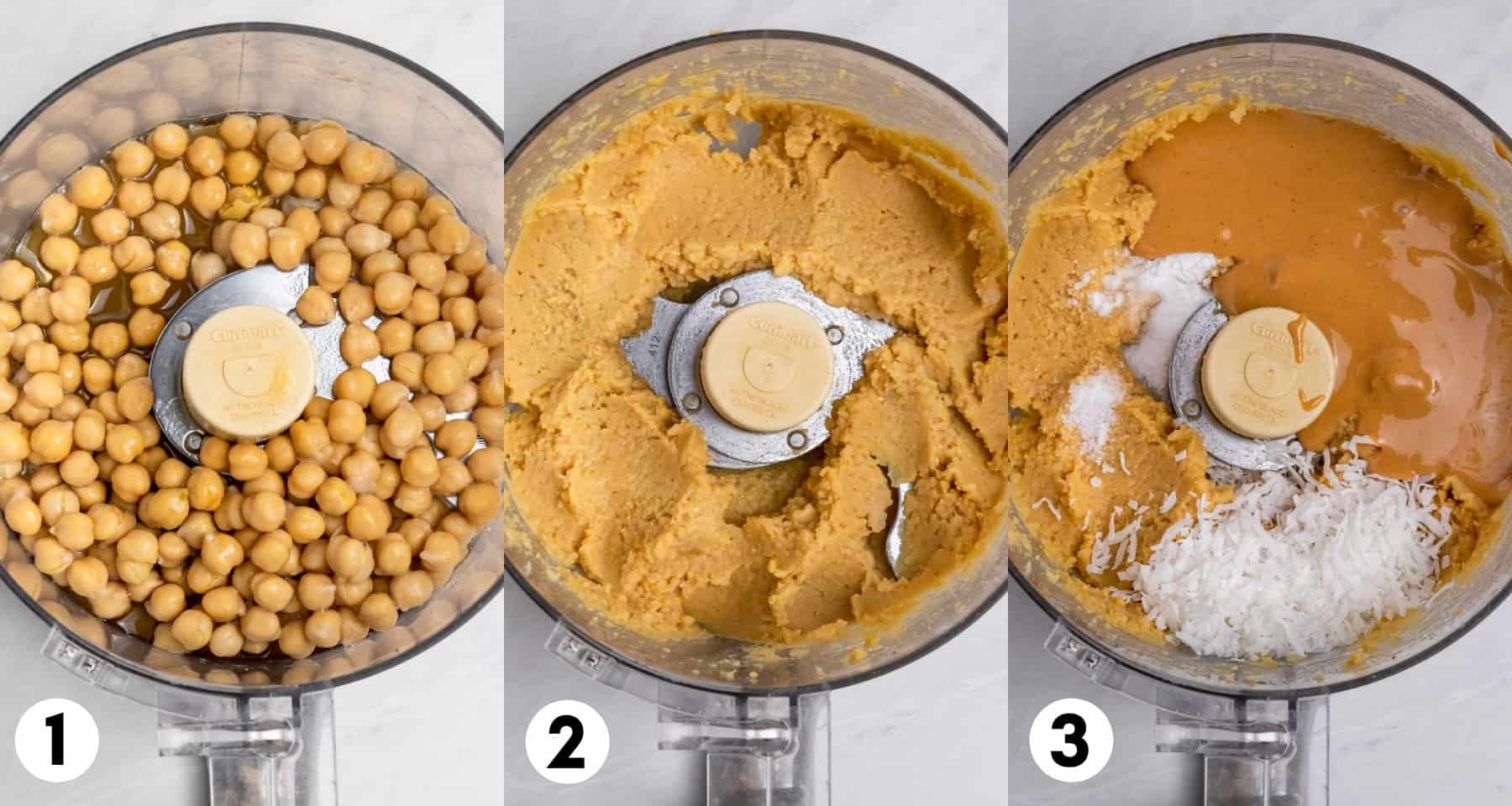 Stir in any extra add ins--chocolate chips, raisins, crushed pretzels, etc. Sometimes, I just add a few pretzels to the top and press them in gently. I find they stay crispier when doing so. Inside the bars, they can get a bit too soggy.(steps 5-6)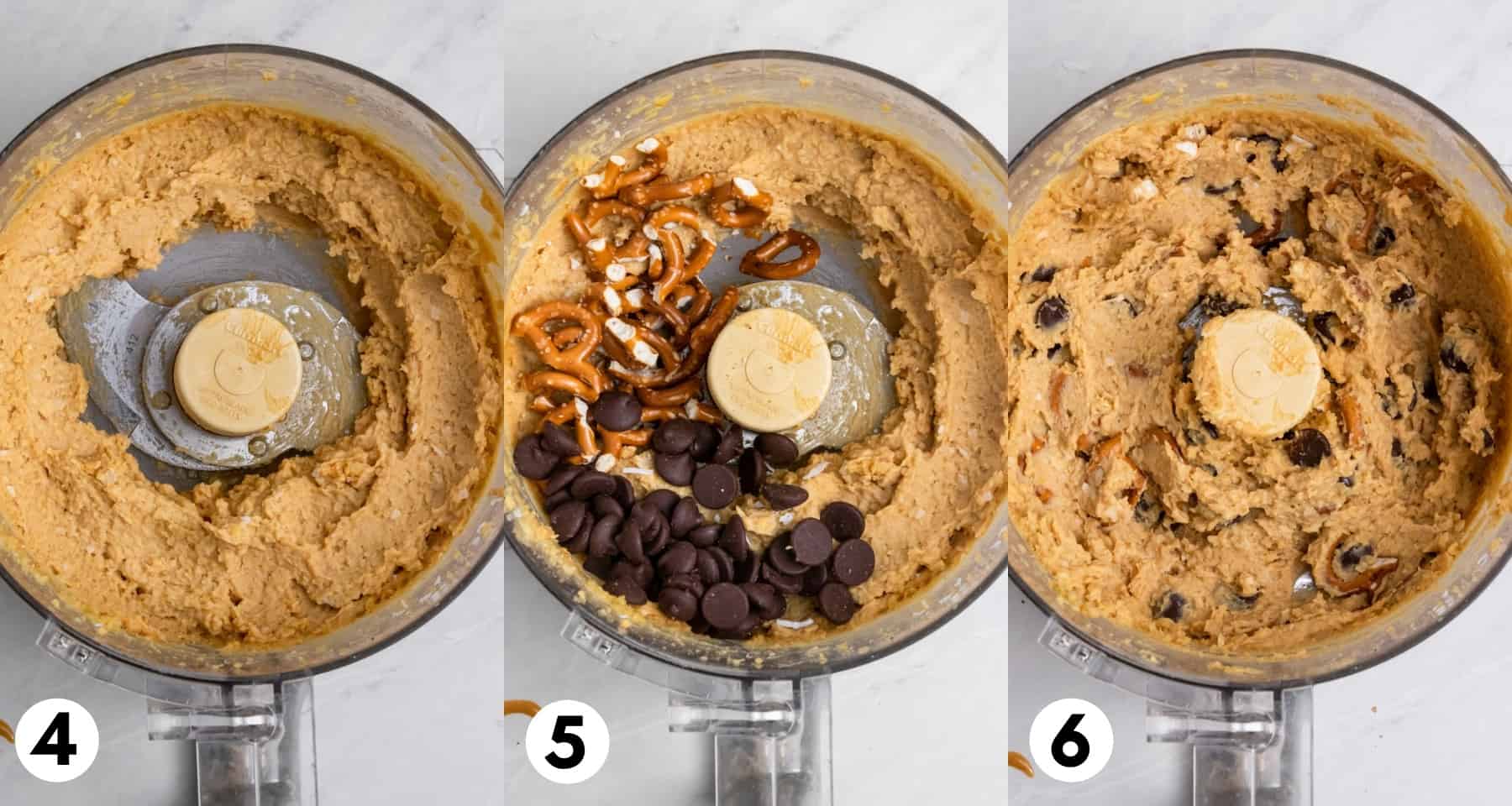 Spread the batter into a parchment lined 6x8 pyrex dish or small baking pan. I have made these in an 8x8 pan and they were too thin for my liking. If you double the recipe, a 9x9 inch baking pan will be more suitable. (step 7)
The batter for these chickpea blondies is pretty thick so you will need to spread it out as best as you can.
Bake for about 18-20 minutes or until the top is set and a toothpick comes out almost completely or completely clean. You don't want to over bake them as they will dry out. Since there is no egg, under cooking is at least not a health concern! (step 8)
Allow to cool completely before cutting. Add a chocolate drizzle by melting some chocolate chips if desired and enjoy!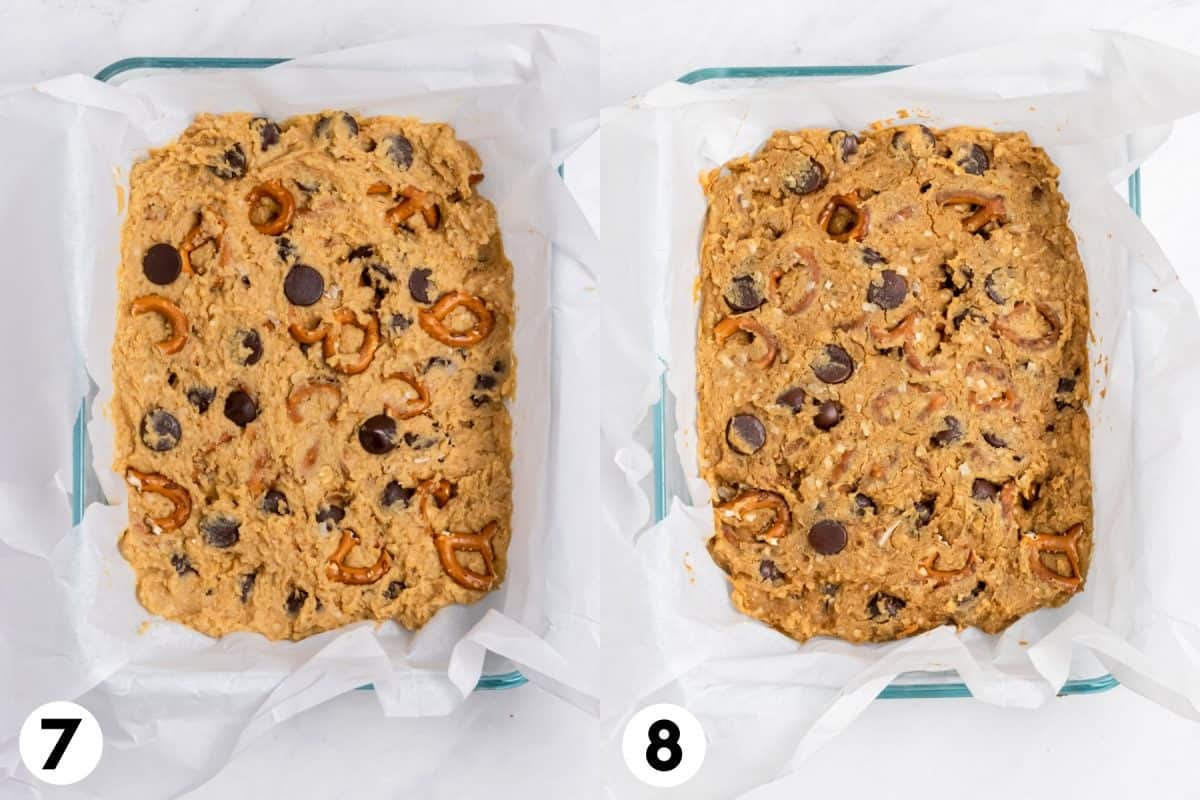 Notes and Tips:
You can store these in an air tight container for about 3 days at room temperature or in the refrigerator for up to a week.
If you cut into these Peanut Butter Chickpea Blondies before they cool, they easily fall apart. If you are cool with that, then dive on in right away!
You can also eat this straight from the food processor as "cookie dough" if you want! I often don't get it all in the pan!
Try these other simple recipes:
DID YOU MAKE ONE OF MY RECIPES? LEAVE A COMMENT AND LET ME KNOW! I ALSO LOVE TO SEE YOUR LEMONS + ZEST RECIPES ON SOCIAL MEDIA–TAG ME @LEMONSANDZEST ON INSTAGRAM OR FACEBOOK!
Loaded Chickpea Blondies
Not sure what to do with the can of chickpeas sitting in the pantry? Make these simple and fun protein filled Peanut Butter Chickpea Blondies! Loaded with chocolate chips, coconut and more--don't knock them until you try them!
Print
Pin
Rate
Instructions
Preheat oven to 350°F.

Add the chickpeas, maple syrup and vanilla to food processor and process to break down until a smooth paste. You may need to scrape down the sides a few times.

Add in the peanut butter, coconut, sea salt, baking soda and baking powder and process until smooth aside from bits of coconut. Fold in the chocolate chips and pretzels (if desired) and stir to combine.

Spread batter into a parchment lined 6x8 or small baking dish.

Bake for 18-22 minutes or until a toothpick comes out clean or almost entirely clean.

Allow to cool for 10 minutes before serving. Melt some chocolate chips and add an extra drizzle if desired!
Notes
You can store these in an air tight container for about 3 days at room temperature or in the refrigerator for up to a week.
If you cut into these

Peanut Butter

Chickpea Blondies before they cool, they easily fall apart. If you are cool with that, then dive on in right away!
You can also eat this straight from the

food processor

as "cookie dough" if you want! I often don't get it all in the pan!
Nutrition
Calories:
206
kcal
|
Carbohydrates:
22
g
|
Protein:
6
g
|
Fat:
11
g
|
Saturated Fat:
6
g
|
Cholesterol:
1
mg
|
Sodium:
157
mg
|
Potassium:
248
mg
|
Fiber:
4
g
|
Sugar:
11
g
|
Vitamin A:
7
IU
|
Vitamin C:
1
mg
|
Calcium:
56
mg
|
Iron:
1
mg
If you are here for more than just the chickpea blondies, this was the beginning of our adoption journey. Thanks for reading!
The Big Shift...
Sometimes you hold off on sharing a story until the end because you don't want to have to share if the outcome is not what you had hoped for. You stay quiet along the ride just in case things don't go well and then you don't have to go through the pain of telling everyone the unhappy ending. Sometimes, when the story shifts, you realize it's time to talk.
Today is that day for me.
I have shared small details of our struggle to have a baby, but today I want to lay it all out. I don't want to share this for pity or for you to feel sorry for us. I want to share this because there are so many out there struggling right along with us, or who may end up in our shoes in the future, and I want them to know that they are not alone. We are not alone, even when we feel that we are the only two in this world stuck in the mud, trying to trudge through, there is still someone--many someones on the exact same journey. I want this journey to no longer be a silent one. The more I have opened up about our agony and despair, the more I have connected, the more I have felt supported and the more I have realized there is hope. And there is hope. We are still holding on.
Today was the beginning of the big shift in our story.
On Monday, we found out that our 2nd IVF cycle failed. Our first was cancelled due to lack of response from my ovaries, and then the second did not end up going as we had hoped. Over and over, I can hear the doctor telling us "not pregnant" and seeing all the hope shatter in one instant after all of the pain, the injections, the hope, the anxiety, the longest two weeks of our lives--gone. We thought for sure it was our turn, this would be our big break and yet, once again, it was not.
This was our last straw with fertility treatments which we had decided before going into this round. There was no insurance coverage so the funds were not there for another round and we were certain our nerves would never be the same again if we did another round.
________________________________________________
Over 4 years ago, we were pregnant for the first time and it was the most magical thing that had ever happened in our lives. We never thought we could ever be more in love with someone we had never meant. Everything we did, everything I ate, everything we talked about--all of it, was centered around one thing: our baby, our miracle, our joy. Those 3 months with our little Josie were like nothing we had ever experienced. And then, our entire world was turned upside down and things shifted like we never thought they could. We lost our sweet perfect angel at 12 weeks.
To be honest, I never thought I would rise up from that loss. It hit me like nothing I had ever felt. I couldn't wrap my head around the fact that one day everything was perfect, and the next day the perfection was ripped away from me. No warning, no explanation. Just an avalanche out of nowhere to wreck everything and I have never been the same, we have never been the same.
We picked up the shattered pieces, and we tried again.
Almost a year later, we couldn't believe it, but those two little lines appeared and we cried and jumped and couldn't contain ourselves. I made Anthony go up to the drugstore and get more pregnancy tests so we could be certain. 5 tests later, I knew it was true. This was really happening. And again, the world was perfect. And again everything we did, everything we said, all of our lives were equal to one thing: our perfect miracle.
We sat in the room as the ultrasound tech rubbed my belly to see our little nugget. She said very little, and her eyes began to squint and become serious. Is everything ok? I asked, even though in the pit of my stomach I knew it was not. She told me it was a bit "eyebrow" raising but the doctor would be in to see me. She left the room and I could do nothing but cry. I knew, we knew. My doctor walked in and her face said it all. She walked over and hugged me. Again, our entire world shifted, and again, I thought for sure I wouldn't walk out alive.
The thing that was different when we lost our second baby was the way the doctor responded and the urgency to get to the bottom of it all.
Every test you can imagine, every poke, every prod, blood work, MRIs--we did it all. And we came up with a big fat nothing. All I wanted was for someone to say that 'x' was wrong and you need to do 'y' to fix it, and then you will have a baby. But that never happened. Only a few small things that they thought could possibly be contributing factors, but never anything substantial.
So we started working with a reproductive specialist and again, more tests. Even more intricate tests, and still, nothing. So we tried several medications and hormones for over a year with no luck. Month after month, the hope, the anxiety and then the let down. It was the never ending cycle, and it seemed we were headed nowhere. The doctors started to talk more and more about my age and IVF kept coming up. We were reluctant at first, but then a few more tests told us it was most likely our only option.
As we prepped for our first round, the doctors found an abnormally large cyst on my ovary. Lovely, I thought, one more thing to get in our way! Just our luck. Our treatment was pushed back about a month and my patience was once again slim to nothing as I thought we had waited long enough.
We finally started the treatment and things seemed to be going well. But as we got further in, my body was not responding quite as anticipated. The doctors continued to increase my dosage, but in the end no luck. We couldn't move forward and the cycle was cancelled. Once again, another shift, one I hadn't seen coming. Everyone else I knew that went through this treatment was sitting at home with their perfect little bundles so why didn't it work for us?! How can any of this be fair? Again and again, we fell flat on our faces, and somehow we got back up.
As we started gearing up for our next cycle, we started talking a bit more about adoption. We didn't want to go into this cycle with the do or die mindset. We wanted to know that it didn't have to be the end of the road for us and even if this dream didn't come true, there still would be something to pick us up. And so the conversation became more top of mind.
And then, just a few weeks before our cycle, I ran into a woman who used to come to my yoga class all the time. She had come into my work that day looking for a gift for her sister and we of course chatted to get caught up. I asked her what she is up to these days and she said she had gone back to work part time and was loving it. I knew she was a lawyer but had no idea what she did. I asked her what exactly she was doing that she loved so much.
I'm an adption lawyer, she said.
Time. Stood. Still.
I knew in my gut that had to be a nudge, a sign. I told her all about everything we were going through and that if this doesn't go as planned I will want to sit down with her. I couldn't shake the irony of her visit after she left, but kept her card tucked in my wallet.
We had a much better cycle the second time around and my body was much more responsive. We transferred two perfect little embryos, but our 3rd did not make it. We lived the longest two weeks we will ever experience in our lives. More shots, more anxiety, more battling the madness of the mind. I don't know how we busied ourselves enough those weeks, but I nearly burst more than several times.
And then the call. And time stood still. And we cried. And we stared at each other. And we held each other. And we fell flat on our faces once again. And we weren't sure how to get up, how to pull each other up once again.
But we did. We did get up. We did pull each other up once again.
And that brings us to today. Today begins the biggest shift of our journey yet. Today we completed our application to adopt a child.
Our story is not over, it has just begun. And you are invited along this ride. xoxo