This post may contain affiliate links.
Big, clusters of crunchy peanut butter granola make this hearty granola the perfect addition to any snack, yogurt bowl, smoothies and more. It's so simple and perfect straight from the jar as well!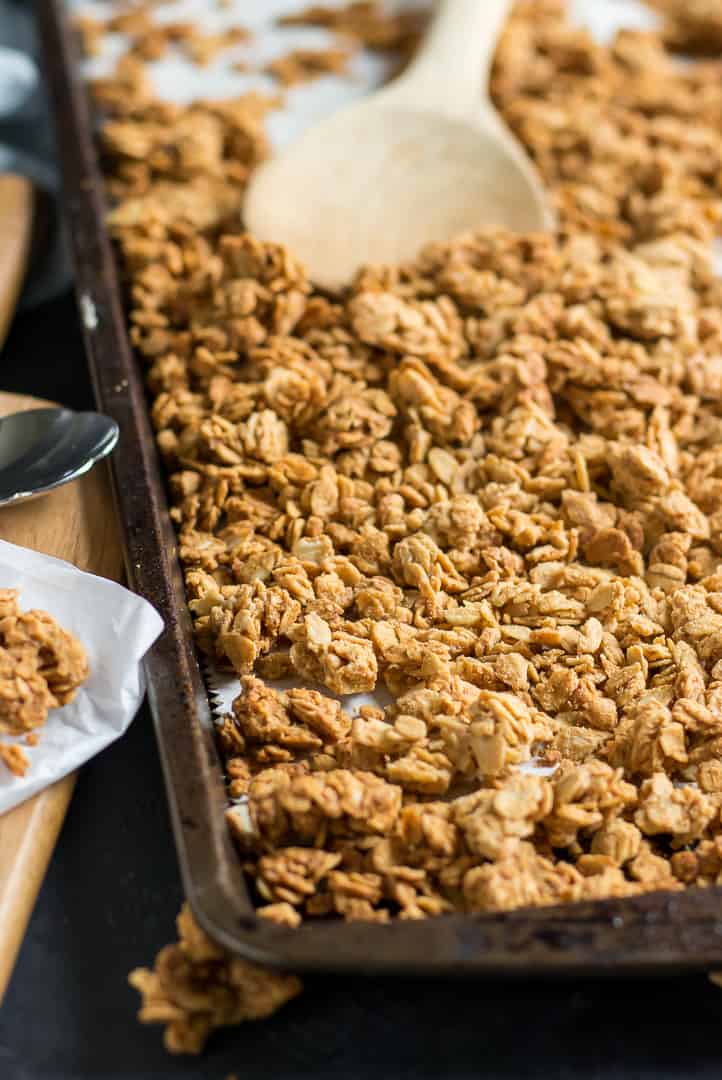 Early this week I mentioned I am focusing on recipes that are super simple and as little sweat for you as possible. If Monday's Simple Slow Cooker Shredded BBQ Chicken wasn't easy enough, then this peanut butter granola will definitely be at least 10 times easier. You toss it together, stir and bake. Boom. That's it. I promise you can surely handle this one.
Bonus? You probably already have everything you need in the pantry to make this. I don't know about you, but having to go to the grocery to grab ingredients I don't have is a huge hassle especially now that I have a baby in tow on these errands--it's not a quick in and quick out at all.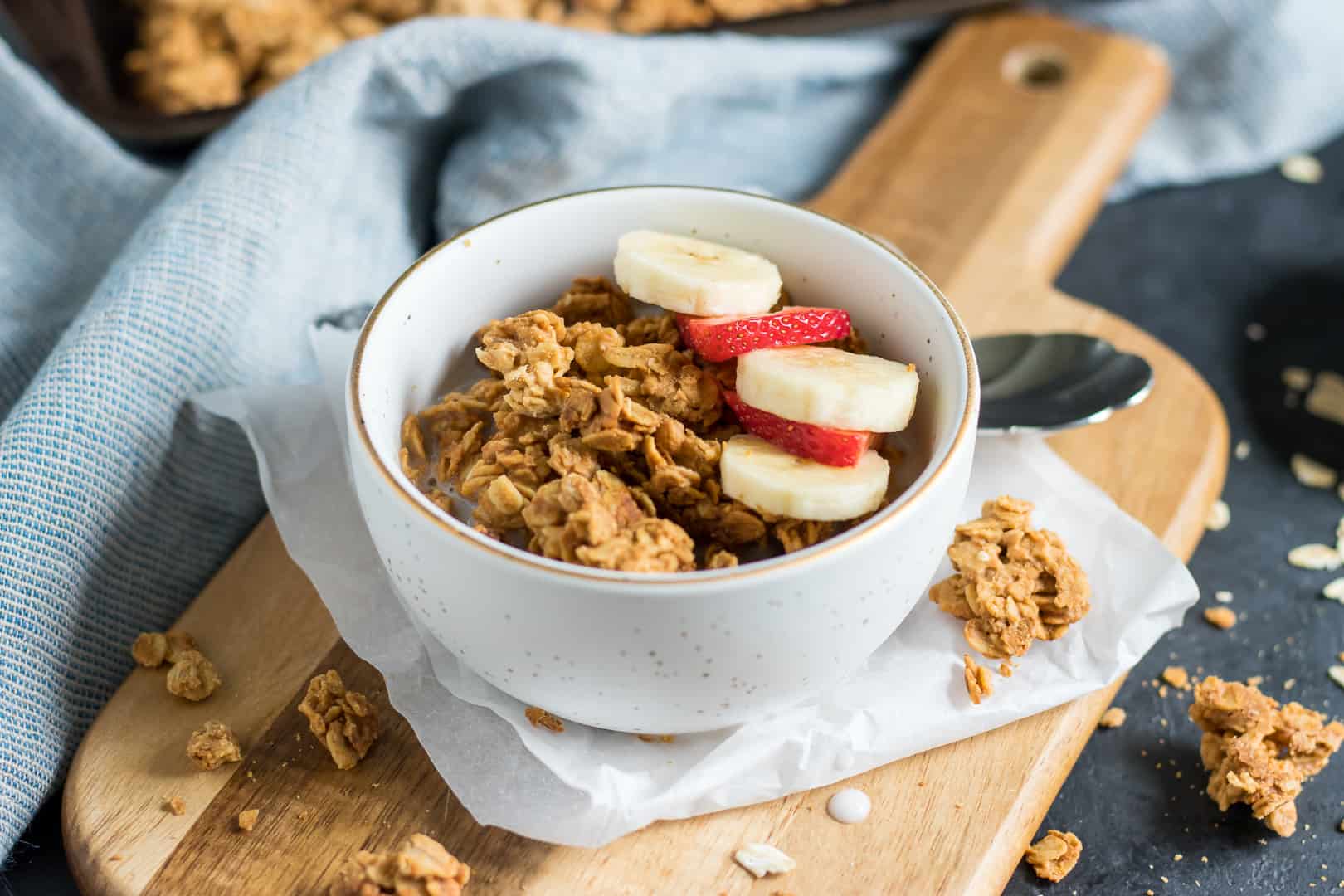 The past few weeks or so, I have been on a huge yogurt, fruit and granola kick. I have been having it for a snack or breakfast for the most part. Buying granola is not the most budget friendly so I started making more of my own. Peanut butter granola was one I hadn't made successfully before so I thought I would give it another go.
I love, love LOVE my granola in big crunchy clusters.
If you lived with me you would probably get annoyed with the fact that I pick out all the clusters from the package before anyone else gets a chance. It's how I do ice cream as well--there is a reason people eat cookies and cream and cookie dough ice cream--the chunks! And the bigger the better.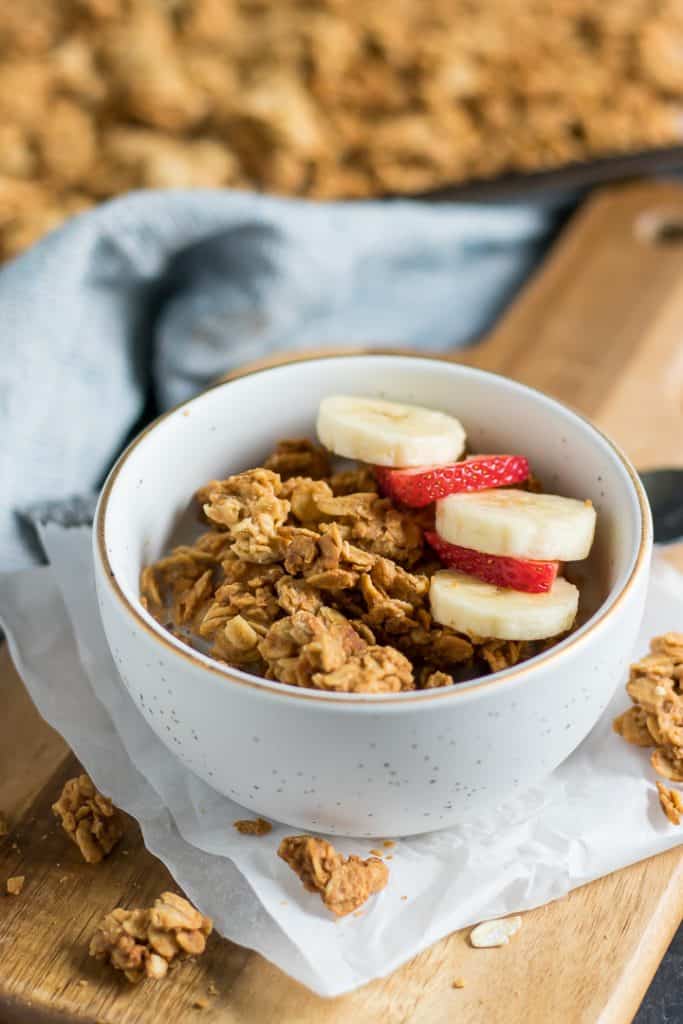 So as if this is not enough peanut butter on its own, I have actually been having yogurt topped with fruit and granola and then a big spoonful of peanut butter as well--never can you ever have too much in my opinion and thankfully our little (big) 9 month old son is the same way.
The addition of flour in this recipe helps bind the granola a bit more so that it will form into more cluster like pieces. The addition of an egg white is another way to add some extra crunch to your granola but I found that this recipe was fine without it. Cooling it for a good amount of time without touching it helps with the crunch too.
If you are a peanut free house, almond or cashew butter should work great. For nut free, sun butter should be okay as well. As for the oil in this recipe, I would stick with melted coconut oil or canola oil for the best flavor. If you don't prefer the flavor of coconut then either skip it or use refined coconut oil. Other than that, enjoy this crunchy goodness and happy snacking!
How do I make my peanut butter granola crunchy?
One of my favorite ways to make my granola extra crunchy is by adding an egg white. I read about this trick ages ago and have been doing it ever since. Baking on a lower heat and then allowing it to fully cool before touching it also help keep it extra crunchy.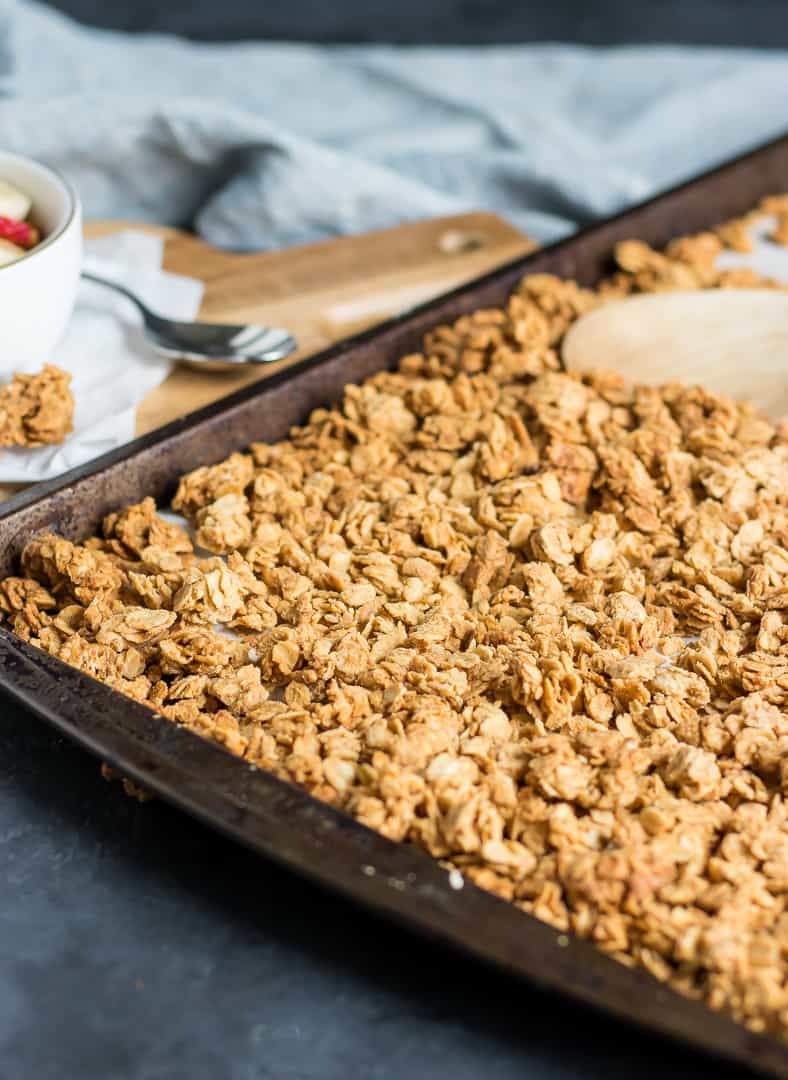 How do I get my granola to stick together?
Oil is typically the best way to get this result. I have a few other tricks in this peanut butter granola recipe as well. Combining rolled and quick oats helps bind things a bit as well as adding flour. If you are coming for the big crunchy clustered granola then you are very much in the right place with this one friends!
How to serve your crunchy peanut butter granola:
I never met a yogurt that didn't love to be topped with granola. This crunchy peanut butter granola is perfect on top of your favorite flavor with some fresh berries.
Speaking of yogurt, this Sweet Potato Pie Parfait is another great option for adding granola.
I am a firm believer in granola on top of a smoothie or smoothie bowl. Make this blueberry smoothie extra thick and top it with this crunchy goodness. Or maybe this Peanut Butter Coffee Smoothie??
Serve it by the handful--never better!
Toss it with some chocolate chips and enjoy a sweet and salty snack.
In a bowl milk on top--another classic!
For more great granola recipes, check these out:
Maple Cinnamon Granola- a classic go to granola full of crunchy pecans and juice raisins
Nut Free Blueberry Muffin Granola- for my friends looking for an allergy friendly recipe
Banana Bread Granola - need I say more?
DID YOU MAKE ONE OF MY RECIPES? LEAVE A COMMENT AND LET ME KNOW! I ALSO LOVE TO SEE YOUR LEMONS + ZEST RECIPES ON SOCIAL MEDIA–TAG ME @LEMONSANDZEST ON INSTAGRAM OR FACEBOOK!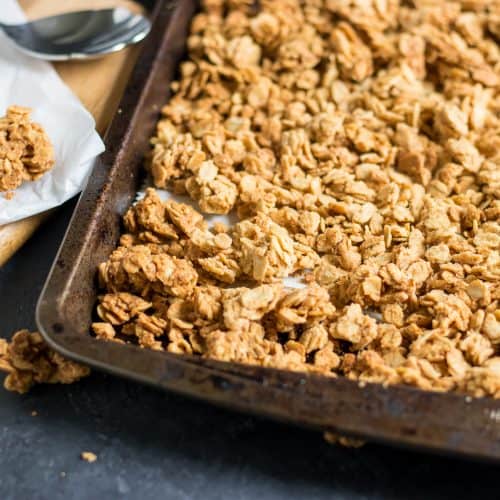 Ingredients
2

T

flour (use gluten free all purpose as sub)

⅓

c

pure maple syrup

⅔

c

drippy peanut butter

¼

c

oil (coconut or canola are best for flavor)

1

tsp

vanilla extract
Instructions
Preheat oven to 325°F.


In a medium bowl, combine all ingredients and stir well to combine and coat all of the oats.


Spread evenly on a parchment lined baking sheet.


Bake for about 25-30 minutes, or until golden brown.


Allow to cool in open air for at least one hour to allow for the most crunchy clusters. Store in an air tight container.