This post may contain affiliate links.
Coffee and breakfast all in one? These Vanilla Cold Brew Coffee Overnight Oats are the perfect breakfast combination! This recipe is simple, healthy and so delicious--all the fuel you need to start the day!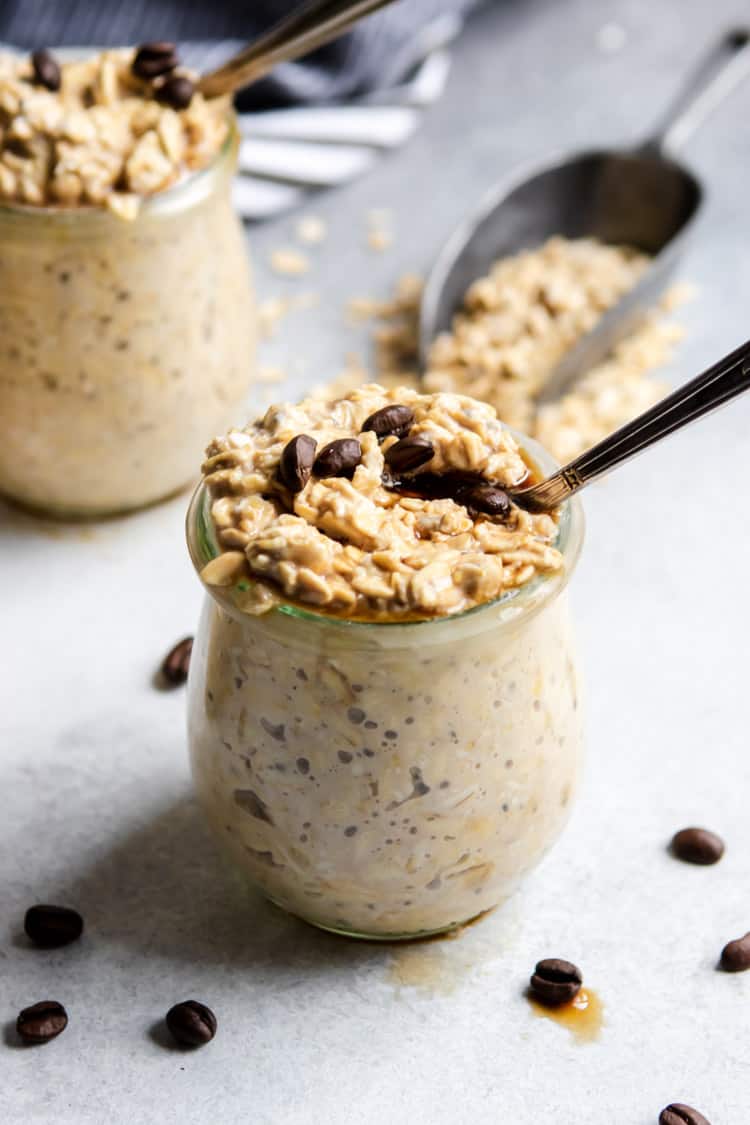 Thank you so much La Terza Coffee for sponsoring this post! I hope that you grow to love this company as much as I do!
Things always seem to come in 3's
They always say things come in 3's and to be honest, until recently, I leaned more toward the negative omen of the number 3 as in after two things go wrong on a rough day, clearly the third is right around the corner. But you know what? That is pretty far from the case and the number three is actually quite an amazing number and it captures some things so beautifully in life, and even better, in the world of coffee.
Today I am excited to bring you the third installment of my partnership with La Terza Roasterie, a coffee roaster and overall amazing place here in Cincinnati.
A while back, I connected with the team and have been able to use their rich, locally roasted coffees in some of my new favorite recipes. Better yet, I have learned so much from the people there and have gotten to watch all of the amazing things they do for our city and beyond. Needless to say, they make me believe in the good that can live in the world of business.
So if you need to get up to speed, then you may want to take a look at the previous installments including:
Coffee Talk Part I: Buy Your Stories This post also includes some Superfood Mocha Energy Bites, so extra bonus for the reading!
Coffee Talk Part II: The Golden Rule And for those who need a good protein filled dessert, you can enjoy the No Bake Almond Mocha Cheesecake Cups. Yes, more than a mouthful, I know, but oh so worth it!
And now that brings us to today, Part III and it includes these Vanilla Cold Brew Coffee Overnight Oats. Wow, is all I can say! So without further ado, here we go!
Coffee Talk Part III: The Number 3
If you think about it, the number 3 is a special number to many and has been for ages through the trinity and is rooted actually in numerous religions. It goes beyond just that and is the number of time: past, present future; beginning, middle end; and even of life: birth, life, death. The first geometrical figure, the triangle, contains three lines, three corners, etc. The number three even shows up in many fairy tales. So you get the point, it's a pretty great number to say the least.
And wouldn't you know, La Terza, in Italian, translates to "the thrid." Genius? Perhaps!
So then, if their name is essentially the number 3, how do they incorporate it into their own company? I will tell you of course!
Coincidentally, there are a lot of 3's that happen in the coffee world. Where does coffee come from around the world? It comes from THREE primary regions: Central/South America, Africa and Indonesia. The coffee itself gets its unique flavor and characteristics based on where it is grown and then picked and processed. From the soil to the way it is dried, these 3 areas bring their own flair to the coffee they grow.
So what else? Well I can guarantee it's far more than the three shots you put in your latte today!
The 3 in Coffee
The next 3 you will find in coffee pertains to how it has come to us. In the world of coffee, it is considered to be in 3 waves. The first was the Maxwell House/Folgers introduction. In fact, these are still the biggest sellers in the United States. Next we had the wave of Starbucks and similar chains.
It seemed like out of nowhere the venti skim two pump extra whip macchiato was ruling our towns. (And the former barista in me still cringes when I hear some order that knowing darn well that is NOT what a macchiato is, but I digress.) Ok so number THREE here is in the specialty wave.
And that is where La Terza stands. We are talking the craft, the art of coffee. This is the coffee you savor and sip because you don't want the cup to go dry. The cup that even the lover of coffee with cream will drink black.
La Terza--number 3
And the last big 3 in coffee is perhaps my favorite. Do you remember what life was before coffee shops? Where did the conversations happen? The porch. Everyone would rock or swing and shoot the breeze. When coffee shops grew and our lives evolved, these institutions became our porches.
They became the place we could meet new friends and old, for a warm drink and a good conversation. So in the world of coffee, this is considered your 'third place.' Home is first, second is work, and then there is your third place, your home away from home.
Are you starting to see why the word La Terza is so powerful?
So then my own coffee conversations with David and the crew at La Terza led to how they manifest the number three. The answer to that? Easy: 1.They source their coffee from the best farmers, 2. They roast their beans meticulously ( I got to watch the process so I can attest to that!) AND, 3. They deliver their coffee within 48 hours of roasting. That seems pretty much spot on to me. The perfect 3 ingredients! It just makes sense.
And now I think it's time for me to think like this. What are my own 3s? What are the three principles I build my own life on? Pretty sure I will need a good cup of coffee and a cozy spot to really think this one out a bit more.
And what about you, what does the number 3 mean to you? How do you manifest the number three in your life? Don't think like I did and focus on the negative things, manifest the power of the number three and let it be your perfect number as well!
---
Ok, time to talk about these Vanilla Cold Brew Coffee Overnight Oats.
When I started chatting with David and Abbie over at La Terza, I really wanted to do an overnight oats recipe, but I was concerned it may not be that great. Would coffee really go with oats?
My Overnight Oats recipes are by far my most popular recipes, they are shared the most, I get the most questions about them and the most excitement with every new version, etc. And they are SO easy and SO convenient.
But was I going too far adding coffee into the mix? Was I taking overnight oats where they just shouldn't go? Would I really pour hot coffee into my oatmeal? All the what ifs, but all for not reason because I am now here to tell you these Vanilla Cold Brew Coffee Overnight Oats are INCREDIBLE!
And the real reason I think they are so much better than I anticipated was because I used cold brew coffee for these coffee overnight oats, more of a concentrated coffee that is brewed overnight, or for about 12 hours to make a nice, less acidic, smooth brewed coffee. It's the dreamiest.
For recipes like this, it's even better because it brings the flavor without any extra bitterness. I added the vanilla to give a touch of flavor to the oats, you know for my vanilla latte lovers out there! And as always, toss in some superfoods like chia seeds or add some more protein powder, anything to give it your personal touch and then go!
What you will need to make these Vanilla Cold Brew Coffee Overnight Oats:
rolled oats: regular or gluten free. I have made mine with quick oats before and they are not bad either. I do not like using steel cut oats. They are way to chewy but some people really love them.
cold brew coffee (see below for directions to easily make your own!) There are also lots of ready made cold brews you can find at the grocery these days!
milk: your choice! I like to add a vanilla almond milk for this coffee overnight oats recipe because it brings out more of the vanilla flavor. I will opt for whole milk if not.
vanilla extract
vanilla almond butter--I looooove vanilla almond butter. Makes it thick and creamy and even more vanilla. Don't sweat it if you can't find any. They can be pricey too.
maple syrup or honey: my faves but sweeten as you like to be honest
chia seeds (optional)
sea salt (optional but I love a dash of it!)
Want to make these Cold Brew Coffee overnight oats into protein overnight oats?
It's as easy as adding a scoop of your favorite protein powder! I suggest a vanilla flavored powder to bring out the vanilla in these overnight oats. You may need to add some extra liquid in the morning before serving as it could dry it out a touch. Other than that, you have an even more protein powered breakfast!
How To make cold brew coffee:
Combine 1 ½ c cold water and ⅓ c coarsely ground coffee in a sealed jar or container overnight.
Strain twice in the morning.
Combine equal parts cold brew and water or milk if drinking or add it straight to these Cold Brew Coffee Overnight Oats!
You can find so many more overnight oats recipes here but I definitely suggest you trying this one first! Also, I typically make several of these at a time to really make meal prepping it's best!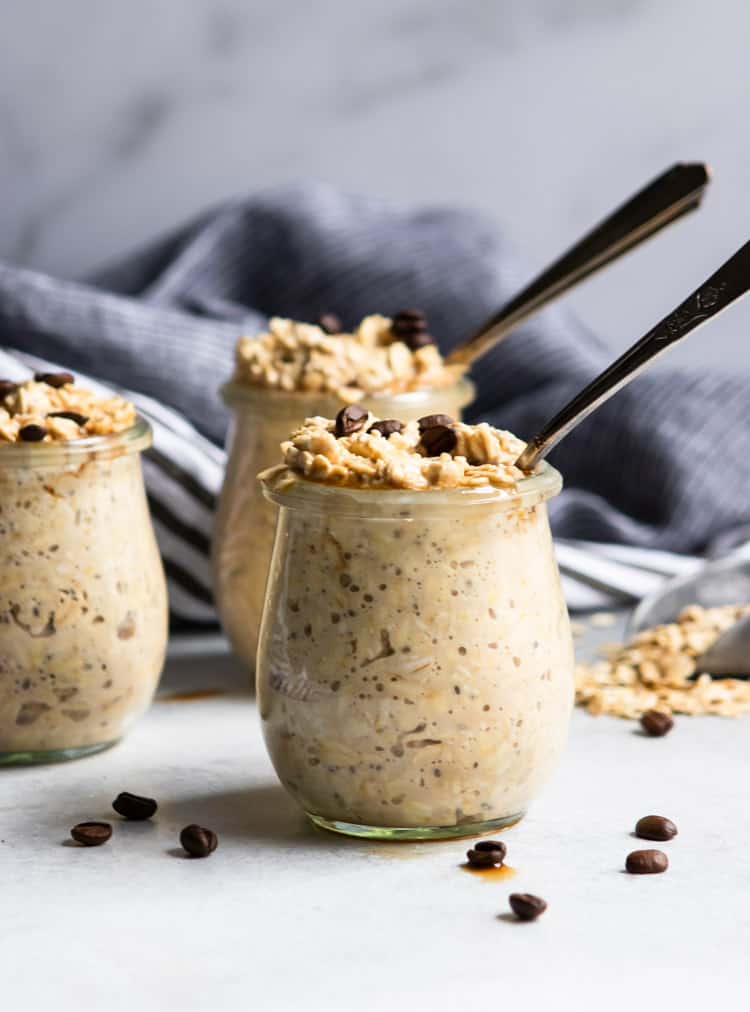 Enjoy these Vanilla Cold Brew Coffee Overnight Oats! Did you make them? I would love to hear about it below in the comments!
TRY MY OTHER FAVORITE OVERNIGHT OATS RECIPES:
DID YOU MAKE ONE OF MY RECIPES? LEAVE A COMMENT AND LET ME KNOW! I ALSO LOVE TO SEE YOUR LEMONS + ZEST RECIPES ON SOCIAL MEDIA–TAG ME @LEMONSANDZEST ON INSTAGRAM OR FACEBOOK!
Vanilla Cold Brew Overnight Oats
Coffee and breakfast all in one? These Vanilla Cold Brew Coffee Overnight Oats are the perfect breakfast combination! This recipe is simple, healthy and so delicious--all the fuel you need to start the day!

Print
Pin
Rate
Ingredients
½

c

rolled oats

regular or gluten free

2

T

cold brewed coffee

½

c

milk of choice

1

tsp

vanilla extract

1-2

tsp

vanilla almond butter

2

tsp

pure maple syrup or honey

1

tsp

chia seeds

Dash of sea salt
Instructions
Add all ingredients to a bowl or jar that can be sealed shut.

Stir well to combine and cover in the refrigerator overnight.

Serve hot or cold in the morning. Garnish with cacao nibs or your favorite topping!
Notes
You could also use vanilla yogurt in place of the almond butter but I like the almond butter to make it a bit thicker.
Nutrition
Calories:
358
kcal
|
Carbohydrates:
47
g
|
Protein:
12
g
|
Fat:
13
g
|
Saturated Fat:
3
g
|
Cholesterol:
12
mg
|
Sodium:
58
mg
|
Potassium:
382
mg
|
Fiber:
7
g
|
Sugar:
16
g
|
Vitamin A:
198
IU
|
Calcium:
234
mg
|
Iron:
2
mg