This Chicken with Mango Salsa is not your average chicken dinner. A bit of sweet and spicy and lots of flavor in this juicy chicken dinner recipe. Super versatile and can be eaten as is, over rice, as tacos and so much more!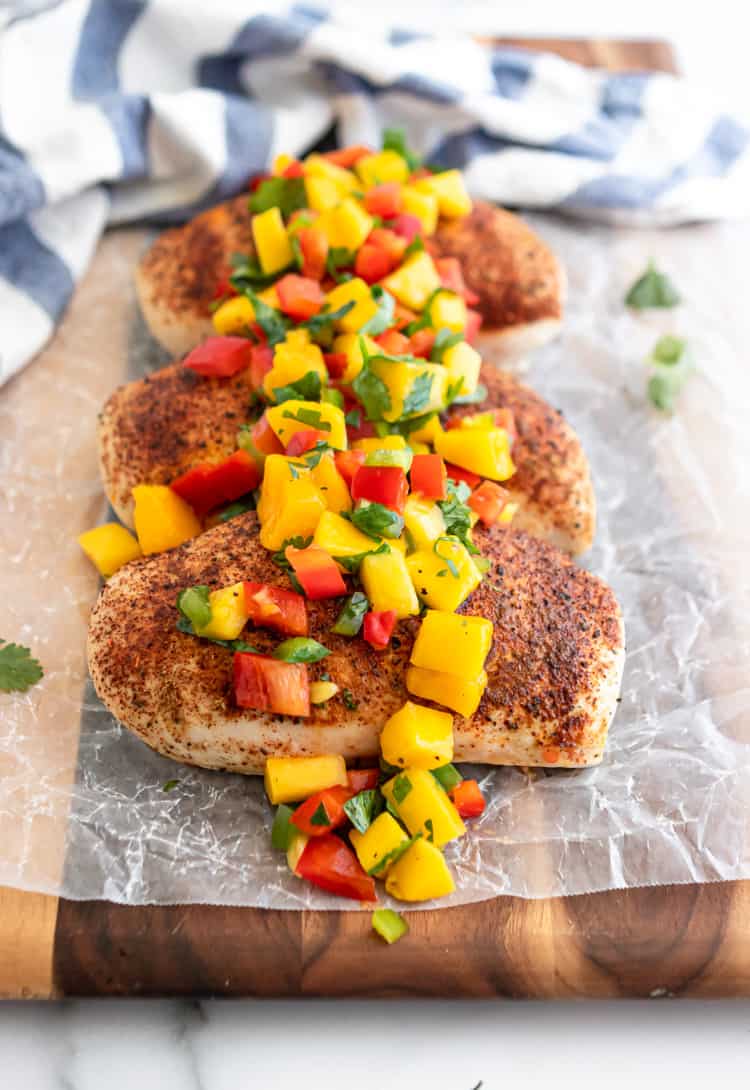 Time to spice up your dinner–and get fruity while you are at it!
I am the QUEEN of boring chicken but not because I don't enjoy a little jazzed up chicken. I am just really content with a good chicken breast seasoned with sea salt, garlic and pepper. In my opinion, it's the stuff you add to the chicken that's always the most fun, not the chicken by itself.
I am a huge fan of mango paired with chicken so naturally I toss a good mango salsa over my chicken here and there and call it dinner. This Chicken with Mango Salsa is really our average chicken with a colorful kick. Nothing too crazy, but all very worth it.
The reason I love this dish the most though is that we can eat it in sooooo many different ways. I can make this exact dish once a week and never serve it the same way. That makes for a content husband indeed.
That one time I tried to cut a mango…
Let me tell you a story. The first time I tried to cut a mango, I thought I was gonna lose it.
The mango felt nice and ripe, how hard could it be, right?? I tried to cut it, right down the center. I got halfway and thought holy moly, something is wrong with my mango. It's hard as a rock inside! So of course I got out a sharper knife and eventually was sawing right through the mango.
I finally got it cut in half, but it most certainly did not look pretty. Again, I was so confused. It felt so nice and ripe!! I tried to cut around and salvage what I could but it was nothing but a big old mess by the time I was done.
Thankfully I had a second mango that day. Since we live in the day of Youtube, I decided to check in and see what they had to say about cutting mangoes. Sure enough, I learned that you actually do NOT cut down through the center since there is apparently a pit.
You better believe I haven't had any issues cutting mangoes since.
What did people do before there was YouTube?!
If you are like I was right now, just google how to cut a mango, or watch this handy dandy video and you should be good to go! And trust me you are gonna want to know how to cut a mango for this delicious mango salsa that you will want to smother your chicken in!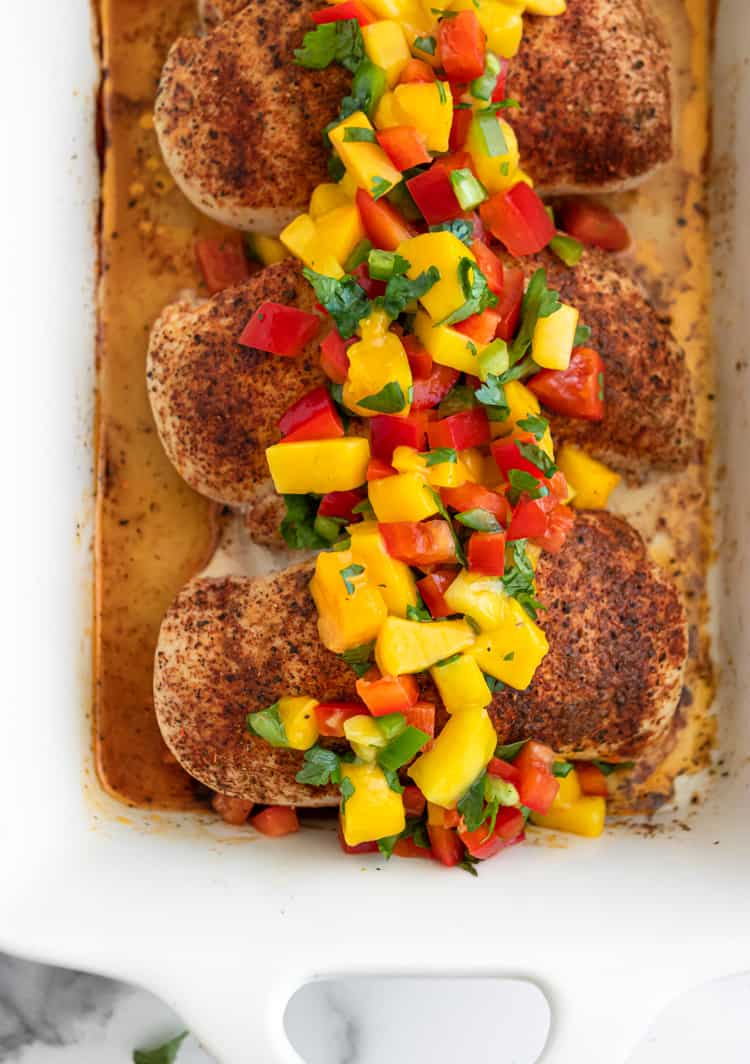 Why do I love this Chicken with Mango Salsa so much?
There's not necessarily just one answer, but the biggest reason is it's versatility. Like I mentioned, you can serve it up in so many different ways. These are just a few:
Tacos. The first time I made these, I cut up the chicken into nice little strips. Then we stuffed soft tacos with the chicken, cheese, the mango salsa and some avocado slices. A little hot sauce as well for Anthony. They were perfect.
Not feeling tacos? No problem. A good old chicken burrito bowl with all the fixings is another way I love this Chicken with Mango Salsa. And let's not even get me started on all the endless possibilities for burrito bowls!! Beans, rice, cheese, shredded cabbage or lettuce, avocado crema, sour cream–I seriously could go on and on.
Did someone say minute rice? Yes! Grab the minute rice and serve up this chicken over rice. Done and done.
Have you ever added mango to your chicken quesadilla? I have and it's golden. Shred or dice the chicken and fold it into a tortilla with cheese and this salsa and fry it up nice and crispy. Yum.
This dish is great to toss into a salad as well!
Like I said, lots of options. You never have to do the same thing twice–unless you want to of course!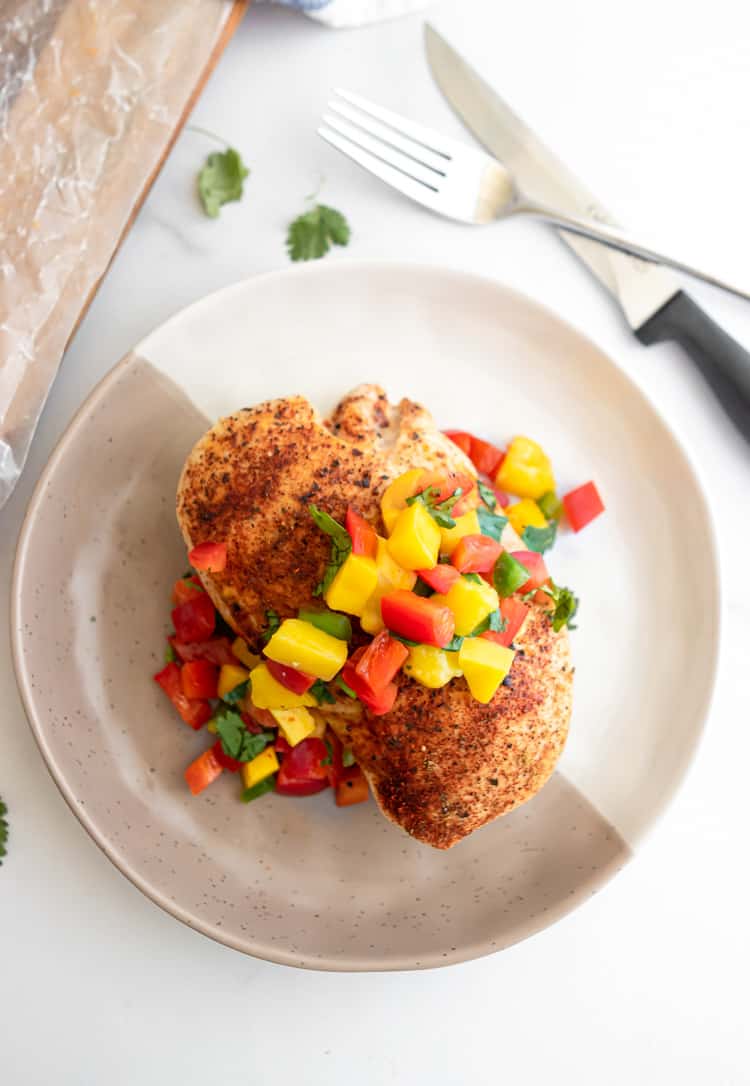 All right so lets get down to the nitty gritty. Let's talk all about the chicken!
What you need to make this Chicken with Mango Salsa:
chicken breast: the cooking time will need to be adjusted based on the thickness of your chicken. 22-25 minutes is a good place to start at 400°F.
olive oil
chili powder
cumin
salt and pepper
mango: you can honestly use frozen if mango is not in season or hard to find
red bell pepper: feel free to use another color if you prefer. I love the sweetness of the red pepper.
jalapeño: adjust this according to your taste.
cilantro: lots and lots and lots is my thing!
Notes and Pro-Tips for making this Chicken and Mango Salsa:
The instructions for this recipe is for baking the chicken. If you prefer to grill, by all means do it! The seasoning and the salsa is the main event of this dish. Once the chicken is cooked, you are golden!
I would have added some red onion to the salsa but the husband is NOT a fan. I think a good salsa needs to include onion so if you agree, chop up about 1/4 cup of red onion and toss it in!
Get out your meat thermometer– chicken needs to have an internal temperature 165°F.
If you are not a big fan of spice, start slow on the jalapeño. You definitely can add more, but it is hard to take away.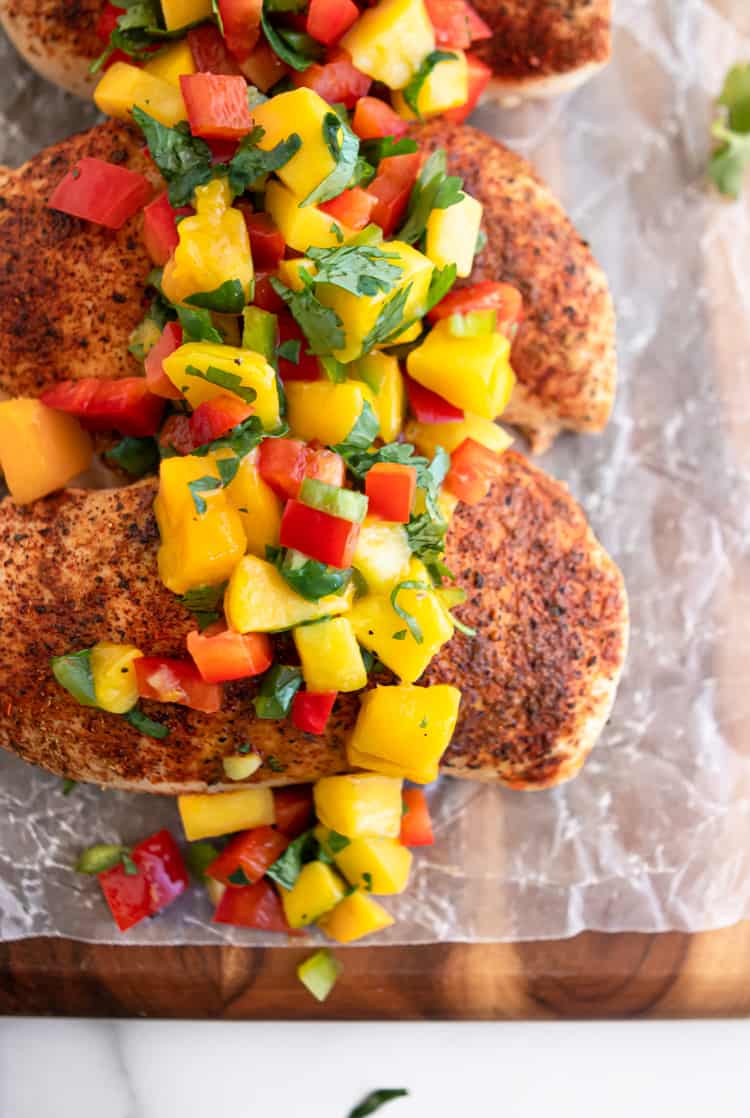 Check out these other mango recipes!
And if you need some simple dinners, check these out!
DID YOU MAKE ONE OF MY RECIPES? LEAVE A COMMENT AND LET ME KNOW! I ALSO LOVE TO SEE YOUR LEMONS + ZEST RECIPES ON SOCIAL MEDIA–TAG ME @LEMONSANDZEST ON INSTAGRAM OR FACEBOOK!
Ingredients
For the Chicken
3-4

chicken breast (about 2 lb)

1

tsp

garlic powder

1

tsp

chili powder

1/2

tsp

cumin

1

tsp

cracked pepper

2

T

olive oil

sea salt
For the Mango Salsa
2

mangoes, diced (or about 3 c diced mango)

1

red bell pepper, chopped

1

jalapeño, seeded and diced

Juice of 1/2 a lime

1/2

c

cilantro, loosely packed and chopped

1/4

tsp

sea salt
Instructions
Preheat oven to 400°F. Place the chicken breasts in a 9X13 baking dish. Using a brush, spread olive oil on both sides of each chicken breast. Salt as desired and then add garlic, cumin, chili powder and pepper evenly across the chicken.

Bake for about 22-25 minutes or until chicken reaches an internal temperature of 165°F. (I have had really thick chicken breasts that take almost 30 minutes before so make sure to check them temp!)

While chicken is baking, toss all salsa ingredients together. Add a touch of cracked pepper as well if desired. Chill until chicken is cooked.

When chicken is done, remover from oven, allow to sit for several minutes and then serve with a generous spoonful of mango salsa!
Nutrition
Calories:
321
kcal
|
Carbohydrates:
15
g
|
Protein:
37
g
|
Fat:
12
g
|
Saturated Fat:
2
g
|
Cholesterol:
108
mg
|
Sodium:
357
mg
|
Potassium:
861
mg
|
Fiber:
2
g
|
Sugar:
13
g
|
Vitamin A:
2248
IU
|
Vitamin C:
75
mg
|
Calcium:
18
mg
|
Iron:
1
mg