This post may contain affiliate links.
These Grilled Steak Kabobs with Cilantro Chimichurri include a simple marinade and are smothered with an easy but delicious chimichurri sauce. Enjoy this healthy and hearty recipe with a nice relaxing seat on the patio! Plenty of fresh veggies and juicy meat to go around!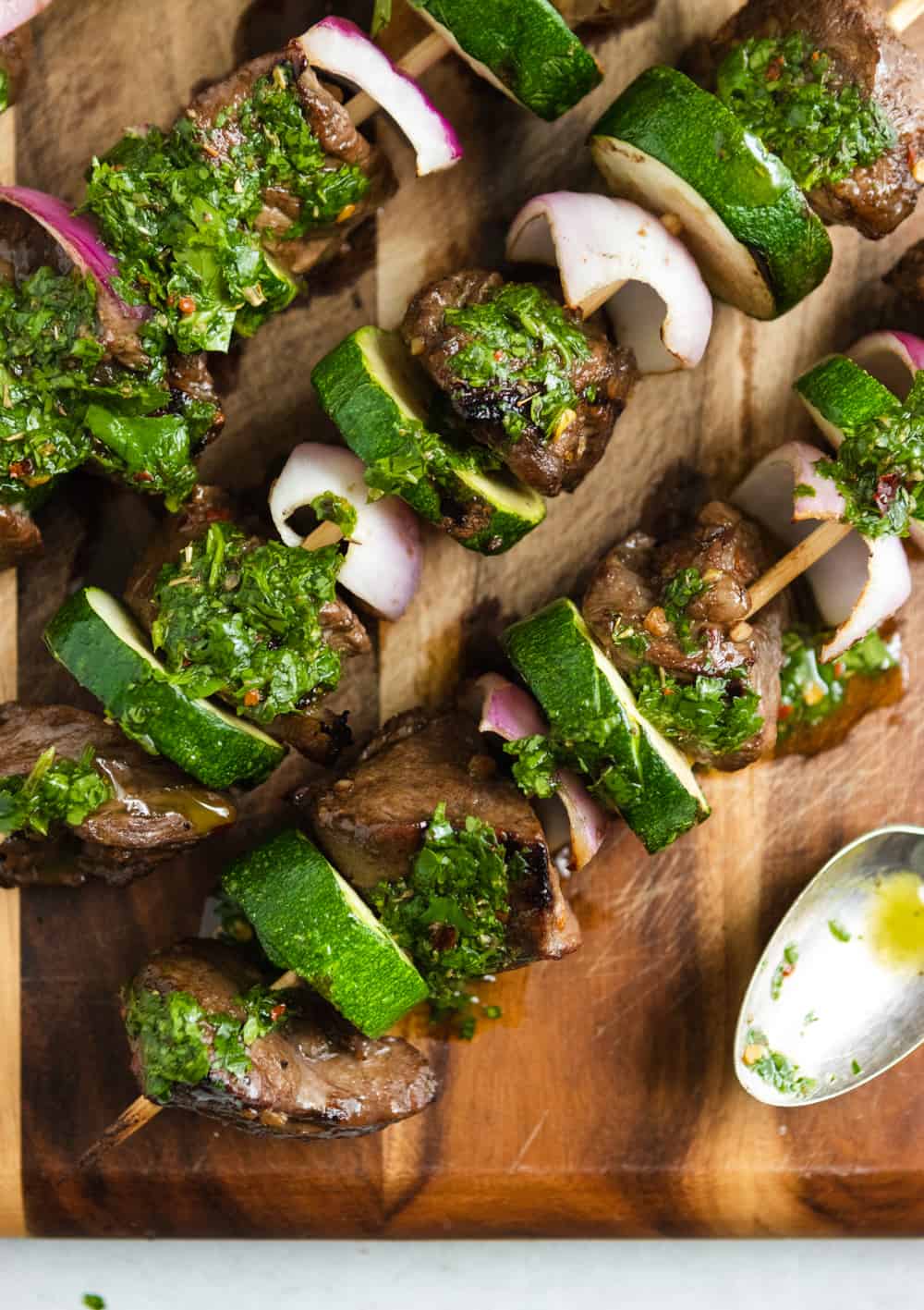 Let the grilling games begin!
4th of July week, back from the beach and ready for some serious R+R after a week of chasing a toddler across the beach, through the halls of the hotel and everywhere else in between.
Yes, that's right, we need a vacation from our vacation. Ha, I wish I were kidding. No but honestly, it feels so great to be back home. We had a great week by the sea and other than that fact that the little one wasn't a huge fan of the ocean until the last couple days, we had a great time.
To be fair, I did not mind one bit that he wasn't a huge fan of the waves because it was one less spot I had to chase him. Apparently Sam is more of a pool kind of guy. Maybe next time!
As far as food went, we had so many good meals. I am full of the best fish tacos I have ever had and lots more seafood. Surprisingly though, I am not bringing you a surf recipe today after having so much of it. Nope, today, I bring you the best of the turf in these grilled Steak Kabobs that are marinated to perfection, grilled and then smothered in one heck of an amazing chimichurri.
You can pop these Grilled Chicken Drumsticks on the grill too for a perfect party!
Not up for grilling tonight? These Air Fryer Steak Bites with Lemon Garlic Butter are another great dinner!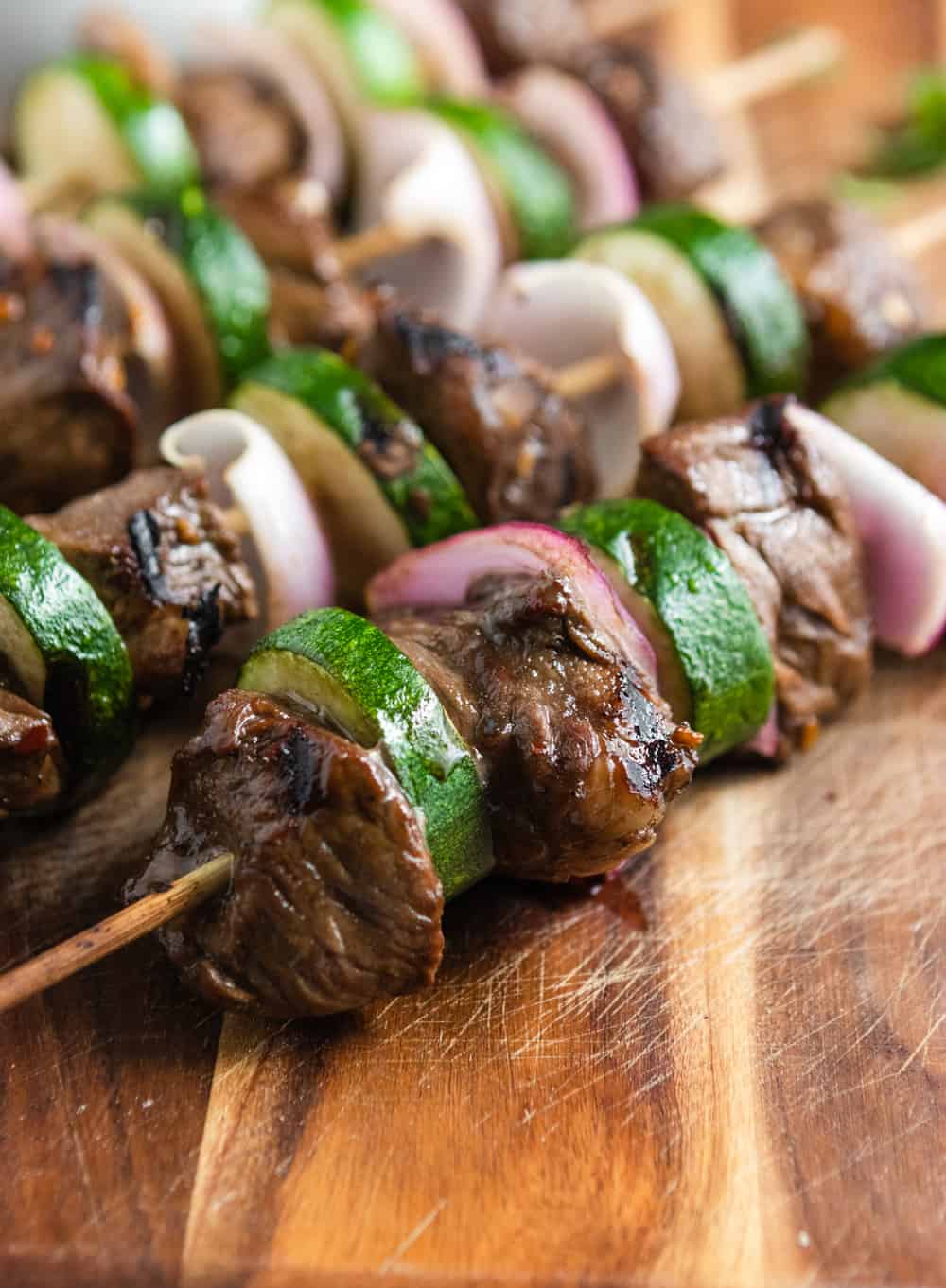 These steak kabobs will get you out of any grilling rut!
We use our grill year round but I promise all things from the grill taste better in the summer heat. And these grilled steak kabobs are no exception.
I won't lie, I get pretty boring in the kabob department around here. I am guilty of the same old, same old: chicken, peppers, and onions. Sometimes I toss on some mushrooms and maybe some cherry tomatoes, but needless to say, I get boring with my kabobs.
Well, it was time to spice things up recently and I decided just to go all out. Marinade and sauce for these steak kabobs. Not cutting any corners and still such a breeze to make!
You may also make this recipe and decide the chimichurri is the new love of your life. I get it, I soooo get it. I am a cilantro girl through and through. Anything I toss it on is instantly 1,000 times more delicious.
Traditionally, chimichurri includes parsley as well. I decided to skip the parsley and go all in with the cilantro. It's just my thing. And I love the outcome of this sauce. An easy way to add flare to even the most basic recipes.
Pair the marinated steak, veggies and all the chimichurri you can handle and you have got yourself a perfect summer meal! Add a patio, some good friends and family and you are on the road to one heck of a BBQ!
What steak is best for these Grilled Steak Kabobs?
I used a nice cut of sirloin that was fairly thick and cut it into larger 1 ½ inch pieces. Sirloin works really well and is more budget friendly than other cuts of meat. I have read that filet mignon is great for steak kabobs as well as other cuts.
If you use a sirloin or strip, you are likely to have less fat since they are leaner cuts and therefore the kabobs will be meatier. No one wants to get a big chunk of steak that has only a tiny bite of meat on it!
I highly suggest selecting a piece of steak that is thicker versus thin. This will allow the cook time of veggies and steak to be fairly even.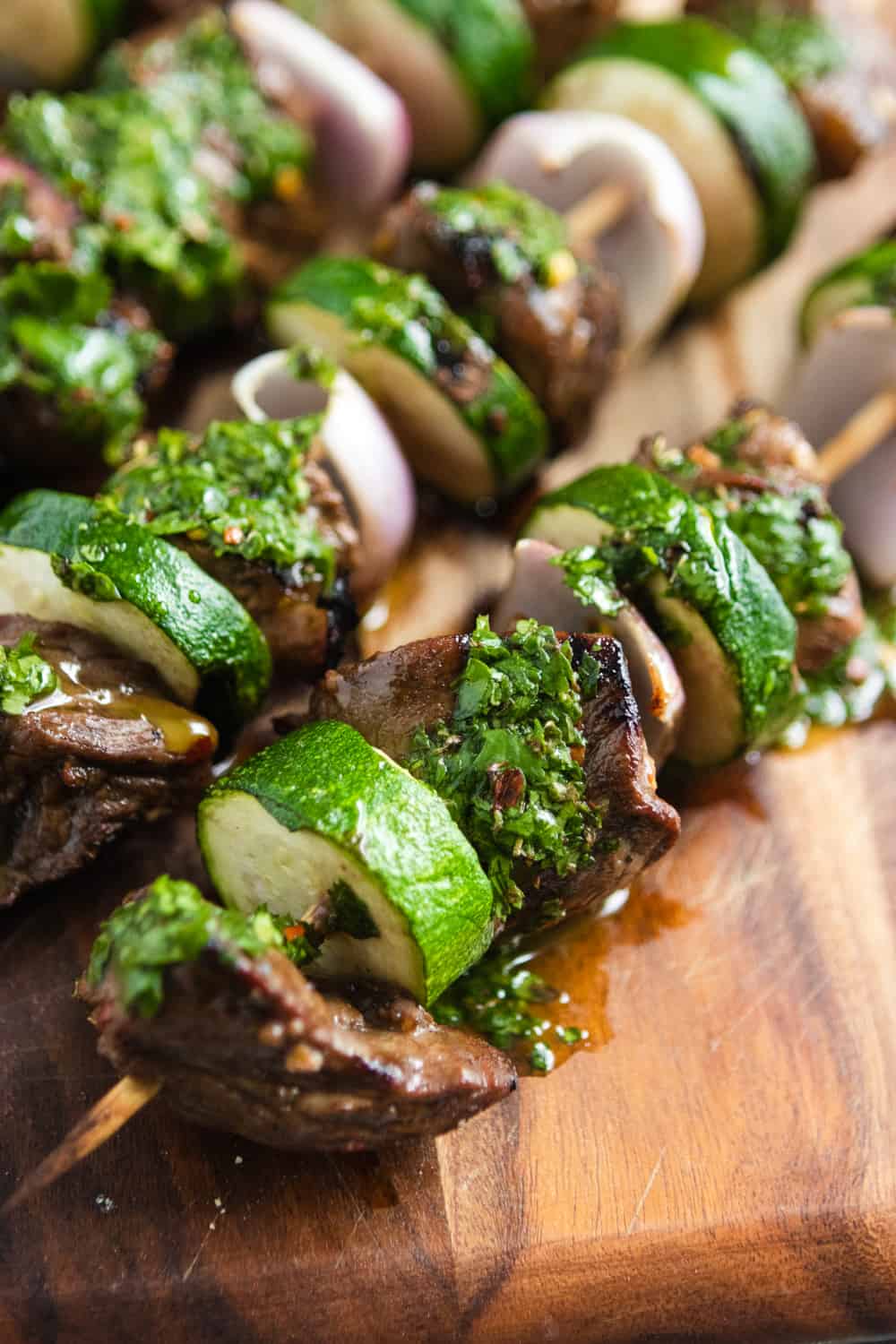 How long do I need to marinade these Grilled Steak Kabobs?
Base marinading time on the time you have! Seriously, if you only have 15 minutes, thats more than nothing. I like to marinate my grilled steak kabobs for at least an hour or two but have also let them sit for less time and still have found them to be delicious.
This marinade is so so good and I often use it for other meats on the grill.
What you need to make these Grilled Steak Kabobs with Cilantro Chimichurri:
For the Steak and Marinade:
Steak: I used a thick cut sirloin.
Garlic: Minced--you can freshly mince it or use the refrigerated kind.
Olive Oil
Worcestershire Sauce: This is one of my very favorite sauces in the world. If a steak marinade includes it, it is the BEST already!
Balsamic Vinegar
Crushed Red Pepper
Sea Salt and Cracked Pepper
For the Cilantro Chimichurri:
Cilantro: I only suggest using fresh for this. I know you can get it in squeeze tubes and freeze dried, but I would not opt for either. Fresh is best here.
Crushed Red Pepper: Adjust this based on desired amount of heat and spice you like.
Olive Oil
Red Wine Vinegar
Lemon Juice
Oregano: Fresh or dried will work. I have included the appropriate measurements for both options.
Garlic
Sea Salt and Cracked Pepper
Pro-Tips and Notes for making these Grilled Steak Kabobs with Cilantro Chimichurri:
Try not to over stuff your kababs and spread out the ingredients on each skewer. If the meat and veggies are too tight or bunched together, they will not cook evenly.
Turn your kabobs regularly. The steak can cook pretty quickly on each side depending on your grill. You don't want to overcook the steak so turning the kabobs a quarter turn every couple of minutes will allow them to cook up nicely.
The chimichurri can be made two ways. You can toss everything in this food processor and process until a sauce. This will make the sauce a bit more creamy looking and can thin it out just slightly. You may need to adjust the amount of olive oil you add for this version if you like it thicker. The other option is just to chop the cilantro and whisk it all together. This will make your sauce look more like a traditional chimichurri and look oil based. Either option is fine, just know the two will look different.
I don't marinate the veggies. I typically toss them in a bit of olive oil and add a dash of garlic powder, salt and pepper. You are more than welcome to add some marinade to your veggies though! I find they are crispier if I don't and that how I like mine.
Check out these perfect summer recipes to enjoy with these Grilled Steak Kabobs:
HUNGRY FOR MORE? Subscribe to my newsletter and follow me on Facebook, Instagram and Pinterest for all the latest!
Grilled Steak Kabobs with Cilantro Chimichurri
These Grilled Steak Kabobs with Cilantro Chimichurri include a simple marinade and are smothered with an easy but delicious chimichurri sauce. Enjoy this healthy and hearty recipe with a nice relaxing seat on the patio! Plenty of fresh veggies and juicy meat to go around!
Print
Rate
Ingredients
Chimichurri
1

c

chopped cilantro

¼

teaspoon

red pepper flakes

⅓

c

olive oil

2

T

red wine vinegar

½

of a lemon

juiced

1

teaspoon

oregano

or 1 T fresh

¼

teaspoon

pepper

¼

teaspoon

salt
Instructions
Whisk the marinade ingredients together(olive oil, balsamic, Worcestershire sauce, minced garlic, red pepper, sea salt, cracked pepper). Toss with cut up steak and store in a bowl or ziplock bag. Refrigerate for 15 minutes to several hours.

After marinated meat is ready, preheat your grill to medium/medium high.

Thread meat and veggies onto skewers, making sure to leave a bit of space and not cramming all the ingredients together. When grill is preheated, place skewers on the grill and cook. Turn every several minutes allowing to cook evenly on each side. (rotate every 2-3 minutes) Cook time will vary but about 10-12 minutes should be roughly enough based on how you like your steak cooked.

Remove from the grill and allow to sit for several minutes.

While meat is sitting, whisk together chimichurri ingredients or pulse them in the food processor. Spoon chimichurri over kababs and serve!
Nutrition
Calories:
403
kcal
|
Carbohydrates:
7
g
|
Protein:
34
g
|
Fat:
26
g
|
Saturated Fat:
5
g
|
Polyunsaturated Fat:
2
g
|
Monounsaturated Fat:
17
g
|
Cholesterol:
92
mg
|
Sodium:
501
mg
|
Potassium:
808
mg
|
Fiber:
1
g
|
Sugar:
4
g
|
Vitamin A:
400
IU
|
Vitamin C:
19
mg
|
Calcium:
78
mg
|
Iron:
4
mg