This Easy Instant Pot Mac and Cheese is easier than easy! Rich and creamy with 3 cheeses to make dinner a simple, comforting meal for the whole family. The kids will love it even more than Kraft and Velveeta!
This post may contain affiliate links, meaning, at no additional cost to you, if you click through an affiliate link and make a purchase, I may make a commission.
I held off on the Instant Pot for a LOOOONG time. It was another appliance that I was certain I could easily live without. To be honest, I still think I could live without it, however, the things it does, and with ease, it does so well that it is definitely starting to prove itself to me.
The Instant Pot does Mac and Cheese like nothing else can.
This Easy Instant Pot Mac and Cheese is easier than easy to be honest. The fact that you can put a few ingredients into the pot, walk away and in just a few minutes come back to cooked pasta is brilliant. Then you stir in the goods and you have creamy, rich Mac and cheese. Just. Like. That.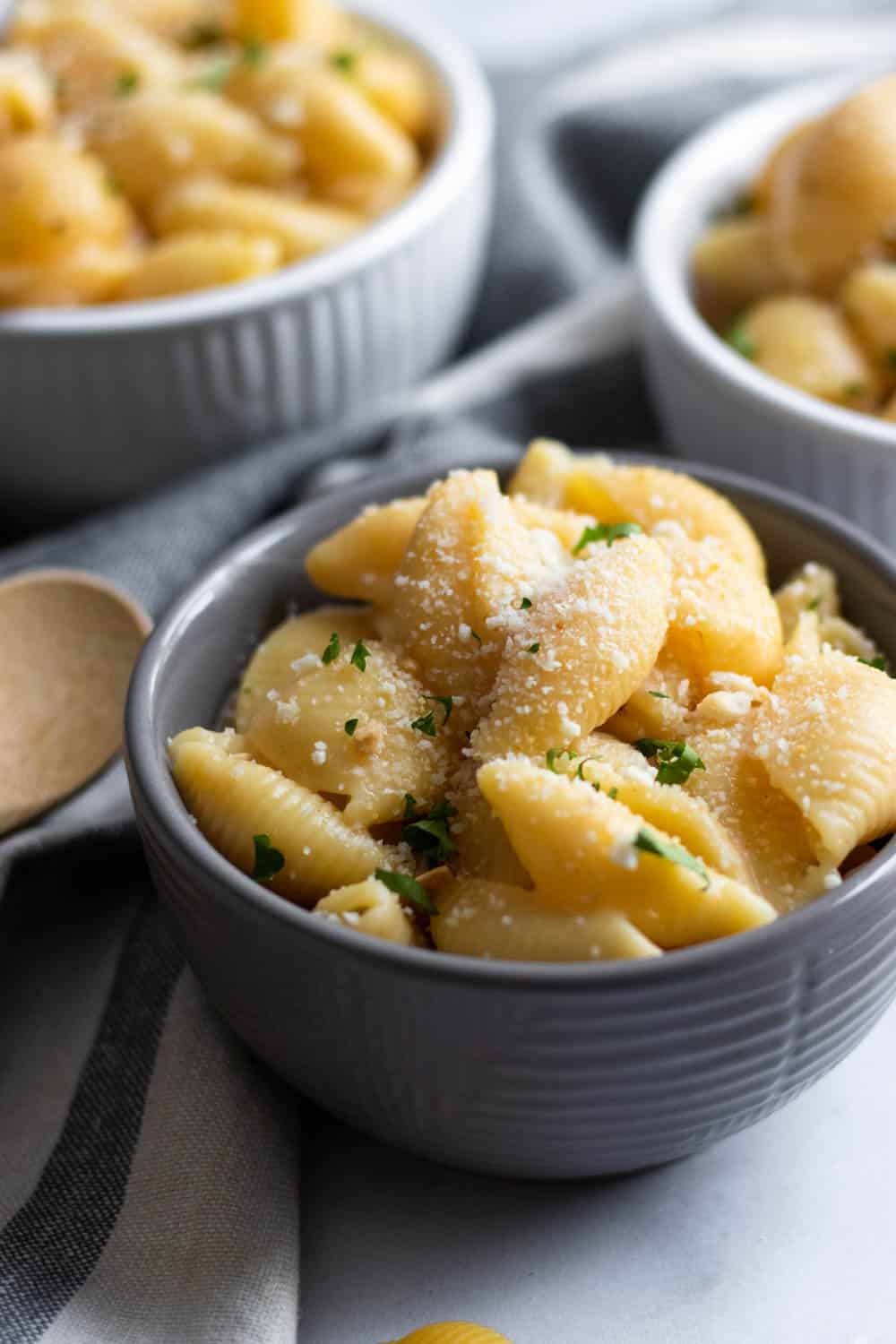 Before I go any further, I thought I would talk a bit about what this recipe means in relation to my own journey of finding food freedom and making peace with food.
When it came to comfort foods, such as mac and cheese, for YEARS and YEARS, I always had to make them "healthier" in some way. Enjoy rich and comforting mac and cheese? No, not me! But add some broccoli, or make it with whole wheat, noooo lentil, oooh how about zoodles–you get the point, I never allowed myself to enjoy this food that I loved so much.
Why couldn't I have Mac and cheese?
Well, the system of food rules I was controlled by wouldn't allow it, for several reasons. One, when I was consumed by diet culture and the need to be thinner, I was always worried about gaining weight. And somehow, that meant no Mac and cheese. I also feared that I wouldn't be able to stop once I started eating. So my answer was just to cut it out and restrict it all together.
Did it work? Nope.
It always backfired and blew up in my face. And then I just ended up down the rabbit hole of guilt and shame. Not necessary but it was the way I lived for ages. And it was all because I felt the need to have a certain body. What a waste of so many years.
So now, things are so different. Now that I have unconditional permission to eat any kind of food I want, things like macaroni and cheese are foods that I savor and enjoy so much. I don't have the issues I had for so long because I allow myself to have these foods. You would be amazed what a difference this has made. Food and anxiety do not go hand in hand for me ANYMORE.
And THAT is why this recipe is soooo important to me.
This Instant Pot Mac and Cheese is the real deal.
This recipe is no fluff, no substitutions, 100% good old fashioned macaroni and cheese. The way I love it. It is a food that should not induce guilt. It is a food that is cozy and comforting, and it is a food that I love and I am so happy to share it with you. Crazy how much meaning an easy peasy little recipe can have, right?
So here is the deal.
The Instant Pot allows you to whip up this recipe in just minutes. No draining, no waiting over a boiling pot of water, nothing. You add ingredients to the pot, set for 5 minutes, walk away. Then you come back do a pressure release and stir in cheese and milk and seasoning. Then you EAT. Holy cow, you are gonna be amazed! And I used 3 cheese in this one so that is clearly 3 times the fun of other Mac and cheeses, right?!
Don't have an Instant Pot? This is the one I have!
Some things to note about this Easy Instant Pot Mac and Cheese Recipe:
I used regular shell pasta. I am assuming whole wheat may work fine but I have not tested with any other type of pasta and assume that cooking directions will most likely vary if using other types of pastas.
The CHEESE: I used a combo of our favorite cheeses but please do not feel limited to just these three. We loved it with Colby jack, Monterey and Cheddar. 2 cups of cheese is great, but no one is holding anyone back if anyone decides to add more. Just sayin…
Can I use water instead of broth? absolutely! I think the broth adds more flavor and richness but if you decide to use water that will work just fine.
Can I use non-shell pasta? I had a friend test this out and she used rotini. Worked great for her. I imagine macaroni noodles will work great as well!
Looking for more amazing Instant Pot Recipes?? Try this Easy Instant Pot Cheesy Chicken and Rice recipe!
DID YOU MAKE ONE OF MY RECIPES? LEAVE A COMMENT AND LET ME KNOW! I ALSO LOVE TO SEE YOUR LEMONS + ZEST RECIPES ON SOCIAL MEDIA–TAG ME @LEMONSANDZEST ON INSTAGRAM OR FACEBOOK!
Ingredients
4

c

broth (vegetable or chicken)

1

lb

shell pasta

1/2

c

milk

2

T

butter

1

c

shredded cheddar

1/2

c

shredded Colby jack

1/2

c

shredded Monterey Jack

1/2

tsp

garlic powder

1/4 - 1/2

tsp

salt

1/2 tsp

cracked pepper

1/4

tsp

paprika

Sprinkle of bread crumbs (optional)
Instructions
Pour pasta, broth, and salt into Instant Pot/Pressure cooker pot. Cut butter into small cubes and place on top.

Set pressure release on pressure cooker to sealing, close lid and lock and set to pressure cook for 5 minutes.

When 5 minutes is up, do a quick release and allow all the pressure to release. When complete, open and add cheese, milk, garlic, pepper, paprika and stir well until cheese is melted.

Serve immediately and add a sprinkle of bread crumbs if desired! Store leftovers in refrigerator for 3-4 days.