These Cheesy Zucchini Tots are a fun way to get the family to eat some veggies with a smile! They are simple to whip up and perfect for dipping into your favorite sauce!
Today's post features an extra special little guy and he is excited to be here to celebrate #KidsintheKitchen this month!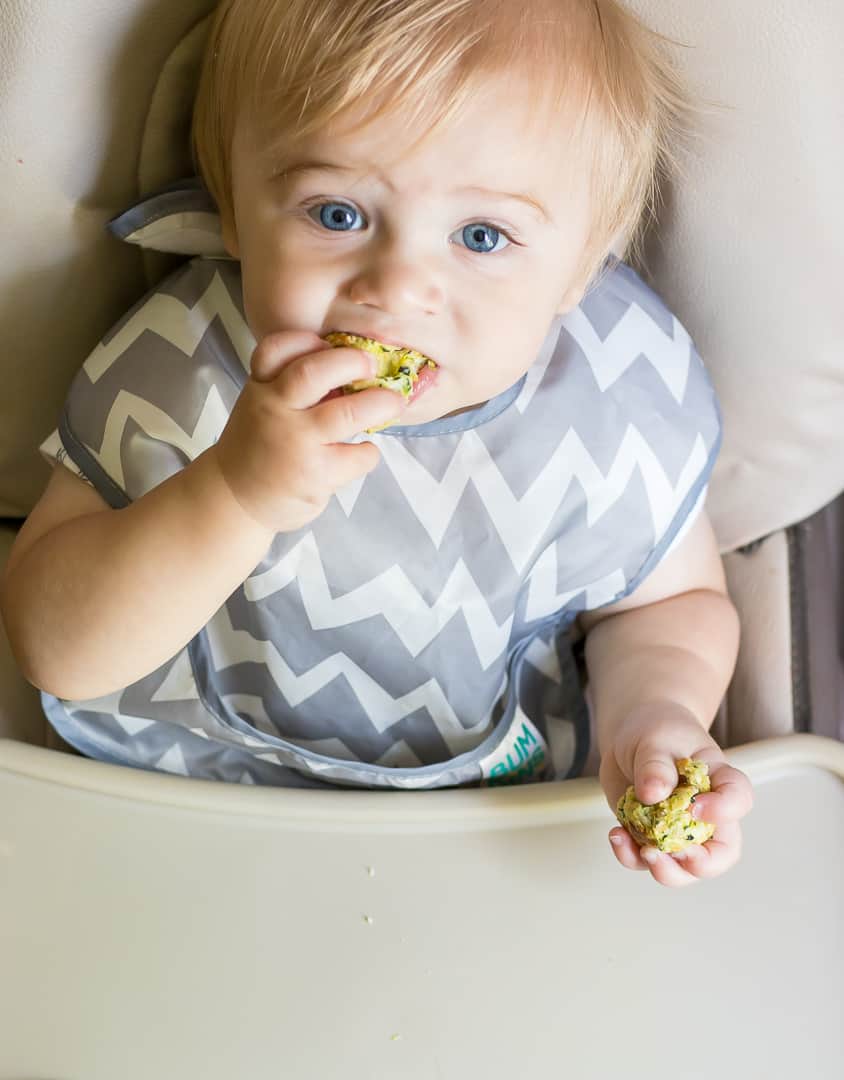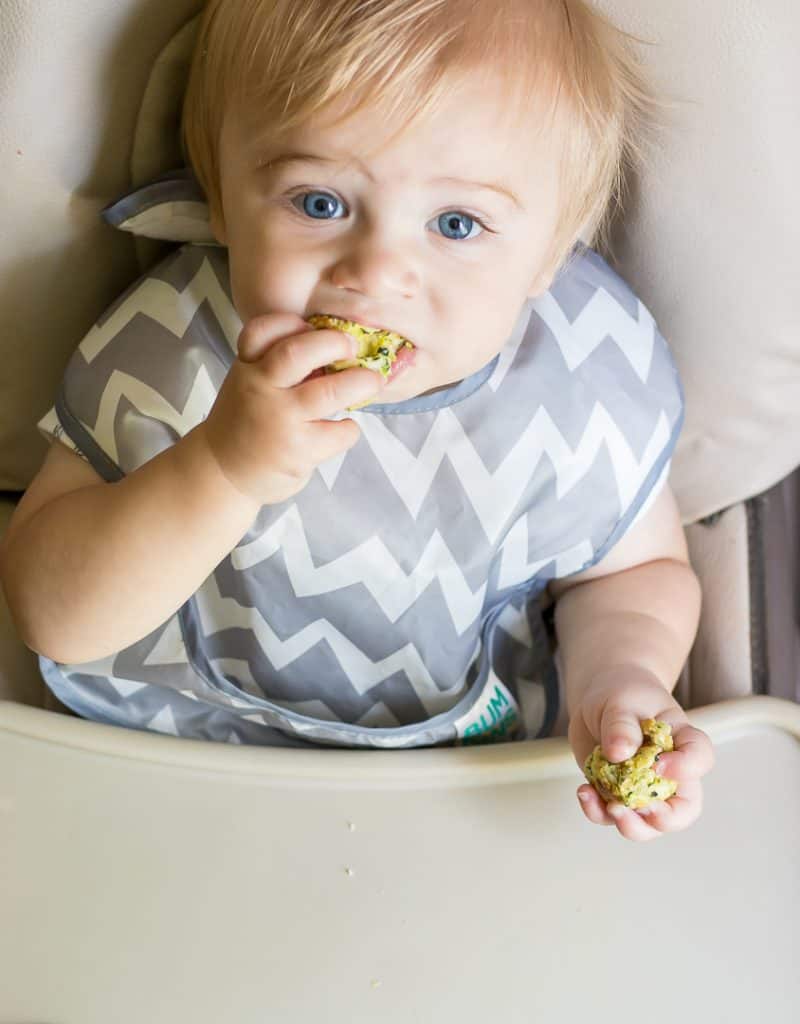 Cheesy Zucchini Tots: The way to a kid's (and adults) heart!
Sam says hi! He was so excited to get to be a part of this post especially since it involved one of his favorite things: EATING! The month of August is Kids Eat Right month and this year's push is to get kids in the kitchen! That's because kids who are involved in the kitchen reap so many benefits.
Growing up, I was the kid in the kitchen. I loved helping in any way--wait, I take that back, I liked helping in any way aside from the clean up part. And to be honest, that really hasn't changed.
The fact that I was so involved in food prep and cooking so early on could very well be part of the reason I loved veggies so much and didn't have arguments over not eating them at the dinner table. It's likely that a lot of that is genetics, but it is true that the more you can get the kiddos involved in meal prep and more in the kitchen, the more excited and open they may be to try new foods, even the veggies!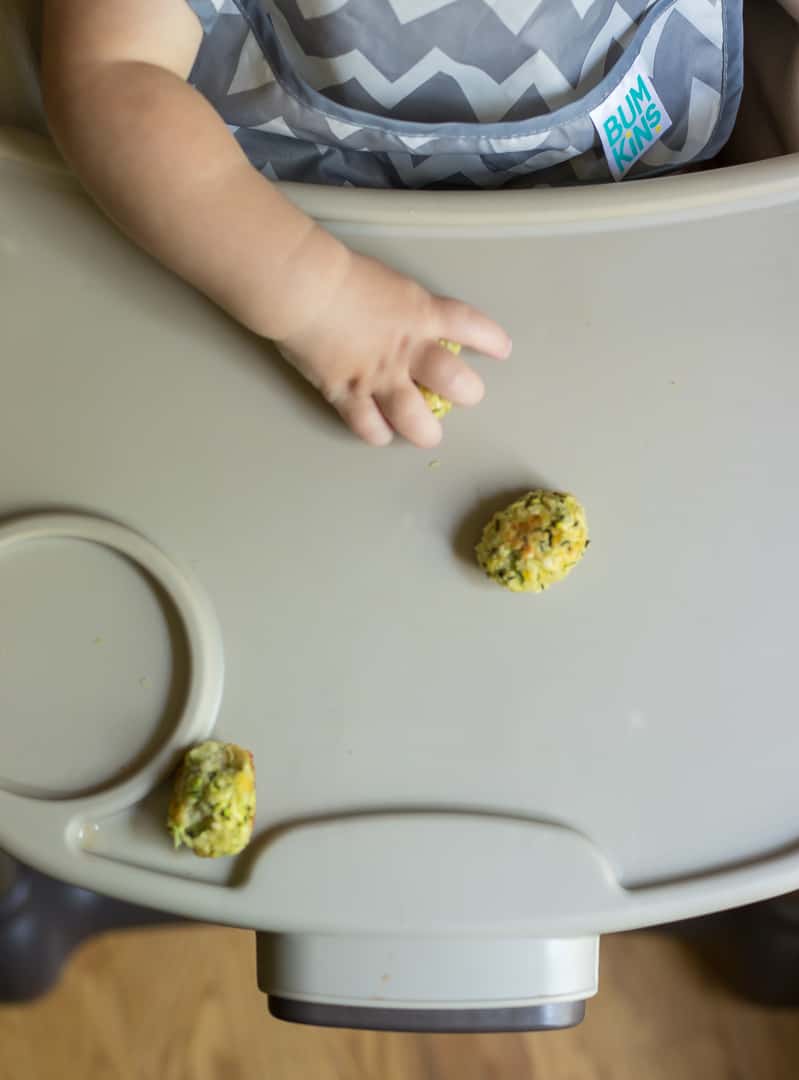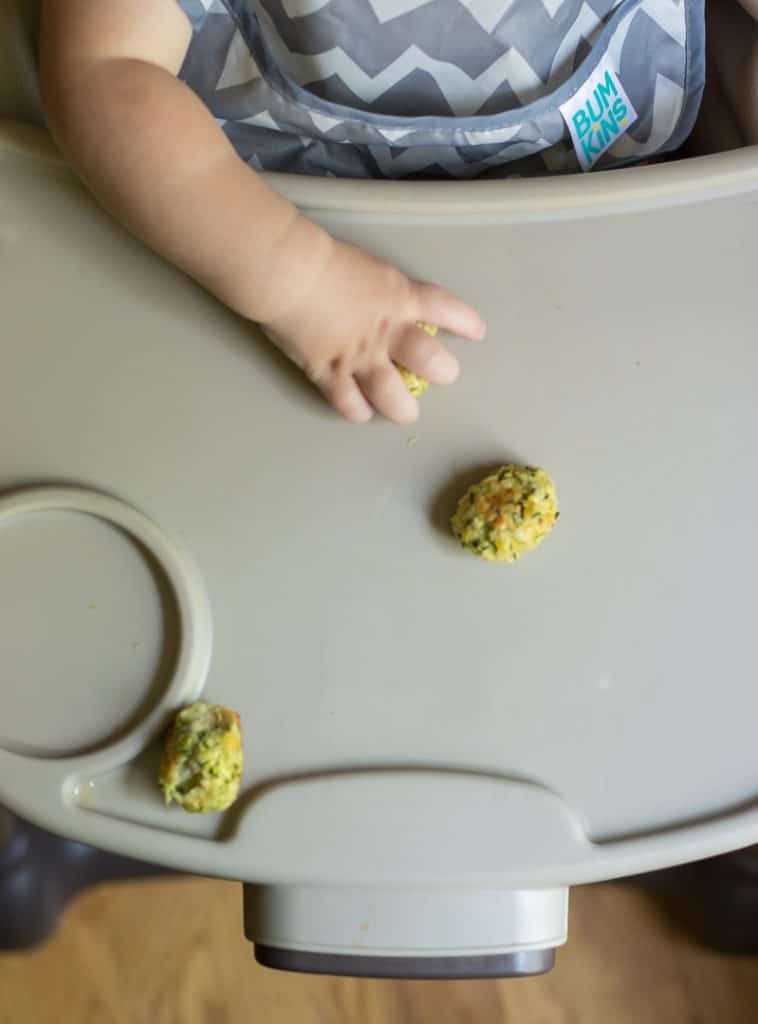 We started Sam on solids the day he turned 6 months. It was pretty funny--and VERY MESSY the first week or so, but eventually he really got the hang of it and now he eats just about anything we put in front of him. It has been so amazing to watch.
How do I get my kid in the kitchen??
When I joined up with a big group of amazing women to celebrate Kids in the Kitchen this month, I wasn't quite sure how I was really going to get Sam involved. He is a great helper, but by helper I mean, he is great at opening all of the cabinets and drawers and pulling everything out. That's what happens when Sam is in the kitchen. The kid is 10 months so it's to be expected.
But the reality of it is, Sam's job as a kid in the kitchen right now is to explore.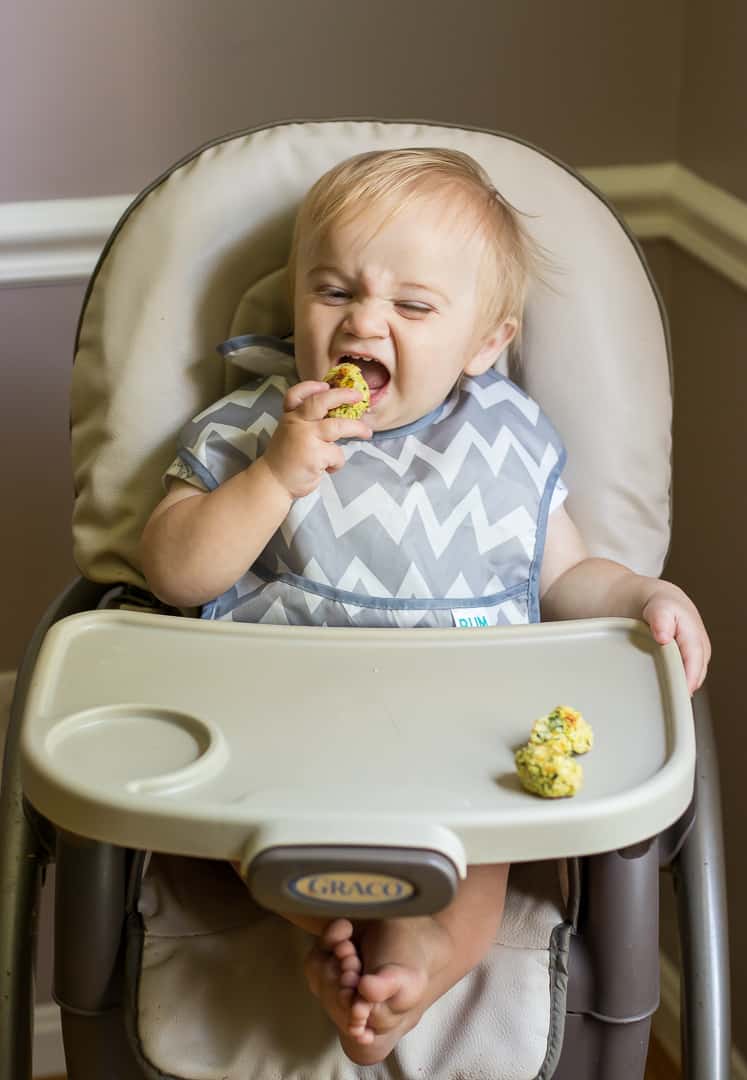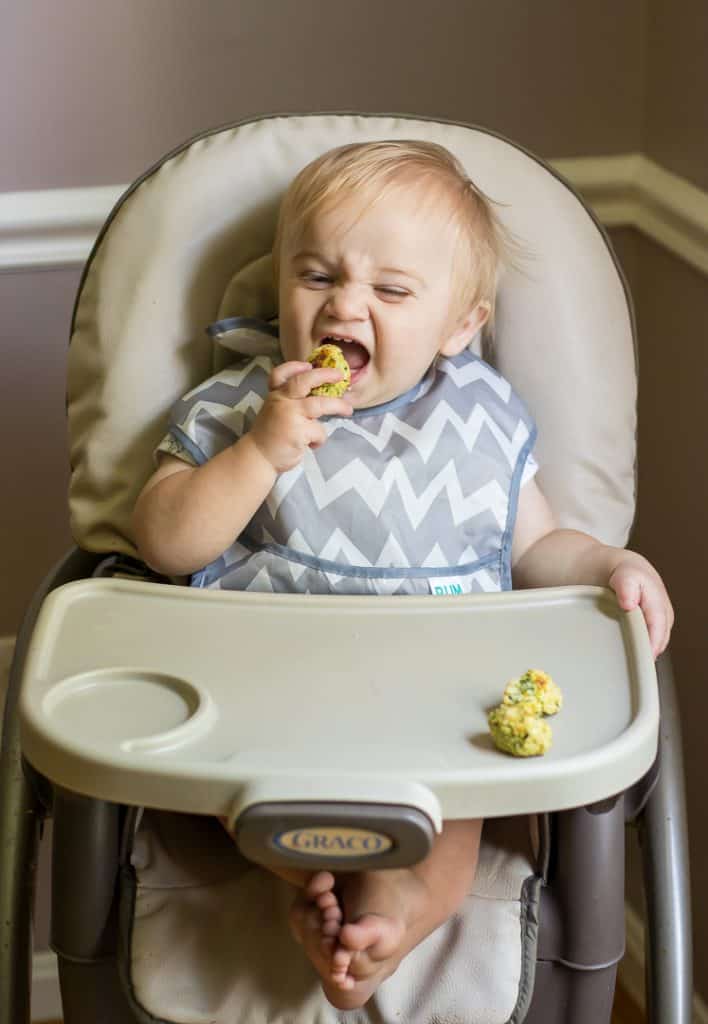 Every time we sit at the table, it's an opportunity to give him new foods to feel, taste, (squeeze through his fingers which he does often) and to learn his likes and his dislikes. A kid in the kitchen right now is a sensory experience and his little brain is working hard to take it all in. Each experience adds to his repertoire and he makes connections with all of his senses.
So to celebrate this campaign, I decided to give him a brand new food to experience as we hung out together in the kitchen. Soon enough he will be able to do things like mix and stir, but for now, it's more like play time.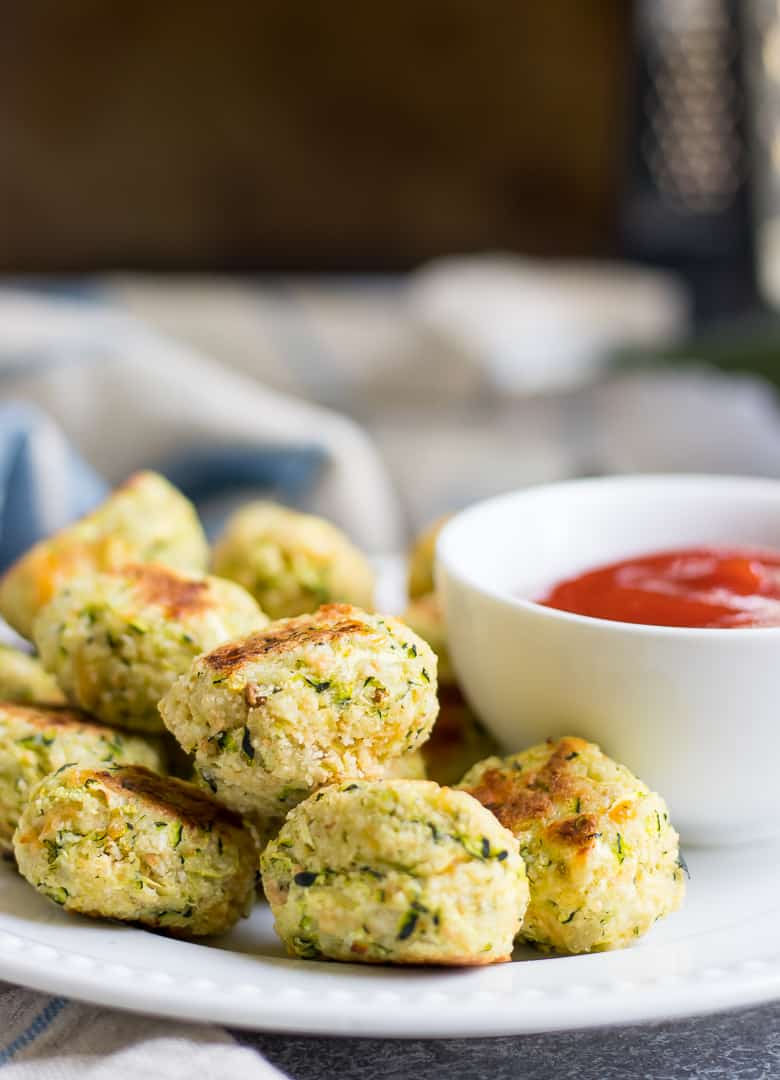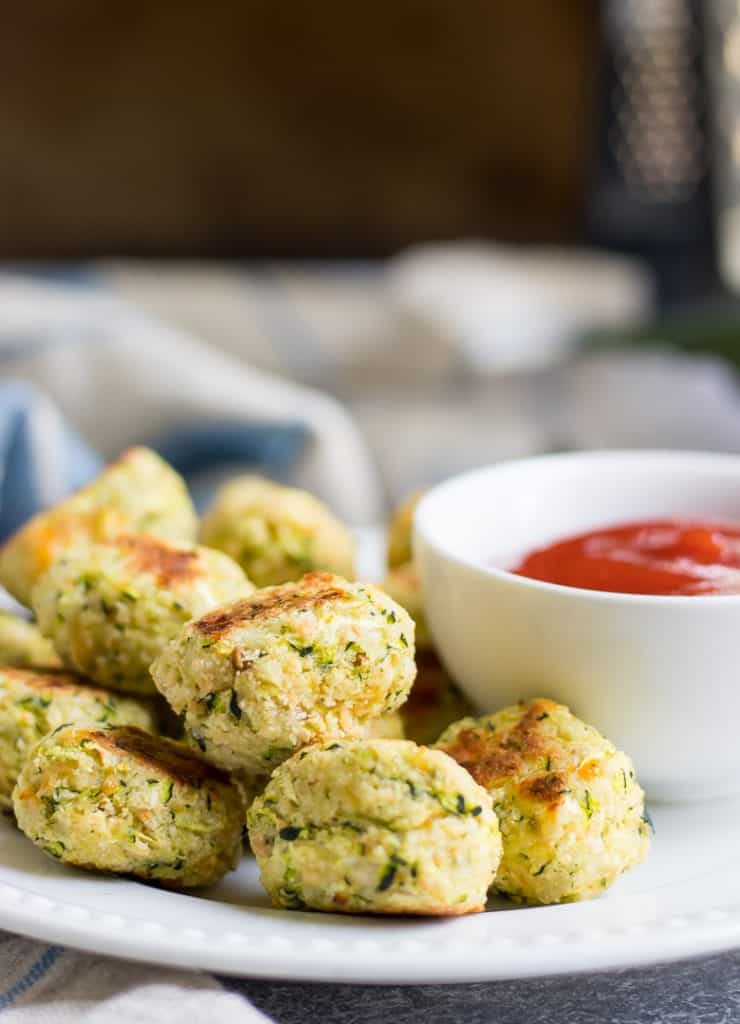 Zucchini Tots are a fun way to add veggies
These Cheesy Zucchini Tots are great for early eaters because they are really easy for them to grab and hold onto. They include zucchini so always a great way to sneak in some more veggies, especially those that aren't usually eaten raw. Handing Sam a piece of raw zucchini may not go great, but making a veggie packed bite is much more likely to work out.
Before I made these, Sam had already eaten plenty of veggies, and green beans and peas have been at the very top of his list followed by carrots and broccoli. This child eats green beans by the fistful and I have to slow him down sometimes. The other night he fussed every time there was less than 10 peas on his plate. I guess he takes after his mama.
He really loved avocado in the beginning but isn't as big on it now so he certainly has and knows his preferences. It's always fun to give him something brand new though and watch him.
I put three tots on his tray and he did exactly what I assumed he would do to begin. He squeezed one between his fingers. Gotta figure out that texture, right? He examined the little green and yellow bites for a few seconds and then did what he does with everything he gets his hands on, he put it in his mouth.
The real taste test: zucchini tots for the win??
I wasn't 100% sure how he felt about them at first, but when he went in  for another bite, and then another, I knew the Cheesy Zucchini Tots were a go. A few minutes later, he demanded a refill and the rest is history!
You could say Sam is my personal taste tester I guess, and it's fair to say he takes the work seriously and holds nothing back. Since the tots are acceptable to him, then I would say it's time to run to the kitchen and get them whipped up.
Soon enough, Sam will be able to help shred the zucchini, crack the egg and even stir everything up. For now, he will keep on exploring every day in our kitchen!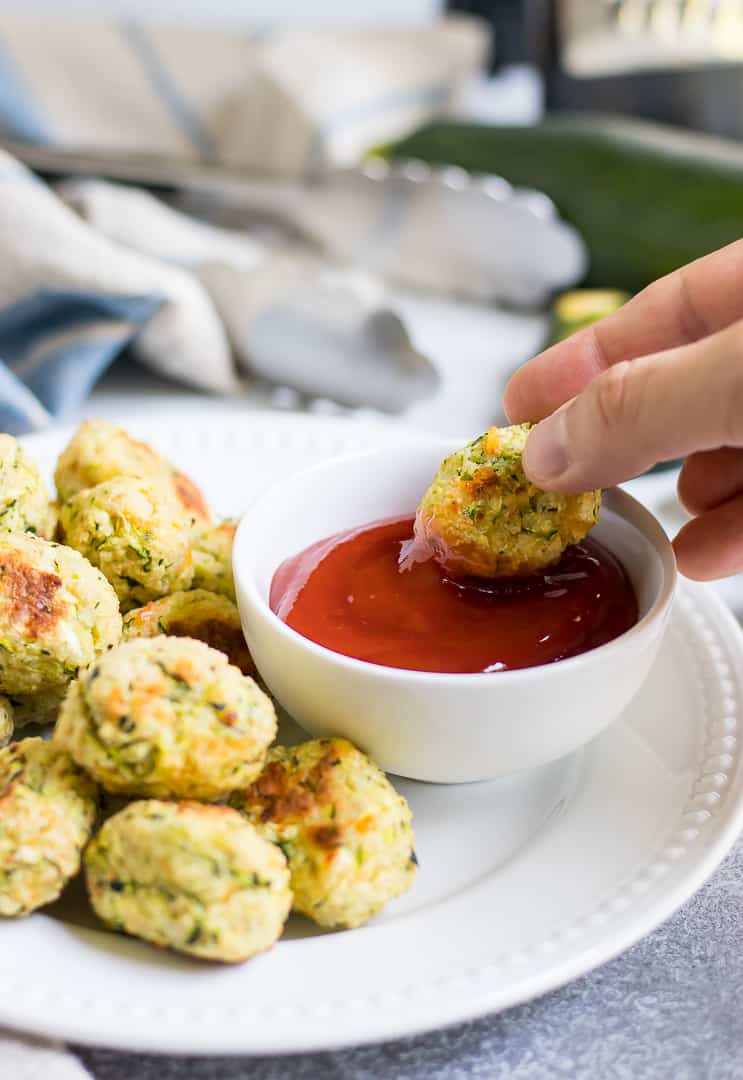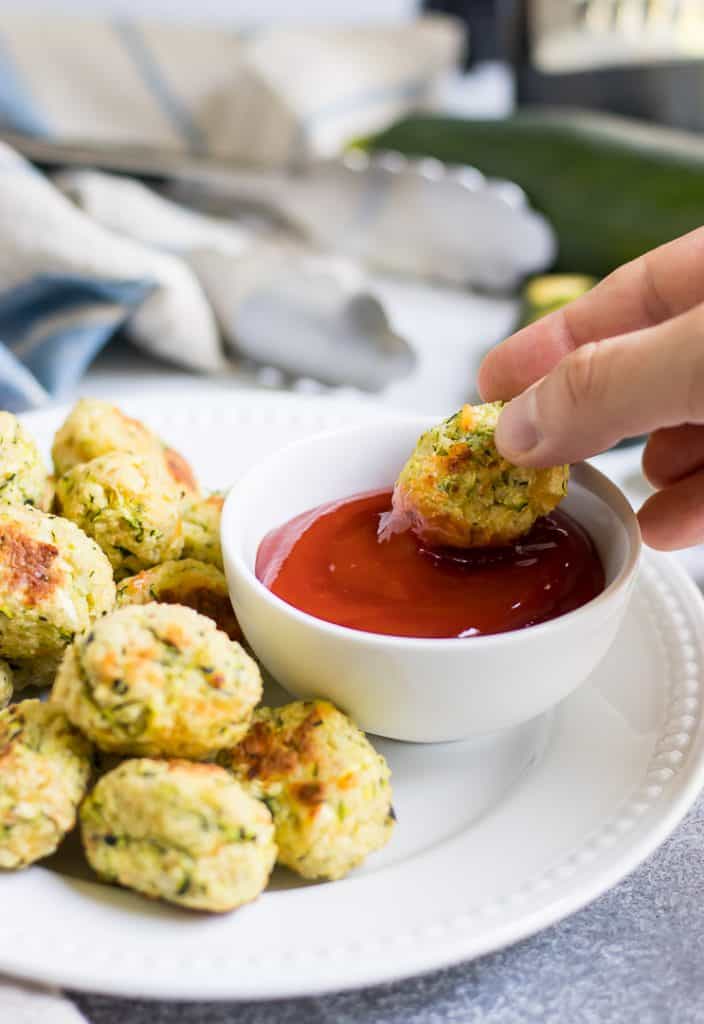 What are some of your fun ways to get the kids in the kitchen around your house? I would love to hear any of your ideas!
What to serve with these Cheesy Zucchini Tots:
What will you serve with them?!
DID YOU MAKE ONE OF MY RECIPES? LEAVE A COMMENT AND LET ME KNOW! I ALSO LOVE TO SEE YOUR LEMONS + ZEST RECIPES ON SOCIAL MEDIA–TAG ME @LEMONSANDZEST ON INSTAGRAM OR FACEBOOK!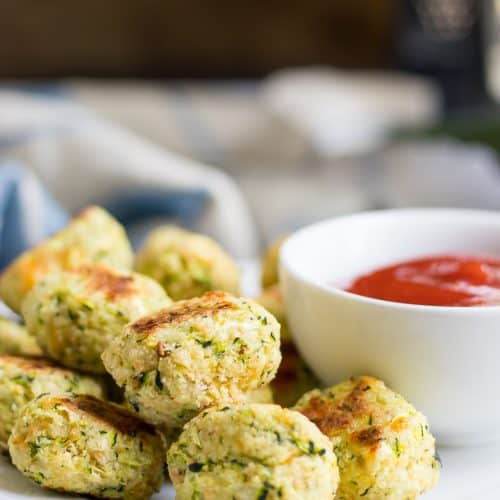 Ingredients
1

c

zucchini, shredded and packed

⅓

c

shredded cheddar jack cheese

⅔

c

bread crumbs or panko, gluten free if needed

1

large egg

½

teaspoon

garlic powder

sea salt and pepper to taste

pinch of crushed red pepper
Instructions
Preheat oven to 400°F.


Shred zucchini and use a cheese cloth, milk bag or thin towel to strain some of the excess liquid.


Combine all ingredients in a mixing bowl and mix well to combine. Form into small tater tot like shapes and line on a parchment lined baking sheet.


Bake for about 15 minutes or until lightly browned--you can flip halfway if desired but not necessary.


Allow to cool for several minutes and serve as a side with your favorite dinner or as a snack! Makes about 18 tots.