Summer in a bowl in this Simple Pasta Salad with Grilled Lemon Garlic Zucchini right here! The lemon gives a fresh burst of flavor along with the corn, parmesan, and zucchini. Make this a side dish for the BBQ or top with chicken for a full summer dinner. This recipe will become your new favorite!
Get on the Simple Pasta Salad BandWagon
You know, I have a real issue with the whole Italian Dressing dumped on a bowl of pasta and veggies as a pasta salad. Pasta Salads can be so so so much more! And the reality is that they can be just as simple and still have so much more flavor!
There was never reason to touch the pasta salad at most BBQs growing up. They were always the same. Don't get me wrong, I am one who loves a good Italian dressing, but I don't want it on much more than an actual green salad.
Maybe I am in the minority when it comes to my pasta salad taste, so forgive me if you are a big fan of the type I am knocking. But I promise if you just take one bite of this super simple Pasta Salad with Grilled Lemon Garlic Zucchini, you will never go back!
Why you need this Simple Pasta Salad with Grilled Lemon Garlic Zucchini in your life!
When it comes to my very favorite, I have essentially lived each summer on this Tomato Basil Pasta Salad–and I am not exaggerating when I say that. I have LIVED on it, for days sometimes. But sometimes change is a good thing, and I decided this summer, it was time for a change.
This zucchini filled salad is the exact change I was looking for. I have no doubt that you will be enjoying this one on repeat this summer as well.
The zucchini is where it's at. On top of being a great summer veggie, it is just so incredible when it is grilled. And a touch of garlic and citrus bring out flavor that adds so much to this simple salad–a lot of times a little goes a long way. That is the case right here, my friends.
What you need to make this simple pasta salad:
Pasta–ha,go figure, right??
Zucchini–if you or someone you know has a garden with zucchini, take full advantage this summer!
Corn–you can use fresh or frozen. You can also grill the corn for even more deliciousness
Lemon Zest
Parmesan
Garlic
Olive Oil
Red Wine or White Wine Vinegar (balsamic would honestly be fine as well)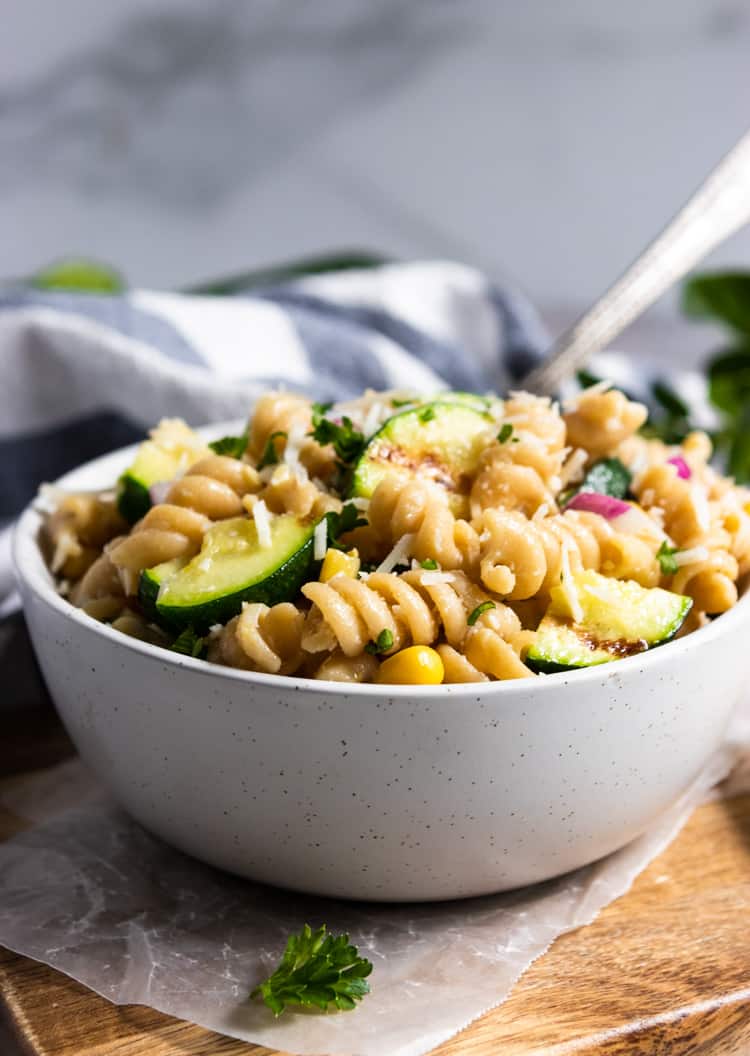 WHAT SHOULD I SERVE WITH THIS Simple PASTA SALAD?
By all means: burgers! I have an amazing Sun-Dried Tomato Turkey Burger that would pair well with this pasta salad. If you are looking for a vegetarian option, then go with these Black Bean Burgersinstead.
Grilled Chicken, plain and simple right on top is amazing with this as well.
Mozzarella Stuffed Chicken–now that is what you pair with this Tomato Basil Pasta Salad!
Toss some steaks on the grill to round out this pasta salad, or even some grilled salmon!
CAN I MAKE THIS simple pasta salad THE NIGHT BEFORE SERVING?
You absolutely can! I prefer it to be made somewhat in advance to give the spices and flavor to really soak in.  Just before serving, you may want to toss it with a touch more olive oil to add moisture back in. Other than that, you should be fine!
IS THIS PASTA SALAD VEGETARIAN? CAN I MAKE THIS PASTA SALAD VEGAN?
I have read that parmesan cheeses are not necessarily considered vegetarian as they can contain animal products. If this concerns you, maybe select a different cheese. In order to make this pasta salad vegan, all you would need to do is omit the cheese all together. If you have a vegan cheese you like that is similar to parmesan, toss it in!
I have heard great things about some vegan feta cheeses and that could pair nicely with this pasta salad as well.
IS THIS recipe GLUTEN FREE?
Is someone you are sharing this with unable to tolerate gluten? No problem! Use your favorite gluten free pasta. Cook according to the package and serve everything else up as noted.
Tips for grilling the zucchini:
I like to cut mine in round slices, but you could also cut into long strips instead if that is better for you to throw on the grill.
Throw the zucchini straight onto the grill, as is.
You can cut and season the zucchini ahead of time so it is ready when you need to throw it on the grill
Make sure to cut the zucchini about 1/2 inch thick.
I also used a George Foreman grill to make this once and had great results (the day I took this pics because I was having grill issues…). The grill lines weren't as dark but they still came out delicious.
Notes/Pro Tips for Making this Simple Pasta Salad with Grilled Zucchini:
I know the name says "grilled zucchini" but if push comes to shove and you need to roast the zucchini, feel free to do so. No need to skip this recipe just because you don't have access to a grill or something goes wrong with the grill. It will still be worth it.
Don't over grill the zucchini. I always find that there is a point of no return when it comes to zucchini. It loses its slight crunch and can become water logged when overcooked. No one wants soggy veggies in their pasta salad, right? Make sure to cut the zucchini thick enough and then pull it off the grill just before you think it may be ready.
Prepare your pasta Al dente. This is another way to make sure the pasta salad isn't soggy and the pasta doesn't become mushy.
I have also used balsamic to make this instead of the red or white wine vinegar. It tasted fantastic as well.
Out of fresh garlic? No worries! Add about 1/4 – 1/2 tsp to the zucchini when grilling and about the same amount to the pasta salad. Adjust as needed to taste.
OTHER SUMMER BBQ RECIPES THAT ARE MUST HAVES ALL SUMMER:
DID YOU MAKE ONE OF MY RECIPES? LEAVE A COMMENT AND LET ME KNOW! I ALSO LOVE TO SEE YOUR LEMONS + ZEST RECIPES ON SOCIAL MEDIA–TAG ME @LEMONSANDZEST ON INSTAGRAM OR FACEBOOK!
Simple Pasta Salad with Grilled Lemon Garlic Zucchini
Summer in a bowl in this Simple Pasta Salad with Grilled Lemon Garlic Zucchini right here! The lemon gives a fresh burst of flavor along with the corn, parmesan, and zucchini.
Print
Pin
Rate
Ingredients
1

16 oz.

package rotini pasta

3

small zucchini, sliced

1

c

corn (cooked and chilled)

1/4

c

red onion, small diced

2-3

garlic cloves, minced

1/2

c

plus 2 T olive oil

3

T

red wine vinegar

1

T

lemon juice

3

tsp

lemon zest, separated

1/2

tsp

cracked pepper

sea salt, to taste

1

c

shredded parmesan
Instructions
Preheat grill to medium low heat. Toss sliced zucchini in 2 T olive oil, 1 garlic clove, 1 tsp lemon zest, salt and pepper to taste. Allow to sit for several minutes.

Place zucchini on heated grill and allow to cook for about 2-3 minutes on each side or until cooked to your liking. Remove from grill, cool for several minutes and then cut into quarters or bite sized pieces.

Cook pasta according to package. Drain water and run under cold water.

In a large bowl, combine pasta, zucchini, corn, and onion. Add garlic, lemon juice, remaining lemon zest, olive oil, vinegar, salt and pepper and toss. If it seems dry, add in more olive oil. Stir in parmesan and chill until ready to serve. If you prep this recipe in advance, toss a bit more olive oil in before serving to add back any moisture that has been absorbed.