This post has been sponsored by Campbell's®.  All thoughts and opinions are my own.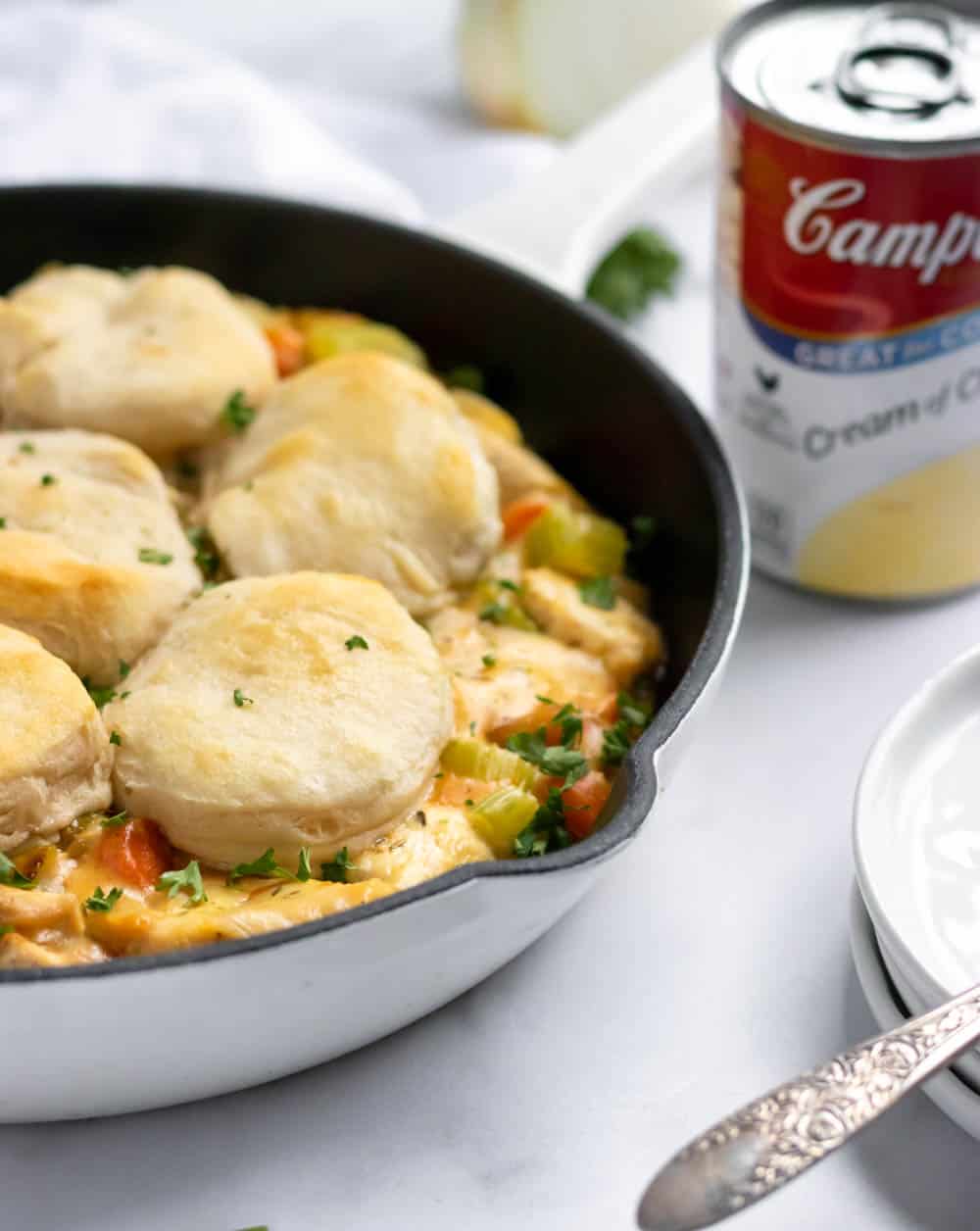 Start your simple cozy dinners with Campbell's® soups. This simple Chicken and Biscuit Skillet Dinner cooks up in 30 minutes and is a perfect warm and comforting meal to share with the ones you love!
We are on about day 10 of dreary, gloomy, and gray weather—lots of rain and a bit of snow included. I am so in need of sunshine on my skin, but it's not looking like that is coming anytime soon.
It's best, then, to make the most of these rainy days and get cozy with all the soothing comfort food that I possibly can. And by that, I actually mean all of the very simple, easy, ready-in-minutes kinds of comfort food.
That's exactly where this Simple Chicken and Biscuit Skillet comes in.
Growing up, my mom made the BEST chicken pot pie. The best ever. It always started with Campbell's®, and the tradition continues in our house. I just love how warm comfort food dinners like these bring my family together. Unfortunately, Anthony is not big on Mom's chicken pot pie since it involves peas. I tried it once or twice without them, but it just wasn't the same to be honest. I am one of those people who LOVES peas; I can be found eating a big bowl of them quite regularly around our house. My sisters used to be soooo annoyed by my love of veggies, but it's just the way I have always been.
Since compromising any bit of Mom's chicken pot pie ingredients doesn't feel right to me, I have found that this Chicken and Biscuit Skillet made with Campbell's® Condensed Cream of Chicken Soup has brought the same comfort as mom's pot pie but is also so much easier to toss together!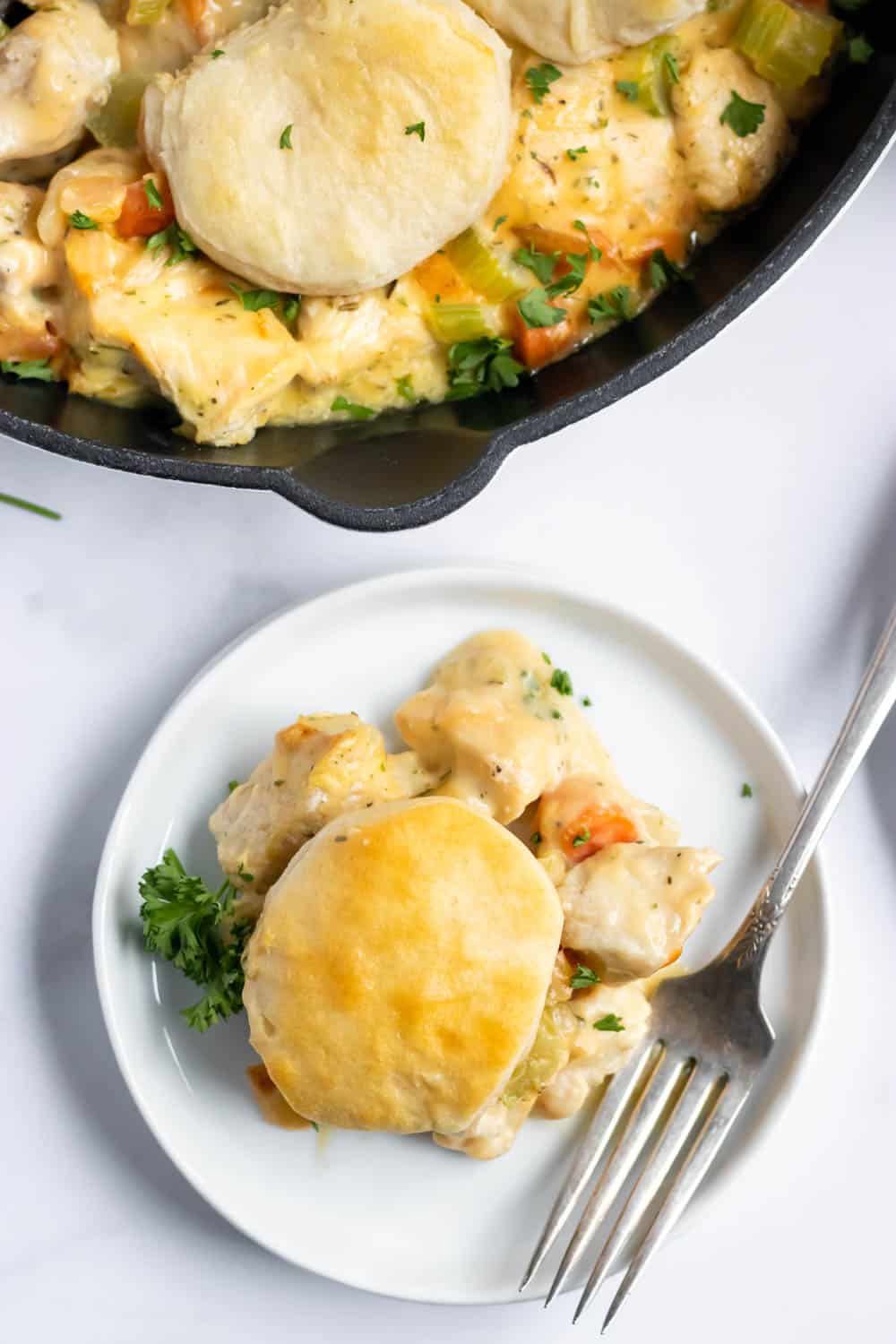 If you haven't tried it before, baking biscuits on top of a creamy mixture of chicken and veggies is the dreamiest. I am not the biggest fan of pie crusts, but top anything with a biscuit and I am all yours. The doughy side that cooks up right on top of the chicken mixture is perfection. Then, there is the golden crispiness of the buttery tops. My mouth is watering just typing this. Need. This. Now.
Chicken, veggies, and biscuits, add in some Campbell's® Soup and you are on your way to the best cozy dinner around!
If I had a dollar for every recipe that we have come up with around our house using Campbell's®, you know I would have a big old stack of money by now! The versatility and ease is where it's at. As far as this recipe goes, dinner can be ready in 30 minutes and there are even a few tricks to get this one ready faster.
Dinner on a busy weekend needs to be simple and quick, right? Right!
What you need to know about this Chicken and Biscuit Skillet:
While this recipe can be whipped up in 30 minutes, there are several ways to cut out even more time. To save time chopping, grab a frozen veggie medley that contains carrots, onion, and celery. Some stores carry these and call them "soup starters" or something similar. They can really help in a crunch. You could also use precooked frozen diced chicken. I like to keep a bag around just in case, for those nights I don't have chicken thawed. Works like a charm!
The baking time is mainly going to vary based on the kind of biscuits you use. My biscuits called for 350°F and to cook for about 11-13 minutes. Just base the baking on the biscuits and you should be fine. I split them in half as well.
You don't have to stick to carrots and celery—change up the veggies if desired! I have a feeling some broccoli and, if Anthony is not around, all the peas would be amazing!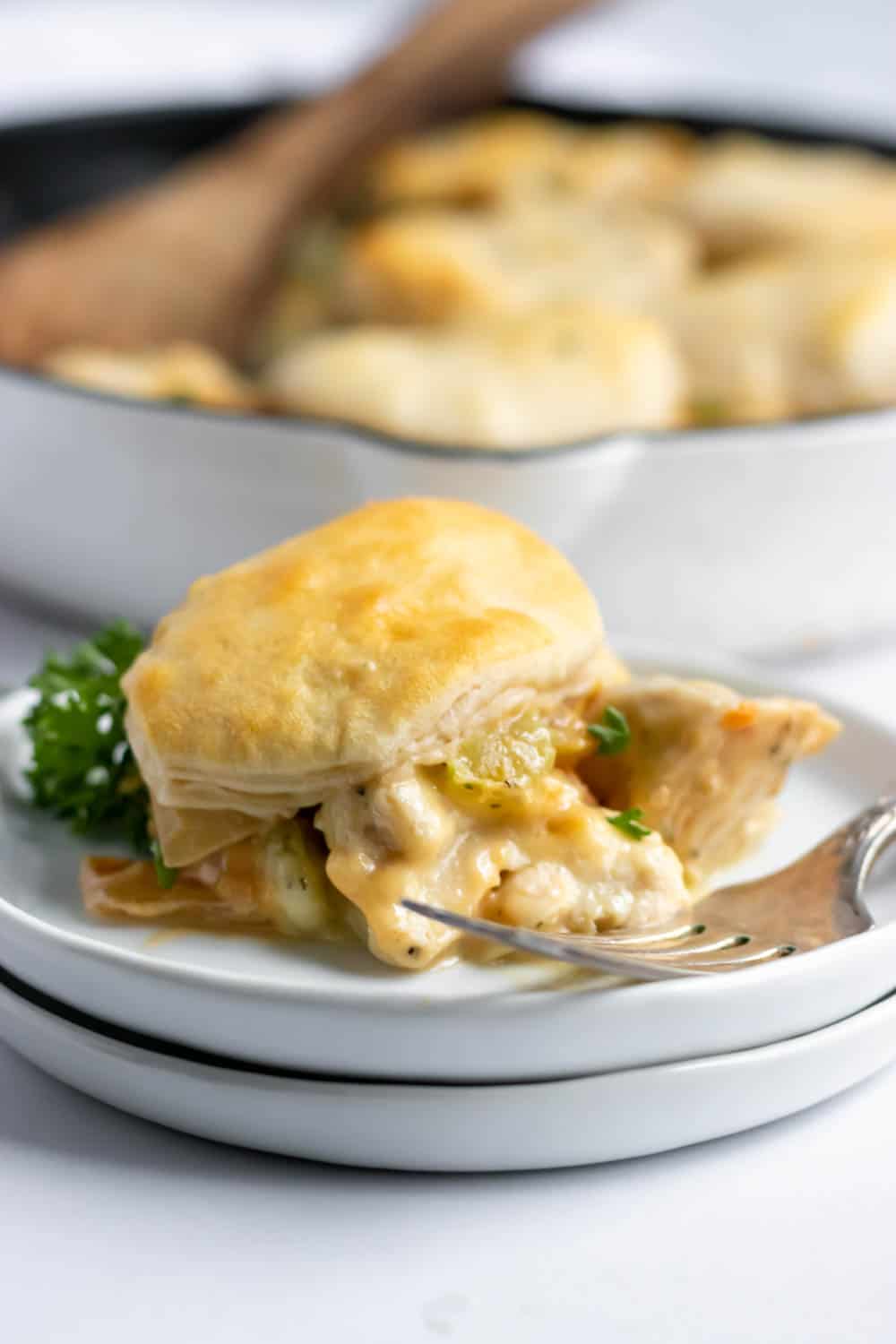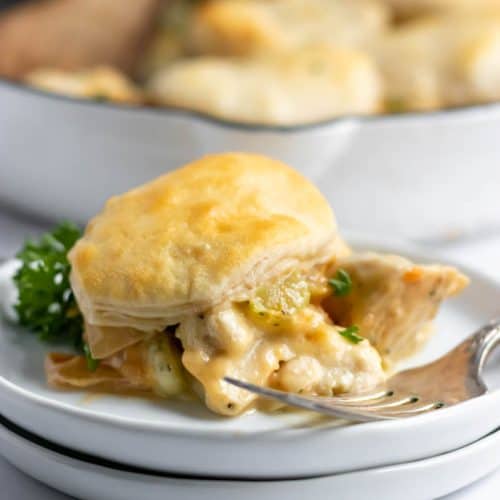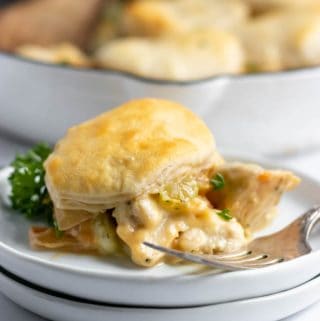 Ingredients
1 1/4

lb

chicken breast, cubed

3

celery stalks

3

carrots

1

can Campbell's® Cream of Chicken soup

1/3

whole milk

1

tsp

garlic

1

tsp

thyme

1/2

tsp

parsley

Can of ready biscuit dough

1/2

tsp

cracked pepper

salt to taste

olive oil
Instructions
Preheat oven to 350°F, or whatever temperature biscuit package suggests.

Chop celery and carrots. Heat a drizzle of olive oil over medium high heat in a cast iron skillet. (or oven safe skillet--if you don't have one, that is ok, you can transfer to a baking dish before cooking biscuits)

When oil is hot and glistening, add in carrot and celery and sauté until celery is soft. Add another drizzle of olive oil and add chicken. Cook chicken over medium highest until cooked through and 165°F internal temperature.

In a small mixing bowl, whisk together cream of chicken soup, milk and seasonings. When chicken is cooked through, set heat to low and stir in soup mixture to coat evenly.

Remove pan from heat and pull biscuits in half, laying on top of chicken skillet mixture evenly. (IF your skillet isn't oven safe, transfer to a baking dish.

Bake according to biscuit instructions or until golden brown. ( Mine was 11-13 minutes. Cool for 5 minutes before serving!