This Slow Cooker Chicken and Wild Rice Soup is hearty and full of chunks of carrots, celery and parsnips with savory spices and juicy chicken. This creamy soup is comfort food at it's finest during the cold seasons.
Strange but true: I don't like chicken noodle soup. It bores me or something like that. Don't get me wrong, if I am sick, I would not turn away a friend who brought me some to help cure my illness, but other than that, no thank you.
Interestingly enough, Anthony's favorite soup? Chicken Noodle. Go figure!
However, I have always been a fan of a good chicken and wild rice soup, but it has to be really hearty, and not too brothy--picky? That's me I guess! But today, I bring you just that!
Cream or broth based soups?
So I am not a huge fan of cream based soups. I typically like a really chunky soup, but broth based. My personal favorite soup of all time is my Chunky Italian Vegetable Soup. That is on high rotation during cold weather around here. We also love this Black Bean + Rice Soup for when we want something close to chili but not quite. There's plenty of other options over in my Soup recipes on the blog, but you will notice, not a ton on the creamy side there.
If I do have a creamy soup it's still more like a butternut squash soup or something of that sort. However, a thick and creamy chicken and rice soup is my kind of chicken soup for the soul--that's a soup that needs all the creaminess for me! And that's exactly what this Slow Cooker Chicken and Wild Rice Soup is, my friends. Smooth and creamy!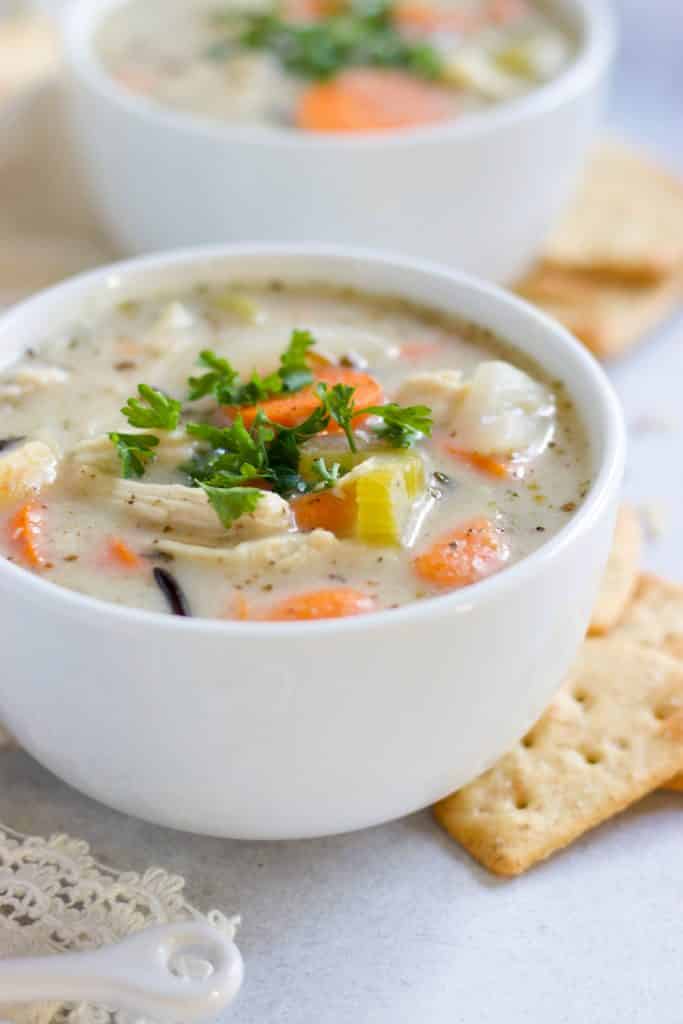 Slow Cooker Chicken and Wild Rice Soup--quicker is not always better!
There is so much lately on the instant pot and it makes sense with our fast paced way of life, but there's nothing, and I mean nothing like my slow cooker. I use the heck out of that thing all year. I am sure at some point I will give the instant pot a try, but for now, I am happy with my crock pot. There is just something about food that is slow cooked.
If you are a fan of thick, chunky soups, then you are going to love this one! I used Italian seasoning because mine included a lot of the spices that I love in a chicken soup: sage, rosemary, oregano, etc. Then I tossed in a bit of thyme and it really rounded things out.
Every Italian seasoning is a little different, but I am pretty sure whatever kind you have will still make the flavor savory and delicious. For me, Italian Seasoning is a lot like the Mike's Red hot commercial says, "I put that (bleep) on everything!" Ha. I also added some parsnips to this soup to switch up the typical carrot and celery mix--there is still celery and carrot but the parsnip in addition! (Feel free to skip the parsnip though if you don't have it around. Jus add an extra carrot!)
Another reason I am super excited about this soup is that I am working on a sourdough starter so I can start making my own bread. And I am very certain that freshly baked sourdough will be the perfect pairing for this soup, so all the more reason to make it again and soon! Should be all set by the weekend to make my first loaf so I will keep you posted on how it goes.
We are heading into a weekend with a cold front and snow in the forecast so that can only mean one thing: soup time!
What you will need to make this slow cooker chicken and wild rice soup:
chicken breast: I used boneless chicken breast.
carrots
celery: Chicken soup is just not chicken soup without it in my opinion!
parsnip: add another carrot in place if desired. I really enjoyed something a bit different than the typical soup veggies.
onion
chicken broth: I almost always get broth with low or no added sodium. I like to salt my soup toward the end and really get it where I want it.
wild rice or wild rice mix: A lot of times wild rice is found in a blend of other rices from what I have found after much time searching!
garlic cloves
bay leaf
Italian Seasoning: make sure yours doesn't have garlic in it or adjust the amount of minced garlic you add to make sure your soup doesn't turn out to be waaaaaay too much garlic.
thyme
parsley
flour: gluten free all purpose should work as well
half and half
whole milk
butter: I used unsalted.
Sea salt and pepper to taste: I don't put these measurements. A lot of soup ingredients like broth can have varying quantities of salt. Adjust this to meet your taste!
Pro-Tips and Notes for making this Slow Cooker Chicken and Wild Rice Soup:
As much as I would love to tell you that you can just dump the cream, flour and butter into the soup at the end, this is the one step I really encourage you to follow. I know it means dirtying up another dish but this is what makes the soup so dreamy and creamy. Trust me, I have tried just dumping it all in with the flour. It just doesn't quite cut it and sometimes it can look almost a bit curdled. Ewwwww, no one wants that!
Leftovers are always a dream!!!! I find soups to be sooooo much better the second day. So you can easily make this the day before you plan on serving! Talk about meal prep power.
If you are low on time for this one, you could grab a rotisserie chicken, shred it up and toss it in. Sauté the carrots, onion and celery stove top and then heat everything in the slow cooker and allow it to cook on high for a couple hours. Sometimes we are pressed for time and still want slow cooker soups, right??
I have read that whether putting frozen chicken in the crock pot is acceptable or not is somewhat controversial. What I will tell you I have made this soup several times using frozen chicken and it came out fine. I lengthened the cook time by about an hour or so and tested that the chicken was at 165°F.
Ok, so now you have to tell me, what toppings do you love on your soup?? Crackers? Cheese? Croutons? What do you add to your soup!?
Check out these other tasty slow cooker recipes:
DID YOU MAKE ONE OF MY RECIPES? LEAVE A COMMENT AND LET ME KNOW! I ALSO LOVE TO SEE YOUR LEMONS + ZEST RECIPES ON SOCIAL MEDIA–TAG ME @LEMONSANDZEST ON INSTAGRAM OR FACEBOOK!
Ingredients
1 1/2

lb

chicken breasts

3

carrots

2-3

celery stalks

1

parsnip

add another carrot in place if desired

1

onion

6

c

chicken broth

1

c

wild rice

or wild rice mix, uncooked

3-4

garlic cloves

1

bay leaf

1

T

Italian Seasoning

1/2

tsp

thyme

1

tsp

parsley

1/4

c

flour

gluten free will work as well

1/2

c

half and half

1/2

c

whole milk

2

T

butter

Sea salt and pepper to taste
Instructions
Dice onion, chop carrots, celery and parsnips and mince garlic.

Lay chicken at the bottom of the slow cooker and then top with garlic, Italian seasoning, thyme, parsley and sea salt and pepper.

Add onion, carrots, celery and parsnip on top.

Add broth, uncooked rice and bay leaf and cover.

Cook on high for 4-6 hours and low for 6-8

Once chicken is cooked through, remove and shred and then add back into the soup.

About 30 minutes before serving, melt butter in a sauce pan and add flour and whisk together. Slowly add in milk and cream and whisk until it thickens. Remove from heat and then add about a cup or two of soup to the sauce pan and whisk to combine.

Pour mixture back into slow cooker and stir. If soup is too thick for your liking, add more broth.

Serve with your favorite soup toppings. We loved fresh parsley chopped on top!
Nutrition
Calories:
279
kcal
|
Carbohydrates:
28
g
|
Protein:
24
g
|
Fat:
8
g
|
Saturated Fat:
4
g
|
Cholesterol:
69
mg
|
Sodium:
803
mg
|
Potassium:
759
mg
|
Fiber:
3
g
|
Sugar:
4
g
|
Vitamin A:
4025
IU
|
Vitamin C:
20
mg
|
Calcium:
82
mg
|
Iron:
2
mg