This Creamy Crock Pot White Chicken Chili is a cozy soup with a kick! A touch of cream cheese, lime, and a bit of siracha to make this spicy slow cooker meal a bit different but certainly a new family favorite!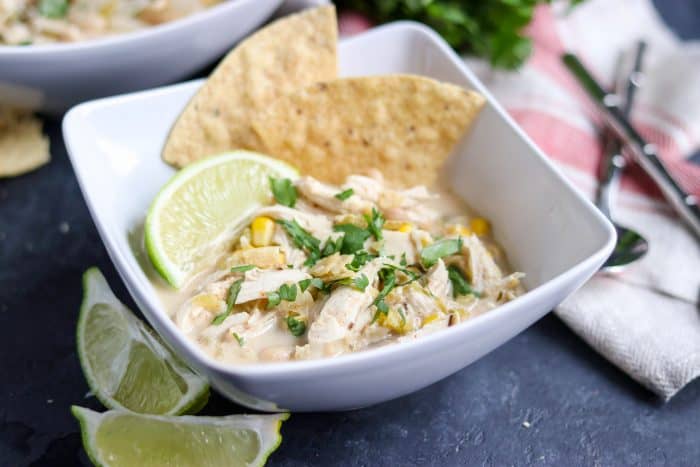 Before we get to food today, some body talk.
Let's talk about a tough topic for some of us: our bodies.
One would think that the home we wear day in and day out would be something we would have crazy love for, but for so many of us, that is far from the case.
First thing's first: body love is a journey and very much a practice.
Our bodies ebb and flow naturally, all throughout our lives. It's a part of life. Adapting to these shifts can be challenging. For many of us, women especially, the first big shift that can throw us for a loop is puberty. Naturally during this time, our bodies get bigger, and it can feel awkward. But all of this happens for us to be able to function properly and down the road be able to have children.
I remember that shift very clearly as probably a lot of you do. I hit puberty early–I was 10. Being one of the first in my class to hit the growth spurt should have been something I was excited about or even proud of, but it brought on the opposite. I felt awkward. I thought I stood out when all I wanted to do was blend in. In my head all I could think was that I towered over other kids.
Perhaps the way we handle that shift in life is a predictor of how we handle other changes in our bodies down the line, or maybe that was just me. But it was a hard thing for me internally.
Body shifts were tough for me.
Needless to say, body shifts were not easy for me over the years. Lots of ebbs and flows, and yet all I wanted to do was gain control and reverse the natural flow of my body. The thing is, just like life has phases, so do our bodies. They shift and change, grow and shrink and it's all completely normal.
The past several years I have been working really hard on this whole body love thing. It all took wind when I started practicing yoga. That was the first time I started to fall in love with my body and appreciate the things that it could do versus obsess over every little detail of the way it looked. Then my first pregnancy showed me what real and true body love was.
Losing our baby was a big hit on that and then further down the road a second miscarriage, hormones upon hormones and plenty of fertility treatments added some extra packaging to my body that I was okay with at the time because I was certain the outcome would be a baby. But when it did not go as planned, I was stuck with this extra cushioning and nothing to show for it.
The craziest thing of all is that our shift to adoption actually was a major catalyst in getting me to where I am now in regards to my relationship with my body. For one, it was the first time in years I was not on any form of hormone. And second, it brought on an epiphany in regard to the way I was eating.
For years, I was eating for one purpose.
It was then that I realized that every piece of food I was putting in my mouth was strictly to get pregnant. And so I was at my peak of good food versus bad food and thus my clean eating phase. I was wrapped up in restriction and it was having a lot of negativity with my relationship with food as well as my body.
Needless to say, the time I got rid of food rules coincided with gaining my love and trust for my body back.
And so here I am today, almost a year later. And I wanted to bring it up because my body has shifted once again. It started when we adopted Sam. Some parts of my body are a bit more squishy than they were before Sam. Naturally, with a newborn, working out is not top priority and it happens when it happens–if it happens.
I would be lying if I told you that loving this new softness came natural to me because it did not. There were still thoughts that crept in saying, "Oh no Lorie, you've gotta get on top of this," or "Maybe cut back on ______," or other things that my mind liked to tell me in the past. But the difference now is actually several things.
Soft is ok–and for the best reason.
First and foremost, all I have to do is look at Sam and realize the sole reason for this shift. Lots of snuggles, kisses, cradling, rocking and other things that have brought me so much joy are the reason for much fewer workouts.
Second, I enjoyed the holidays in the best way. I ate the goodies without the guilt for the first time in a loooong time and it felt so good. Best holiday season in the books and I wouldn't change a thing. Especially all the Dark Chocolate Peppermint Puppy Chow I got to enjoy!
And third, I have just been reminding myself what I said in the beginning. This is a phase that my body is in. It's not the end of the world and it's certainly nothing to go crazy over or reason to go off the deep end. It's been single digit temperatures so getting out to walk is much more difficult and that will change in the spring. No need to go overexercise or cut back on the things I love.
Things Change. And so do bodies. And that's ok.
I guess what I am trying to say is that our body goes through changes and that is 100% normal. But if we can't learn to be ok with our bodies in these phases, then it really doesn't matter what we do, we will not be satisfied or happy with what we see in the mirror. If I can't accept my body with a little extra softness, then what's to say that losing a few pounds or toning things up a bit is going to suddenly make me fall madly in love with it. From my own experience, it doesn't. Because every pound that is lost leads to desire to lose another pound, and another…and so on.
I practice self care, I move when I can, I try to take care of my body to the best of my ability without going overboard. And if the phase of my life I am in leads to a shift in my body, then I will ride the wave through the ebb and the flow, and I will do it with grace.
---
This Creamy Crock Pot White Chicken Chili recipe is the perfect recipe to share today for a few reasons. One, it's freezing around here lately. However, today is like a heat wave with a high of 37°F! And two, it's a recipe that would not have been acceptable if I wasn't feeling good about what was in the mirror–no matter how amazing it tastes.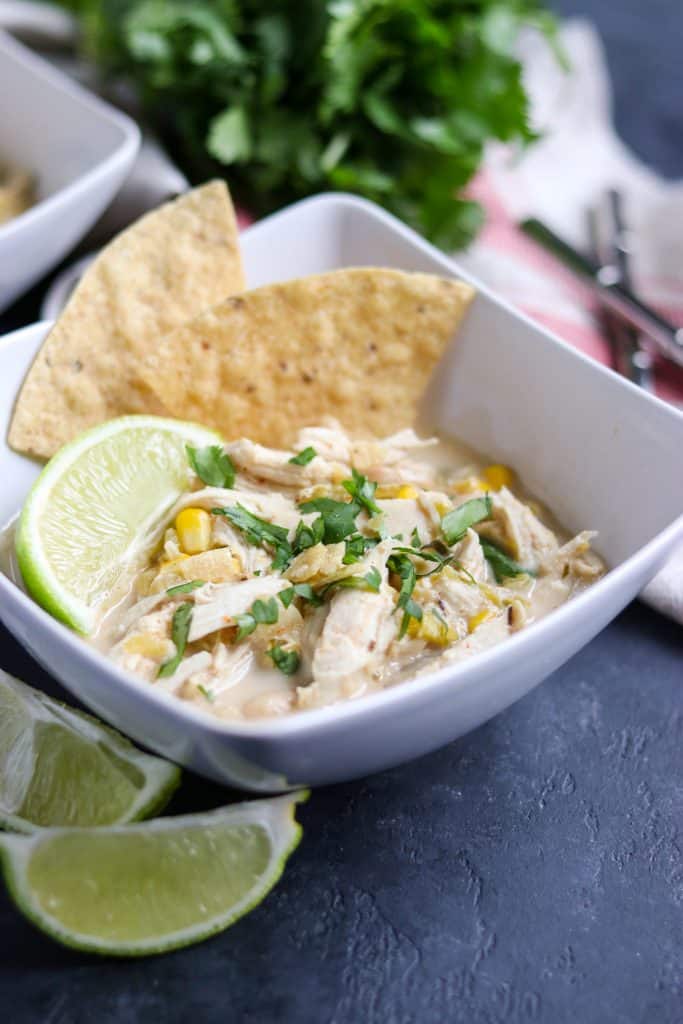 And it is GOOD. I have made it several times already over the past month and Anthony goes back for seconds each time. He is my toughest critic so I will consider this one heck of a win!
Siracha + This Creamy Crock Pot White Chicken Chili = Yummmmm
I have recently become obsessed with Siracha. I know, I am very late to the party. But I was never really a fan of tobasco so for some reason I just automatically ruled it out. I added it to tacos one night and was pleasantly surprised by how much better the tacos were. So then I added it to just about everything I could think of. No disappointments there either.
Before this recipe, I had never made a white chicken chili. However, a friend of mine had a baby and I wanted to bring dinner over when I met the little nugget. The problem? She is allergic to tomatoes. Sad, but true.
So that knocked out all of my usual dinners that I share with friends who have had babies or are going through tough times. My usual go to's are either my Sweet Potato Chili or my Baked Pasta with Spinach and Mushrooms. But both have tomatoes, and a lot of them. So I had to start at square one.
And this creamy crock pot white chicken chili was where I started.
I have no idea what took me so long on this one either. A touch of cream and cream cheese, lime juice and a hint of siracha make this chili unbelievable. It's creamy and hearty and full of flavor. For my dairy free friends, I believe Kite Hill has a dairy free cream cheese you could try and perhaps a nondairy cream as well, or even a yogurt. If you try it that way, let me know what you think!
What you need to make this Creamy Crock Pot White Chicken Chili:
chicken breast: The directions for this recipe are for chicken that is thawed. I have made it using frozen chicken and just cooked it a bit longer and checking internal temperature to make sure it is 165°F.
corn: I use frozen corn but you could really use any kind that works best for you!
diced green chiles: I use canned most often but you could also dice your own!
northern beans
chicken broth: Something I typically use is a no salt added or low sodium chicken broth so that I can add the salt on my own to my liking.
cilantro: There can never ever be too much cilantro. Ever.
onion
cumin
chili powder
Siracha: if you are unsure as to how much spice you like, start out slow. You can always add more. If you are serving a family who has a variety of spice lovers, just let everyone add their own to their bowl instead of adding it before serving.
oregano
garlic cloves
lime juice
cream cheese
half and half
Also, if you want this one extra super thick, before adding the shredded chicken back into the crock pot, blend a couple cups of the soup in the blender and then add back in. It makes the consistency much thicker. If you prefer a little creamy broth, then keep it just as it is. Both ways are amazing. The other big win for this recipe is all in the toppings. Avocado, cilantro, lime wedges, sour cream, crushed tortilla chips–load it up with all of your favorites!
CHECK OUT THESE OTHER SOUP AND CHILI RECIPES YOU WILL LOVE!
DID YOU MAKE ONE OF MY RECIPES? LEAVE A COMMENT AND LET ME KNOW! I ALSO LOVE TO SEE YOUR LEMONS + ZEST RECIPES ON SOCIAL MEDIA–TAG ME @LEMONSANDZEST ON INSTAGRAM OR FACEBOOK!
Creamy Crock Pot White Chicken Chili
This Creamy Crock Pot White Chicken Chili is a cozy soup with a kick! A touch of cream cheese, lime, and a bit of siracha to make this spicy slow cooker meal a bit different but certainly a new family favorite!
Print
Pin
Rate
Ingredients
1 1/2

lb

chicken breast

1 1/2

c

corn

2

cans

approx. 4 oz. diced green chiles (I have also used 2-3 whole chiles I diced on my own

2

cans white northern beans

rinsed and drained

3-4

c

chicken broth

1/4

c

chopped cilantro

1

medium onion

chopped

1 1/2

tsp

cumin

1 1/2

tsp

chili powder

1 - 2

tsp

Siracha

3/4

tsp

oregano

3-4

garlic cloves

minced

Juice of 1/2 lime

4

oz

Cream cheese

1/4

c

half and half

Sea Salt and pepper to taste
Instructions
Place chicken at the bottom of slow cooker. Season with salt and pepper and spread garlic on top.

Top chicken with corn, chiles, beans, cilantro, cumin, chili powder and oregano.

Pour broth over and squeeze lime juice on top.

Cover and cook on low 6-8 hours or high for 4-6 hours.

When chicken is cooked through, remove from slow cooker and shred.

Before adding chicken back in the crock pot, remove about 2 cups soup and add to a medium bowl. Whisk in half and half and cream cheese until smooth. (If you want to thicken the chili as well, blend this mixture in a high powered blender before adding back to crock pot.) Pour mixture back into slow cooker and stir well. Add chicken back in as well and stir.

Set crock pot to warm until you are ready to serve and enjoy with your favorite toppings!
Nutrition
Calories:
399
kcal
|
Carbohydrates:
36
g
|
Protein:
37
g
|
Fat:
12
g
|
Saturated Fat:
5
g
|
Cholesterol:
97
mg
|
Sodium:
705
mg
|
Potassium:
1126
mg
|
Fiber:
10
g
|
Sugar:
2
g
|
Vitamin A:
625
IU
|
Vitamin C:
16
mg
|
Calcium:
134
mg
|
Iron:
4
mg