This Black Bean and Rice Soup is a simple, cozy, chunky soup that has just the right amount of spice and is so easy to whip up! Perfect topped with cilantro, cheese and more!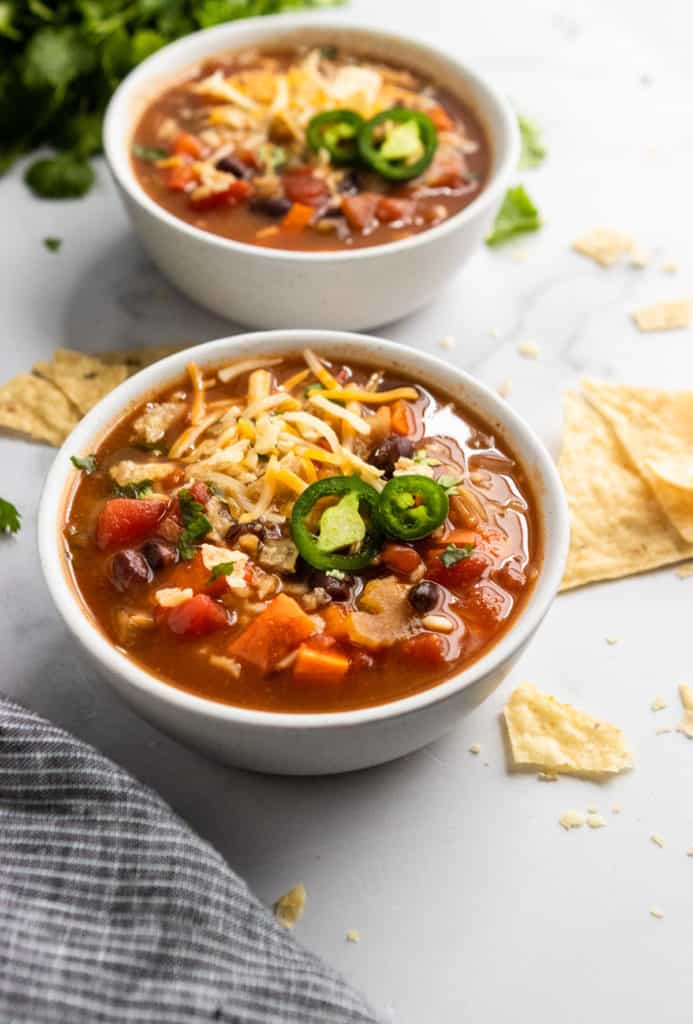 The air is warming up and that means the onset of summer is just around the corner. And what does that mean for many of us?
Bathing suit season.
Over just the past several weeks, I have overheard a number of remarks women I know and women I don't know talking about summer and how their bodies are not in any way shape or form ready to be seen in a bathing suit.
I have heard laughter about how it's so easy to cover things up in the winter and use layers to "hide" any extra cushioning we may have.
Sigh. It doesn't have to be this way. It really doesn't.
And so I came across this and I think it is exactly what we may need to remind ourselves when we get into that mindset:
Eat like you love yourself.

Move like you love yourself.

Speak like you love yourself.

Act like you love yourself.
–thewellnesssummit.com as seen on foodmatters instagram account.
Yes, bathing suit season is coming. No, your body doesn't have to be changed to be appropriate for this season. So if the coming of summer gives you a bit of unease, then maybe make this your mantra. It's not your body that needs to change, it's the way you feel about it, the way you talk about it, the way you think about it.
So bring it on, sunny summer days!
---
Black Bean and Rice Soup: a soup for all seasons!
This recipe may seem a bit out of season but since I had a cold last week, soup was on my priority list. And this was one that certainly opened up my sinuses and helped nurse me back to health, so I think it is worth sharing right now!
I am a sucker for really thick and chunky soups, so that is what this one ended up as. This Black Bean and Rice Soup may even be more of a chili, but it has broth, so that constitutes a soup, right?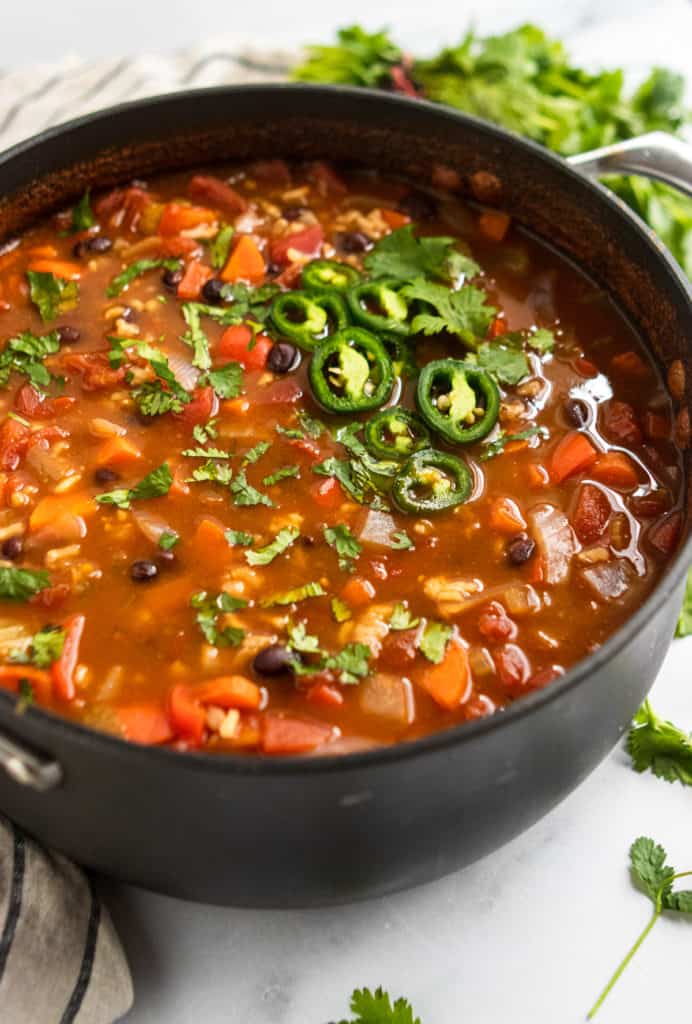 Anyway, no reason to get all caught up in that nonsense, let's talk about how amazing this one is.
First of all, it's a one pot meal and it comes with plenty of leftovers. I personally find soups and chilis always better the second day so that made me very happy all week. More time for the spices to really meld together.
If you prefer a more brothy soup, you may want to grab some extra at the grocery as the rice really absorbs a lot of the liquid for a nice, chunky soup. If not, stick with the recipe!
What you will need to make this black bean and rice soup:
From the image below, it may look like you need a lot to make this black bean and rice soup, but I promise half of the ingredients are spices. And honestly some of them are optional so don't fret.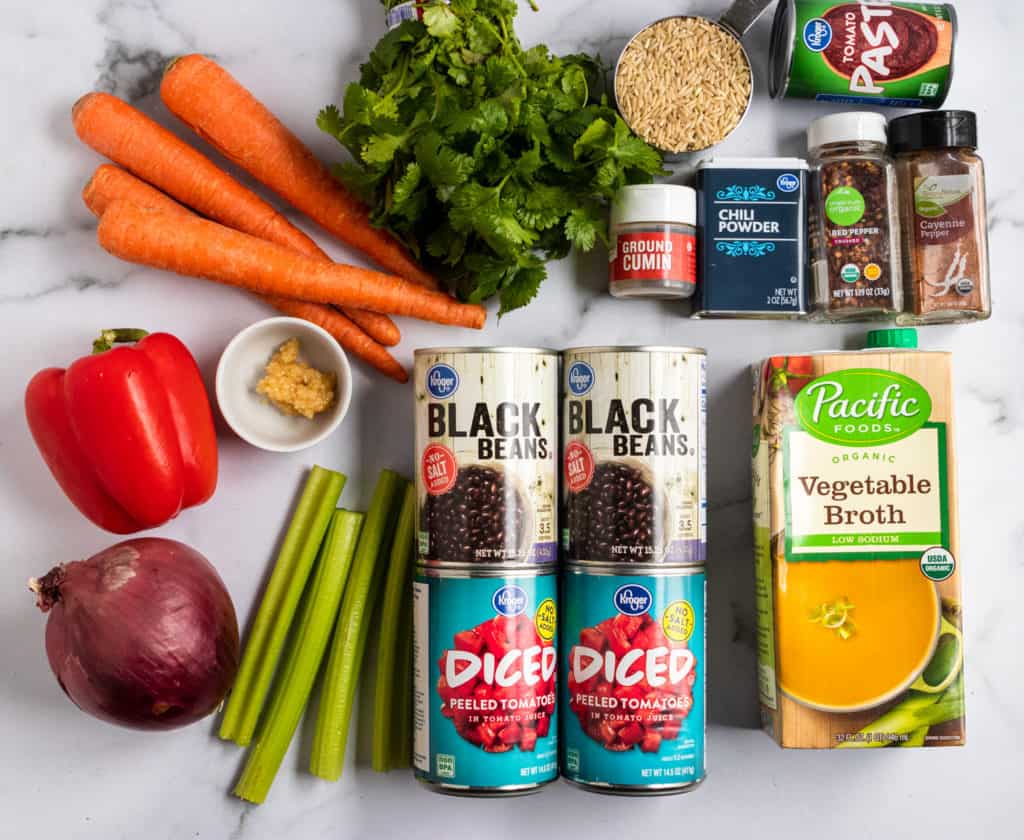 The main things you need include:
black beans: I use canned, I am not gonna act like I don't. Whatever you use, make sure they are pre-cooked!
rice: uncooked. If you are in a pinch for time, no worries, add rice that's already cooked. This will knock off a bunch of time for you!
broth: I use veggie broth, but I have found myself missing two containers before so went half veggie and half chicken and it was still tasty.
carrots
red bell pepper: I sometimes chop up two if I am feeling it, and other times I will do one red and one green. I love sneaking lots and lots of vegetables into my soups and this is a simple way to do it.
celery
onion
diced tomatoes
tomato paste: this thickens the soup up a touch. If you prefer a thin broth when it comes to soup, it's not 100% necessary.
garlic
cilantro: there is absolutely no such thing as too much cilantro in my opinion. Feel free to keep it coming and coming!
spices and seasonings
That's not so bad, right?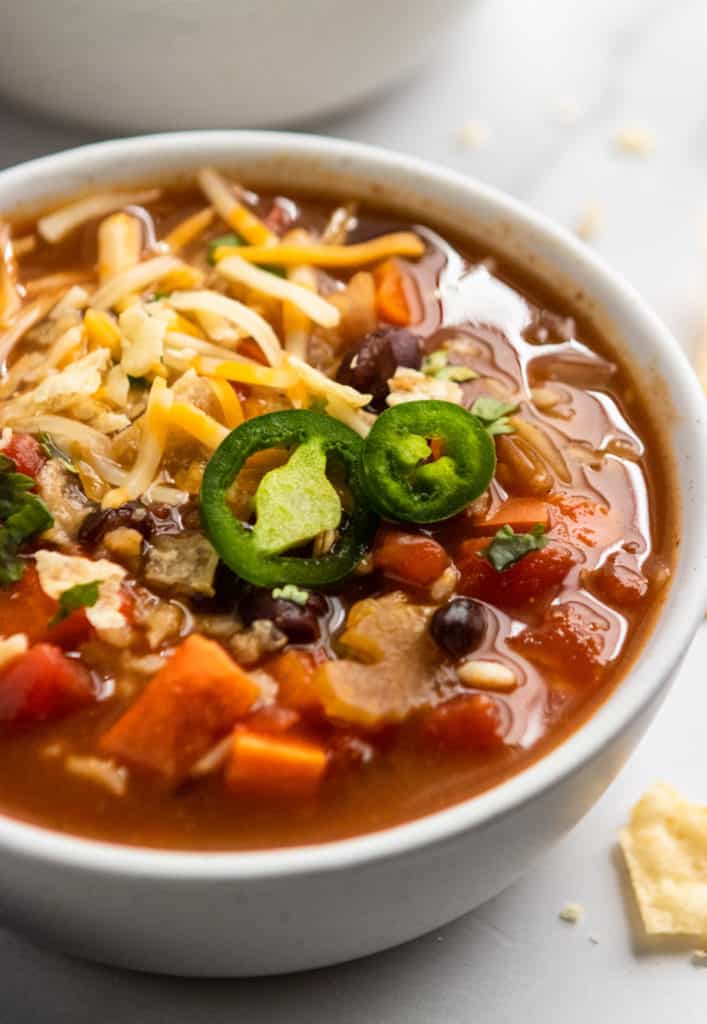 Check out these other soup recipes you will love:
DID YOU MAKE ONE OF MY RECIPES? LEAVE A COMMENT AND LET ME KNOW! I ALSO LOVE TO SEE YOUR LEMONS + ZEST RECIPES ON SOCIAL MEDIA–TAG ME @LEMONSANDZEST ON INSTAGRAM OR FACEBOOK!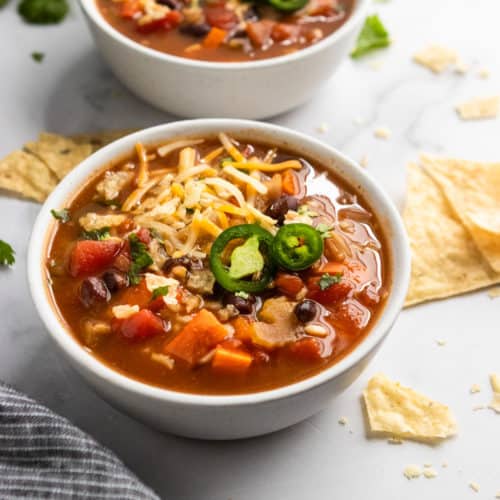 Black Bean and Rice Soup
This Black Bean and Rice Soup is a simple, cozy, chunky soup that has just the right amount of spice and is so easy to whip up! Perfect topped with cilantro, cheese and more!
Print
Pin
Rate
Ingredients
1

red bell pepper

diced

4

medium carrots

diced

1

medium red onion

diced

3

celery stalks

diced

3-4

garlic cloves

minced

2

cans

or 4 cups cooked beans

1

can diced tomatoes

1/2

c

uncooked brown rice

1

T

tomato paste

7-8

c

unsalted or low sodium vegetable broth

Juice of 1/2 lime

2

tsp

cumin

1

tsp

chili powder

1/4

tsp

crushed red pepper

1/4

tsp

cracked black pepper

Dash of cayenne pepper

optional

1/2

c

fresh cilantro

chopped

1

T

olive oil

Sea salt to taste
Instructions
In a large pot, heat olive oil over medium-high

Add garlic, and onions and heat until onions become soft and translucent.

Add red pepper, celery and carrots and sauté for about 3-5 minutes or until softened.

Add in tomatoes, beans (rinsed), rice, tomato paste, lime juice, spices and broth. (Do not add cilantro at this time.) Stir to combine.

Allow the soup to come to a steady boil and stir frequently until rice has cooked through. (about 35 -40 minutes, but varies by rice).

Turn heat to low and add chopped cilantro. Allow to simmer for about 5-10 minutes.

Serve garnished with extra cilantro, avocado or your favorite toppings!
Notes
If you are low on time, you can just add rice that has already been cooked. If it is pre-cooked, add about 1- 1 1/2 c cooked rice.