Think over the last week or two. How many times have you sat down to eat a meal, a snack, anything with zero distractions? No TV, no cell phone, no magazine, no video games, not in your car, not on the run, nothing. How often are you mindful to what you are eating, the company you may be in and how often do you feel calm and relaxed while you are eating? How often are you actually sitting down while you eat?
Certainly different phases of our lives make this more challenging than others but take note, pay attention over the next week or so to how often you are in tune with the way you nourish yourself. You can really learn a lot from it. I have been trying do so lately and it's quite eye opening especially when you throw in things like stress, lack of sleep and more.
Take the next few days or so and be aware of this. I will share a little more as to my own findings later but would love for you to become more conscious of this as well before we chat any further. So yes, this is your first homework assignment. Ha! Stay tuned for more!
---
Hello soup season!
I was pretty annoyed today when I brought this new soup for my lunch and then the day warmed up to 80°F. That doesn't make me feel very cozy at all or in the need of a warm bowl of soup! At any rate, I guess it's better to be prepped with lots of good soup options before the cold hits versus after. So I thought today would be a good day to share.
When it comes to soup, I need it to be chunky. While I can appreciate a nice smooth butternut squash or tomato soup, I still want something I can really chew on and sip at the same time. So lately I have been doing just that even with a butternut squash base. So be on the lookout for a few more similar recipes.
Butternut squash is not the easiest veggie to prepare, but when it's done, and done right, it is sooo worth it. It is perfection cubed and roasted with a touch of olive oil, sea salt and pepper. You really don't have to do a lot to it. The trick to this White Bean, Kale, and Roasted Butternut Squash Soup is to thicken it a bit by pulling a cup or so of the soup and tossing it in the blender before adding it back in to the rest of the soup. This thickens the soup nicely but also keeps the soup nice and chunky. Big win for me! I am not a big broth based soup person unless I am under the weather. Soups can still be hearty, and that is what this one is!
***For the record, my husband does NOT eat kale and he gobbled this up. He is pretty much a chicken noodle soup, chili or minestrone soup kind of guy and again, he asked for seconds. My mic dropped that day! Ha!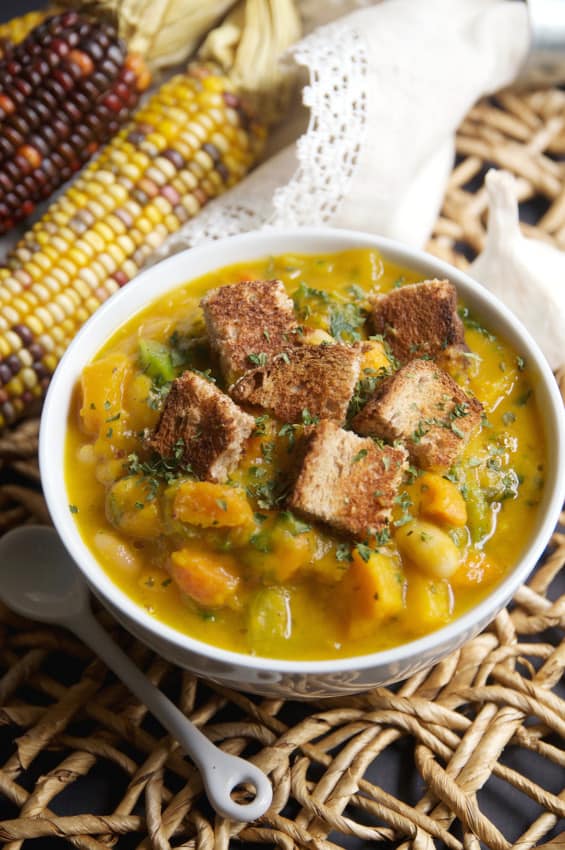 Try these other soup recipes:
Ingredients
4

c

vegetable broth

low sodium or unsalted (chicken broth will work as well)

2

small or 1 large butternut squash

skinned and cubed

2

medium sweet potatoes

skinned and cubed

3-4

carrots

chopped

2

stalks celery

chopped

1

medium yellow onion

diced

1 - 1 ½

c

chopped kale

fresh or frozen

1

BPA free can or 2 cups cannelloni beans

2

T

olive oil

½

T

dried thyme

3-4

garlic cloves

minced

1

teaspoon

dried parsley

Fresh thyme for garnish

optional
Instructions
Preheat oven to 400°F.

Cut and chop vegetables as noted in ingredient list.

In a medium bowl, combine sweet potatoes and squash and toss with 1 T olive oil to coat evenly.

Arrange in a single layer on a parchment lined baking pan.

Roast for about 20-30 minutes or until tender.

In a large pot, heat 1 T olive oil over medium high heat.

Add in onion and minced garlic and heat until translucent and fragrant.

Add in carrots and celery and sauté for about 4-5 minutes.

Add in 3 ½ c of broth, thyme, parsley, sea salt and pepper to taste and heat at a low boil until carrots and celery are tender, about 10-20 minutes.

When carrots are tender, add in squash and sweet potatoes.

Heat for another 5 minutes.

Remove about 1 ½ c of the soup and transfer to a high powered blender along with ½ c vegetable broth.

Blend at high speed until smooth.

Transfer creamy mixture back to pot and stir well to combine.

Add in beans and kale and simmer on low for about 10 minutes or until ready to serve!
Notes
Garnish with freshly baked whole grain croutons or even just sliced toasted bread, parsley or fresh thyme.