This simple Maple Roasted Sweet Potato Carrot Soup is a perfect cozy recipe. Thick and creamy, this recipe will be a hit all season long!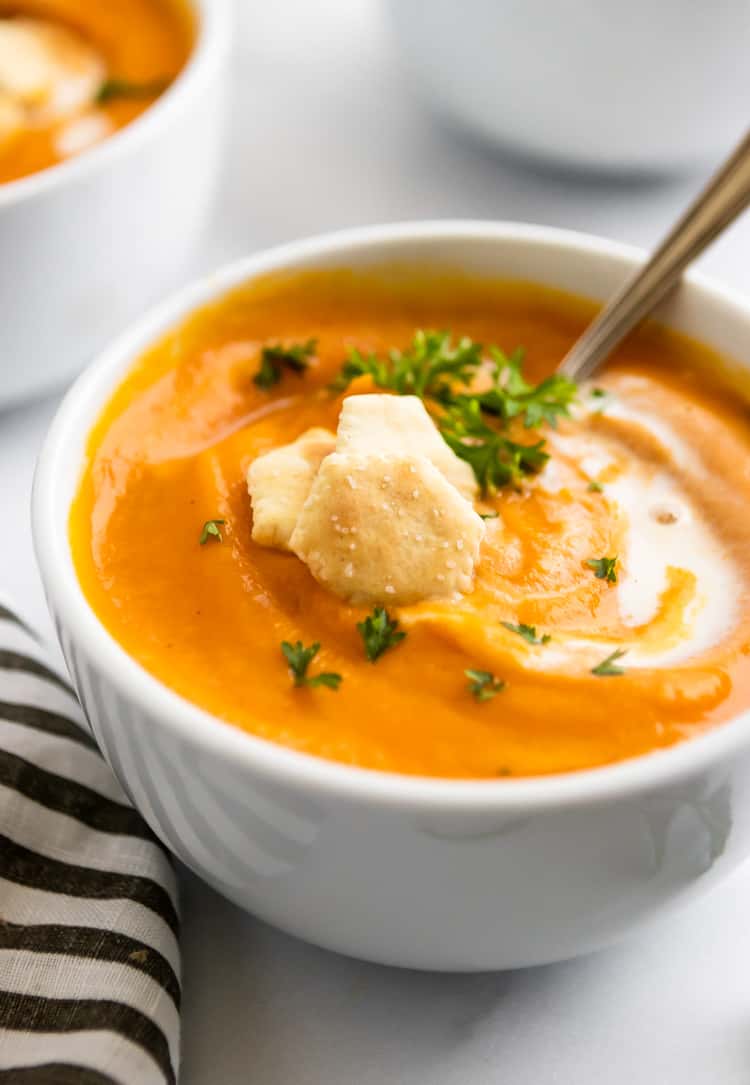 It always seems the right quote or words come right to us when we need them the most. This week is one of those I don't even have time to pencil in an extra breath or two I am so tightly squeezed into every second of the day. So what do I see today? Only the most appropriate words of wisdom from Socrates:
"Beware of the barrenness of a busy life."
Just. What. I. Needed.
I went around all day today with my breath stuck high in my shoulders and weight on my chest. And it didn't have to be that way, not at all.
But so often in this day and age, there is a sense of pride that goes in juggling all of the things we can. It's just the way of life and that is what everyone does. Our schedules are jam packed and our to do lists are never ending, but that is just the way it is. No one even questions it. So when the simple things come around like meeting a friend for coffee or taking some time for pampering, we can't even enjoy it because we are too caught up in everything we still have to do.
Beware, Mr. Socrates says. Beware of the barrenness of a busy life. How can we be completely fulfilled, completely present and actually enjoy life when we are always too busy. How do we even have time to breathe? Well???
Well, that's just about where the soup comes in.
Maple Roasted Sweet Potato Carrot Soup, that is.
Isn't there just something about a big bowl of soup that can sloooooow everything down instantly? Perhaps that is all I needed then today, soup. Warm coziness that I could curl up with, even if it only slowed me down for a few minutes.
Ya gotta eat. And if you are feeling like you are moving a hundred miles a minute, then maybe a commitment to slow down, to inhale the aroma of this simple fresh soup, and time to sit and enjoy it is just what you need.
Easier said than done? I know, I get it. But imagine what just a few minutes of slow could do for your whole day, your entire week even! Promise me one thing–promise me you will take the time to sit down and sip and savor your Maple Roasted Sweet Potato Carrot soup. OK?? Thanks.
Now what are you waiting for?! You have soup to make!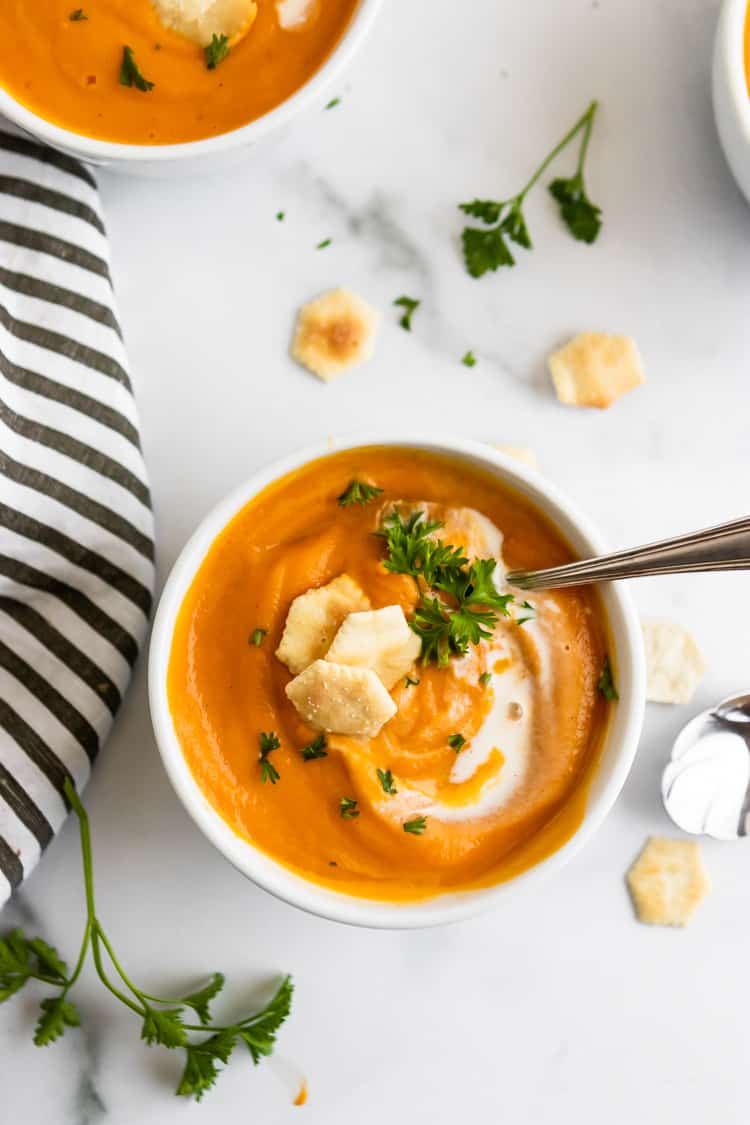 What You will Need to make this Sweet Potato Carrot Soup:
sweet potatoes
carrots
onion: I use and prefer red onion. If all you have is a yellow onion, or even a shallot, feel free to use that!
maple: for the most flavor, make sure you select pure maple syrup versus pancake syrup. They are both sold in the same section of the grocery so just double check the label.
broth: to make it vegan or plant based, opt for veggie broth. I have made it with both chicken and vegetable broth. I think I prefer the veggie broth, but both are still delicious.
garlic: I use a hint of garlic powder most of the time. If you prefer cloves, use 1 -2 and pop them in when you blend the soup.
olive oil
Salt and pepper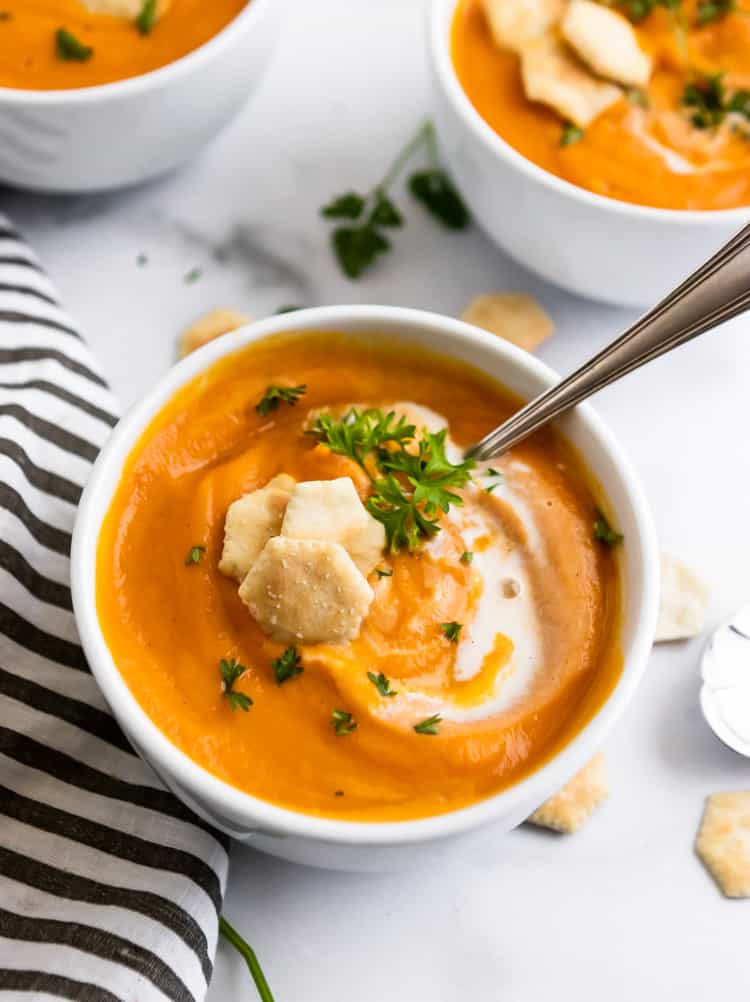 You can use a blender or a food processor for this. Also, I ate it cold one day and liked it chilled as well! Enjoy!
Looking for more delicious soup recipes? Check these out:
DID YOU MAKE ONE OF MY RECIPES? LEAVE A COMMENT AND LET ME KNOW! I ALSO LOVE TO SEE YOUR LEMONS + ZEST RECIPES ON SOCIAL MEDIA–TAG ME @LEMONSANDZEST ON INSTAGRAM OR FACEBOOK!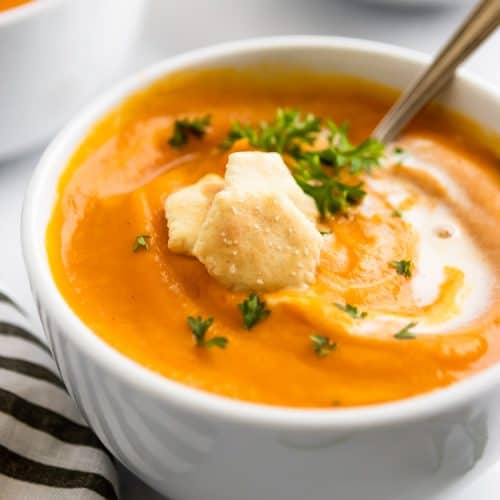 Ingredients
4

medium-large sweet potatoes

cut into quarters

3-4

carrots

cut into 2 inch pieces

2

T

olive oil

2

T

pure maple syrup

1/2

red onion

1/2 - 1

tsp

garlic powder

more to taste

4

cup

vegetable broth or stock

1/4

tsp

pepper

sea salt to taste
Instructions
Preheat oven to 400°F.

On a parchment lined baking pan, place sweet potatoes, onions and carrots evenly and so that the inside of sweet potato is facing upward.

Mix olive oil and maple. Brush the mixture to coat the carrots, onions and sweet potatoes evenly.

Bake for about 30-40 minutes or until sweet potatoes are soft.

Remove from oven and allow to cool slightly.

Once sweet potatoes and carrots have cooled enough for you to pick them up, scoop out the sweet potatoes from the skins and place in high speed blender along with all other ingredients. (No patience? Me niether. I use a kitchen towel to pick up the potaotes and scoop them out almost right away most of the time.)

Blend until smooth. You can start with 3 cups broth and then add more until desired thickness. (If you have a blender with a soup option that heats it then you are all set to serve)

If your blender does not heat, place the soup into a pot and heat at medium until heated through.

Garnish with sliced almonds, a drop of cream or coconut cream and parsley or your favorite option.
Notes
I like mine really thick, so I sometimes go with 2 1/2 - 3 cups broth.
Nutrition
Calories:
241
kcal
|
Carbohydrates:
42
g
|
Protein:
3
g
|
Fat:
7
g
|
Saturated Fat:
1
g
|
Sodium:
1045
mg
|
Potassium:
641
mg
|
Fiber:
6
g
|
Sugar:
16
g
|
Vitamin A:
26587
IU
|
Vitamin C:
7
mg
|
Calcium:
68
mg
|
Iron:
1
mg