This post may contain affiliate links.
This Havarti Grilled Cheese with gooey havarti with avocado and baby greens is sure to make your average grilled cheese a thing of the past. Soup and grilled cheese just got a makeover!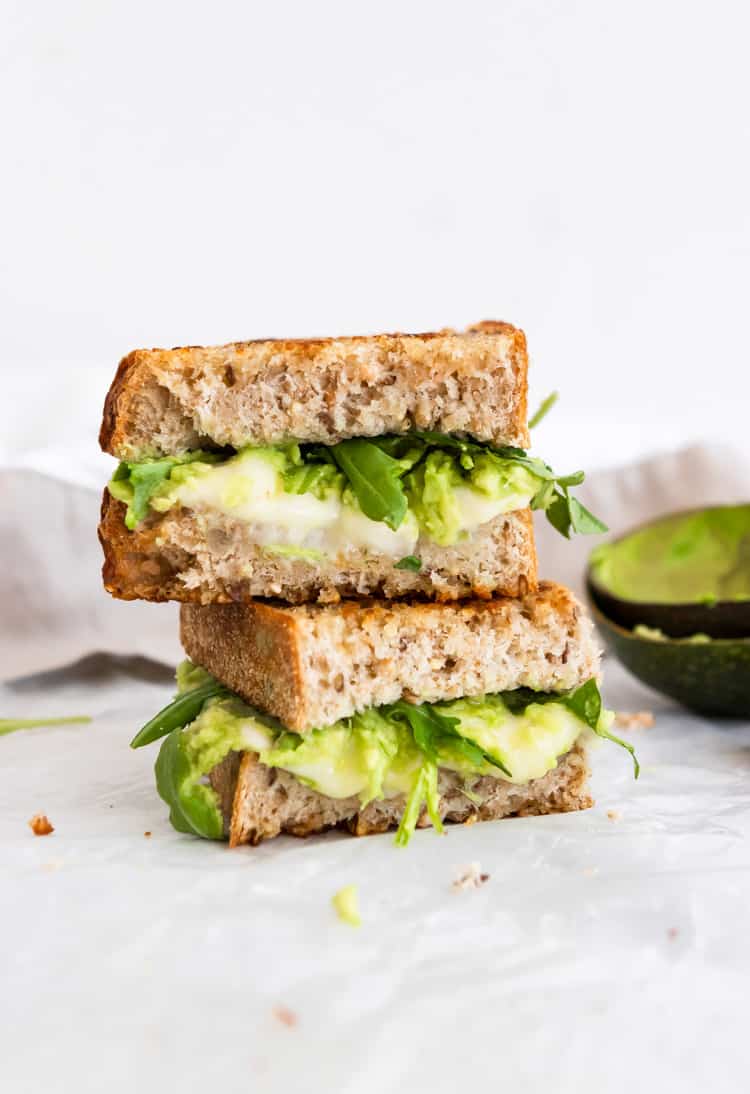 American Cheese is first, but Havarti Grilled Cheese is right behind it
Raise your hand if you are a sucker for the classic, grilled American Cheese. (My hand is raised high.)
But a sucker I am no more, I promise you!
I have recently started my own new adventure, possibly inspired by Parks and Rec which we have watched more times than I can count (the episode where Andy and April cross off their bucket list including eating the best grilled cheese in the world). I have started stepping out of my comfort zone of the classic and dreaming up lots of fun new ways to enjoy this sammy.
And today's grilled cheese that I bring to you is currently on my top 5 list, and most likely my top 3.
Soup and grilled cheese is a regular occurrence in our household. And honestly, the classic really never disappoints. Quick, simple and instantly brings me back to childhood.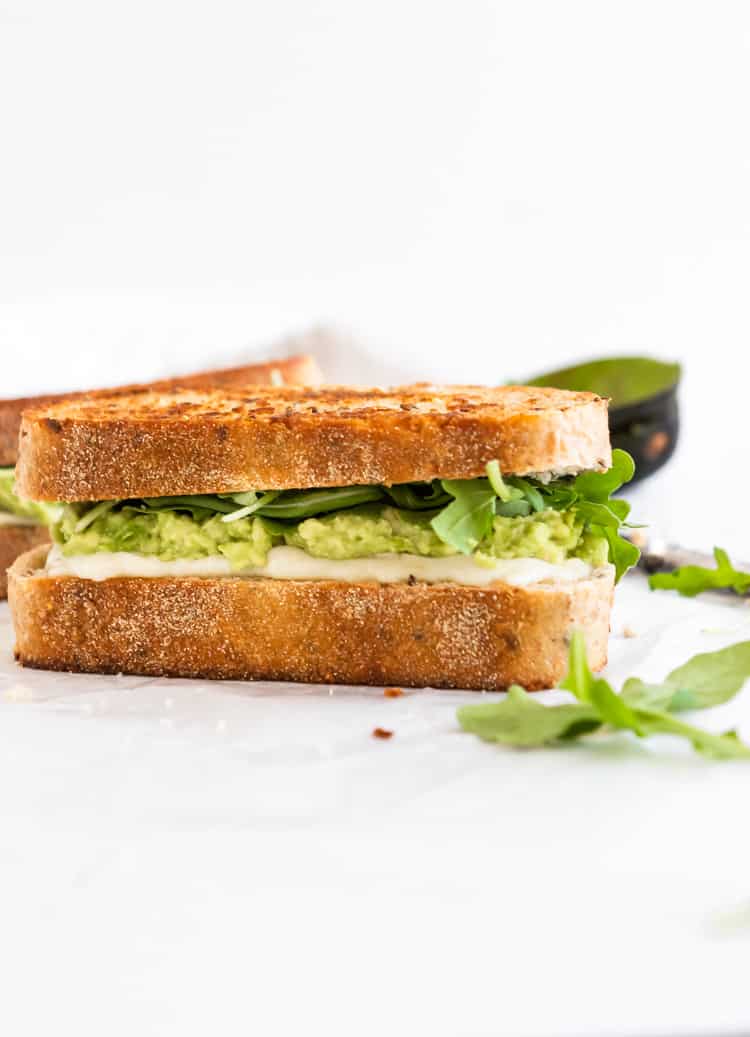 I like mine nice and brown, just on the verge of being considered burnt. Don't bring me a sandwich that looks like it sat on the griddle for 30 seconds and tell me it's ready. No thanks!
Branch out with this Havarti Grilled Cheese
The first thing I decided had to be done was to branch out in my cheeses. I am a pretty boring person when it comes to cheese. At any given time we have Cheddar, American and Mozzarella and it doesn't get much crazier than that.
When I am feeling like shaking things up in the cheese department, I will grab some feta, but that's about as out of my box that it goes.
My husband has also never understood my obsession with Parmesan. I put it on EVERYTHING as well. Growing up, it was a staple at every meal.
We put Parmesan on veggies, salads, and of course every pasta dish you can dream of. But Anthony doesn't care for it.
He also says you can't just put a ton of cheese on something and think it's suddenly going to taste better. I beg to differ, in a big way on that. I ate peas by the bowlful if I had Parmesan on it!
But I digress. I was talking about trying cheeses I don't have around in the house. So I did some research to see what cheeses are meant to be really good on grilled cheese sandwiches. I collected several of them and got to work. Research and Development in the food blogging world has it's perks if I say so myself.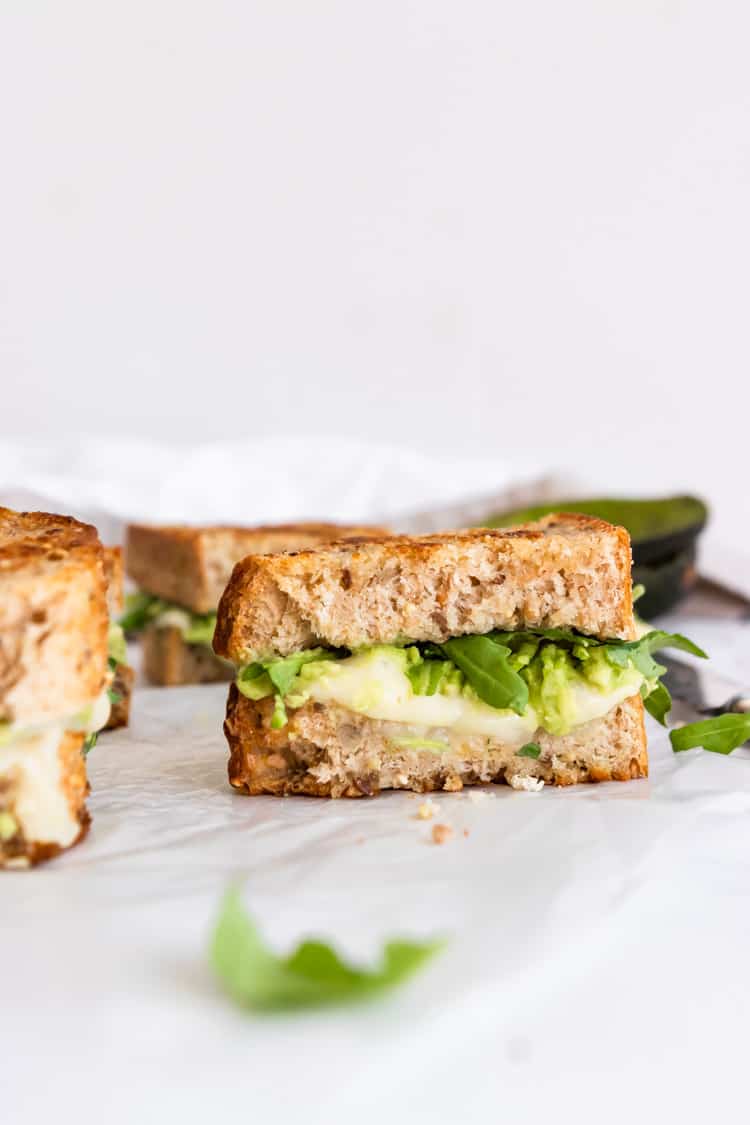 Does Havarti Cheese Melt Too well?
I was first going to just try a grilled avocado toast sandwich, but that seemed boring to me. In the end, the absence of cheese would just not be right. I pulled out some Havarti, which was said to melt almost too well for grilled cheese sandwiches, avocado and some fresh baby arugula.
The thing I read about it melting too well is a real thing. Havarti is quite the gooey cheese and I learned quickly that adding an extra slice for the picture's sake made for a near disaster. Cheese was literally spewing everywhere. So be warned, don't do anything over 2 slices.
This Havarti Grilled Cheese is all about the Avocado
The flavor of this sandwich comes from the avocado. I prepped it just as I would a piece of avocado toast with lemon juice, garlic, sea salt, pepper and crushed red pepper. Don't skip this part as it is what makes the sandwich a true WOW. The baby arugula wilts just enough to round everything out in this sandwich.
As for my first non-American cheese adventure, I am not too sure what can really top this off. I may have aimed too high in the beginning and everything else will be a let down. Buuuuuut, I will have no problem enjoying the process of finding out!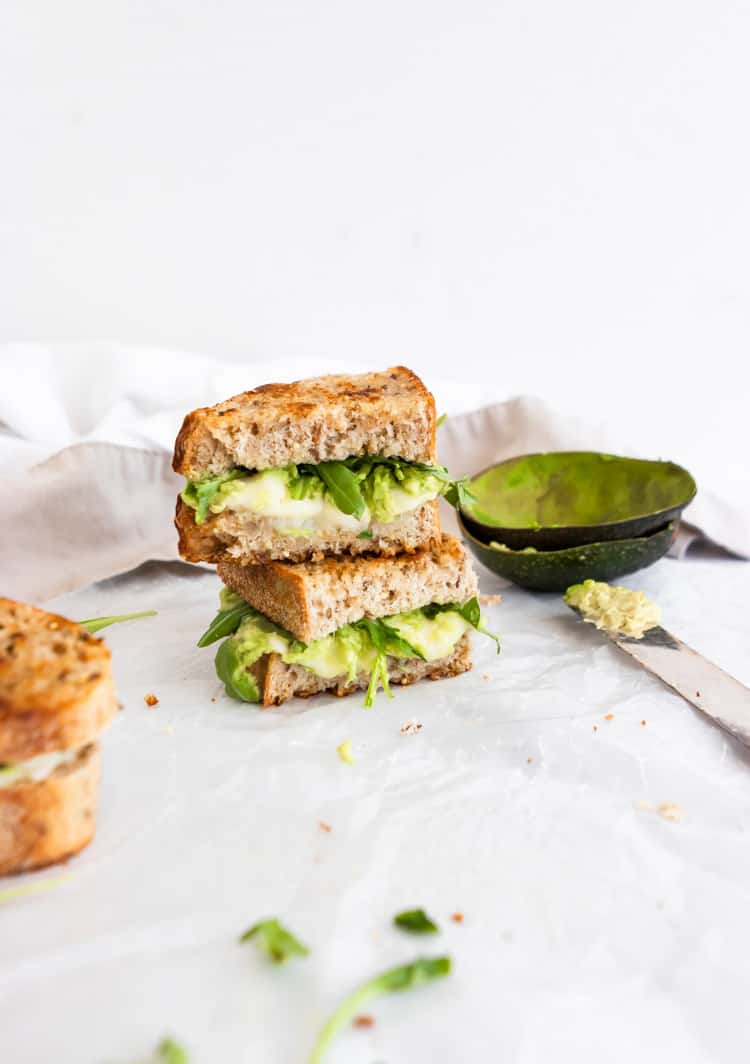 What you need to make this Havarti Grilled Cheese:
Bread: Thicker is better because as you can see the cheese gets pretty heavily melted. It needs something that can really stand up to it and not get to mushy. The bread I used in these pictures could have been about ½ inch thicker in slicing.
HavartiCheese: Like I said, I did some research and found out this cheese was super melty. It was a go for me right then and there!
Avocado: You are essentially combining avocado toast and grilled cheese for this recipe. So you will mash and prep the avo just like you would if you were making avocado toast. Can this recipe get any better?!
Arugula: My very favorite green of all time. None on hand? That's ok! Try spinach or skip it until the next time you make this. There will be a next time!!
Lemon Juice: just a touch to add to the avocado.
Garlic Powder: Another way to upgrade the avocado.
Crushed Red Pepper: Never make a recipe without it...
What to Serve with this Havarti Grilled Cheese: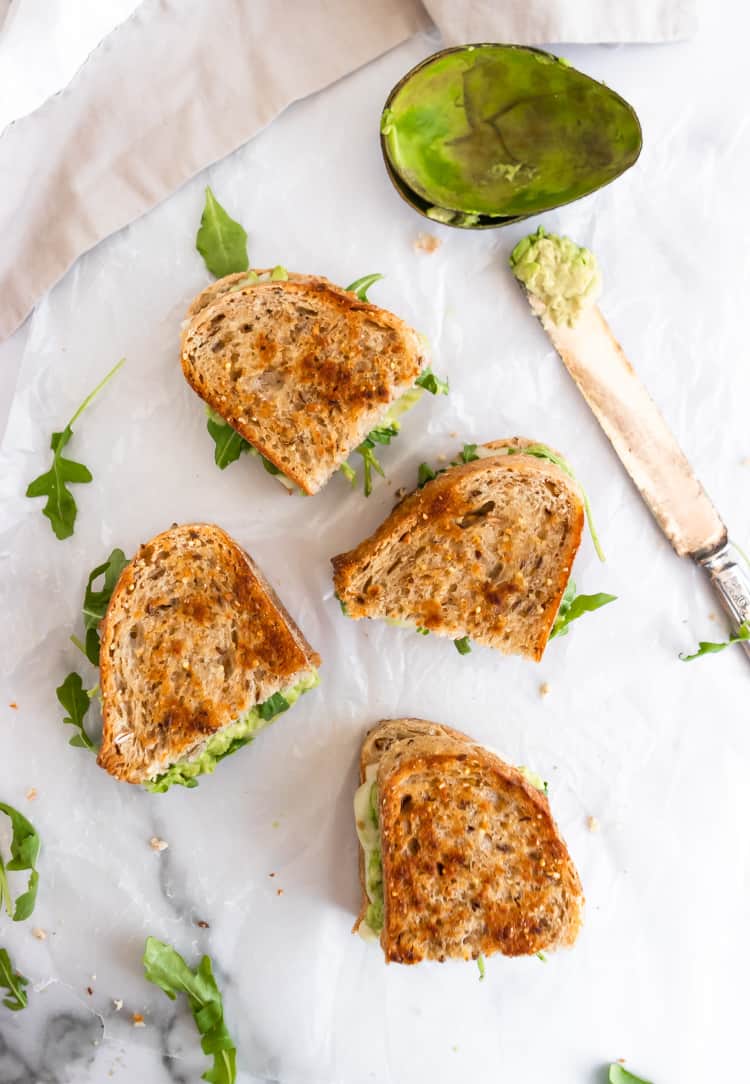 Check out these other sandwich and lunch recipes:
DID YOU MAKE ONE OF MY RECIPES? LEAVE A COMMENT AND LET ME KNOW! I ALSO LOVE TO SEE YOUR LEMONS + ZEST RECIPES ON SOCIAL MEDIA–TAG ME @LEMONSANDZEST ON INSTAGRAM OR FACEBOOK!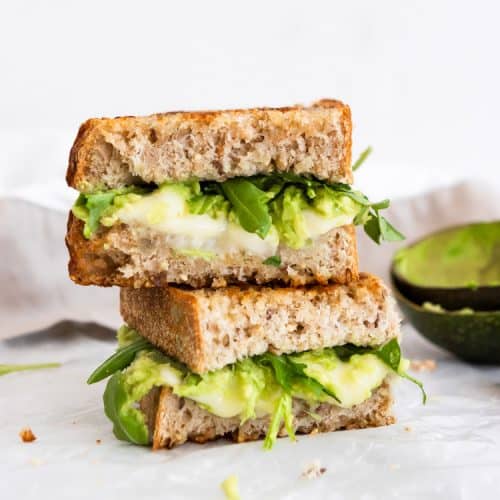 Havarti, Avocado, Baby Arugula Grilled Cheese
Havarti, Avocado, Baby Arugula Grilled Cheese. Gooey havarti with avocado and baby greens are sure to make your average grilled cheese a thing of the past. Soup and grilled cheese just got a makeover!
Print
Pin
Rate
Ingredients
4

pieces

bread of choice

4

slices

Havarti cheese

1

ripe avocado

Handful Baby Arugula

½

teaspoon

lemon juice

¼

teaspoon

garlic powder

⅛

teaspoon

crushed red pepper

Sea salt and cracked pepper to taste

Dash of
Instructions
In a small bowl, mash avocado well. Stir in lemon juice, garlic powder, red pepper, salt and pepper. Adjust seasoning to desired taste.

Spread butter or ghee on each slice of bread.

Heat a skillet to medium and place two of the pieces of bread, butter side down.

Layer two slices of cheese, spread half of the avocado mixture on top of that and then put half of the arugula on that. Add other slice of bread on top.

Cook until bread becomes golden brown (3-4 minutes) and then flip.

Allow other side to become browned as well.

Then turn heat to low, and flip back over so cheese side is closest to the heat. Allow to heat the rest of the way so that the cheese melts fully.

Serve with your favorite side!
Nutrition
Calories:
359
kcal
|
Carbohydrates:
11
g
|
Protein:
16
g
|
Fat:
30
g
|
Saturated Fat:
12
g
|
Cholesterol:
49
mg
|
Sodium:
443
mg
|
Potassium:
525
mg
|
Fiber:
7
g
|
Sugar:
1
g
|
Vitamin A:
628
IU
|
Vitamin C:
11
mg
|
Calcium:
352
mg
|
Iron:
1
mg