This post may contain affiliate links.
This post has been sponsored by Seattle's Best Coffee®. All thoughts and opinions are my own.
How on earth is it already time to start thinking about "Back to School?!"
I know, I know, you're thinking, PLEASE don't say the "S" word yet. Please! But sooner or later, you are going to have to face reality, and when you do so, you are going to realize you need to get some food prep started. Well, and school supplies. You will need those as well.
Food first for me, though.
One of my favorite things to do is partner up with brands that I use in my home all the time. Seattle's Best is exactly that. The best part? Today's post is a two for one: coffee and breakfast. Isn't that exactly what you are going to need when you head back to your daily routine and rhythm?
And we are not just talking about any coffee. I am talking about the smooth, high quality Brazilian coffee I love in the Post Alley Blend® ground coffee that I wake up to every morning. THAT is how a girl starts her day!
Since Sam's birthday falls right outside of the cutoff date to get him into any two-year-old programs for pre-school this year, we are setting up our schedule with several classes throughout the week to work on the fun stuff: social skills. He is very used to having everything all to himself, so we are on the road to learning how to share and play and all of that fun stuff.
I am not going to lie, I absolutely love our slow mornings—sipping on coffee while the two of us read books or play trains. But there is also something very refreshing about having structure and routine. The former second grade teacher in me craves it. I feel accomplished when we get out of the house, on time and ready to go.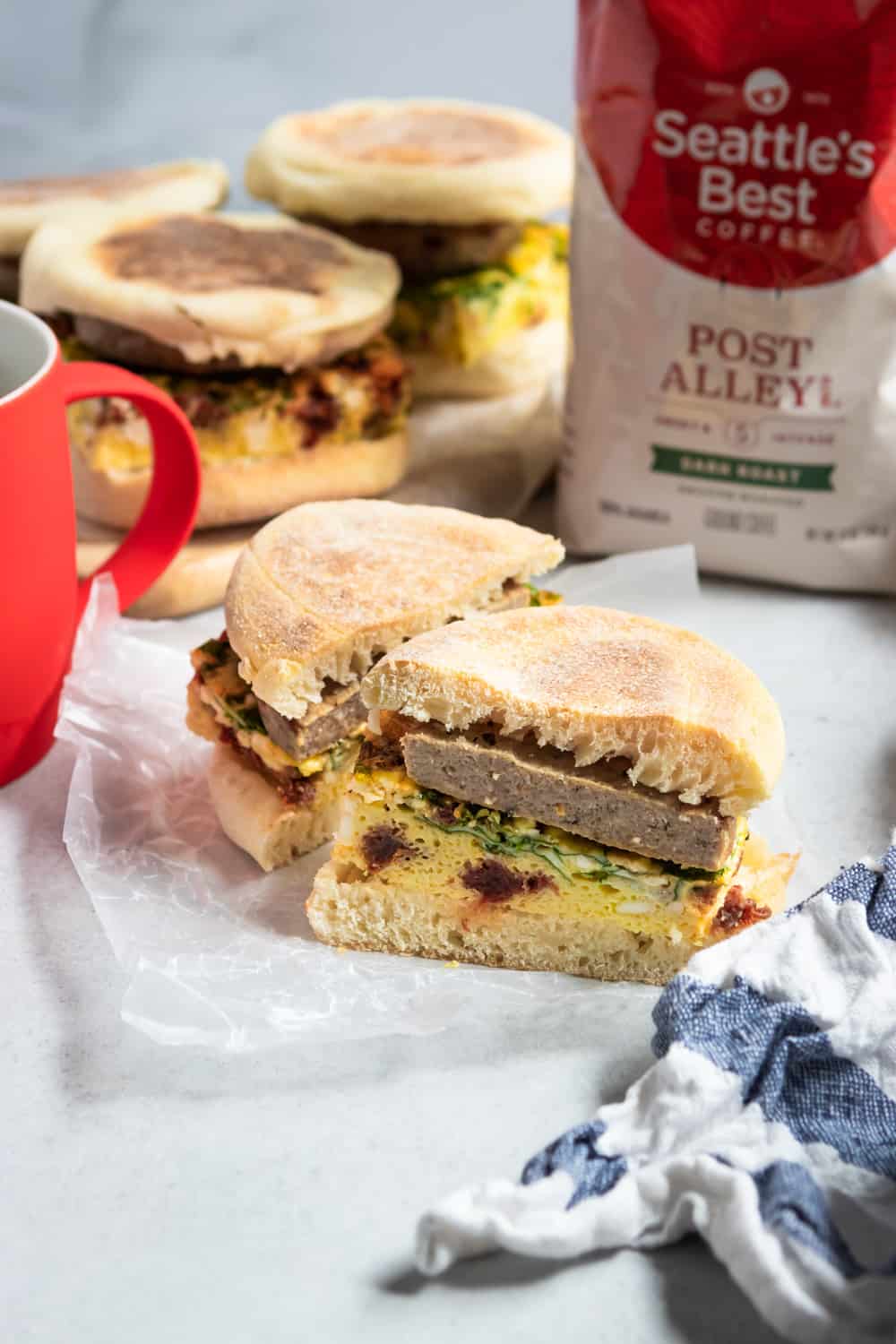 That may sound dramatic, but the little guy is very much a big ball of constant energy. And that energy is typically going in every direction except the direction we are supposed to be heading. So believe me, it's a big deal.
As we move away from summer and get back into a new routine, I am planning on making my mornings nice and smooth with my coffee and these Freezer Breakfast Sandwiches. With my travel mug in one hand and a sandwich in the other, everything will be just fine.
Let me get one thing straight: I LOVE Seattle's Best Coffee. I mean LOOOOOVE it. When Sam was born, I was looking to find ways to better budget and started making my coffee at home daily. I didn't want to brew any old coffee though. I am a coffee girl through and through, and I want a nice cup to warm me up in the morning.
The Post Alley Blend® ground coffee is that perfect dark, rich roast that I love. I am all about the darker, the better when it comes to my coffee. How about you?
Save now on

Seattle's Best Coffee Website here!
Freezer Breakfast Sandwiches and Post Alley Blend
®

make the perfect morning pair.

What does the rich and bold flavor of the Post Alley Blend® pair so perfectly with? A breakfast that is ready before you even wake up, that's what! These Freezer Breakfast Sandwiches are exactly that, my friends.

Who wants to get up even earlier when school is back in session to make breakfast? (And a bowl of cereal doesn't count.) I am talking a warm, cozy breakfast—one that is right at your fingertips and can walk right out the door with you.When it comes to simple, make-ahead breakfasts, I am either doing overnight oatmeal or freezer breakfast sandwiches.

These Sausage and Egg Breakfast Sandwiches were my favorite for a very long time. You could pretty much find them in the freezer at all times. However, these Freezer Breakfast Sandwiches pack in feta, spinach, and my absolute favorite: sun-dried tomatoes. There is nothing like it.

The tomatoes give the entire sandwich a very rustic Italian flavor. The feta is baked into the egg, and that makes for less mess when you are trying to eat on the run. I have dripped melty cheese one too many times on my clean clothes to learn that the hard way. Keep this sandwich meat free or add a breakfast sausage patty and you are good to go!

While I think back-to-school season may still be somewhat frightening, I think you are at least going to have some really tasty and a lot less chaotic mornings with these sandwiches and your warm mug of Seattle's Best!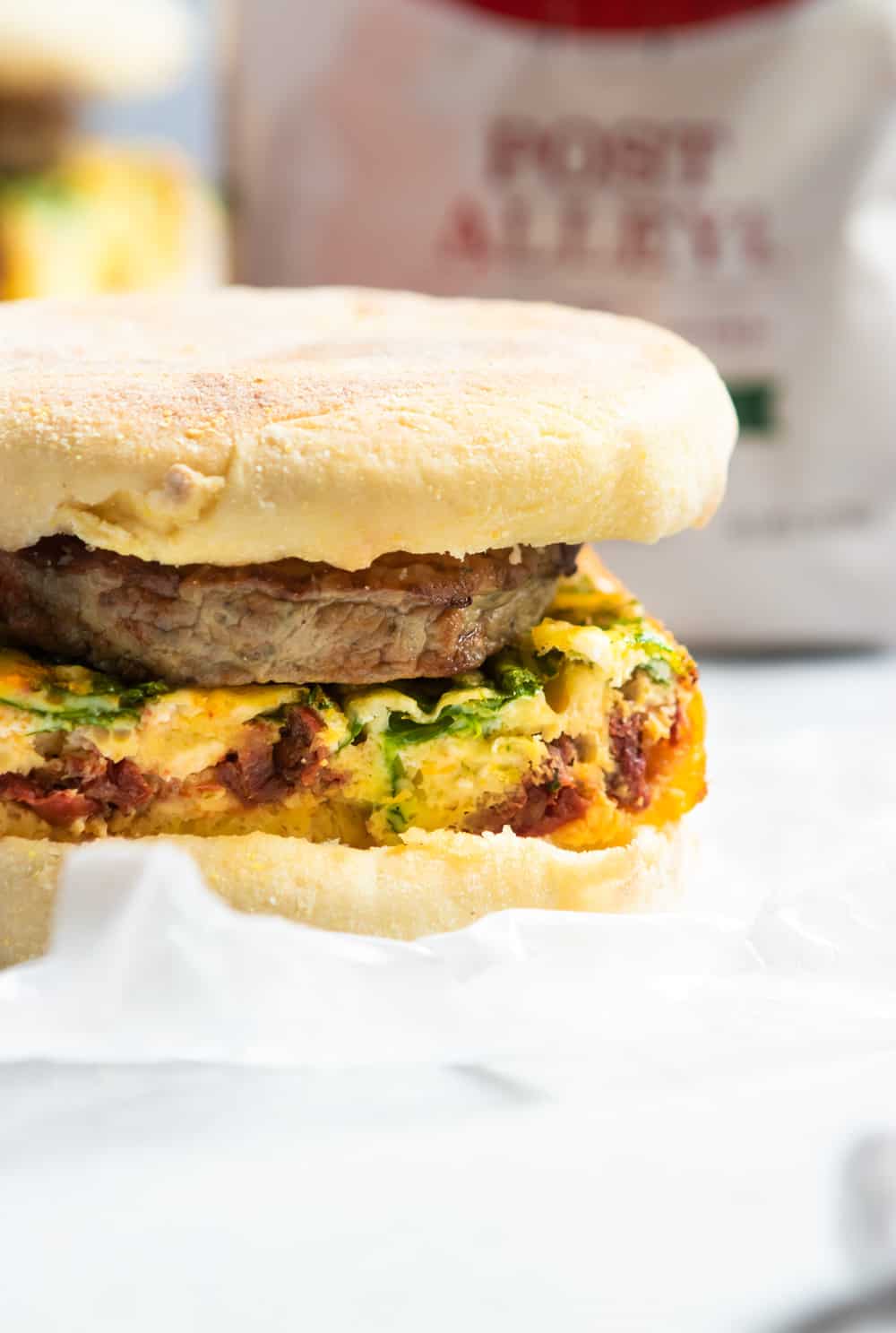 What you need to make these Freezer Breakfast Sandwiches:
Eggs
Feta Cheese
English Muffins: Use your favorite! Regular, whole grain, gluten free, whatever kind of English Muffin you love.
Spinach: I use fresh and chop it up. If you use frozen, thaw it and squeeze out as much extra water as possible before adding to the eggs.
Sun-Dried Tomatoes: You will want the kind that is in oil. I typically use sun-dried tomatoes that have herbs in them as well.
Garlic
Pre-Cooked Sausage Patties: These are an optional addition to your sandwich. Sometimes, I chop up a few and just cook them right into the egg bake.
Crushed Red Pepper
Pro-Tips/Notes for making these Freezer Breakfast Sandwiches:
While these are called Freezer Sandwiches, you actually do not have to freeze them. If you plan to eat the entire batch within a few days, by all means, toss them in the refrigerator.
The only thing my husband is not a fan of when I make him freezer breakfast sandwiches is the fact that the English Muffins are not toasted. I have never toasted them before freezing them but I don't think that would be the greatest reheated. If you think you will eat these up in a couple of days, you can easily assemble the sandwiches right when you are ready to eat. In that case, you can indeed toast the English muffin and perhaps add a bit of butter as well.
Need it dairy free? I have seen recipes for vegan feta cheese as well as some dairy-free versions at certain grocery stores. Double check that your English muffins are dairy free as well.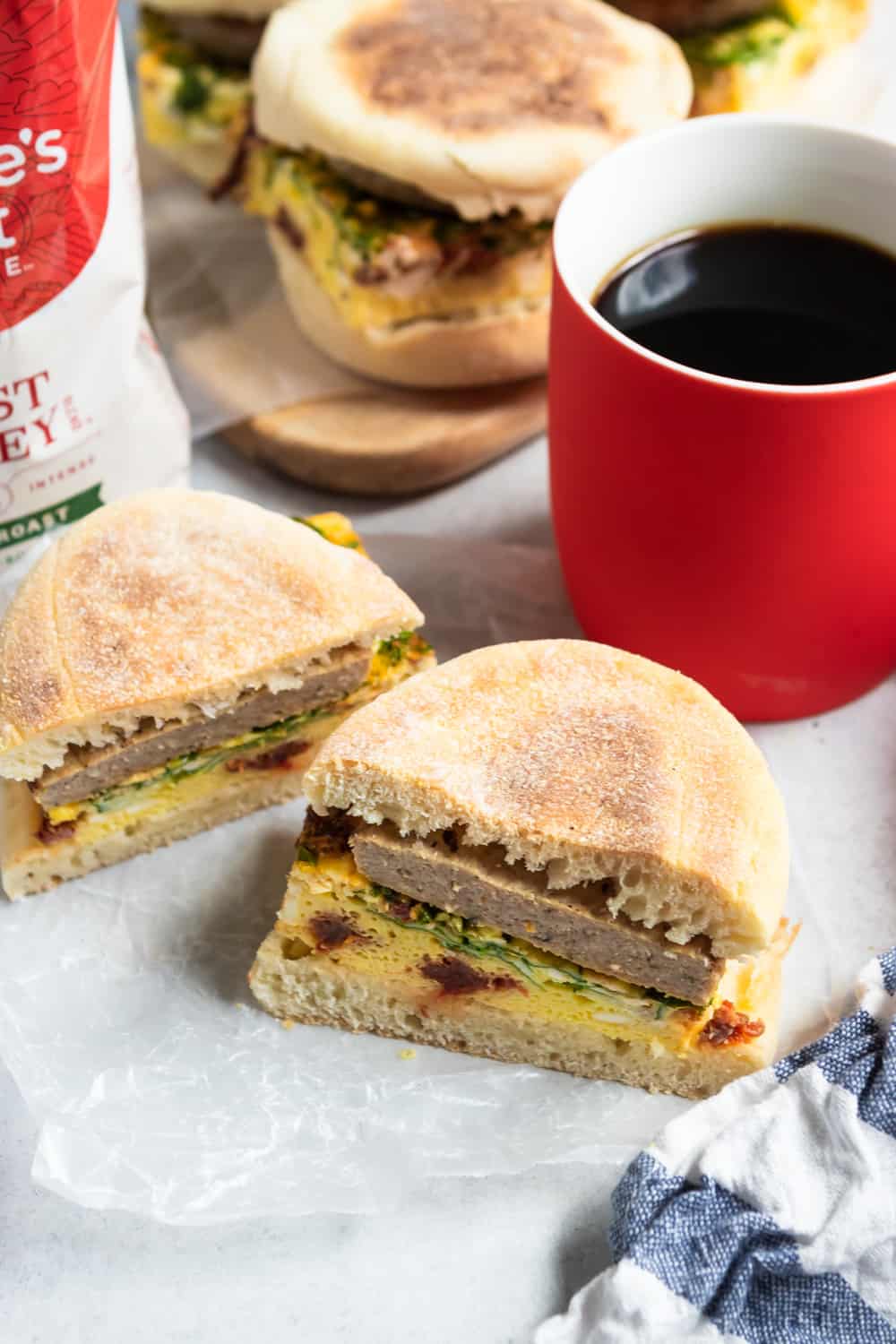 Save now on

Seattle's Best Coffee Website here!
Ingredients
12

eggs

⅔

c

feta cheese

1

c

chopped fresh spinach

⅓

c

sun-dried tomatoes, chopped (in oil)

½

tsp

garlic powder

¼

tsp

sea salt

½

tsp

cracked pepper
Instructions
Preheat oven to 375°F. In a small bowl, combine beans and cumin and stir to season. In a medium bowl, crack eggs and whisk well. Add in spinach, feta, chopped sun-dried tomatoes, garlic, red pepper, salt and pepper and stir.

Pour into a well greased 9x13 baking pan. Bake for about 30 minutes, or until edges are browned and egg mixture is cooked through.

Allow to cool for several minutes and then either cut or use a jar lid or biscuit cutter to cut 8 even pieces of egg mixture. Place one egg section onto ½ of each English Muffin and add a pre-cooked sausage patty (if desired). Top with other half of English Muffin. (if eating right away, you can toast as well)

Serve warm or wrap individually in parchment paper, tape shut and date. Store in a freezer friendly plastic bag for about a month.

To reheat: All microwaves are different, but microwave for about 2 minutes seconds to 2 minutes 30 seconds on high and enjoy.