These vegetarian lettuce wraps are the perfect simple lunch recipe to get out of the same old, same old. The combination of avocado and white beans packs these lettuce wraps with plenty of protein and all the flavor!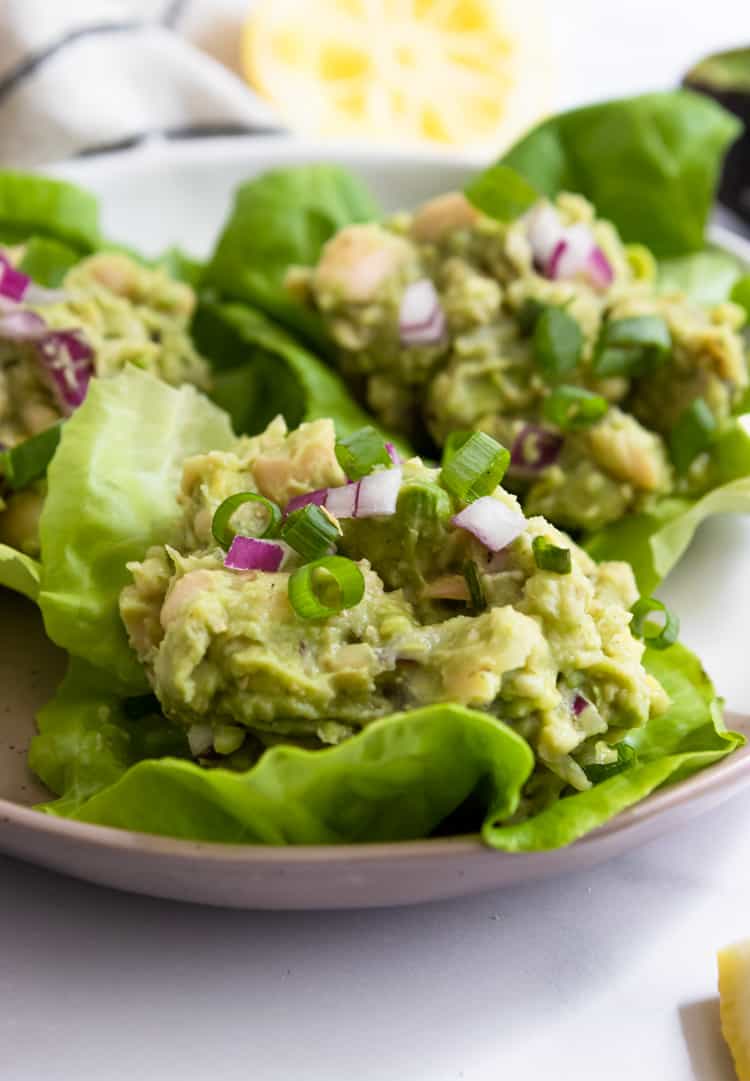 The past several months have been quite the roller coaster--up and down and up and up and then through a big loop, down, around...you get the point. It's been a lot. And I have mentioned my inability to do really any form of workout, so you would think I would be pulling my hair out by now.
Surprisingly, I have found a place of balance, acceptance and this feeling of being okay with it all. This is not easy for many of us. My body and I have come to bit of an agreement recently. And it's all about self care and listening. When the doc says you gotta relax, well, that's what you gotta do!
My former self would have said, yes out loud but then my mind would be wrecked. I would be calculating what I eat, finding ways to move regardless, and not being good to my body. Not this time. This time, I listened. I took a few steps back, and I let go of the pressure I seem to so often put on myself. And I have learned a thing or two in this time.
First and foremost, this thing of balance really can be a thing. You don't have to work out or exercise to "earn" what you eat. That is a big misconception I think many of us seem to have (It was my biggest issue for years!). And in that same realm, you don't need to exercise to make up for what you have eaten.
Exercise is not punishment, so stop making it that way. It took not being able to do so for me to learn this, but if that's what it took, then I am happy to have learned. I have learned to listen; to my body, to my stomach, to my mind.
When life is going at full force and you are trying to squeeze it all in while maintaining a healthy lifestyle, sometimes you forget to step back and just listen.
I never realized how programmed and robotic I could be in my food habits and in my general life, but being forced to slow down brought me to the light. I have had more variety in what I have eaten over these months  and have even opened up some new doors of creativity.
Even though life can be a roller coaster and throw you for some big loops, sometimes, these times away from our norm can bring new light to the surface. And in these times, wisdom may overcome the worry and anxiety that kicked it all off in the first place. Whatever you are going through, take some time to step back--even if you really have to force yourself, you will be surprised what you learn!
---
Like I mentioned, food ruts are my thing. I find myself eating the same thing over and over. So recently I have been trying to pick up one new fruit or veggie at the grocery each visit to start shaking things up. One of the things I have been grabbing is big Butter lettuces and Romaines that are great for sandwiches, salads, and my favorite, lettuce wraps! These vegetarian lettuce wraps included!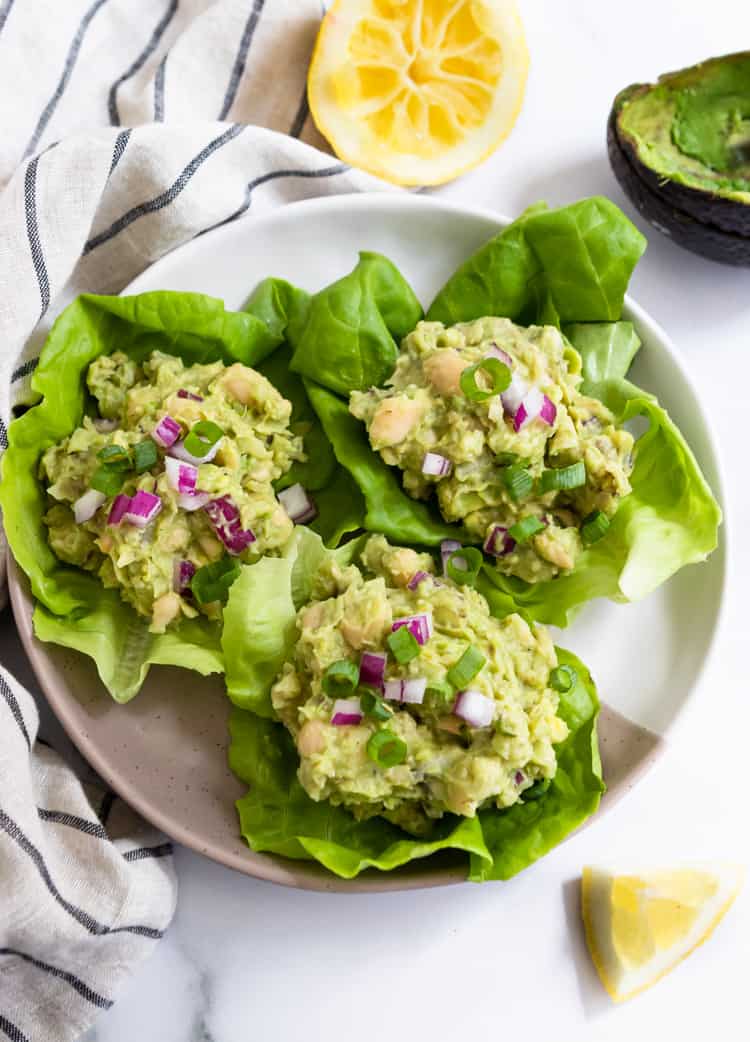 When my lunches start to become the same thing everyday, I know it's time to try something new. I love a good turkey sandwich, a salad, leftovers--all are great. But I find myself on repeat sometimes.
There's something great about that fresh crunch of a fresh piece of lettuce full of all the goodies--exactly what these vegetarian lettuce wraps are! Now don't get me wrong, I love all the goodness of a lettuce wrap full of turkey or chicken. Buuuuttt, when you tell me these lettuce wraps take only a few minutes to whip up, I'm all about the beans!
Like I said, getting myself out of the same old--vegetarian lettuce wraps have a place in my heart as well!
So ultimately, I now have a new lunch rut--these Mashed Avocado + White Bean Lettuce Wraps. I am still trying to switch things up and not have these too often each week, but they are definitely my lunch choice at least three times a week!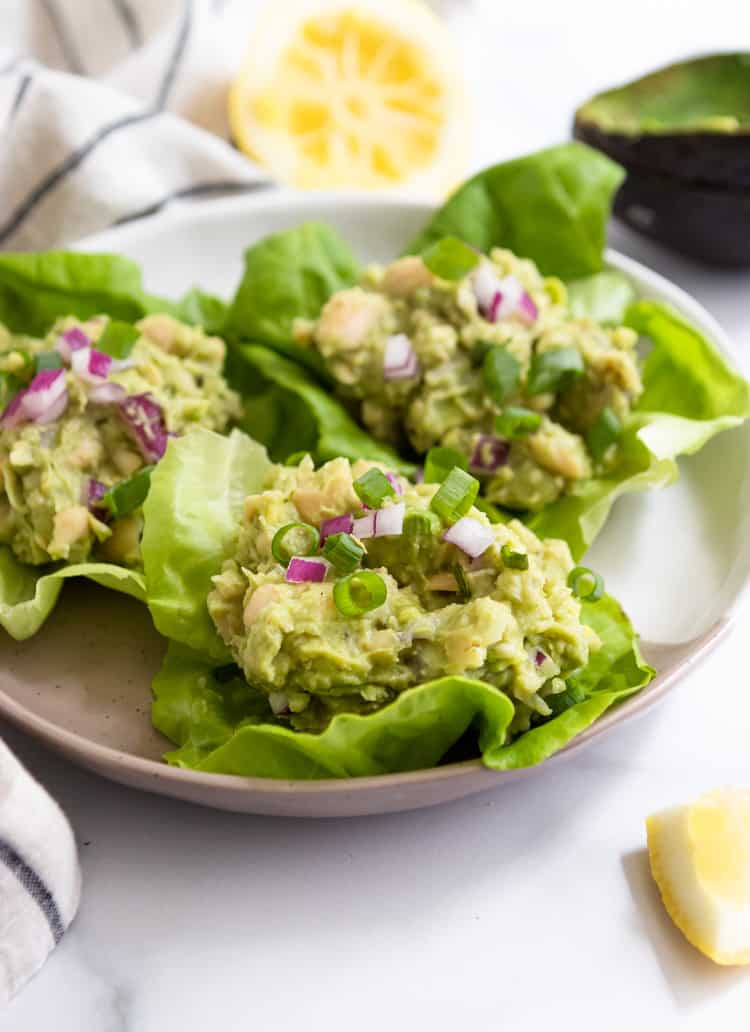 Check out these other lunch recipes you will love!
Strawberry Basil Avocado Toast
DID YOU MAKE ONE OF MY RECIPES? LEAVE A COMMENT AND LET ME KNOW! I ALSO LOVE TO SEE YOUR LEMONS + ZEST RECIPES ON SOCIAL MEDIA–TAG ME @LEMONSANDZEST ON INSTAGRAM OR FACEBOOK!
Ingredients
1

can white beans

pre cooked and rinsed

2

ripe avocados (small)

2

T

red onion finely chopped

1

garlic clove

minced

Juice of ½ lemon

1

teaspoon

dried dill or handful of fresh dill chopped

Sea salt and Pepper to taste

5-6

large lettuce leaves

Bibb, butter, Romaine
Instructions
In a medium bowl, pour the rinsed beans.

Mash beans leaving some chunks throughout.

Add avocado, lemon juice, garlic, onion, dill, salt and pepper and mix well to combine.

Chill for about 15-20 minutes.

Spoon into lettuce leaves and garnish with fresh dill.