This post may contain affiliate links.
Delicious and easy, these Buffalo Chicken Lettuce Wraps are a crunchy, spicy recipe that can be a great appetizer for side, but also a perfect meal as well! A perfect healthy dish that has the right amount of hot sauce to spice things up!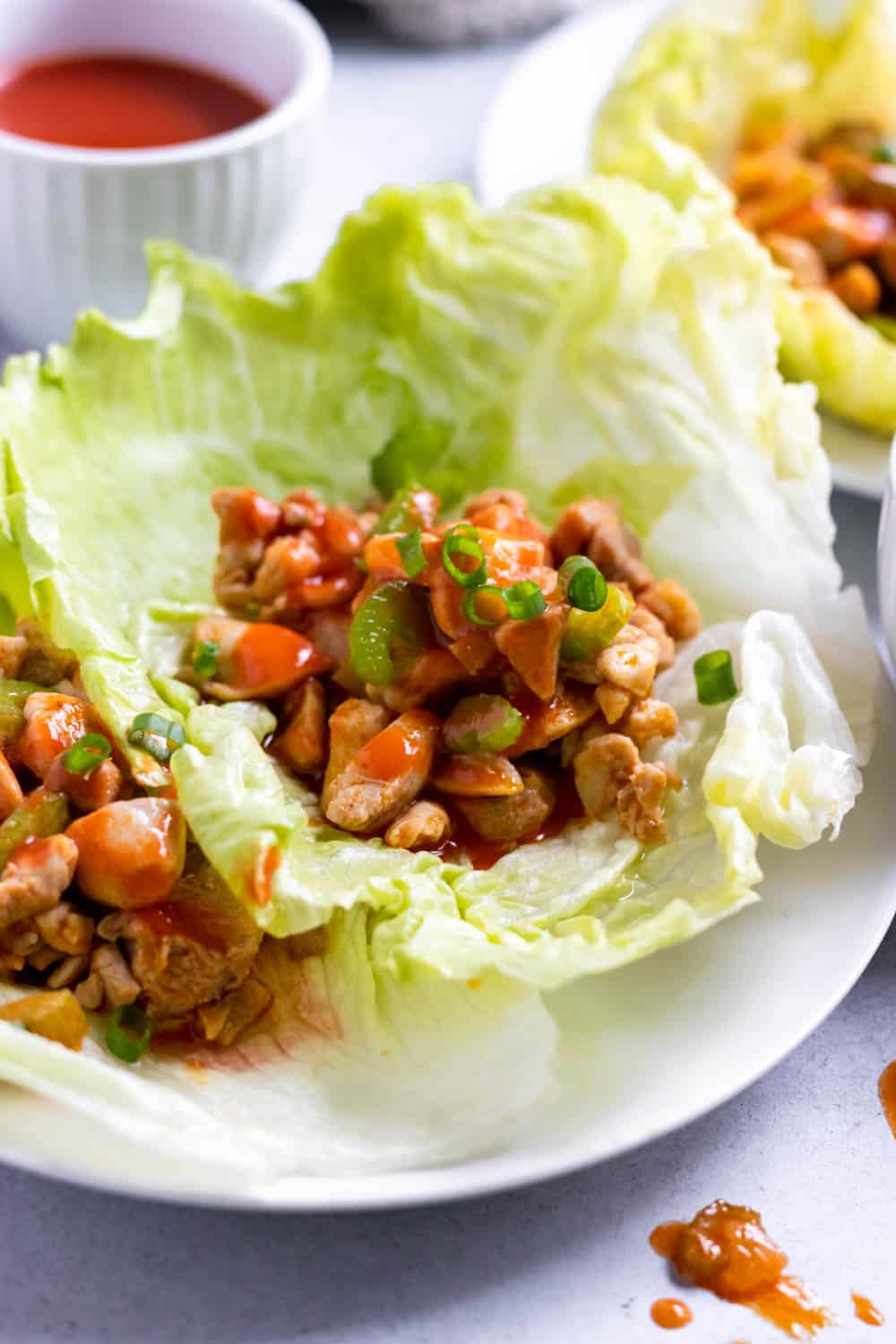 Buffalo Chicken + Lettuce Wraps = Yummmm.
You know who feels like a major idiot right now? Yep, me.
Not sure why I never knew that Buffalo Sauce was the most simple thing in the world to make, but I just learned that it is. Now I will be making it so often you will probably get sick of it.
Sometimes in the world of food and cooking, we are intimidated by things when we don't need to be. There is always so many new things to learn. When I finally learned that Buffalo Sauce is nothing more than hot sauce with butter, well, I was about blown away!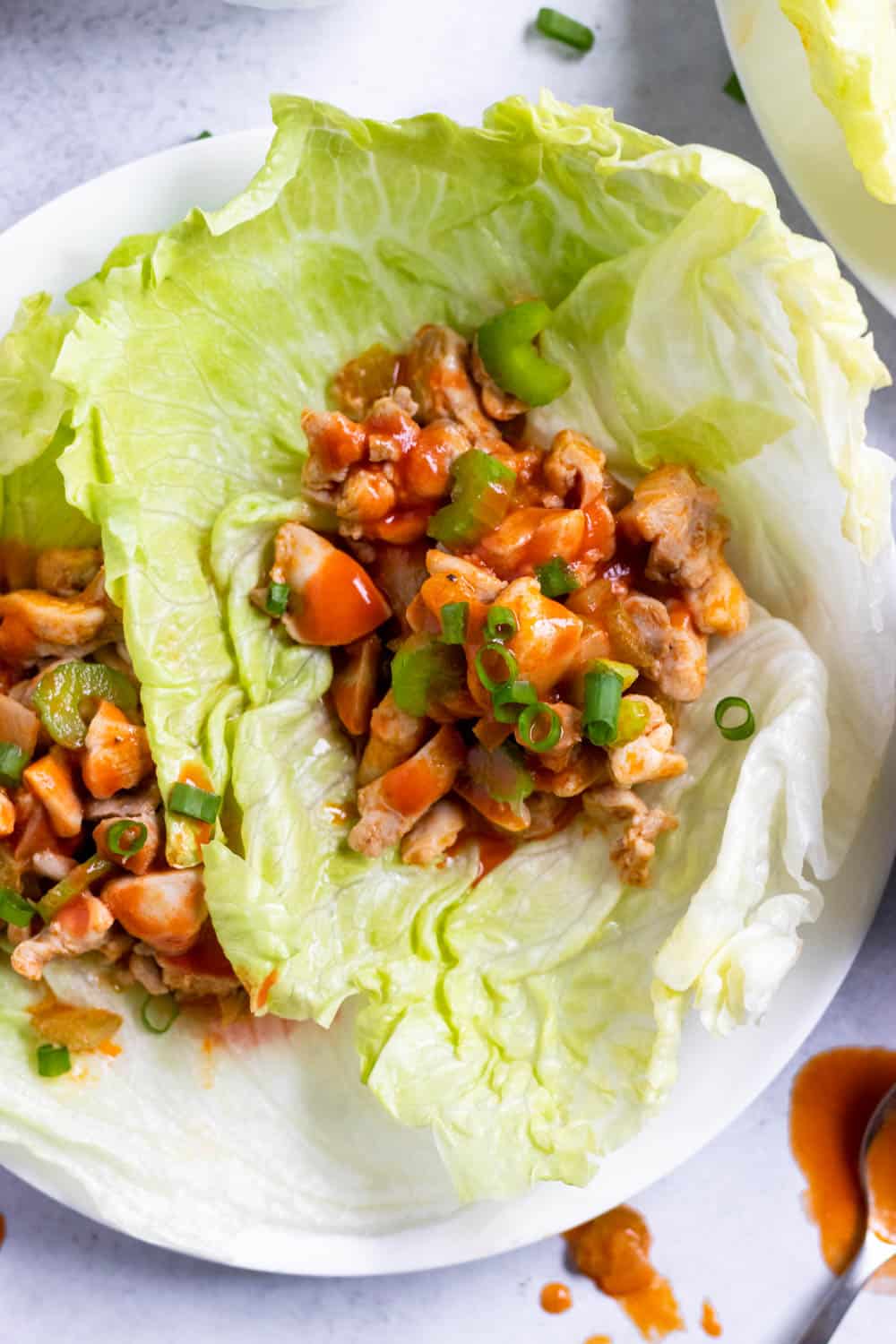 So where does one even begin when it comes to Buffalo Sauce?! 
Naturally, most would think wings, but while I am confessing things to you, you should know I am not much of a wings kind of girl. I know, I know. But it's true. They are a lot of mess and work to only get a small bit of meat in my honest opinion. I'd much rather have a chicken tender any day.
So if not wings, then what? Lettuce wraps of course!
I was scrolling through Instagram recently and saw these beautiful Thai lettuce wraps and thought, hmmm I haven't had lettuce wraps in a while. Those sound really good! And then I got to thinking. Why not make some for the blog and make it a win-win--new recipe and a happy, satisfied belly!
And then my mind got racing--that's something you don't want to see so wee will just skip to the part where these Buffalo Chicken Lettuce Wraps were born. And they are a beauuuuutiful thing. In fact, I had them for lunch and dinner the day I made them--that kind of good.
When we go to PF Chang's, it is guaranteed that we are having the lettuce wraps. There is just something about the crunch of a lettuce wrap that can be so satisfying. As for these Buffalo Chicken Lettuce Wraps, the crunch comes from some celery mixed in as well--double the crunch!
To whoever got the joy of watching me select my head of lettuce for this recipe at the grocery, you are welcome. No charge for the extra entertainment. I literally sat in front of about 20 or so heads of lettuce and tried to decide on the very best, picture worthy one.
To be honest, I found at that day that I am no good at judging lettuces. The head I chose was far from a winner, but in the end I got a few good pieces, at least enough to take some nice pics.
What Kind of Lettuce Works best for these Buffalo Chicken Lettuce Wraps?
I used Iceberg for this recipe and it works really nice. Any lettuce that forms a nice cup is a great option. Butter lettuces are great as well. They may roll a bit better than the Iceberg if you like everything to be held in nice and tight. I have certainly seen Romaine used as well for lettuce wraps but it't not my first pick most of the time.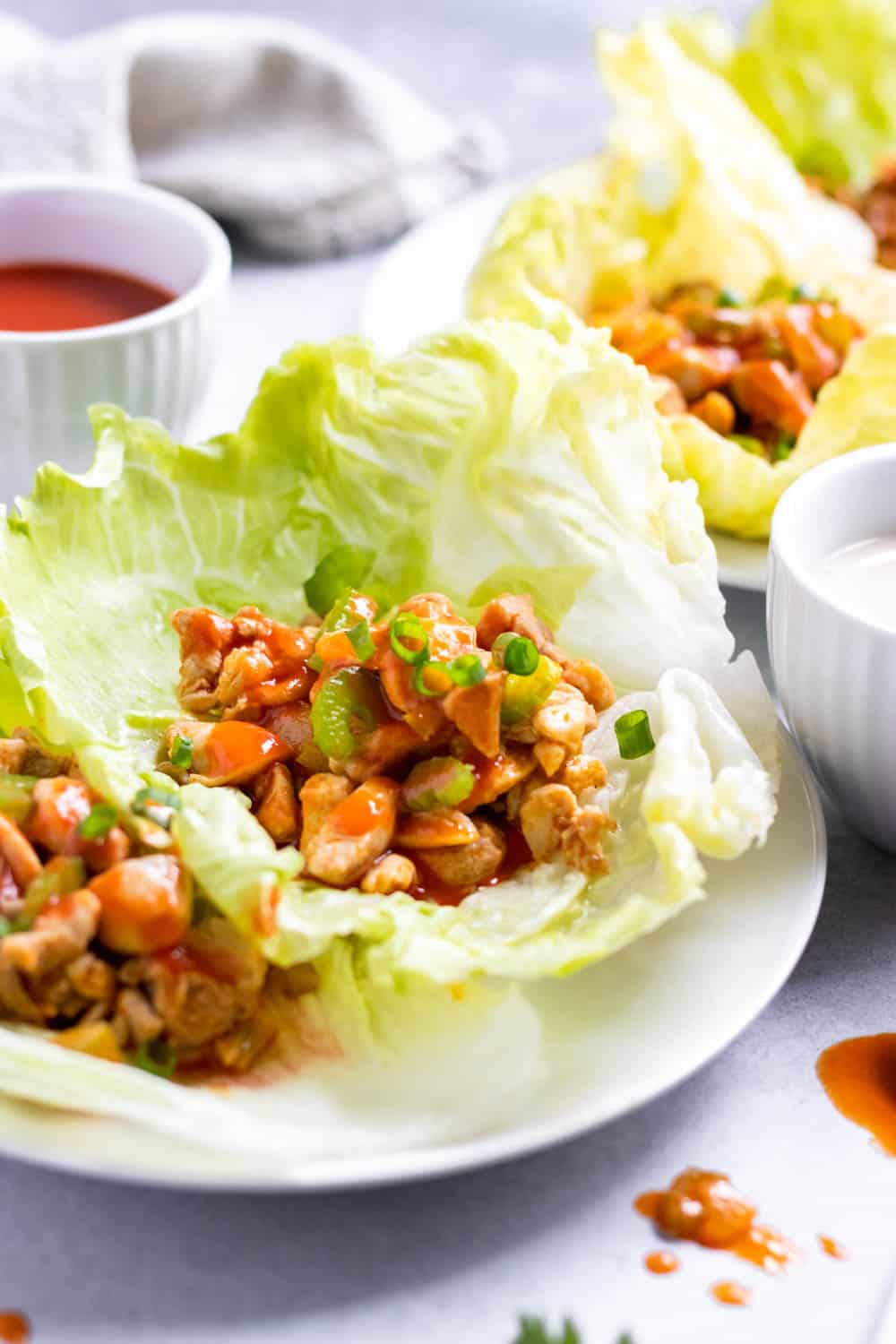 While this recipe is for buffalo chicken lettuce wraps, please do not feel locked in to just lettuce wraps. I threw some of the chicken on a big salad, rolled it into a burrito with some ranch and lettuce, ate it straight from the spoon, and of course, in lettuce cups. Top notch in all of the above.
Buffalo Chicken Lettuce Wraps:Team Ranch or Team Blue Cheese?
I am team Ranch all the way. Not too big on Blue Cheese dressing, but if you are, feel free to also add some blue cheese crumbles. That could certainly add some goodness to these spicy, drippy wraps. And for those who need a little sinus opening, these should be a treat for you as well. They sure do the trick according to Anthony!
Need a quick dinner? Buffalo Chicken Lettuce Wraps. Having a Super Bowl Party? Buffalo Chicken Lettuce Wraps. In the mood for a quick and easy meal? Buffalo Chicken Lettuce Wraps. Ha, notice a pattern?? Yep, you know the answer, so get right on it!
Some things you need to know about these Buffalo Chicken Lettuce Wraps:
I switched things up from my usual chicken breasts for this recipe and went with chicken thighs. Chicken breast will work fine. You could also probably use ground chicken if you like, but only one pound should be necessary.
I used Frank's Red Hot for this recipe, but your favorite hot sauce should be fine. I typically just get a lot of questions about the exact brand I used, so that's it.
Using kitchen scissors worked best to get the chicken cut nice and small. Made the cutting a breeze!
Need help figuring out how to prep a head of lettuce easily for lettuce wraps? Check this video out!
Love lettuce wraps? Try these White Bean and Mashed Avocado Lettuce Wraps!
DID YOU MAKE ONE OF MY RECIPES? LEAVE A COMMENT AND LET ME KNOW! I ALSO LOVE TO SEE YOUR LEMONS + ZEST RECIPES ON SOCIAL MEDIA–TAG ME @LEMONSANDZEST ON INSTAGRAM OR FACEBOOK!
Buffalo Chicken Lettuce Wraps
Delicious and easy, these Buffalo Chicken Lettuce Wraps are a crunchy, spicy recipe that can be a great appetizer for side, but also a perfect meal as well! A perfect healthy dish that has the right amount of hot sauce to spice things up!
Print
Rate
Ingredients
1 ½

lb

chicken thighs (or breast)

½

c

hot sauce ( I used Frank's)

2

celery stalks

½

onion

4

T

butter

1

teaspoon

garlic powder

½

teaspoon

cracked Pepper

8

butter, romaine or iceberg lettuce leaves

Ranch or Blue Cheese Dressing
Instructions
Chop or cut chicken into very small pieces. Finely dice onion and celery. Season chicken with garlic powder, pepper and desired amount of salt.

Warm frying pan to medium high and add a drizzle of olive oil or spray with cooking oil spray. Add celery and onion and cook until onion starts to become translucent.

Add chicken and stir frequently to cook. While chicken is cooking, melt butter in microwave and then whisk together with hot sauce and set aside.

When chicken is fully cooked, turn heat to low and pour buffalo sauce over chicken and stir to coat evenly. Allow to simmer for about 5 minutes to to help sauce thicken slightly.

Spoon into lettuce cups and drizzle with dressing or use it for dipping on the side!