Loaded with fresh ingredients, these Pesto Turkey Pinwheels are perfect for a simple lunch, party platter or even a snack. Smoked provolone pairs well with this turkey and wrapped in a pesto cream cheese mixture that you will be coming back for more again and again!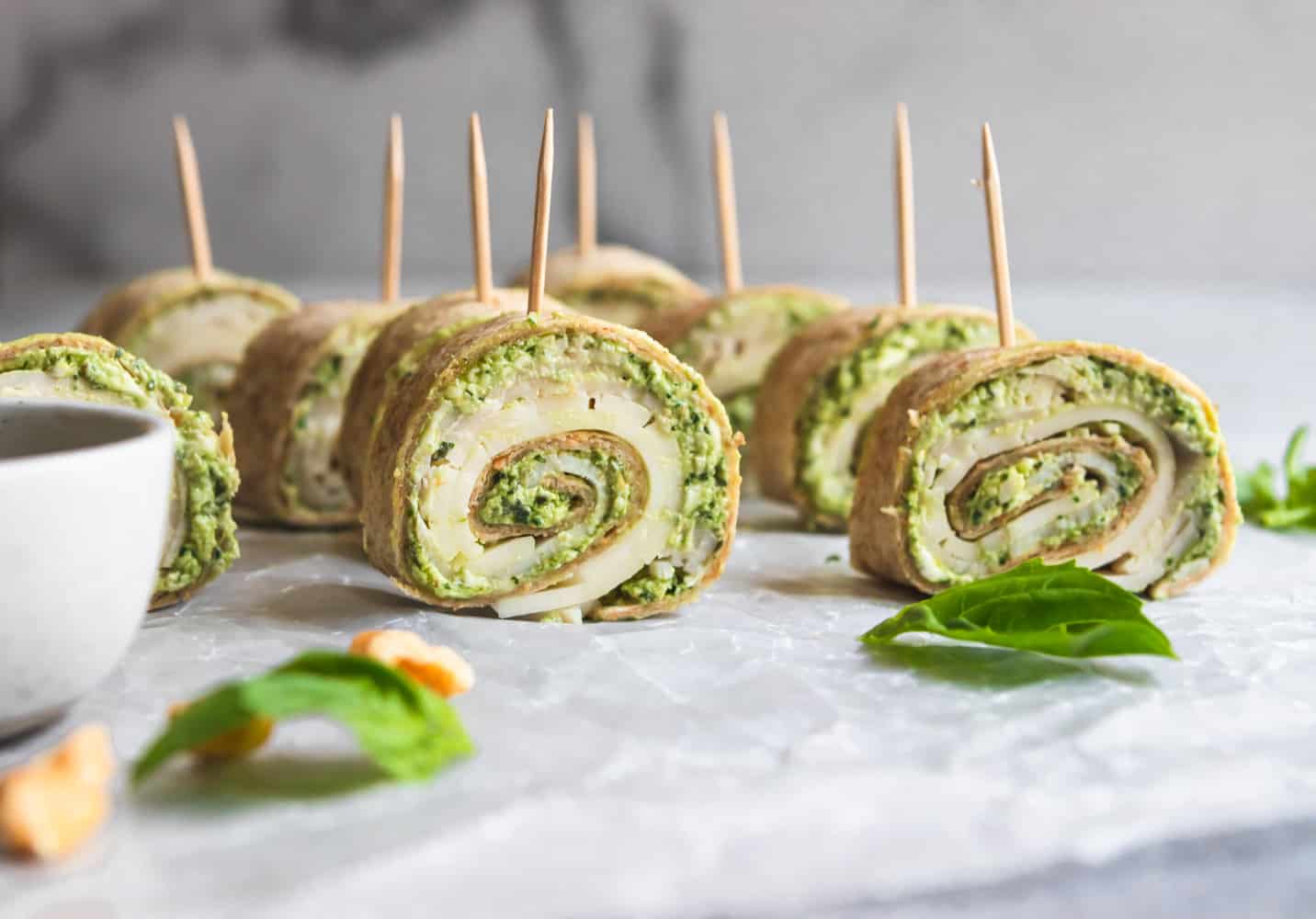 It's lunch time. Who needs options?
I sure do! I get really lame when it comes to lunch sometimes and need to shake things up and get out of my ruts. I honestly don't have a ton of lunch recipes on the blog unless you count salads I guess, or leftovers, which is always good to me.
But in the spirit of getting funky with my afternoon eats, I am sharing these cute little Pesto Turkey Pinwheels today. I have been making them a lot lately so it was time to share them with you. (Plus, and I know you don't want to hear this, back to school season is not as far away as we think, so these will help you be fully prepared. Ok, ok, I will stop with the "S" word now.)
Pinwheel recipes are some of my favorites. And since I am currently constantly trailing in my toddler's dust these days, these babies are saving me all the more. These Turkey Pesto Pinwheels are little lunchmeat sushi like eats--that means you can pop one in your mouth and fuel up on the go if necessary.
And boy oh boy is it very necessary for me these days.
There's another reason I love these Turkey Pinwheels and pinwheels in general: they easily double as party food! Who doesn't love to head to the appetizer spread and see the cute little spirals atop a platter?
So not only am I bringing you a delicious lunch option today, I am also making sure you will be all set and prepped for any parties coming up where you need a simple app to bring. You are soooo welcome, my friends.
Turkey Pesto Pinwheels: Not your typical pinwheel.
When I was working on getting these just right for the blog, I wanted them two do two things:
Taste good. (Duh)
Be packed with goodness that will keep you fueled.
Both items are checked off and these definitely fit the bill.
The fuel part was big because toddler living is no joke. By the time we make it to nap time I feel like I have aged 100 years. Afternoon nourishment needs to really be all it can be so that I can do the same.
A touch of cream cheese, a pesto packed with spinach (I know, sneaky), whole grain tortillas, turkey and smoked provolone--that will do the trick! I thought I was very clever to add the spinach tot he pesto. No one will have a clue that they are getting their greens while enjoying these little bites.
But happy bellies and full bellies will be 100% certain!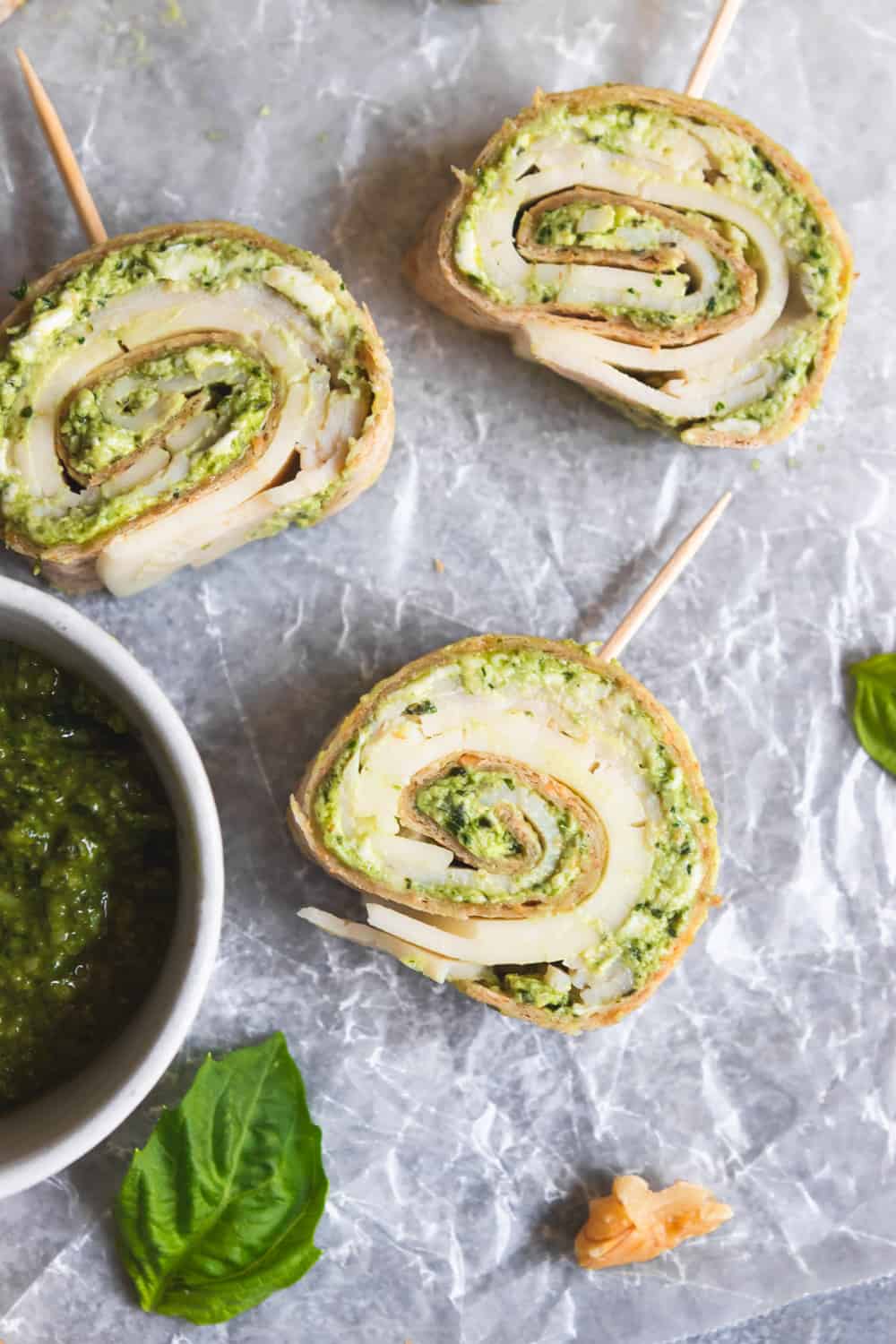 What you need to make these Turkey Pesto Pinwheels with Smoked Provolone:
For the pesto:
Fresh Basil
Parmesan Cheese
Walnuts or Pine Nuts: I prefer pine nuts but they can be pricey. Most of the time I use the walnuts.
Lemon Juice
Olive Oil
Spinach: Use fresh versus frozen for this pesto.
For the Pinwheels:
Cream Cheese
Deli Turkey: I had mine sliced at a medium thickness.
Smoked Provolone:
Tortillas: 10 inches, flour tortillas, whole grain tortillas--whatever you love!
Notes and Pro-Tips for making these Pesto Turkey Pinwheels:
In an ideal world, we would all be making our very own pesto, nice and fresh. Well, life happens and time isn't always on our side. If that is the case, a jar of already made pesto will most certainly do. I guarantee that these pinwheels will still be very delicious even if you don't make everything from scratch.
When you spread the cream cheese/pesto mixture on your tortillas during assembly, try to make sure the mixture is not too thick around the edges. If so, you will end up with plenty of cream cheese and pesto squeezing out at you when you roll these up.
Think sushi--you want these babies rolled up tight. When you are rolling these up, you want to make sure there are no gaps or they will not stay together nicely.
No one will yell at you if you simply eat these as a wrap and not cut into pinwheels. Promise. Again, do what works best for you!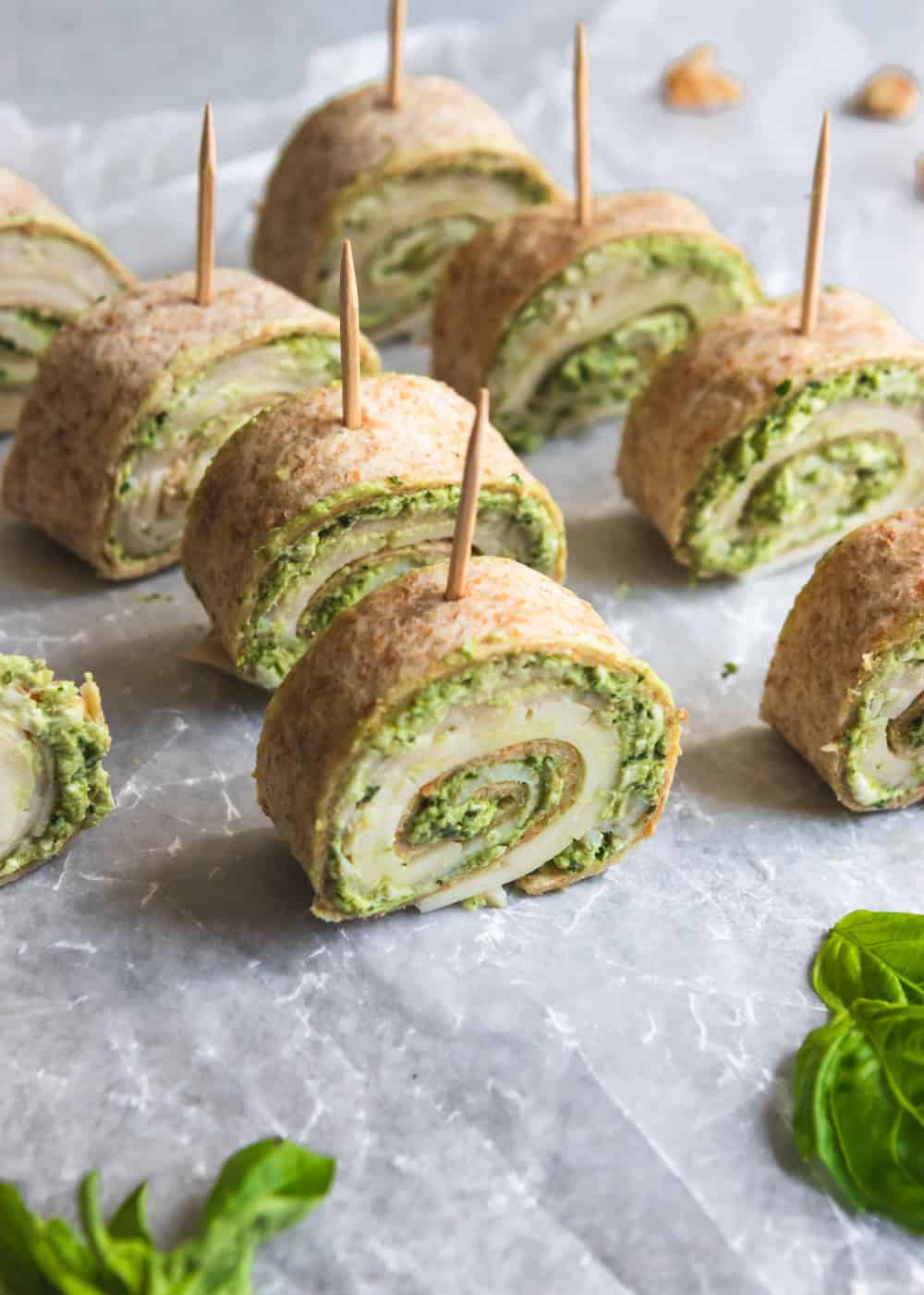 DID YOU MAKE ONE OF MY RECIPES? LEAVE A COMMENT AND LET ME KNOW! I ALSO LOVE TO SEE YOUR LEMONS + ZEST RECIPES ON SOCIAL MEDIA–TAG ME @LEMONSANDZEST ON INSTAGRAM OR FACEBOOK!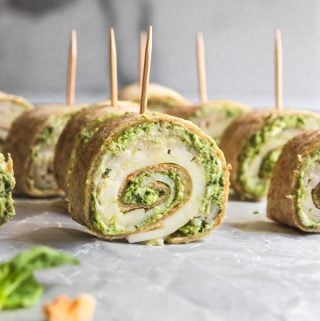 Ingredients
For the Pesto:
1

c

fresh basil leaves

¼

c

pine nuts or walnuts

1

large handful baby spinach

1

garlic clove

¼

c

olive oil

Juice of ½ lemon

2

T

grated parmesan

salt and pepper to taste
For the Pinwheels:
3

oz.

cream cheese, softened

4

slices

oven roasted turkey breast, deli sliced medium

2

deli slices smoked provolone

2

10-inch tortillas
Instructions
In a food processor, combine basil, spinach, lemon juice, parmesan, and garlic. Process to combine and break down spinach and basil. Slowly pour in olive oil and process until smooth and to desired thickness. Add more olive oil if too thick. Season with salt and pepper to taste.

Transfer ¼ c of the pesto to a bowl with the softened cream cheese. Mix well to combine.

Assemble Pinwheels: Spread ½ of the cream cheese mixture onto a tortilla. Layer two slices of the turkey and provolone (you can cut in half or use 2 slices to extend across the length of the tortilla.) Roll tightly . Slice into 1 inch pieces and place toothpick into each piece to hold together.

Chill for about 15 minutes before serving (who are we kidding, throw back a couple first and then put the rest in the fridge.)
Notes
Use any extra pesto for dipping! You can never have too much pesto, right?