A tad under the weather this weekend, so just stopping by to share a new recipe and then back to resting for this girl. Hoping your weekend has been much better than mine!
Super excited to share this recipe–trust me, it's so worth getting out from under the covers for a little bit! If you are a pesto fan like me, then THIS is going to make your day!
Every now and then, I grab a spaghetti squash to add to the mix of dinner. Anthony is not really into it, but I enjoy them. They used to be my constant "substitute" for pasta since they always seemed like the healthier choice, and since every choice had to be the healthiest…. you know the story.
No more of that. I eat the pasta, I love the pasta, and I also eat the spaghetti squash and enjoy it as well!
The fun part about spaghetti squash is that if you do it right, you can essentially have very minimal dishes. You can essentially use the actual vegetable as your bowl! If I have less dishes to deal with at the end, I am always up for it. And this Creamy Pesto + Spinach Stuffed Spaghetti Squash recipe will make you very happy in the end with only a few things to wash or toss in the dishwasher.
When it comes to pesto, I sometimes make a bunch and freeze it. It definitely comes in handy for nights that we are out of ideas for something different for dinner. There are also a lot of pestos out there you can grab at the grocery that save plenty of time.
And they come in every flavor and every variation you can imagine. There are dairy free and nut free versions for those with allergies and there are spicy varieties for those who like a little kick to their meal.
This recipe really was created becasue I had less than half a jar of pesto in the fridge that was on its way to going bad if I didn't use it up. I happened to have a spaghetti squash, and some cream cheese and as they say, the rest is history.
If you are interested in meal prepping, you can always cook the spaghetti squash earlier in the week and then add the fixins the night you plan on eating this. The recipe is really simple to multiply if you need to make more. This one is for the use of one squash so you just do the same thing for each additional squash you use. You can easily feed the entire family–and hopefully you will have some leftovers as well!
As far as if you need this to be dairy free, Kite Hill has a great dairy free cream cheese you could use. And then if you have a favorite Dairy Free mozzarella, that will work as well. And as I mentioned, use a nut free pesto if neccessary and you should be good to go! Enjoy!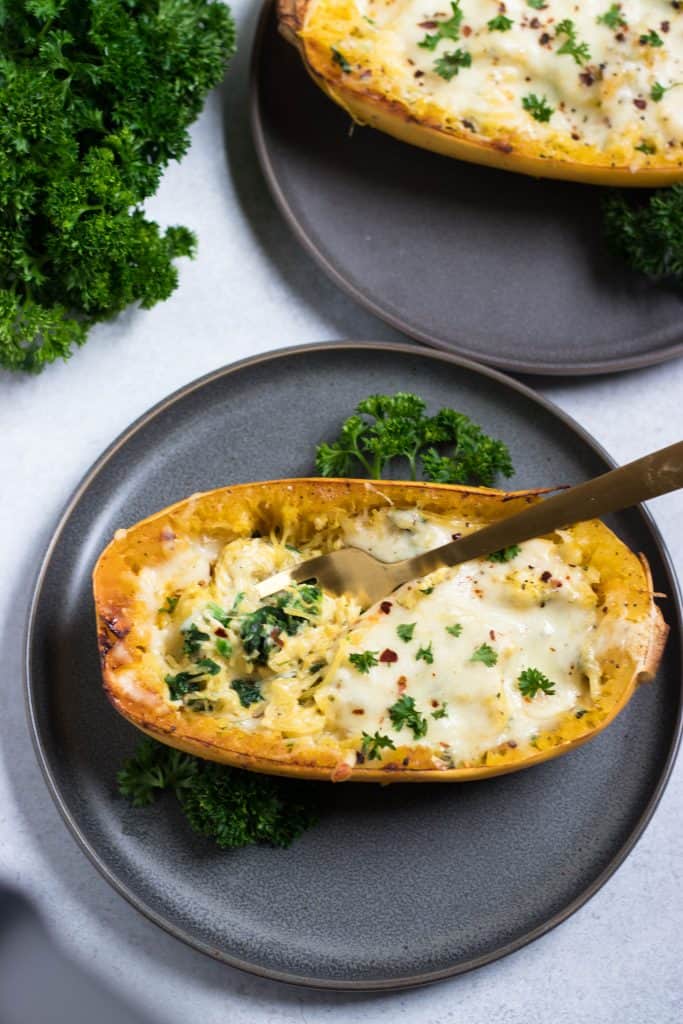 DID YOU MAKE ONE OF MY RECIPES? LEAVE A COMMENT AND LET ME KNOW! I ALSO LOVE TO SEE YOUR LEMONS + ZEST RECIPES ON SOCIAL MEDIA–TAG ME @LEMONSANDZEST ON INSTAGRAM OR FACEBOOK!
Creamy Pesto + Spinach Stuffed Spaghetti Squash
Print
Pin
Rate
Ingredients
1

spaghetti squash

halved and seeds removed

Olive Oil

garlic powder

for baking squash

2

T

cream cheese

2

T

pesto

1/2

c

fresh chopped spinach

1/3

c

mozzarella

shredded

sea salt and cracked pepper to taste

1/4

tsp

crushed red pepper
Instructions
Preheat oven to 400°F.

Brush thin layer of olive oil on the inside of spaghetti squash. Season with garlic powder, sea salt and pepper.

Place open side down on a parchment lined baking pan and bake for about 30 minutes.

When squash is cooked, remove from oven and allow to cool for a few minutes.

Using a fork, start to pull the "spaghetti" from the sides of the squash.

Add 1 T cream cheese, 1 T pesto, a dash or two of crushed red pepper and 1/2 of the spinach to each half of the squash. Stir to coat all of the spaghetti and allow the spinach to wilt and the cream cheese to melt.

Cover each with 1/2 of the mozzarella and return to the oven, cheese side up.

Bake for another 10-15 minutes or until cheese is melted. Sprinkle fresh parsley or basil on top and more red pepper and serve!