Skip the boring tuna salad and make this avocado tuna salad packed with fresh cilantro, avocado and ranch. Tuna will never be the same again!
This is a REALLY big week in more ways than one. It started out with a huge celebration today: Sam's Baptism. He was so handsome, and did so well through the entire thing. Not a single tear shed!
And then he slept through most of the party afterward, but it's not like he got to enjoy all of the food while everyone else did, so maybe it all worked out for the best.
Time for solid food!
But this week, that ALL changes. This week, we start our big little man on solid foods. And trust me, the way he stares at everything we put in our mouths, he is so ready.
The thought of starting our baby on solid food has actually stirred up a lot in me, which makes a lot of sense. Since I struggled so long with my own relationship with food, it is so important to me that I do everything in my power to help nurture a healthy relationship with food for Sam.
It's important to me that I live and model what I want Sam to learn as he starts to explore food. If Sam sees me counting or calculating every morsel that goes into my mouth, then what does he learn? Not to eat intuitively by any means.
If he notices that mommy is always eating something different from him, or the rest of the family, then what am I teaching him? If I talk about feeling guilty about what I have eaten, then he will learn that food is either good or bad. He will connect food with a moral code. And I do not want that for my child.
The thing is, I had great models growing up when it came to food, and yet I still struggled. There are plenty of other impacts on our relationship with food, BUT, whatever I can do to make our home a positive place to taste, explore, enjoy, nourish, and so much more, I will do.
Remember: They are always watching us.
The things we do, the things we say, our children notice and internalize. Your little girl may notice how often you weigh yourself and the frustration that may show on your face when the number is not what you want it to be.
Your son notices when you nibble on a salad and everyone else enjoys the pizza ordered from your favorite restaurant. A frown in front of the mirror, saying you shouldn't have eaten this or that, or saying you ate "bad"--all of that, they take in. They internalize.
And some move on just fine through life, while others carry it with them and take note, and see the world through those eyes.
So this week, I will embark on a brand new journey with our son, and I will do my very best to make sure I can nurture a positive relationship with food and all that surrounds it. Whatever I can do in our home to make sure he never sees food the way I once did, I will.
---
Since Sam's first food will be sweet potatoes, I was going to try to share a sweet potato recipe, but things didn't go quite as planned. So instead, I will share a recipe that perhaps one day Sam will love as well. That seems ok, right? He said it was okay with him. 😉
I eat tuna salad probably 2-3 times a week. Anthony hates it so now that I am home during the days with our nugget, I typically whip some up for lunch. It's quick and easy and always fills me up, so it definitely works for me.
And I make Avocado Tuna Salad A Lot.
A lot of times I make some form of my Avocado Dill Tuna Salad, or sometimes I just put some mayo and spices, but needless to say, there is typically an avocado in my tuna.
I also have a not-so-tuna salad for my vegetarian friends--I have made this Vegan Chickpea "Tuna" Salad for several parties and get rave reviews from even my biggest meat eaters. Serve it up on crackers and everyone's happy!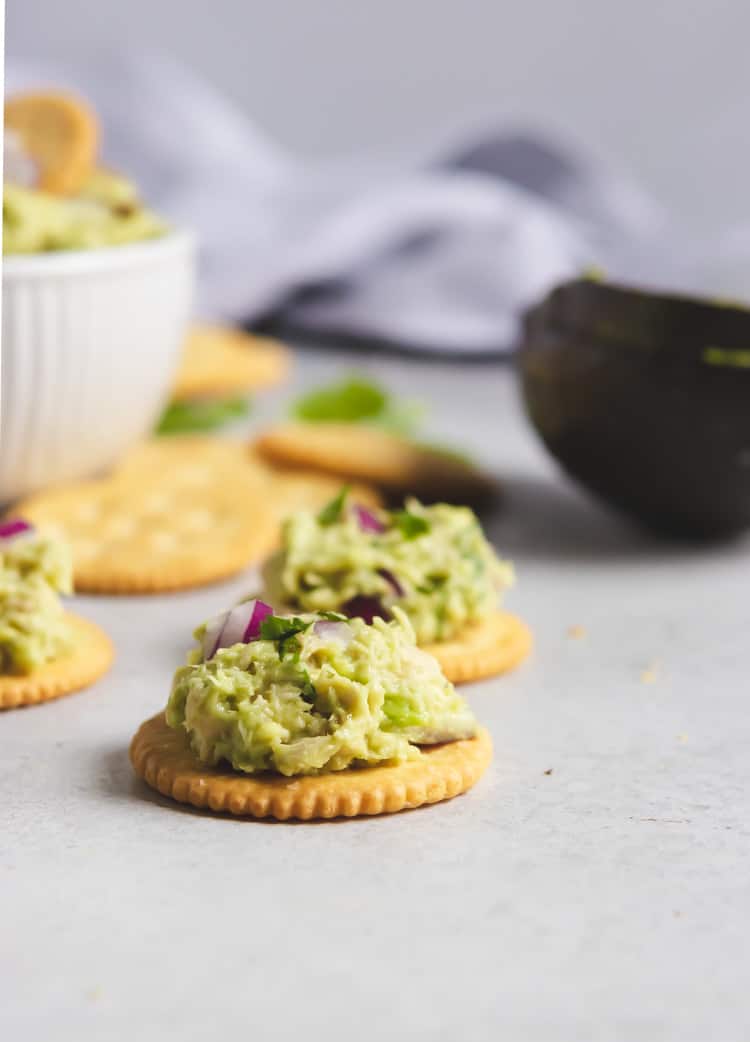 Recently I got a little bored with the same old, same old, so I branched out a little. I went with my typical avocado but added just the right amount of ranch and a big bunch of cilantro. Wow. Game changer.
I have never added cilantro to tuna salad, but I am not sure I ever want it again without it. If you saw how much I put in my guacamole you would get it.
As far as ranch dressing goes, pick your favorite. If you need to go dairy free, that's fine, I know there are quite a few out there now that are delicious. Enjoy your tuna on toast, as a sandwich or by the forkful. I also love dipping pretzels in mine. Whatever way you like it, enjoy!
What you need to make this tuna salad:
tuna: most cans are oz. so two cans will do for this recipe.
avocado: nice and ripe--make sure they are really soft.
ranch dressing: you can use your favorite. Heck, maybe you have a homemade ranch dressing around, bonus!
cilantro: I am a firm believer in the more the merrier on cilantro. I still add more right on top when I serve this tuna salad up.
red onion: I get it, onion is not for everyone. Too much for you? Skip it!
lemon juice: This will really help if you are not planning on eating the tuna salad right away. Lemon will help keep the avocado from browning too much.
garlic powder: I just add a dash or two since there is already plenty of seasoning in the ranch dressing. Add a bit more if desired.
Tips for making this recipe:
There aren't a lot of tips for this one as it is really simple, but a few things to know for sure.
If you want to keep the avocado in this tuna salad from browning, add plastic wrap over the tuna and press it into it before putting the lid on the airtight container. This will help keep it from browning much before serving.
It isn't 100% necessary to chill this tuna salad before digging in, however if you can, I encourage it. The flavor is so much better if you give the flavors some time to really meld.
Since we are working with cilantro, perhaps a bit of lime juice versus the lemon juice is worth a try??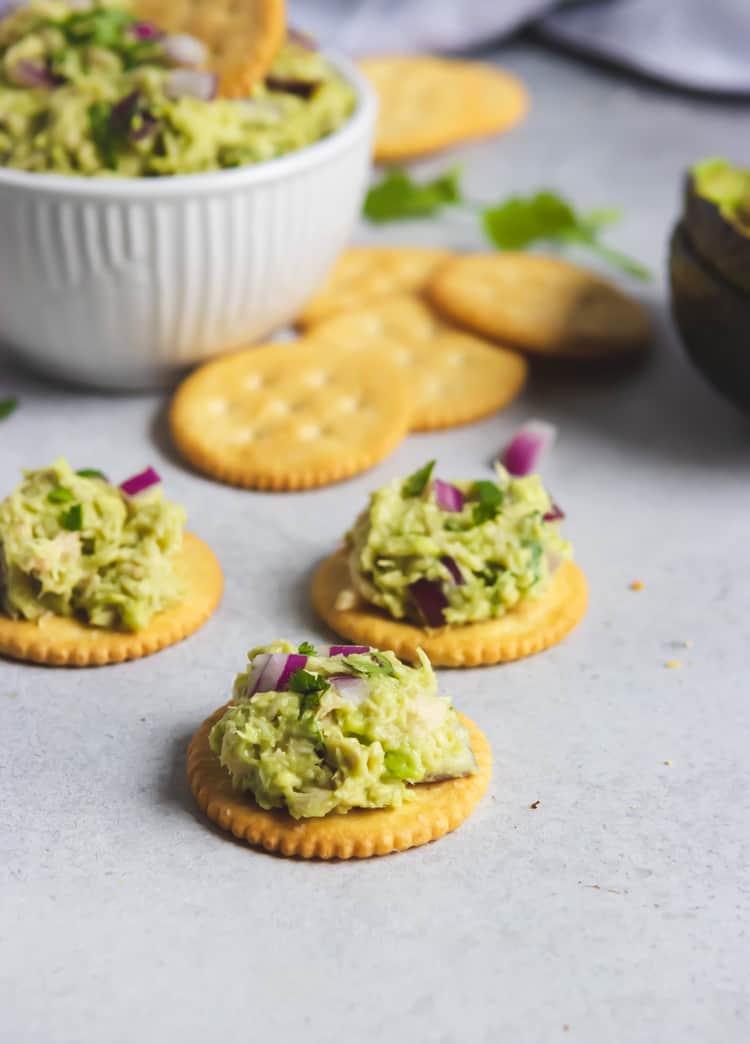 Check out these other simple salad recipes:

DID YOU MAKE ONE OF MY RECIPES? LEAVE A COMMENT AND LET ME KNOW! I ALSO LOVE TO SEE YOUR LEMONS + ZEST RECIPES ON SOCIAL MEDIA–TAG ME @LEMONSANDZEST ON INSTAGRAM OR FACEBOOK!
Avocado Ranch Tuna Salad
Skip the boring tuna salad and make this avocado tuna salad packed with fresh cilantro, avocado and ranch. Tuna will never be the same again!
Print
Pin
Rate
Ingredients
10

oz

tuna in water

2

small avocados, ripe

¼

c

chopped red onion

2

T

Ranch dressing

Juice of ½ lemon

¼

c

chopped cilantro

(I use a heaping ¼ cup)

¼

teaspoon

crushed red pepper

Sea salt and pepper to taste

Dash of garlic powder (optional)
Instructions
Remove seeds and scoop avocado into a medium bowl and mash.


Add in ranch, onion, cilantro, lemon juice and spices and mix well. If you prefer a touch more of garlic (depends on how strong the garlic tastes in your ranch dressing) add that as well.


Chill for about 15 minutes before serving.


Store in refrigerator in airtight container for 1-2 days. To keep the avocado from browning, put plastic wrap over the tuna and press it into the tuna and then add the lid on your container.

Nutrition
Calories:
263
kcal
|
Carbohydrates:
10
g
|
Protein:
16
g
|
Fat:
19
g
|
Saturated Fat:
3
g
|
Cholesterol:
28
mg
|
Sodium:
267
mg
|
Potassium:
629
mg
|
Fiber:
7
g
|
Sugar:
1
g
|
Vitamin A:
292
IU
|
Vitamin C:
11
mg
|
Calcium:
24
mg
|
Iron:
2
mg