When it comes to food, I feel that I have come to a place finally where I feel balanced. For so many years, I lived by a strict set of rules that I had to follow perfectly or else (or else what? It changed regularly but typically guilt and shame were involved.). There were good foods and there were bad foods. Good foods I could eat and bad foods were off limits entirely. I was expected to abide by the rules and guidelines that I had set out for myself. And when I ate from the condemned list of foods? Typically, it led to eating more and more of these foods, and the "b" word happened. B word? The binge of course.
You see, when we, or at least I, put specific foods completely off limits, I only set myself up for the worst. And when food is only considered black or white with absolutely no gray area, well, we are all human right? So this just can't be reality.
Tonight, I had a craving for bread and butter. And I mean white bread, not the Ezekiel bread, good old white bread. I am not sure what made me want it since every now and then I will get dinner rolls for my husband who used to be a human bread machine but has since desired it much less often, and I don't crave or want it at all. But tonight, that is what I wanted. So what did I do? I told my body to shut up and that I didn't need that bread and it wasn't the best choice, and so on and so on. Meanwhile, I munched on some almonds, pecans, carrots and hummus, a little bit of this and a little bit of that. And then finally, after eating and munching on all of the things to keep myself preoccupied, I ate the bread.
Now, I am in a place where I feel balanced and I am much better about having a scoop of Graeter's ice cream or a cookie or some other treat that I don't have on a regular basis, but tonight was different. Tonight, I went back to the black and white. Because in my mind I was so adamant about not having the bread and butter, I ate even more to try to avoid it and still was not satisfied. So by the time I allowed myself to have the piece of bread, my mentality was more in the "you blew it" phase and there was not turning back. So this one piece of bread that I wanted became another piece and then half a carton of ice cream, a granola bar, and a few other things that I barely tasted. ALL BECAUSE OF A DAMN PIECE OF BREAD!
So here I am. I did it. I binged. How do I feel? Well, naturally not great. Physically, blah. Mentally, upset, ashamed, guilty, all of the things that I used to feel all the time and really glad that this is not the norm for me. But it happened, and the hardest part now is taking the next step without holding it all over my head. I have to make the next best choice for me without the guilt, without the shame. It happened. It's over. Time to move on.
When we strive for absolute perfection in what we eat, working out, etc. we really don't do much in setting ourselves up for success. For instance, when the 'b' word would have happened 10 years ago, you would have found me at the gym the next day working out twice as long and eating less than a normal day and ultimately giving myself just a full day of punishment for falling off the wagon. How is that living? This is why it is so different now. Sure, I am not sitting here patting myself on the back or anything, but I am also not punishing myself like I used to. Instead, I am breathing. I am allowing myself to feel what I feel now knowing that, yea, sure I didn't make the greatest choices, but right now is where I start fresh. I didn't blow it, it's gone, it's done and over. I am right here, right now.
Listening to our bodies is surely a practice. Sometimes we crave certain things because our bodies are deficient in this or that. Surely our bodies don't tell us each and every day that we MUST have that piece of chocolate cake or else, but sometimes avoiding that craving will only end up pushing you over the edge. So stop, listen, breathe, observe. Do all of these things. And if you really want the piece of bread or whatever that treat may be, sit down, pull up a plate, turn off all of the distractions, and eat it. Enjoy it, savor it and don't let yourself feel an ounce of guilt. Sure it may not be the healthiest choice you have made that day, but is eating half the kitchen to avoid it worth it either?
Be good to yourself. The 'b' word just really isn't worth it.
---
So sometimes a lack of certain vitamins or minerals can cause us to crave certain things. Low on protein? Your hunger level will also shoot through the roof. So that is where this Simple Mayo-Free Egg Salad comes in. But how can egg salad be egg salad without the mayo?! Trust me, it can! Toss the mayo and grab an avocado. So many healthy fats and protein from the avocado will fill you up and have you energized until your next meal.
So I have never been big on egg yolks. I would honestly eat the whites any day over the yolk, so I only used two of the yolks in this recipes. If you are a yolk fan feel free to keep them all in. Also, I always try to buy organic and cage free eggs but when I can get them at my local farmer's market I do. And since it's farmers' market season, there are plenty to go around! This egg salad has the perfect tanginess and plenty of flavor that if you are a big mayo fan, you won't be disappointed! Throw it on some whole grain toast, dip veggies in it, or eat it straight from the bowl. I cannot get enough of this lately so I really hope that you enjoy this!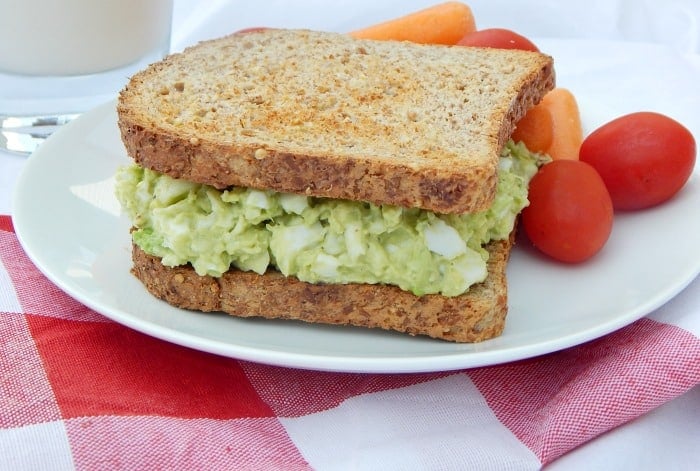 Ingredients
5

hard boiled eggs

3 whites, 2 whole eggs with yolks included

1

ripe avocado

1/2

tsp

onion powder

1/2

tsp

ground mustard

1/8

tsp

cracked pepper

Sea salt to taste

Optional: crushed red pepper
Instructions
Remove shells from eggs and yolks from 3 eggs (if desired).

Combine eggs, avocado, and seasonings into a bowl.

Using a fork, press into eggs to break down and then stir to mix with avocado.

That's it! Season to taste and enjoy as desired.