This simple shredded brussels sprout salad comes together in no time but is certain to be a crowd pleaser! Creamy dijon mustard, olive oil and a touch of sea salt and pepper are all you need to dress this salad–all things you probably have in the pantry now!
---
Who knew I loved Brussels sprouts?
I have to preface this recipe with the fact that I don't like brussels sprouts. I love pretty much every veggie in the book and have since I was a kid, but brussels sprouts? No! Yuck!
They are the one thing I will gladly turn my nose up in the air to and say absolutely no thank you. I have had them cooked many ways, but have just never been a fan. Trust me, I have tried it all.
Or at least I thought I had.
The other week, I was stopping to grab a quick lunch after teaching yoga, and a salad caught my eye. When I asked what was in the salad the first word the girl said was none other than brussels sprouts. But I was so intrigued by this perfect salad that I decided it was worth tossing in a few dollars for a bite of my least favorite vegetable in the world.
The price for about a cup of this stuff? $4.00! I was already regretting it the minute I walked out the door.
When I got to work and sat down to eat the salad I had no idea why I bought it, I was glad I had bought a sandwich as well because there was no way this was going to end well.
And then I took a bite. Oh. My. Goodness. I wanted another bite, and another, and another, until my bowl was empty and I was wishing I would have forked over another four bucks for seconds.
What was happening to me? I just scarfed down the one veggie that I despise! How could this happen?
A bit dramatic? Yes, it is. But I was pretty surprised I happen to like this. And then the real challenge came. I needed to figure out how to make this salad because I could eat this every day, and I don't have $30 bucks a week for that!
It was time to make my own Shredded Brussels sprout Salad!
So to the kitchen I went, and I am very pleased that I can now share with you my new favorite recipe with my least favorite vegetable in the planet. This Shredded Brussels Sprout Salad may get the pickiest eaters to dig in, but I won't make any promises just yet! I will say that I have now made this three times since last week and just can't seem to get enough!
What you need to make this Shredded Brussels sprout Salad:
Brussels sprouts
walnuts: I use raw, but you could toast them up or grab roasted walnuts if you prefer.
red onion
lemon juice
dijon mustard: honestly this is what MAKES this salad.
olive oil
parmesan: you can use another cheese if you want this salad 100% vegetarian. I have heard that parmesan cheese is not actually considered to be vegetarian.
cranberries: these are optional–I add them about half the time to be honest. I love it both ways.
What should I serve with this shredded Brussels sprout Salad?
I guess you could also say what should you serve ON this Shredded Brussels sprout Salad, right? Who wouldn't love a delicious piece of grilled chicken or even grilled salmon right on top??
Speaking of chicken, I think these Cornmeal Crusted Chicken Tenders would be delicious to pair with this salad!
Maybe you are up for a soup and salad kind of meal? Try this Chunky Italian Vegetable Soup to pair with this salad.
Or maybe a sandwich is what you are thinking? That's a great idea as well! This Havarti Grilled Cheese with Avocado and Baby Arugula is WHERE IT'S AT, my friends! Well, and so is this Blueberry Basil Grilled Cheese, but I feel like the Havarti is definitely going to pair better.
There's also no reason you can't have this salad all on it's own! Just thought you should know.
How do you shred Brussels sprouts?
Super simple! Cut off the stem/root of each Brussel Sprout. Toss them into a food processor and pulse to coarsely shred. You can use the slicing attachment as well. If you don't have a food processor, you can just slice them really thin. This will obviously take a chunk of time.
In a pinch? Some grocery stores sell Brussels sprouts already shredded and ready to toss in any salad. I know I have s
Looking for more brussels sprout recipes? You are in luck! I now have a couple other recipes as well!
I promise you won't be disappointed with any of these! Well, unless you really just don't like brussels sprouts no matter how they come. Then I may not be able to help!
Also check out this list of 30 amazing brussels sprouts recipes! One for every day of the month, right?!
DID YOU MAKE ONE OF MY RECIPES? LEAVE A COMMENT AND LET ME KNOW! I ALSO LOVE TO SEE YOUR LEMONS + ZEST RECIPES ON SOCIAL MEDIA–TAG ME @LEMONSANDZEST ON INSTAGRAM OR FACEBOOK!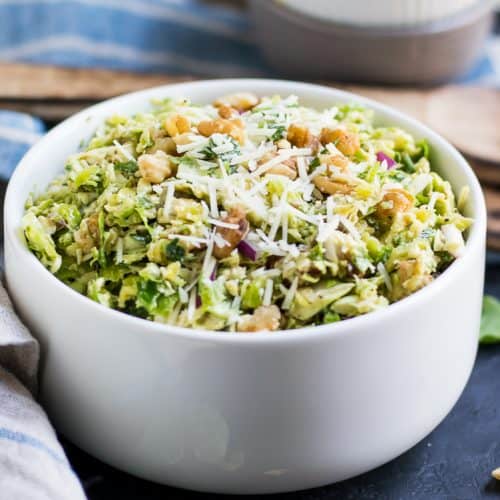 Print Recipe
Shredded Brussels Sprout Salad
Ingredients
1

lb.

fresh brussels sprouts

1

cup

chopped walnuts

1/3

cup

diced red onion

Juice of 1 lemon

3

T

Dijon mustard

2

T

olive oil

Sea salt and pepper to taste
Optional
1/2

cup

dried cranberries

1/2

cup

shredded parmesan
Instructions
Rinse brussels sprouts and cut the ends off of each and then cut each in half.

Toss all sprouts in a food processor and pulse until shredded.

Pour shredded sprouts into a large bowl.

Add in all other ingredients and toss well to combine.

Add in any optional add ins as desired.

Chill for about 10-20 minutes before serving.
Notes
I love adding a couple sliced boiled eggs to this as well!