Brussels sprouts are a great veggie to add to your dinner. They are delicious roasted, air fried, in stir fries in more. Finding the perfect dish to eat with your brussel sprouts is ideal, and these recipes will be a sure favorite for the whole family!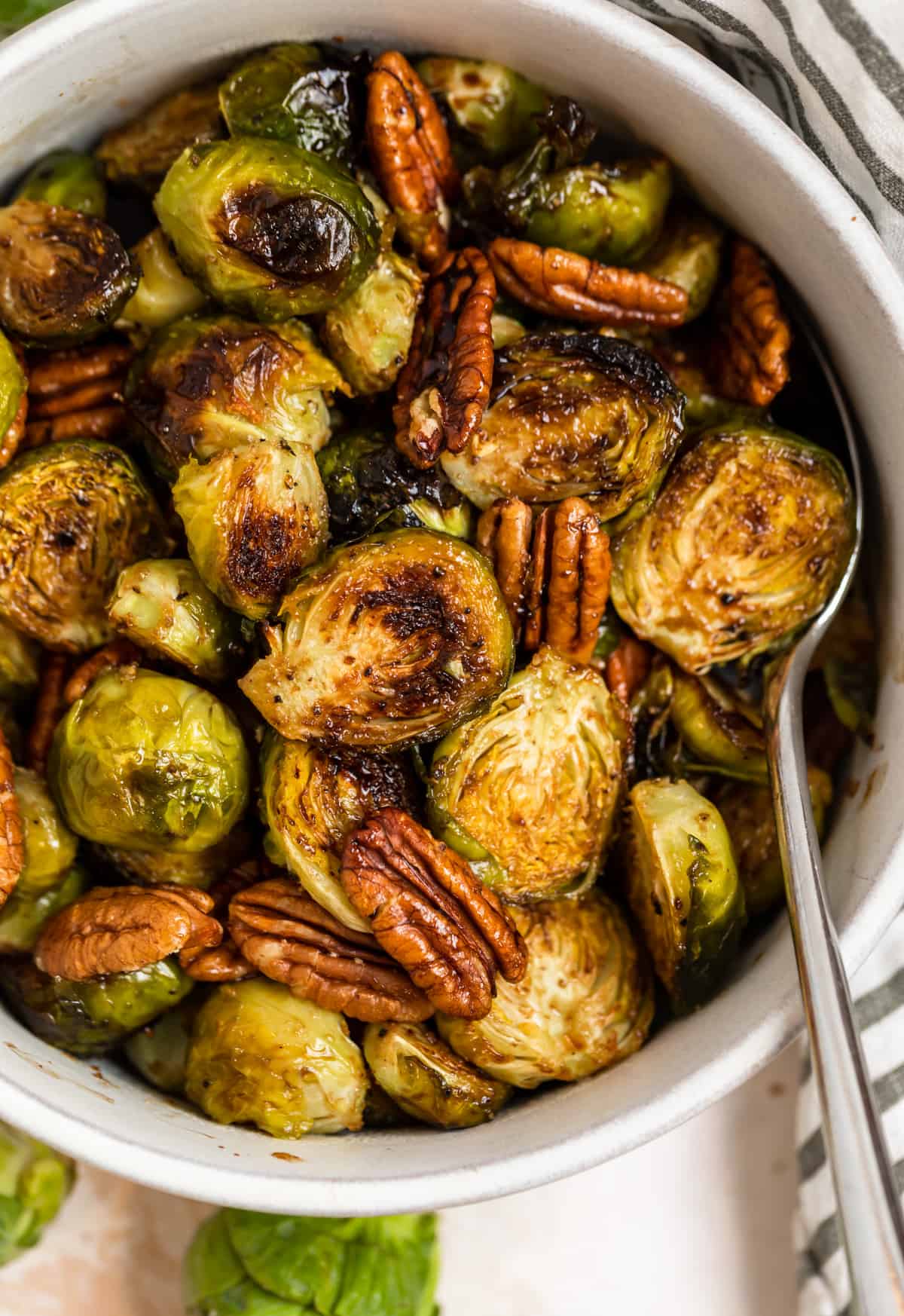 I despised Brussels sprouts until I was probably about 30. I didn't think to give them a chance before then. But now that I have, my Roasted Brussels Sprouts with Balsamic Glaze are a weekly thing!
I love tossing them in the air fryer to get them crispy as well as eating them in a Shaved Brussel Sprout Salad.
Beyond eating the cute little veggies, its also super important to determine what to eat with your brussel sprouts. I will share some of my favorites!
Why We Love Brussels Sprouts:
They are packed with all the good stuff. High in fiber, rich in antioxidants, lots of vitamins--brussels sprouts are a veggie power house for sure. Adding them to a meal is a guarantee for some good nutrition!
There are lots of ways to cook them. While roasting and air frying them seem to be the most popular these days, these veggies can be sautéed, steamed and more. You can even grill them. This means, it's hard to get bored of them too easily.
They can help prevent disease. Studies have shown that eating brussels sprouts can help prevent cancer, manage diabetes, protect your bones--lots of great things to help keep you at your best.
Brussel sprouts taste amazing! Ok, maybe not to you, but sometimes it's just a matter of finding the right way of preparing them. It wasn't until I tried them in a salad at a local restaurant served shaved that I actually started loving them. Give it a chance!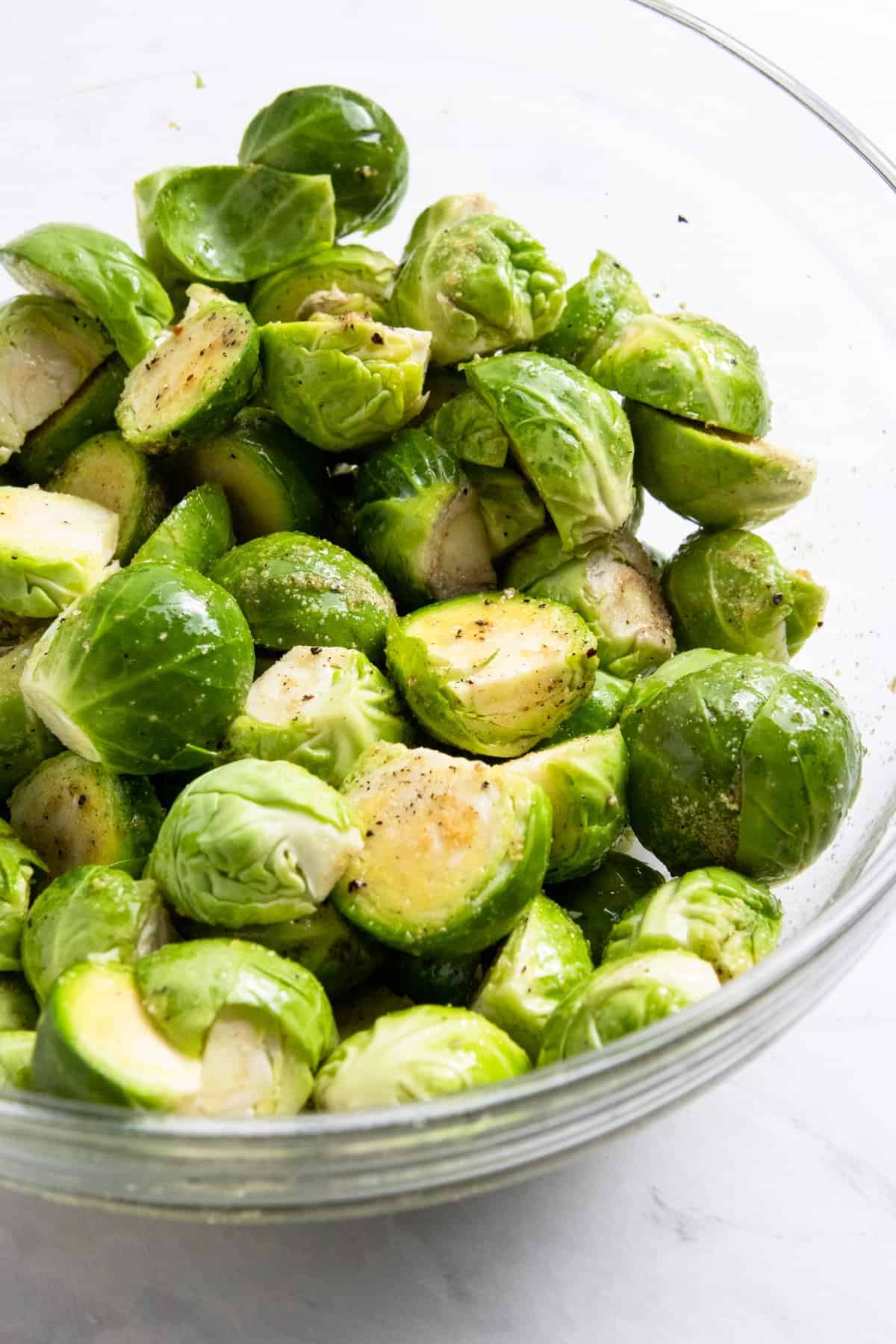 What To Serve With Brussels Sprouts:
If you are making brussels sprouts as a separate side dish for your meal, you want to pair it with just the right dish. Lots of meats do very well with them and I find the options to be unlimited.
Fish, pork, beef, chicken--there really isn't a lot you can go wrong with. A piece of meat that has been seasoned and cooked to perfection will maximize the experience of the little cabbages.
The following are some great options to eat with your brussel sprouts:
Seafood:
Chicken:
Pork:
Beef:
Vegetarian Dishes:
Other Serving Options for Brussels Sprouts:
The above recipes are ways to add a side of Brussel sprouts to your meal. You can most certainly add the veggies to a number of dishes!
Stir-fries and sheet pan dinners are great options to get the veggies right into the dish.
Slice the sprouts super thin or shred them and add them to your favorite pizza. You can also add leftover, cooked brussel sprouts to a pizza.
When making either this parmesan chicken or steak sheet pan dinner, sub the veggie for the brussels and enjoy!
Add them to a stir fry by slicing them into quarters and cooking right along with the rest of the meat and veggies. This pork teriyaki stir fry is great with brussels spouts!
Sauté shredded sprouts for several minutes and toss them with your favorite pasta dish. You can also use halved or quartered by heating them stove top in olive oil over medium high heat for about 10 minutes. Add them to this Easy Chicken Alfredo!
Enjoy these recipes, and continue to enjoy lots and lots of brussel sprouts!
HUNGRY FOR MORE? Subscribe to my newsletter and follow me on Facebook, Instagram and Pinterest for all the latest!