These Small Batch Lemon Sugar Cookies are soft and chewy and with the perfect amount of citrus to bring some sunshine to your day. One bowl and no chill–this easy recipe will be a new favorite for the whole family!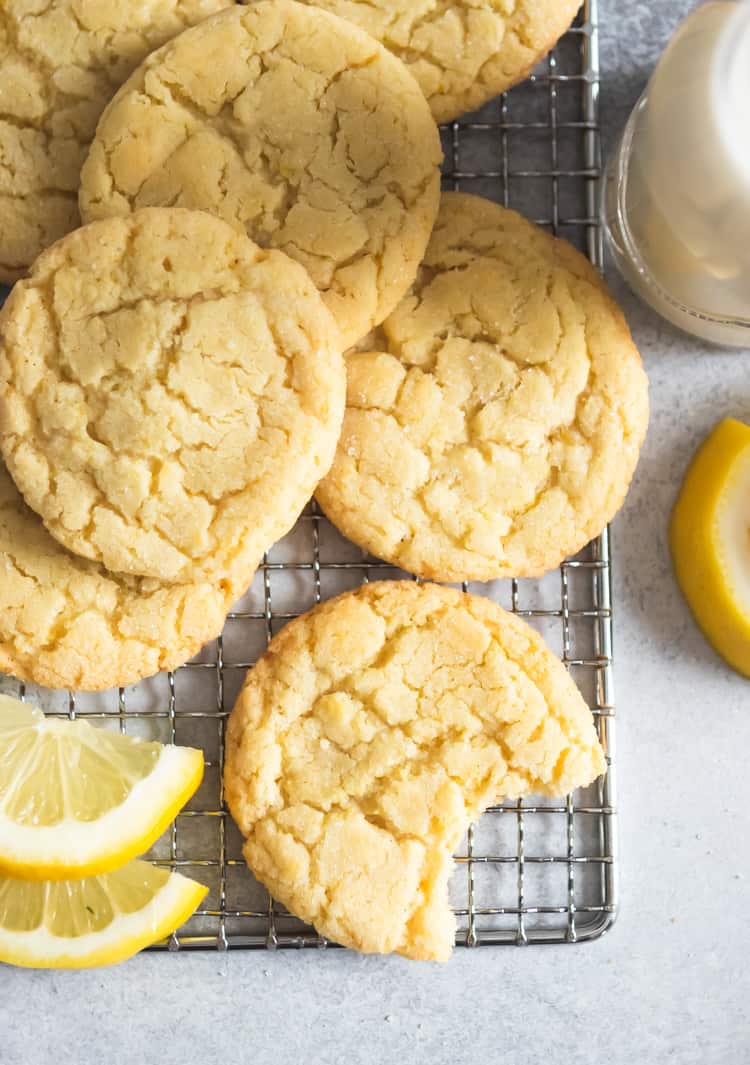 I know summer and baking don't really go hand in hand, but perhaps I can persuade you to add a little bit of oven time on a rainy day this summer. I have no doubt that one bite of these chewy lemon sugar cookies will have you feeling all the sunshine–all of it.
While I stick with a LOT of No Bake items in the kitchen over the summer, my oven still gets plenty of love during the hot and sweaty days. I have been really enjoying baking lately–something new for me–so I see even more baked goods being born as part of some rainy day boredom.
These Birthday Cake Sugar Cookies were also a bit of a stuck inside kind of boredom recipe–but no one has complained just yet!
What's not to love about cookies–any season
BUT, since I posted this One Bowl Chocolate Chip Cookie Recipe recently, I learned that all of you out there who follow along here are HUGE cookie lovers. I mean mega mega cookie lovers. And from the responses I received, small batch seemed to be a hit as well.
There are plenty of recipes out there that make several dozen cookies, but a lot of times we don't need a whole cookie jar, we just want a handful (or three). So here I am today bringing you a cookie that more than likely should be the mascot of the blog.
I bring you these chewy lemon sugar cookies and I hope you love them as much as my mom and dad did–because they demolished much of the small batch itself. My dad is a sucker for all things lemon and he can be quite the critic. If he is gonna go all in on one of my recipes, it means it's a hit in my book!
Why are my lemon sugar cookies dry?
This was what I came out with on the first batch. The cookies were dry and didn't spread much. When I lessened the amount of flour in the recipe, the cookies were much more chewy and not overly dry at all.
Why Did my lemon sugar cookies spread too much?
When I did not start these cookies out rolled in balls, they spread out into super thin and flimsy cookies. Point being? These cookies will spread all on their own. To make sure that they are the right thickness and have the perfect crinkles, start them out as rolled balls when you place them on the cookie sheet. Don't press them down at all.
Why aren't my cookies chewy?
This could be a matter of over baking. They will come out more on the crispy end if you love them in the oven too long. When you think these cookies are almost there, then they are actually probably ready to be taken out. Y
ou will notice the cookies will still be puffed up a bit and just starting to crinkle–I take them out at that point and love the texture. If you like crispy cookies, then feel free to keep them in a bit longer as well!
Do I need to chill the lemon sugar cookie dough before baking?
No, you should not need to chill the cookie dough. If you find that your cookies are spreading too thin, this could mean the dough is a bit too warm. Chill the dough for 5-10 minutes and see if that helps. On one batch I did place the dough in the fridge for about 10 minutes because I had to tend to the toddler. These cookies maybe spread the slightest bit less than the others. I didn't notice a huge difference though.
Other Notes and Pro-Tips for making these Small Batch Lemon Sugar Cookies:
Always, always always make sure to cream your butter and sugar well enough. This seems to be where I get myself in trouble when trying to cut corners. Creaming helps give the cookies the right dense texture.
Leave your butter out and allow it to soften to room temperature versus popping it in the microwave if possible. And if push comes to shove, I saw one blogger on instagram joke that her grandma puts her butter down the back of her pants to soften it. I am sure that will be a unique tradition to pass on  to your kids, right??
More lemon zest is never a problem in my opinion. Feel free to add zest from another half a lemon if you are a big lemon fan!
Check to make sure your baking powder and baking soda are both fresh. Expired leavening agents can cause issues when trying to bake. Keep them fresh!
I read that adding a touch of brown sugar is what helps sugar cookies form well and spread nicely. I found that the result of adding just a Tablespoon of brown sugar did the trick for these.
Make sure not to over bake these lemon sugar cookies. When you pull them out, you may think they are not quite ready yet, but they should be perfect that way.
Depending on the size you make these, you will get about 12-15 cookies. If you make them much smaller you may even get closer to 18. I found that rolling them into balls that were about 1 1/2 inch diameter were the perfect size for me.
CHECK OUT THESE OTHER COOKIES AND BAKED GOODS:
I can't wait to hear how these turn out for you! Keep me posted!
DID YOU MAKE ONE OF MY RECIPES? LEAVE A COMMENT AND LET ME KNOW! I ALSO LOVE TO SEE YOUR LEMONS + ZEST RECIPES ON SOCIAL MEDIA–TAG ME @LEMONSANDZEST ON INSTAGRAM OR FACEBOOK!
Small Batch Lemon Sugar Cookies
Print
Pin
Rate
Servings:
12
- 15 cookies
Ingredients
1

stick butter, softened (1/2 cup)

1

c

flour

1

c

sugar (separated)

1

T

brown sugar

2

tsp

vanilla extract

1

egg yolk

zest of 1 large or 2 small lemons

1/4

tsp

baking soda

1/2

tsp

baking powder

1/4

tsp

salt
Instructions
In a small bowl, combine flour, baking soda, baking powder and salt. Whisk together to combine.

In a medium bowl, using a hand or standing mixer, cream the butter and 3/4 c sugar until light and fluffy. (about 2 minutes or so). Add in egg, lemon zest and vanilla and beat until combined.

Slowly pour in the dry ingredients and beat just until combined--do not over mix. Roll cookie dough into about 1 1/2 inch balls and roll into the remaining 1/4 cup sugar (add sugar into a small bowl first.) and place about 2 inches apart on a parchment lined baking pan.

Bake 9-11 minutes. Allow to cool before eating.(ha--right, I burn my tongue every time)

Store in an air tight container or freeze.