These Gluten Free Blondies are rich and gooey and full of rich white chocolate chips. Just because you can't have gluten doesn't mean you should miss out on a traditional treat. This classic bar recipe is easy and delicious–everyone will enjoy them!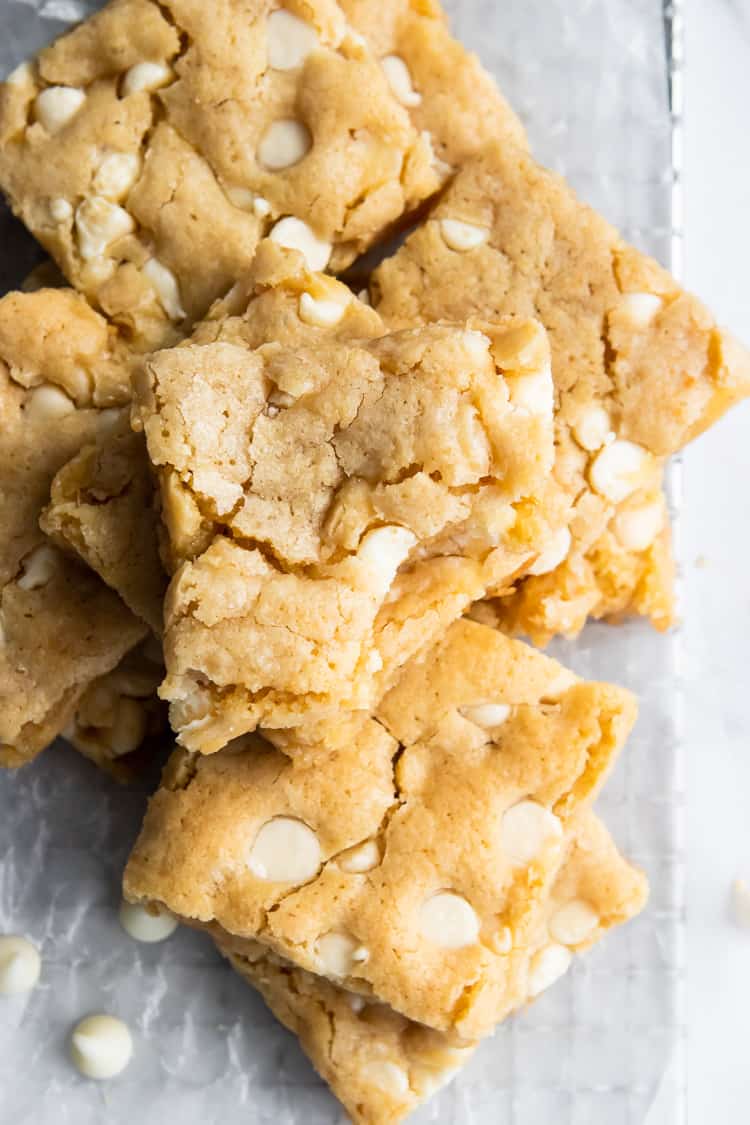 This post may contain affiliate links, meaning, at no additional cost to you, if you click through an affiliate link and make a purchase, I may make a commission.
What's ooey and gooey and white chocolate all over?? These insanely delicious and gluten free white chocolate chip blondies! And that is all you need to know today…
Ok, ok, that's not all you need to know, but after the ridiculous number of times I had to test these, this recipe is seriously ALL YOU NEED if you love buttery baked perfection.
While I don't have any issues with gluten in my own diet, I do have readers that request gluten free recipes. Who would I be to ignore such requests???! And to be honest, any and all things made with almond flour are seriously magical to me. I love the sweet toasty flavor almond flour gives baked goods and other recipes.
As for these gluten free blondies? I love the soft and chewy and all around gooey goodness that the combination of almond flour, butter and a few other things gives these bars.
First things first, What are blondies?'
Blondies are sort of like brownies without the chocolate. I consider them a cross between a sugar cookie and a chocolate-less brownie if that makes any sense at all. If done right, they have that gooey goodness of a brownie but they taste much more like a buttery cookie. And then if you add any sort of chocolate chips, they resemble even more of a cookie bar.
There are several little things that can have an impact on how blondies turn out texture-wise and I most certainly learned that the hard way. Let's just say this recipe was tested soooooo many times. So. Many. Times.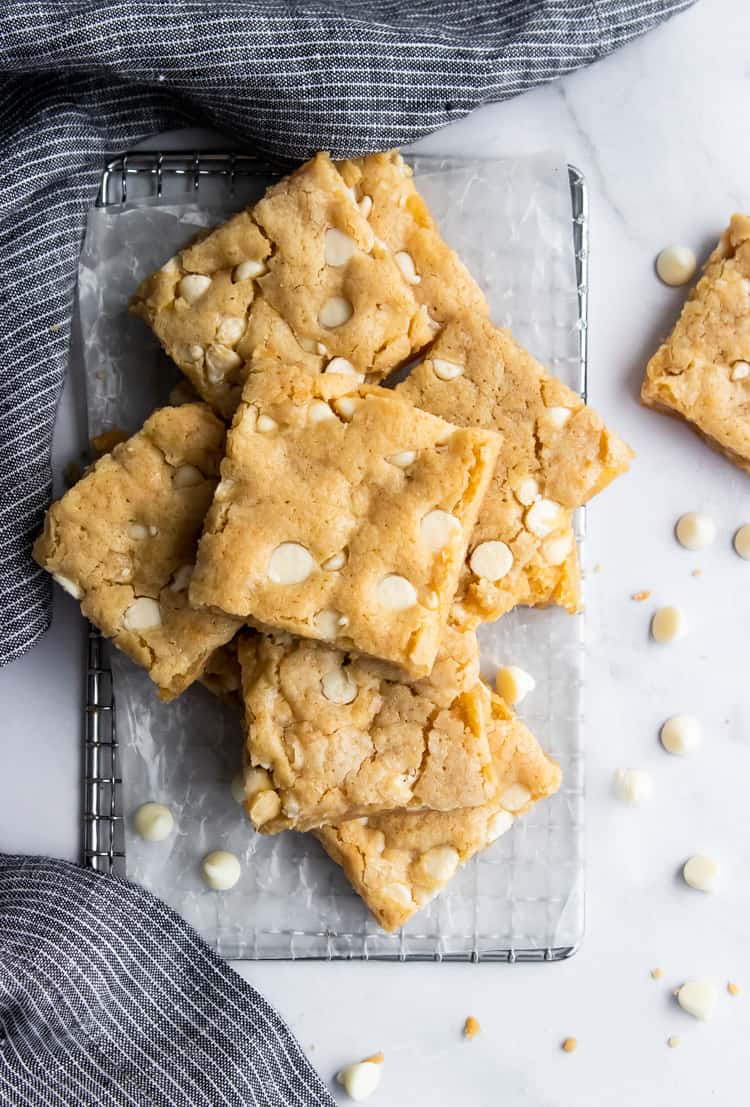 After testing and testing and TESTING these Gluten Free Blondies, I learned a few things.
The first several times I tested these blondies, I used softened butter. I thought creaming the butter and sugar would be ideal. Apparently I was very wrong and after several tries, I landed on melted butter and the difference was incredible. Using melted butter resulted in a richer and more gooey texture that resembled a brownie's texture versus just a cookie in bar form.
I also learned the power of not overcooking these, not even by a minute or two. There were a few batches that I thought looked like they needed more time. But after allowing the extra few minutes, the blondies were a bit drier and almost too chewy–and that is a thing, believe me. Pulling these out of the oven just before you think they are done is key to one heck of a blondie texure.
Aaaaaaand I learned the power of patience which to be honest, I cannot believe I still have issues with this when baking. As much as I want to literally face plant into these (and basically anything that comes out of the oven), there isa reason why things need to be cooled off. And a big part of that is the fact that they stay together!
The first cut I made after the first test I may have waited a whole 30 seconds after these things came out of the oven. Had I just grabbed a spoon, life would have been so much easier. But no, I expected to cut into the piping hot baked goods and pull out a perfect bar. Sorry Lorie, that's just not reality. Please, please, pleeeease have some patience if you want your bars to come out in one piece–K? (But in all seriousness I will still cut into these every time well before it's the right time. I can't deny it.)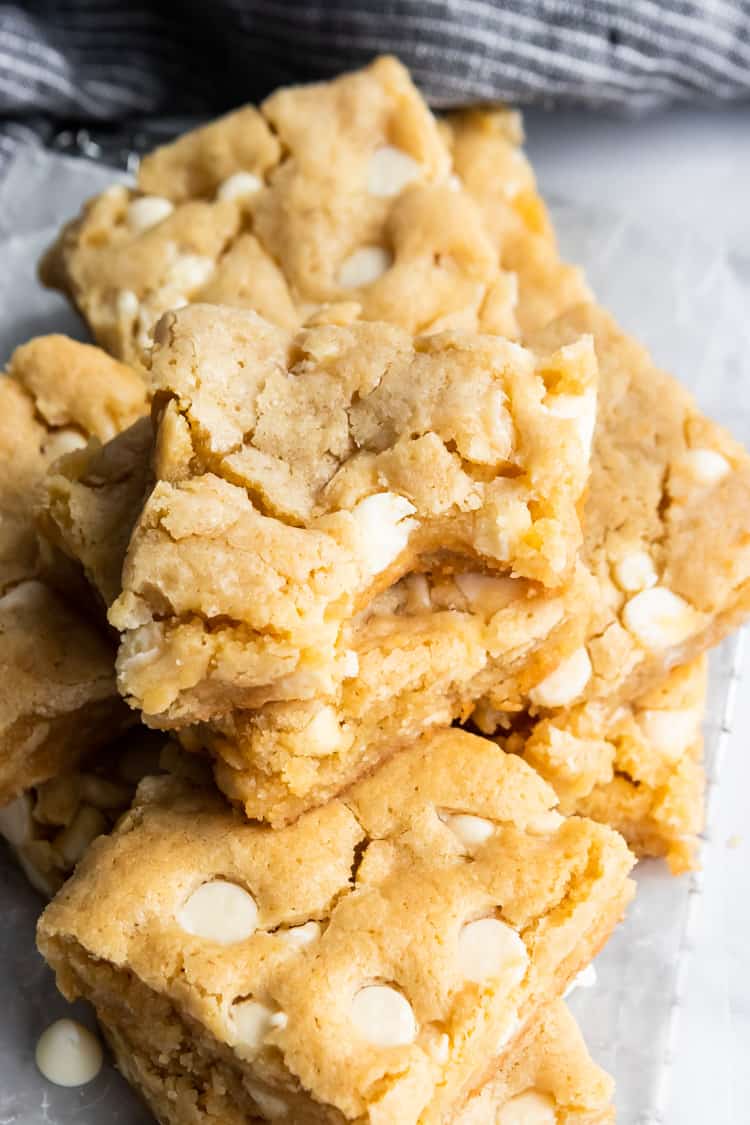 I am not sure if you feel the same way about white chocolate as I do, but I swear it should be a food group all on it's own. The number of bags of white chocolate chips in our home on any given day is far greater than the average household. And any and every time a favorite candy of mine comes out with a white chocolate version, you better believe I am first in line to grab it.
But not the white chocolate peanut M&Ms. Those were a total let down. Save yourself a few dollars and skip them. Opt for the white chocolate kit kats, reese cups and more. Those are much more worth your time.
Now don't get me wrong, I love all chocolate–dark, milk and white. And if there is anything in between, I am certain I love that too. But this girl just can't and won't say no to anything that involves white chocolate. And so let's continue on to the white chocolate we have in our presence today.
Before I talk about what went right with these blondies, let's talk about what went wrong:
First try: I did not use a 9×13 inch pan thinking it would make for nice thick bars but instead had a nicely browned top with nothing but goo in the middle. I tried to let them bake for more time, but allowing it to bake longer burnt some of the white chocolate chips as well. These bars came out in blobs to say the least. Moral of the story: choose your baking pan wisely.
Another try at these gluten free blondies and I did not grease the bottom of the pan well enough apparently. I was trying to scrape the bottom of the pan for days and not a single bar came out with it's bottom half. Tasted amazing though.
Yet another loss in the greasing department led me to believe the ideal situation for these is a parchment lined 9×13 pan. Unless you find something that works better, please share with me if you do!
One try also had not enough flour–the texture was not so good. And as I mentioned earlier, once I switched from softened butter to melted, things were soooo much better.
So learn from my mistakes people! I made them so that y0u do not have to! Imagine having the perfectly baked goodness the first try!
Here is a list of things you will need to make these blondies:
almond flour: I used a finely ground almond flour like this one from Bob's Red Mill. I always found almond flour to be not fine enough for baking but a lot of manufacturers are making them much finer these days and it is much improved.
butter: I used unsalted.
sugar
brown sugar: light brown sugar, packed
vanilla: the vanilla is one of the stars of blondies in general. If you can get your hands on a high quality vanilla, all the better!
eggs: large eggs, room temperature is ideal.
baking powder: I feel like a broken record saying this, but make sure it is not expired. It can impact the success of any baked good.
white chocolate chips: I love love love the white chocolate but if you do not, switch it up!
salt
Fun flavor variations to try of these Gluten Free Blondies:
Try them with half chocolate and half white chocolate chips. Zebra blondies!
Toss in some dried cranberries for a white chocolate cranberry flavor.
Add a hint of almond extract (1/2 tsp) dark chocolate chips and some coconut for an almond joy variety
Try adding some cinnamon (about 1-2 tsp) for a white chocolate churro blondie
Chopped pecans anyone? These would be great with some nuts tossed in as well!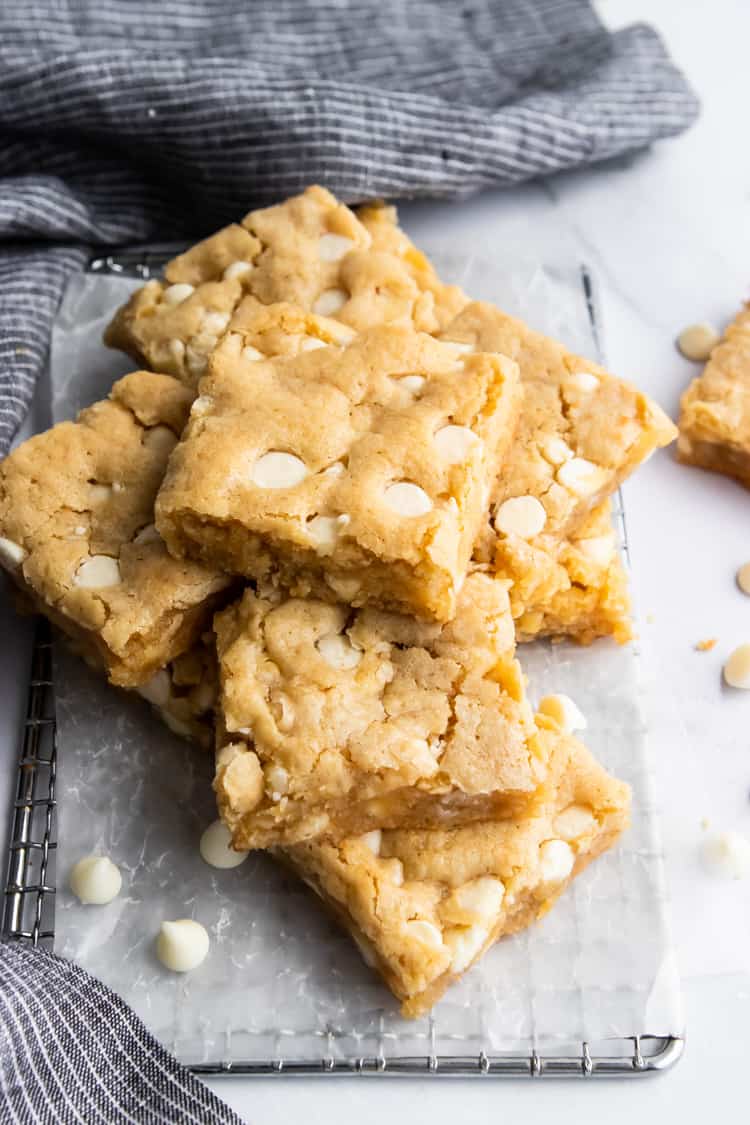 Check out these other brownie and cookie recipes for more delicious baking!
DID YOU MAKE ONE OF MY RECIPES? LEAVE A COMMENT AND LET ME KNOW! I ALSO LOVE TO SEE YOUR LEMONS + ZEST RECIPES ON SOCIAL MEDIA–TAG ME @LEMONSANDZEST ON INSTAGRAM OR FACEBOOK!
Gluten Free Blondies
These Gluten Free Blondies are rich and gooey and full of rich white chocolate chips. Just because you can't have gluten doesn't mean you should miss out on a traditional treat. This classic bar recipe is easy and delicious--everyone will enjoy them!
Print
Pin
Rate
Ingredients
2

c

almond flour

2/3

c

brown sugar

1/2

c

sugar

1/2

c

butter, melted and cooled slightly

2

eggs (large)

1

tsp

baking powder

1 1/2

tsp

vanilla extract

1/2

tsp

salt

2

c

white choclate chips
Instructions
Preheat oven to 350°F. Line a 9x13inch baking pan with parchment allowing extra to come up the sides. (You can use spray oil as well to make sure these babies come out!)

In a medium bowl, whisk together melted butter, brown sugar, sugar, eggs, and vanilla until fully combined.

In a separate bowl, whisk almond flour, salt and baking powder well.

Stir the dry ingredients into wet until just combined (try not to over stir) and then fold in white chocolate chips.

Pour into baking pan and bake for 22-25 minutes. The top will just be starting to turn a very light brown. Allow to cool completely and then dig in!
Nutrition
Calories:
213
kcal
|
Carbohydrates:
21
g
|
Protein:
3
g
|
Fat:
14
g
|
Saturated Fat:
6
g
|
Cholesterol:
27
mg
|
Sodium:
103
mg
|
Potassium:
56
mg
|
Fiber:
1
g
|
Sugar:
19
g
|
Vitamin A:
142
IU
|
Vitamin C:
1
mg
|
Calcium:
58
mg
|
Iron:
1
mg