These One Bowl Small Batch Chocolate Chip Cookies are so easy and done start to finish in about 30 minutes. This recipe makes the best chewy and soft chocolate chip cookies that are loaded with rich chocolate chips and with little clean up! Win!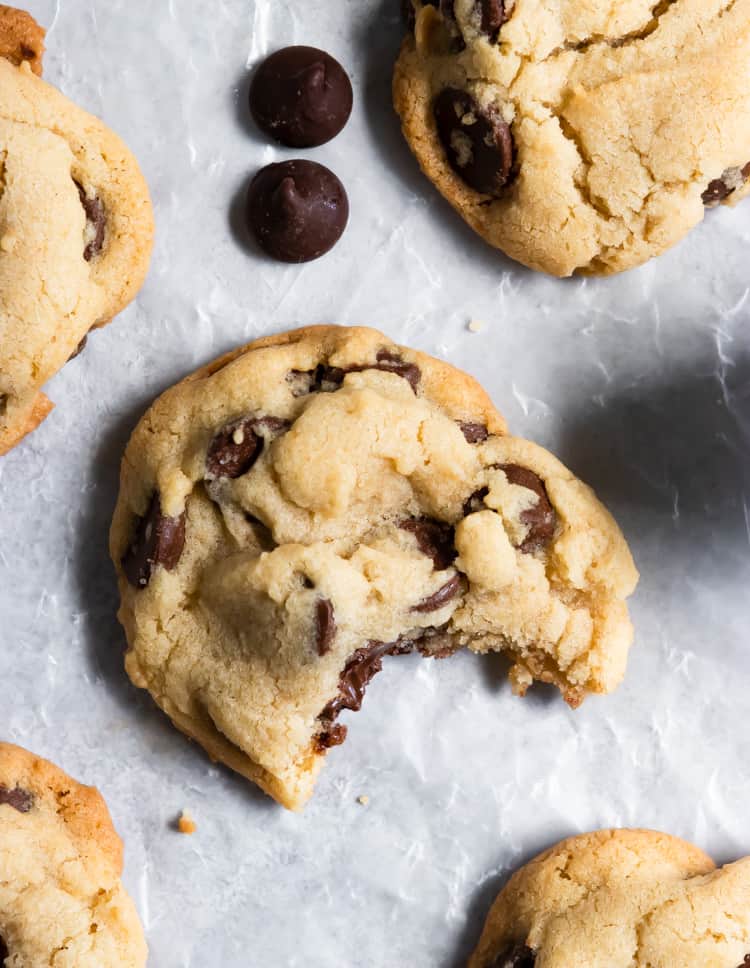 Why We all need Small Batch Chocolate Chip Cookies Sometimes.
For a long long looooooong time, I avoided baking for the most part. Aside from the fact that they require a LOT of trial and error, there are two main reasons I do it rarely. What are they? Time and mess. Baking typically takes a lot of time and it almost always means a lot of dishes to do in the end.
With a toddler around, I already have way more than my fair share of messes. On top of that, since I am always chasing him around, my time is very limited as well.
So this simple small batch chocolate chip cookie recipe is the solve to both of those problems. One bowl? Done! One batch in the oven? Done! Rich, soft and chewy cookies bursting with chocolate chips? DONE!!!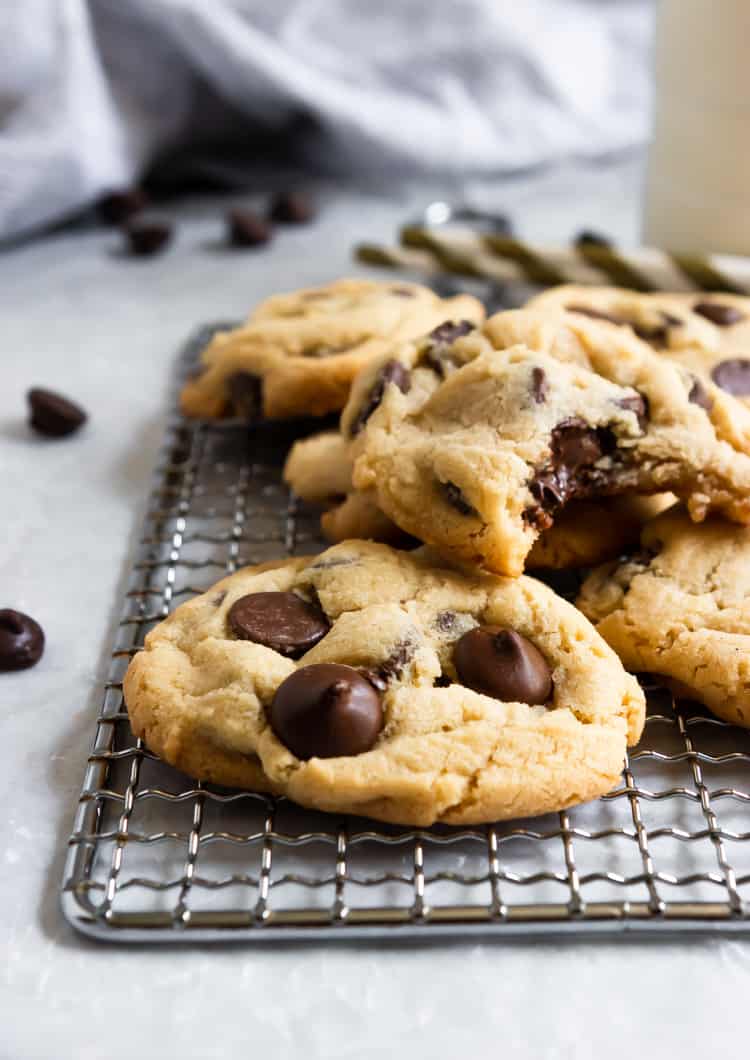 Small Batch Chocolate Chip Cookies–just the right ingredients
I have a recipe that I love for Christmas for Peppermint Chip Cookies; basically candy cane chocolate chip cookies. I decided to try to play around with that recipe and making it a half batch to see if I could find the right measurements for the perfect cookie.
It took a little bit of playing, but not as much as I thought it would since I already had a good base recipe.
I found that most small batch recipes just use a large egg yolk–just an egg yolk worked out mighty fine. Just the right amount of butter sugar, and allllll the chips, and now I have these all ready just for you.
And I mean that, just you–once you make these, you will most likely be finding a good hiding spot for them to make sure no one else gets their sticky fingers on them!
Some things to know about Chocolate Chip Cookies In General:
Can you over mix chocolate chip cookies?
Yes. And if you do, this can cause them to flatten. After you cream the butter and sugar and beat the egg in, stir in the dry ingredients just until they are fully incorporated. That should help keep them nice and soft and full.
My Cookies are flat: what happened?
There are a few things that may have gone wrong here:
You could have over mixed your dough.
Your baking soda is not fresh and has expired.
There is not enough flour or flour was improperly measured.
You used a warm pan–this can cause the cookies to start baking before they even hit the oven and spread thin.
My Cookies are spreading out and are very thin, what can I do?
This typically can mean that the dough is warmer than room temperature. If the dough is too warm, it will spread out quickly in the oven.
Pop your dough in the fridge for about 15-30 minutes or until the dough is cool and sturdy. You should be able to easily roll into balls or your scoop will form cookies that stay in form when you place them onto the baking pan.
If your dough seems very thin and runny after chilling, you still may need to add a touch more flour.
My cookies are cake like: what happened?
This could also be from several different things:
You added too much flour.
The dough is too cold. If you chill your dough, allow it to sit for a bit to come to approximate room temperature before baking.
Why aren't my cookies soft and chewy?
A big reason here is typically the fact that they are over baked. I wait until the edges just barely start to turn brown and then remove them. They may even look undercooked when I pull them from the oven, but they will be ok. Allowing them to sit for a bit helps. This should help keep them soft and chewy, as long as all ingredients were measured properly.
To chill or not to chill these cookies?
I recently tested this out. I popped the chocolate chip cookies in not chilled, chilled for 30 minutes and chilled for an hour.
If you do chill, you want to let them sit out for a minute or so before pooping in the oven. The biggest difference is how big the cookies got based on the length of time chilled.
The cookies I did not chill spread the most and the cookies chilled the longes spread the least. I still found all three cookies amazing and it's really your preference. If you find your cookies are spreading a lot more, definitely chill them!
What you will need to make these cookies:
butter: I use unsalted in my cookies. Make sure it is softened butter at room temperature.
flour: I used all-purpose for these!
egg yolk: use a large egg for this recipe.
sugar: nothing fancy, just regular, white sugar.
brown sugar: I always use light brown sugar. IOf you have dark brown sugar, you should be ok, they will turn out darker and with a bit richer molasses flavor.
baking soda: I will say this til I am blue in the face–make sure it is fresh and not expired or close to expiration. This ruins more cookies than ever necessary!
salt: I use pink sea salt. I got a big container ages ago and have been using it and loving it. You could use regular sea salt.
vanilla: No cookie is complete without it, right?
Some things to note about these One Bowl Small Batch Chocolate Chip Cookies:
Butter: Make sure the butter is softened and not melted. This will make or break these cookies. You want this dough to be at room temperature before baking. If the butter is too warm, the cookies may come out flat and hard. If yours is too warm, return the dough to the fridge to allow it to chill for a few minutes.
Don't Over bake these cookies! Unless that is your preference. But if you want gooey and chewy cookies, do not overtake them. When you see the edges start to brown a bit, you should be all set.
No chilling is required for these Small Batch Chocolate Chip Cookies, but you can chill for a bit if you need to cook them at a later time. Just allow them to return to room temperature before baking.
This makes about 8 regular sized cookies. Mine were about 3 inches or so in diameter.
All the chips! I went with 2/3 cup chocolate chips but honestly, you do you–add more if you would like.I used larger dark chocolate morsels because I like the way dark chocolate tends to photograph. The morsels were larger than your average sized chip. Switch up the flavor chips, chop of some chocolate as well or use chunks. The world is your chocolate chip cookie!
Want to freeze this cookie dough?
No problem! I scoop them into individual cookies and pop them in a freezer safe container. They can go straight from the freezer to the oven.
Bake frozen cookie dough for about 12-14 minutes at 350°F.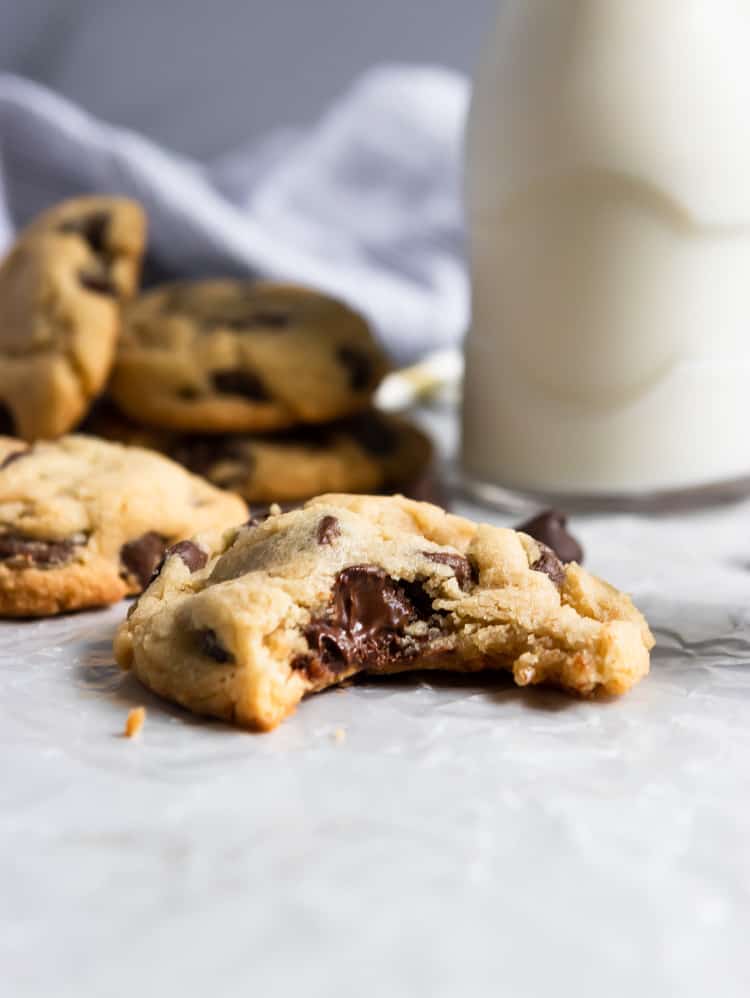 CHECK OUT THESE OTHER COOKIES AND BAKED GOODS:
DID YOU MAKE ONE OF MY RECIPES? LEAVE A COMMENT AND LET ME KNOW! I ALSO LOVE TO SEE YOUR LEMONS + ZEST RECIPES ON SOCIAL MEDIA–TAG ME @LEMONSANDZEST ON INSTAGRAM OR FACEBOOK!
Print Recipe
One Bowl Small Batch Chocolate Chip Cookies
These One Bowl Small Batch Chocolate Chip Cookies are so easy and done start to finish in about 30 minutes. This recipe makes the best chewy and soft chocolate chip cookies that are loaded with rich chocolate chips and with little clean up! Win!
Servings:
8
large cookies
Ingredients
1/2

c

flour

1/4

c

butter, softened

1/4

c

brown sugar, packed

1/4

c

sugar

1

egg yolk

1

tsp

vanilla extract

1/4

tsp

baking soda

1/4

tsp

salt

2/3

c

chocolate chips
Instructions
In a medium bowl, using a hand or standing mixer, beat butter and sugars to cream. Once creamy, add in egg and vanilla and beat to incorporate.

Shift mixture to the side and add flour, salt, and baking soda. Whisk with a fork. Using a spoon, stir the dry ingredients into wet to fully incorporate. Fold in chocolate chips.

Use a cookie scoop to spoon dough onto parchment lined or silicone lined baking sheet. Bake for 9-11 minutes or until edges become slightly browned. Remove from oven and allow to cool completely (or not, because in reality you will try to eat one and scald your tongue like I did.)

Store in an airtight container.

*** You can freeze this dough in pre-scooped cookies and bake them straight from the freezer. Bake for about 12 minutes if your cookies are frozen.
Nutrition
Calories:
214
kcal
|
Carbohydrates:
29
g
|
Protein:
2
g
|
Fat:
10
g
|
Saturated Fat:
6
g
|
Cholesterol:
42
mg
|
Sodium:
176
mg
|
Potassium:
18
mg
|
Fiber:
1
g
|
Sugar:
22
g
|
Vitamin A:
243
IU
|
Calcium:
28
mg
|
Iron:
1
mg