This Easy Snickerdoodle Recipe is like nothing before. Filled with gooey caramel and crisp cinnamon sugar edges will make for all the smiles. A glass of milk will pair nicely with these treats!
The other night I stopped to think, what recipes do people make around Christmas aside from cookies?
I mean I guess there's fudge, and the cute little pretzels with melted Hershey Kisses on top, but other than that, cookies!
It's also not a holiday where everyone sits down to turkey, so developing Christmas dinner recipes can be a bit of a challenge.
So for today, I am gonna stick with cookies.
And let me tell you about this easy snickerdoodle recipe that is filled with ooey gooey caramel--you are going to be in heaven after just a bite. HEAVEN.
why did I call this an "easy" recipe?
Don't be fooled friends. The fact that these cinnamon and sugar covered treats are oozing with caramel does NOT make them difficult to make.
You are literally just putting a piece of caramel candy into cookie dough. A kid playing with play-do could master this, and so can you.
These are easy to make. Promise.
I think of Snickerdoodles as a Christmas cookie but they are most certainly a year round kind of cookie. So please do not feel like these have to become only a holiday tradition.
To be honest, you could call it a sugar cookie coated in cinnamon--but it is not. And mainly due to one ingredient: cream of tartar. One simple ingredient makes all the difference. But why?!
Why do snickerdoodles call for cream of tartar?
Cream of tartar is one of those ingredients that I know is required in some recipes, but until now really had no idea what in the world it was actually for. From what I could gather, it adds a slight tang to a cookie and helps the cookie rise.
I always made my snickerdoodles with cream of tartar and didn't question it. No cream of tartar? That doesn't mean you can's have these caramel filled snickerdoodles. I also found that you can substitute 1 ½ teaspoon of baking powder for 1 teaspoon of cream of tartar
What you need to make this Recipe:
flour
butter: I use unsalted. Make sure it is softened. Softened butter will make a slight impression when gently pressed into with your finger. If the butter completely caves in or is super soft, it has softened too much. If you need your butter to soften quicker, cut it up into smaller pieces. That should speed up the process.
eggs
sugar: I lessened the sugar in this recipe very slightly as compared to what I would use if I doubled my lemon sugar cookie recipe which I used to help create these snickerdoodles. Since I was adding caramel to these, I didn't want them to be too sweet. I find them to be perfect and just the right amount of sweet. Had I fully doubled my other recipe, it would have been 1 ½ c sugar as compared to 1 ⅓ that I actually use in this one. I will more than likely still test these Snickerdoodles out using the 1 ½ as well and report back!
vanilla
baking soda: I will surely say this again, but make sure it is fresh and not expired. This can impact your recipes.
cream of tartar: like we said earlier, the cream of tartar sets Snickerdoodles
cinnamon
caramels: I used baking caramels. They are the soft caramels. I have a friend who tested these with the non-baking caramels and she said they didn't really melt. So I highly suggest grabbing nice and soft baking caramels. I know Kraft and Werther's makes them! The caramels I used softened nicely and melted inside so that was good for me! You can opt for ½ of a caramel in each cookie if your cookies puff up a bit too much.
What you need to know when making these Snickerdoodles:
This easy Snickerdoodle recipe makes about 24-28 cookies. It depends on how big you make the balls around the caramel.
The best time to eat these cookies is fresh from the oven as with any other cookie. If you want the caramel to be extra gooey after they have cooked, pop them into the microwave for a few seconds and you are back in the game!
I made these using chilled dough as well as un-chilled. The chilled came out with more of the pretty crinkles I like but honestly it wasn't such a huge difference that chilling is an absolute must. If you bake your first batch and they come out pretty flat or spread too much, then your dough may be a bit warm. Pop it in the fridge for a bit and you are good to go.
I hate to say this one, but you don't have to add the caramels to these Snickerdoodles, but then that basically defeats the purpose, right?? But maybe you only add the caramel to some of the cookies, a bit of a compromise, right?
Hope you love these Caramel Snickerdoodle Cookies as much as we do! My husband was a BIG fan and sweets aren't usually too much of his thing unless its ice cream. So that was a big deal!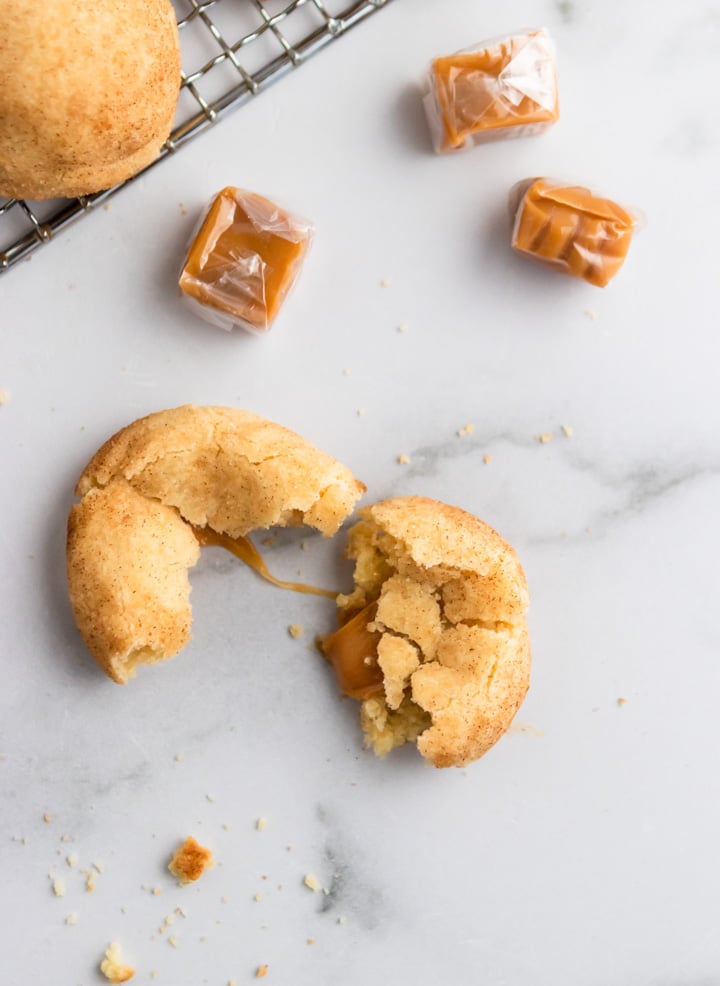 Check out these other cookies and baked goods:
HUNGRY FOR MORE? Subscribe to my newsletter and follow me on Facebook, Instagram and Pinterest for all the latest!
Easy Caramel Filled Snickerdoodle Recipe
This Easy Snickerdoodle Recipe is like nothing before. Filled with gooey caramel and crisp cinnamon sugar edges will make for all the smiles. A glass of milk will pair nicely with these treats!
Print
Pin
Rate
Servings:
24
cookies (approx.)
Instructions
In a medium bowl, cream the butter and sugar using a hand or standing mixer until light and fluffy (about 2-4 minutes.). Add in the eggs and vanilla and mix until fully incorprated.

In a separate bowl, whisk together flour, salt, cream of tartar and baking soda. Slowly add the dry ingredients into the wet and mix just until combined.

Roll the dough into small balls and then press into them (as shown above) to make a small imprint. Place the caramel in the dough and close the dough over top of it to make a ball. Make sure there is enough dough surrounding the caramel so that it doesn't melt through the bottom of the cookie completely. You can opt for just ½ of a caramel in each cookie if preferred.

Mix the sugar and cinnamon for rolling together and then roll each ball into the mixture to fully coat. Place on a cookie sheet (I always line mine with parchment) 2 ½ inches apart. Bake for 10-12 minutes or until edges become golden.

Cool on a cooling rack (don't worry, taste several when getting them there, I know that's what we are all gonna do!) and store in an airtight container.