This post may contain affiliate links.
The easiest cupcakes you will ever make--these Mocha Cupcakes secretly start with a boxed cake mix, but no one will ever guess! Adding in extra cocoa, sour cream and a few more ingredients makes these just like fresh from the bakery!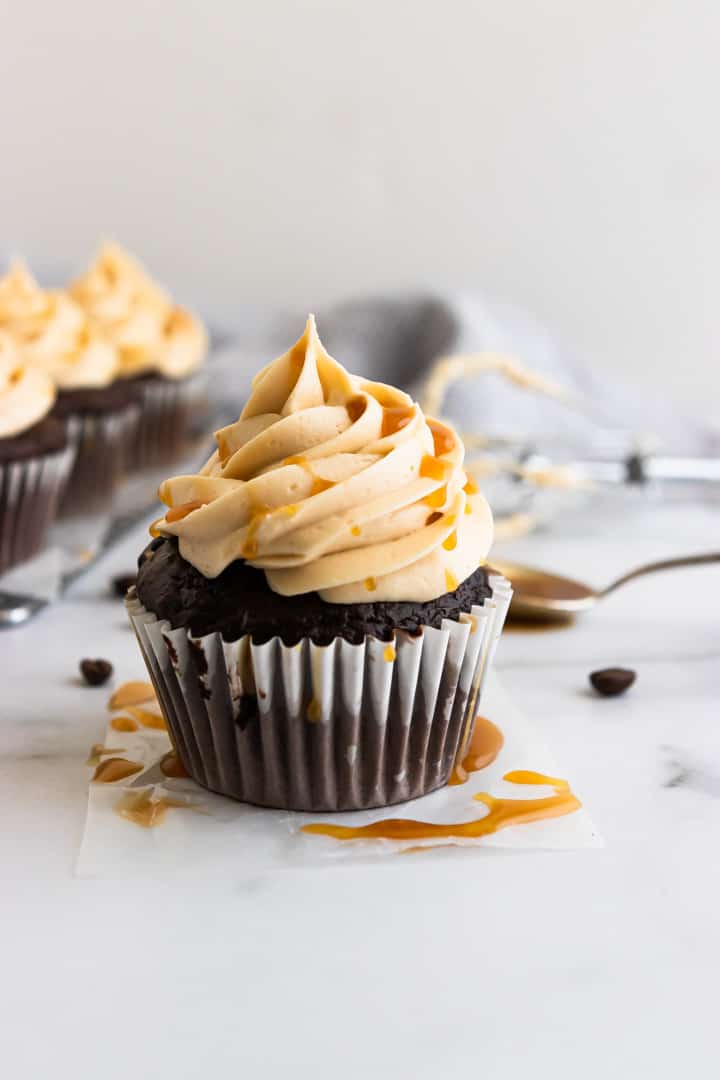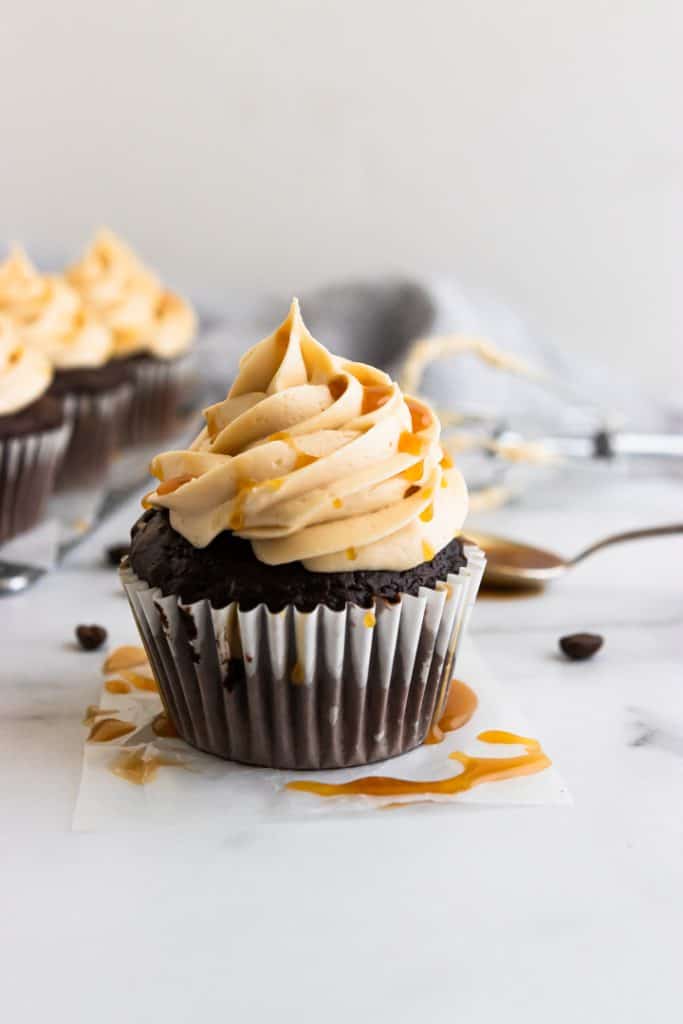 This post contains affiliate links, meaning, at no additional cost to you, if you click through an affiliate link and make a purchase, I may make a commission.
Who knew? I can bake these days! Is this a baking blog? Far from it. Am I dabbling in the art more these days? Absolutely!
And since it is my birthday month, I am celebrating with my favorite flavors wrapped up in a perfect cupcake. These Easy Mocha Cupcakes with Salted Caramel Buttercream Frosting are the newest way to my heart, and you will soon see why!
Recently I made these Easy Vanilla Cupcakes by doctoring up a classic cake mix recipe. Some call me lazy, I say I am clever. After making a cake using the same secret recipe for Sam's 2nd birthday, the rave reviews kept coming in.
Everyone thought it was the best cake they had ever tasted. Little did they know it all started with a boxed mix. Shhhhh, I won't tell if you don't tell.
These Mocha Cupcakes are the easiest!
No lie, these are just another doctored up boxed cake mix that you can whip up in a snap. And everyone will be singing your praises. Sounds fair to me!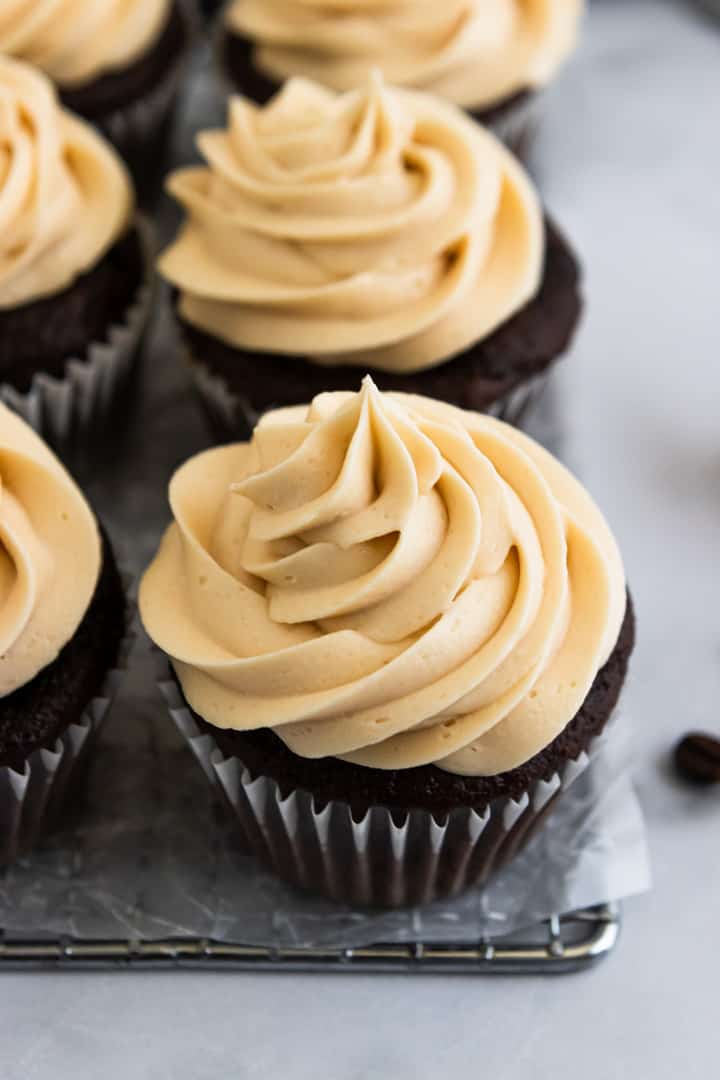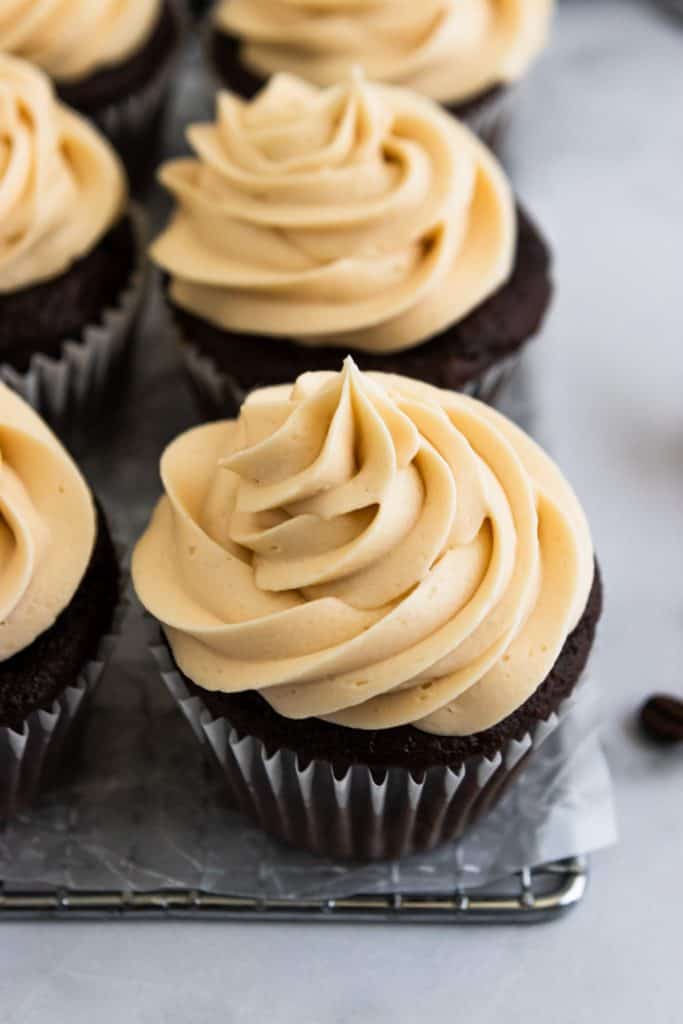 Why I love these cupcakes
I am not a big chocolate cake fan unless it involves espresso. So this is why these are ooooh so delish. The coffee!
They are so easy to make.
The frosting and cake combo is perfect.
No one will ever know you took a few shortcuts!
Did I mention they involve coffee???!
Seriously, when a treat tastes this amazing, no one is ever going to argue with you that you didn't start it all from scratch. Life gets busy, it does for all of us.
Ok so it's time to make these bad boys.
Here is what you will need to make these mocha cupcakes:
For the cupcakes:
chocolate cake mix: I used Betty Crocker Super Moist Chocolate Fudge mix because Betty never lets me down!
sour cream: I use the full fat version. I have also made these with full fat plain Greek Yogurt with success but I much prefer the flavor of with the sour cream. It is much richer.
eggs: Most cake mixes only call for three. I used 4 in my recipe. I have also made these with 3 and they were just fine. Adding the extra egg adds to the texture of these mocha cupcakes.
oil: I generally use canola oil in my baked goods. That is what I used for these.
whole milk: I have not tried making these with any other type of milk. Whole milk is where it's at for me in my baked goods!
chocolate pudding mix: an instant pudding mix is what I use.
espresso powder: this is an ingredient I am often asked about in recipes. You can find it in the coffee aisle near the instant coffees. I use this exact espresso powder in my recipes.
vanilla
cocoa powder: wait, more chocolate?? Yes! That is always what I find is missing in chocolate cake mixes. There isn't a rich chocolate flavor. So I add more!
For the Salted Caramel Buttercream Frosting:
butter: I used unsalted. If you want a stronger salt flavor to balance out the sweetness of the caramel, you could use salted butter.
powdered sugar
vanilla
sea salt
caramel sauce: I used Torani caramel sauce.
Since the caramel is added in this frosting, I did not find any milk or cream necessary in this buttercream. If you find that your frosting is too thick, you can certainly add a touch of cream into the mix.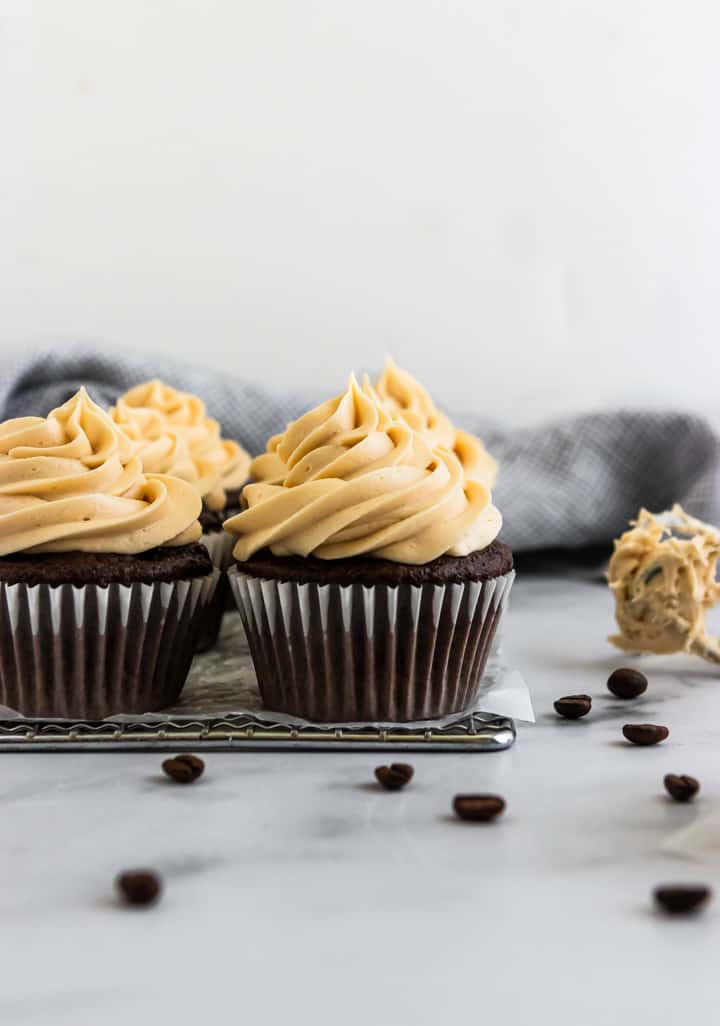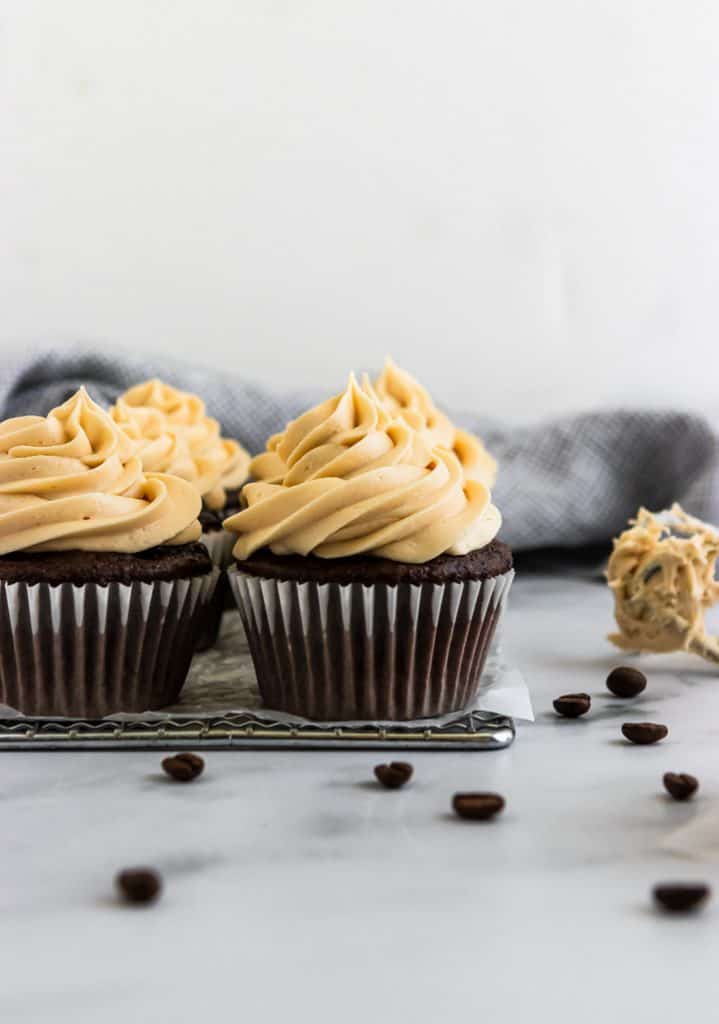 Are we ready to do this? You bet your bottom we are! Lets make cupcakes and frosting--and let's do it fast so we can eat them very soon!
Here's the kicker, this is how you make these cupcakes:
Preheat the oven and get out all of your supplies.
In a medium bowl, lightly beat the eggs. Add in the milk, sour cream, oil and vanilla and whisk to combine.
Add in cocoa powder, cake mix, espresso powder and using an electric mixer on medium to mix the ingredients together. You can opt to beat by hand for about 2 minutes.
Pour into cupcake lined cupcake pan and bake.
For the Salted Caramel Frosting:
Using an electric mixer (handheld or standing), beat softened butter on medium until light and fluffy. (2-4 minutes)
Slowly add in the powdered sugar, one cup at a time until all is used. Add in caramel, vanilla and sea salt. Beat until combined. Frost your cupcakes!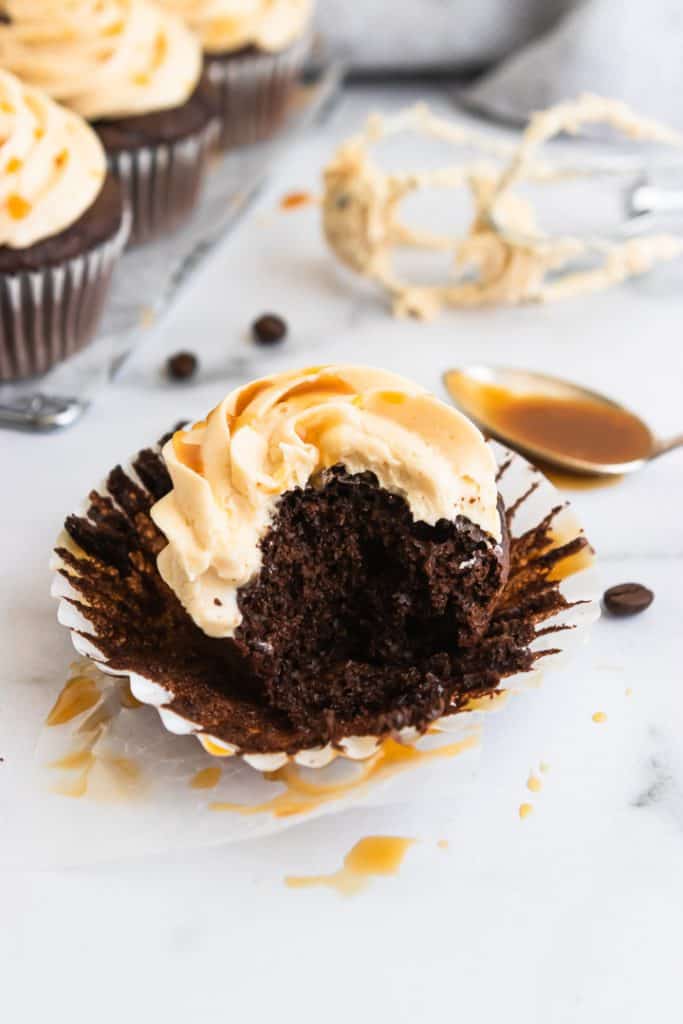 Notes:
It is very possible to overfill a cupcake tin. I always go on the lighter side as sometimes they rise big time. I fill my cupcake tins a touch over half way. ⅔ would be my absolute max. They can look really sloppy when they bake over so I try to avoid doing so. This can make for variation in the number of cupcakes you get out of this mocha cupcake recipe.
Along those notes, you do not want to over bake these mocha cupcakes. Keep a close eye on them and do the toothpick test at the earliest time and then every couple minutes if they are not ready. No one likes a dried out cupcake.
You may want just part of this recipe and that is fine. You may be a major chocolate lover and prefer to go with some Chocolate Buttercream Frosting. I totally get it. Or, you have some store bought frosting. That is cool too. Seriously, make these your own!
I think a Pirouette Cookie broken in half and placed in the icing would be a fun garnish for these cupcakes. Plus a drizzle of caramel--always more caramel!
Avoiding caffeine? I am a decaf drinker and these didn't really get to me. But I get it. If so, you can use a decaf instant coffee instead and should be fine!
Change it up with some simple Chocolate Whipped Cream on top of these cupcakes. Both are so delicious.
Try these other baked goods:
DID YOU MAKE ONE OF MY RECIPES? LEAVE A COMMENT AND LET ME KNOW! I ALSO LOVE TO SEE YOUR LEMONS + ZEST RECIPES ON SOCIAL MEDIA–TAG ME @LEMONSANDZEST ON INSTAGRAM OR FACEBOOK!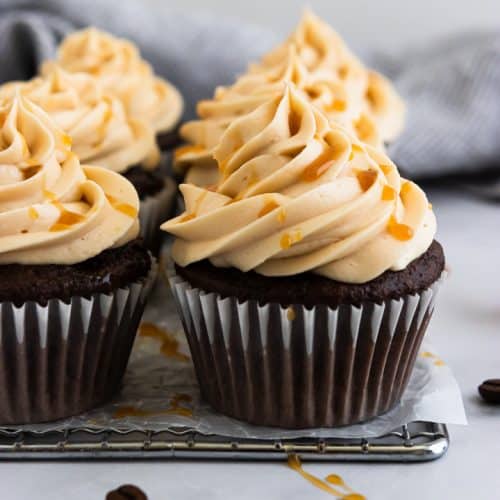 Mocha Cupcakes with Salted Caramel Buttercream Frosting
The easiest cupcakes you will ever make--these Mocha Cupcakes secretly start with a boxed cake mix, but no one will ever guess! Adding in extra cocoa, sour cream and a few more ingredients makes these just like fresh from the bakery!
Print
Pin
Rate
Ingredients
For Salted Caramel Buttercream Frosting
Instructions
In a medium bowl, lightly beat the eggs. Add in the milk, sour cream, oil and vanilla and whisk to combine. Add in cocoa powder, cake mix, espresso powder and using an electric mixer on medium, mix the ingredients together. You can opt to beat by hand for about 2 minutes.

Pour batter into lined cupcake pan filling each cup about half way. Bake for 14-17 minutes or until a toothpick just comes out clean. Allow to cool completely.

While cupcakes cool, using an electric mixer (handheld or standing), beat softened butter on medium until light and fluffy. (2-4 minutes. Slowly add in the powdered sugar, one cup at a time until all is used. Add in caramel, vanilla and sea salt. Beat until combined. Frost your cupcakes using a knife or your favorite icing piping. ***If you prefer cupcakes with lots of icing that is piped high, you will more than likely want to double the frosting recipe.***
Nutrition
Calories:
269
kcal
|
Carbohydrates:
32
g
|
Protein:
2
g
|
Fat:
14
g
|
Saturated Fat:
6
g
|
Cholesterol:
42
mg
|
Sodium:
160
mg
|
Potassium:
101
mg
|
Fiber:
1
g
|
Sugar:
22
g
|
Vitamin A:
279
IU
|
Vitamin C:
1
mg
|
Calcium:
49
mg
|
Iron:
1
mg