This post may contain affiliate links.
These Rosemary Orange Cookies are a refreshing treat with a fun twist in flavor. Naturally gluten free with almond flour and a perfect rich, buttery flavor make these chewy cookies a great holiday or any day dessert!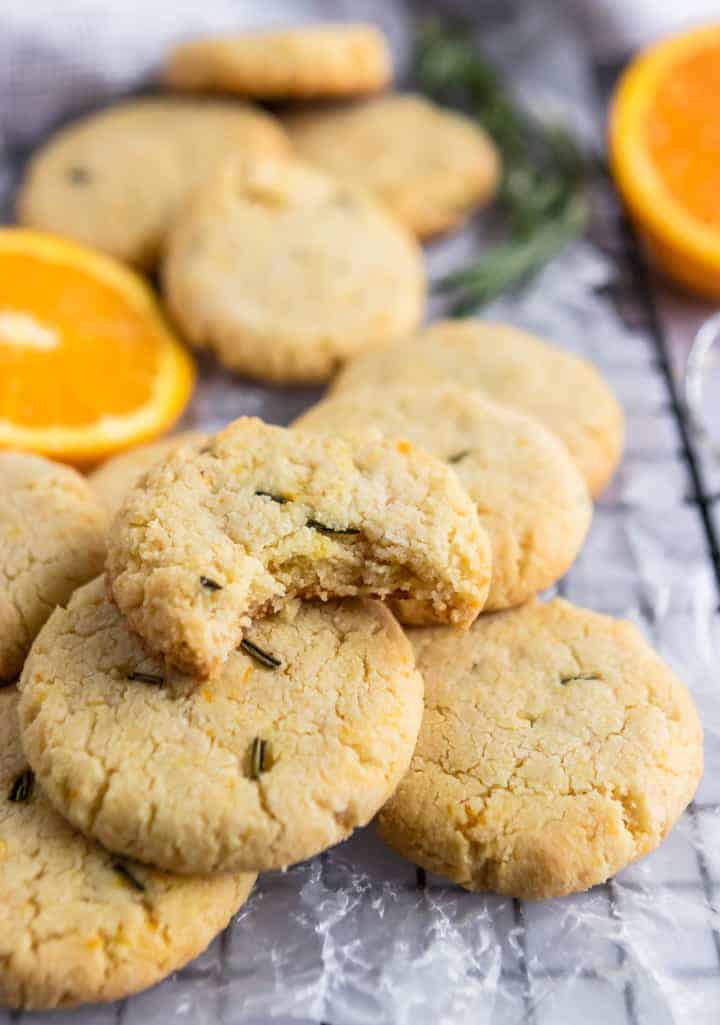 I am sitting here writing with a snack by my side. What is it? Sliced bananas, pretzel chips and Nutella. And it is amazing. Nutella, what? You mean the stuff with refined sugar? But Lorie! That ain't clean eating!
Let's start over here, like from the very beginning.
All food is good food. Even Cookies.
My name is Lorie. And I eat. I eat food--I eat all foods. I like food. In fact, I love it.
For the most part, since I opened my eyes and stopped labeling foods as good and bad, I have found that a good portion of the foods I eat are considerably healthy.
That was probably my biggest fear, that I would just go overboard, but the opposite has happened. Now that I am allowing myself anything, the once forbidden foods don't seem quite as glamorous.
Balance. It can be a thing. It is at your fingertips. You just have to let go a little.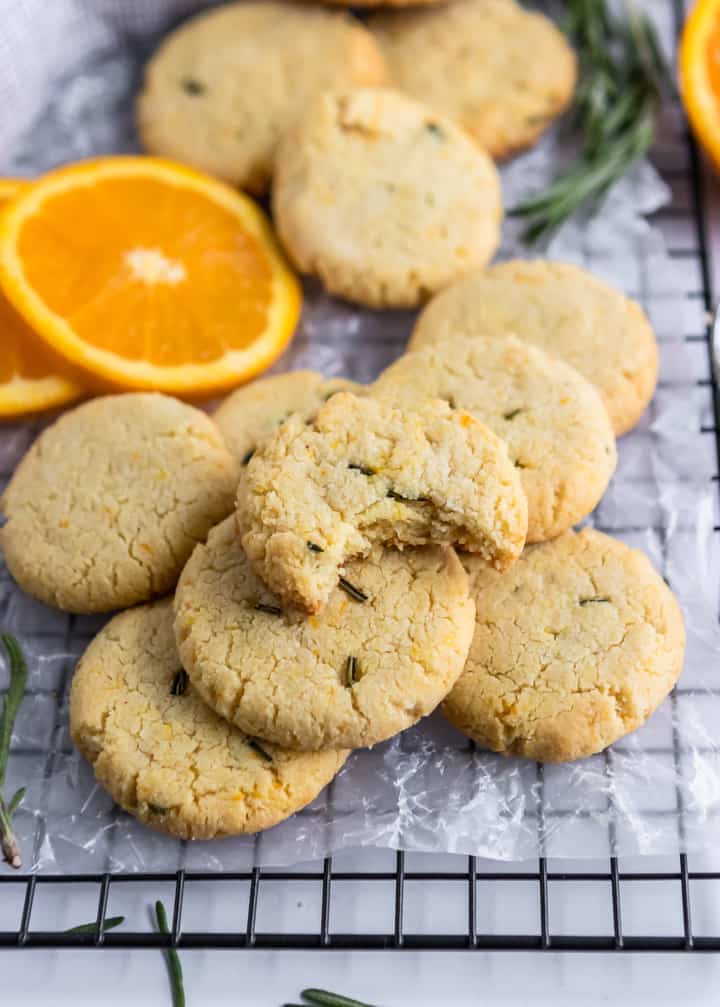 Butter, the real deal kind, used to be one of those foods I kept out of my diet. I thought it was this evil villain. Then when the Bullet Proof Coffee craze came around, I was all of a sudden like, BUTTER! We're cool, right?? Ok.
Butter is better.
When working on these new orange cookies, I knew butter was the only ingredient that would guarantee the perfect cookie. And I was so right. If you can't have dairy, you may be ok with a vegan butter, but I have not tried it so don't hold me to it!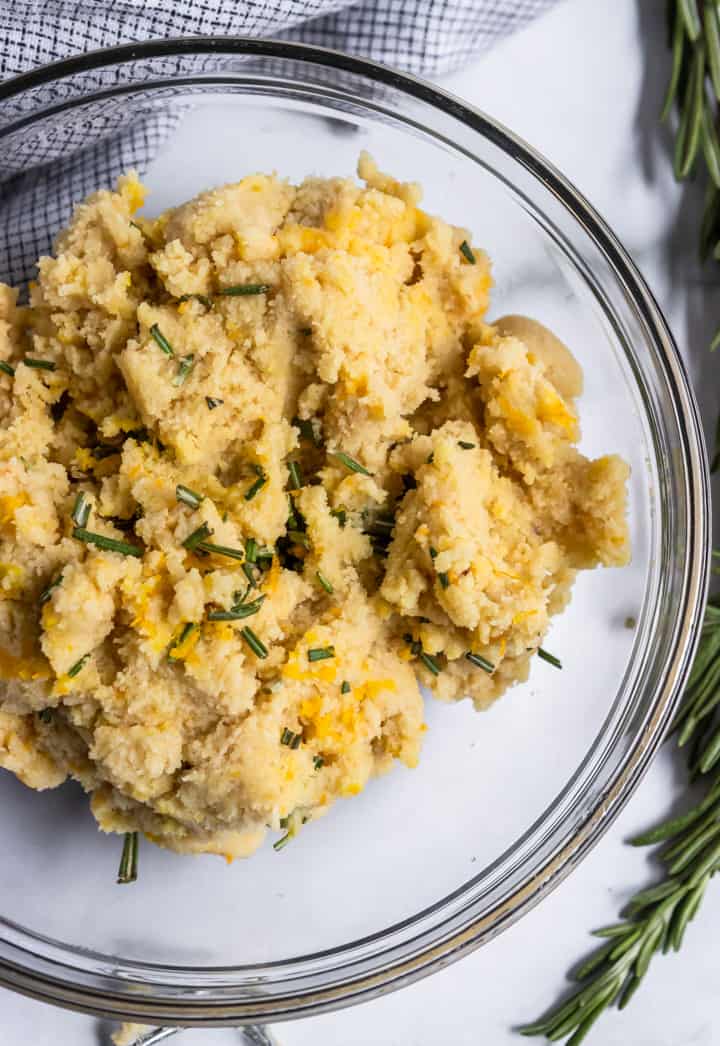 I have made these rosemary orange cookies with regular sugar, turbinado sugar and coconut sugar. I actually prefer the regular or turbinado sugar these days but the coconut sugar is great as well. Just know you have options!
So Rosemary? In a cookie?? Do it! I promise the orange and the rosemary balance each other out in the best way possible. But if you are really scared, skip the rosemary and just do the orange.
You actually can't go wrong with that either. Anthony isn't a big fan of rosemary and yet he still had no problem eating several of these, so if you need your proof, there it is.
What you will need to make these cookies:
almond flour: make sure it is finely ground. Most packages indicate that it is anymore, but you really don't want it to be coarse.
butter: yes! Perfectly softened and ready to be creamed.
sugar: I said earlier I have used several kinds of granulated sugars in this recipe. The best was with the turbinado or regular sugar.
vanilla: one of these days I am going to use a touch of orange extract as well to see what I think. If you do so, let me know!
orange zest: the more the merrier in this case. If you like it strong, go all in!
rosemary: I used fresh. I have not tried it with dried rosemary.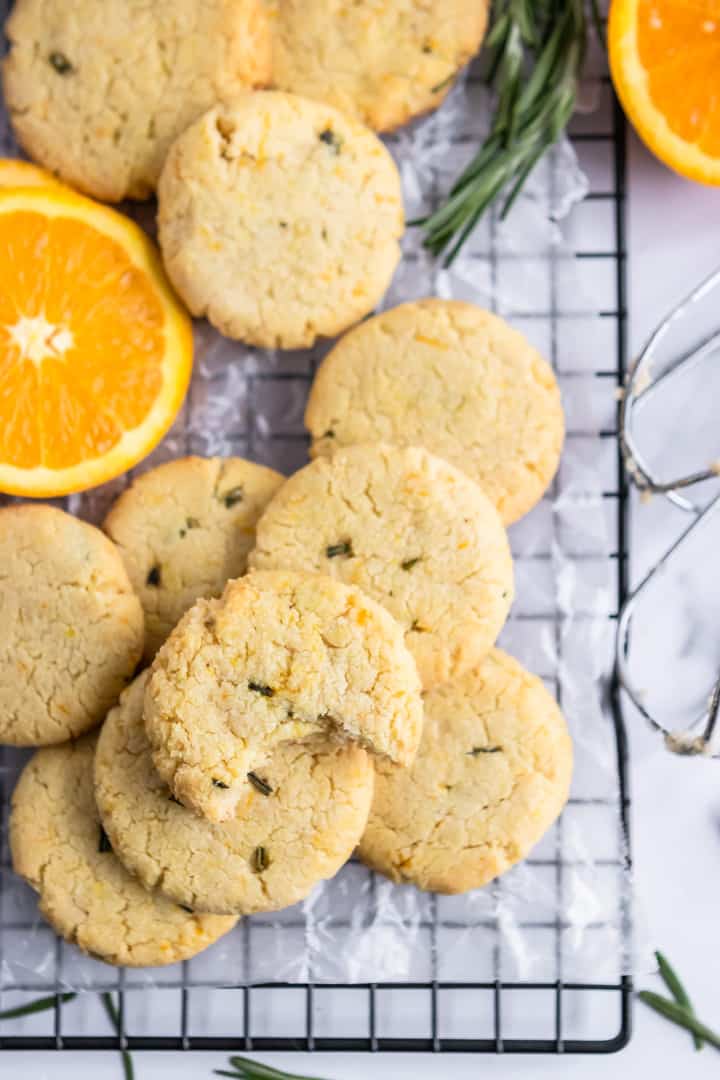 Try these other cookies and baked goods:
DID YOU MAKE ONE OF MY RECIPES? LEAVE A COMMENT AND LET ME KNOW! I ALSO LOVE TO SEE YOUR LEMONS + ZEST RECIPES ON SOCIAL MEDIA–TAG ME @LEMONSANDZEST ON INSTAGRAM OR FACEBOOK!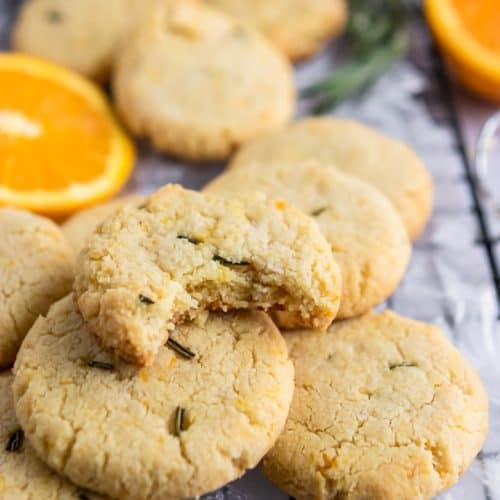 Ingredients
2 ½

c

almond flour

½

c

butter

softened (1 stick)

½

c

sugar

1

teaspoon

vanilla

Zest of 1 large or 2 small/medium oranges

1

T

chopped fresh Rosemary

¼

teaspoon

salt
Instructions
Preheat oven to 350°F.

Using a hand mixer or standing mixer, beat butter and sugar together until creamy and fluffy.

Add in vanilla and beat.

Add in almond flour ½ cup at a time and beat until all flour is mixed in.

Stir in chopped rosemary and orange zest.

Chill for 10-30 minutes if time permits for best results but not completely necessary.

Using a cookie scoop, spoon desired sized cookies onto a parchment lined baking sheet. These won't spread much so press them gently to flatten.

Bake for 11-12 minutes or until golden brown just around the edges. (Do not overcook these. They dry out quickly if you do so. It is safer to take them out just before you think they are done.)

Allow to cool on baking sheet and then transfer to cookie rack. (Wait to move these until they are cooled. They tend to break apart if you don't wait.)

Keep in an airtight container for up to one week.