Soft and chewy, just like a chocolate chip cookie should be–these Peppermint Chocolate Chip Cookies are your new favorite Christmas Cookie! Take these to the cookie exchange–or save them for yourself–loaded with candy canes and lots of chips, they will make Santa extra happy!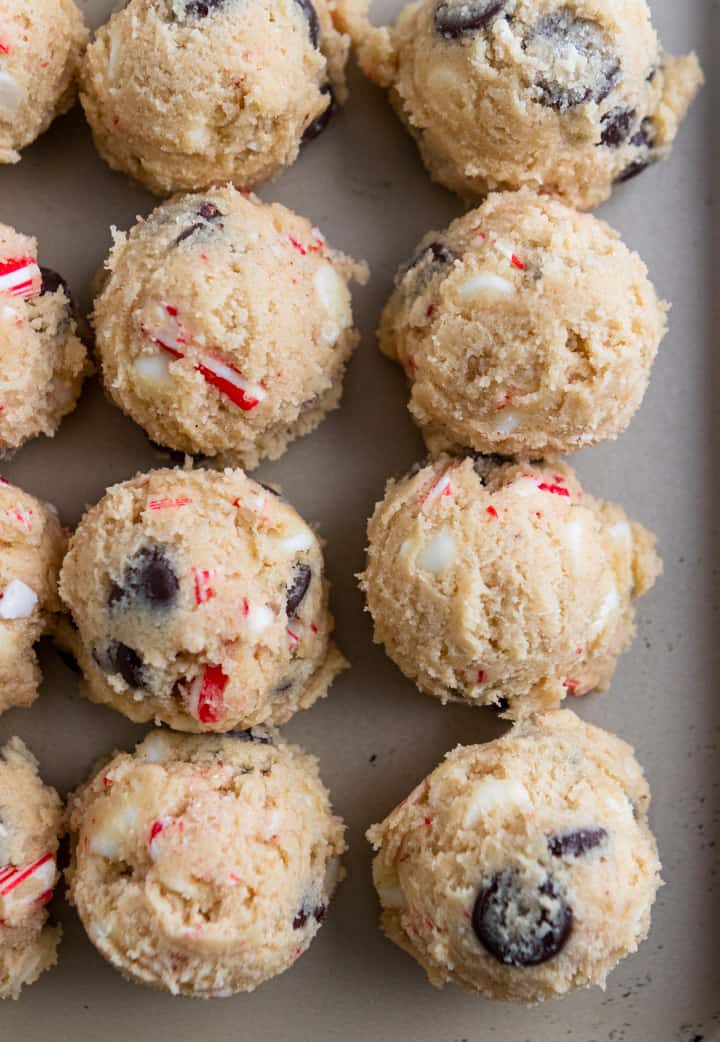 – Originally posted December 2018. Photos updated November 2019. –
It's almost National Cookie Day!
I am not sure who created this special day but whoever it was doesn't have to twist my arm to join in the festivities!
It fits perfectly with the season considering Christmas cookie baking is well under way. And don't worry if you haven't jumped on board yet, we all know we don't have to bake them to enjoy them right?!
If you are like me, then the second December hits, your taste buds suddenly need all things peppermint and chocolate.
I am a HUGE fan of this Dark Chocolate Peppermint Puppy Chow (or Muddy Buddies, whatever you call it, it tastes amazing.) from last holiday. And if you want peppermint chocolate energy bites, I've got those too!
The recent problem? I didn't have any peppermint chocolate cookies.
Let's get out the candy canes!
Clearly that problem is solved with these Peppermint Chocolate Chip Cookies. Cookies and candy canes were meant to be together–trust me, it's true. These chewy white and dark chocolate filled cookies are what Santa will be BEGGING for this year!
Something I did in years past was try to make "healthier" versions of my favorite cookies when what I really wanted was the real deal. In fact, I still come across some posts here that I forgot about with the title "Clean Eating" this or that.
When I stopped doing that, I found such satisfaction in the treats that I hadn't before.
Previous holidays, I would make a "healthy" option to take to a holiday party and try to stick to enjoying those treats versus the platefuls of goodies others had brought.
Sometimes I was able to avoid the cookies and treats from the "naughty list" only to go home and eat everything else in sight and other times I "gave in" and had one cookie from the table and decided I had blown it and then just went all in.
The end result? Guilt and shame and lots of it. All because I wouldn't let myself enjoy the treat I craved and truly wanted. All because of the rules I tried to follow. All because of fear. 
Well, NO MORE OF THAT.
This year, ENJOY. (These Peppermint Chocolate Chip Cookies, and more!)
Enjoy the delicious treats you love. Give yourself permission, take away the taboo of certain foods, stop demonizing them and make peace. Start out by noticing the joy that comes from baking with someone you love.
Bake, share, and be completely present with those that you love.
Eat and love. Love and Eat.
Holidays are special, but did you know you can have any of the special holiday foods any other time of the year as well?
Want stuffing in May? Have at it! Peppermint chocolate in September? There is no rule that says you can't! So there's no need to head into the holiday season with a last supper mentality either. These foods are yours when you want them, holiday season and all!
So have a cookie, have two cookies, whatever sounds good to you! Enjoy the treats and foods that you love–not the ones that are the "better for you" or "healthier versions" of your favorites. Eat and enjoy!
Check out some of my cookie baking tips and FAQs here before you start baking these cookies! 
Some things to note about these Peppermint Chocolate Chip Cookies:
Too much candy cane near the edges of the cookie will run. Now this is the only issue I have with these cookies and I have been able to figure out a way for the most part to help keep the candy cane from running in all directions. When you scoop the cookies onto the cookie sheet, check around the edges to see if there are any big pieces of candy cane. If there are,  either pull them out or try to press them into the dough. Having the candy cane run doesn't ruin the cookie–it just doesn't look quite as pretty!
Chilling cookie dough is always a great idea. It helps to solidify the fats in the cookie so that when baking it takes longer for them to soften. No time to chill? Not the end of the world, but there will be a difference in the chewiness of the cookie.
Always, always ALWAYS make sure that your baking soda is fresh. Old or expired baking soda can make your cookies flat. No one wants a flat cookie!
I tried to make these simple to double the batch if you are wanting to make more to share with the people you love! I have made double the batch several times with great results!
To melt or not to melt? I melted the butter in the first batch and used softened, cool butter in the second. Honestly I loved them both. There was a different chewiness to the melted butter version that I really enjoyed however in this recipe I went with the room temperature butter because that feels safer for some reason. But if you like to make cookies with melted butter, by all means, do it!
All the chips! The key to the best chocolate chip cookies is extra chips, right? Add whatever you like! I always end up throwing extra in and so can you! I loved the chocolate chunks I found at the store to add some extra texture. Chips are great as well!
Candy canes are great, but peppermint candies will work fine if it is not candy cane season.
Enjoy these Peppermint Chocolate Chip Cookies and all of your favorite treats this season and beyond!
Try these other Holiday Baked Goods and Treats:
DID YOU MAKE ONE OF MY RECIPES? LEAVE A COMMENT AND LET ME KNOW! I ALSO LOVE TO SEE YOUR LEMONS + ZEST RECIPES ON SOCIAL MEDIA–TAG ME @LEMONSANDZEST ON INSTAGRAM OR FACEBOOK!
Peppermint Chocolate Chip Cookies
Dark and white chocolate chips, and candy canes make these Peppermint Chocolate Chip Cookies such a perfect treat to celebrate the holidays!
Print
Pin
Rate
Servings:
16
large cookies
Ingredients
1/2

c

unsalted butter, softened and room temperature

1 1/2

c

flour

1/2

c

sugar

1/3

c

brown sugar, packed firmly

1

egg

1 1/2

tsp

Vanilla

1/2

tsp

sea salt

1/2

tsp

baking soda

1/2

c

white chocolate chips

1/2

c

dark or regular chocolate chips

4-5

candy canes chopped
Instructions
Using a hand or standing mixer, cream butter, sugar and brown sugar until nice and creamy. Add in vanilla and egg and beat until incorporated. You don't want to over do this part or cookies will be stiff. Just enough until the egg is mixed in (about 20 seconds.)

In a separate bowl, whisk together flour, sea salt and baking soda. Mix dry ingredients into wet ingredients until combined.

Stir in chocolate chips and candy canes--by all means, use your hands for this part as long as they are washed!

If chilling dough, seal tightly and chill up to 3 days before baking. (Allow to sit out 10-15 minutes before you bake them)

If baking, preheat oven to 350°F. Roll dough into 12 balls and line on a parchment lined baking sheet. Bake for 10-12 minutes or until cookies look slightly golden. The key here is NOT to over bake these! They may not look done but they are!

Allow to cool for several minutes before transferring to your mouth--er, a cooling rack.
Nutrition
Calories:
212
kcal
|
Carbohydrates:
30
g
|
Protein:
2
g
|
Fat:
9
g
|
Saturated Fat:
6
g
|
Cholesterol:
28
mg
|
Sodium:
177
mg
|
Potassium:
39
mg
|
Fiber:
1
g
|
Sugar:
20
g
|
Vitamin A:
205
IU
|
Calcium:
27
mg
|
Iron:
1
mg