Christmas treats that are no bake and made with only a handful of ingredients, these Christmas Golden Oreo Truffles are the best simple treat. Coated in rich white chocolate and sprinkles, this recipe is going to be a new holiday tradition!
A few years ago, I made the most delicious and beautiful mint cookie truffles for Christmas using Keebler Grasshopper Cookies. Literally the most simple recipe ever but gone in no time at our holiday party. I even added a pretty green drizzle over top of them to make them look extra minty.
Nothing compares to the real cookie--Oreo that is!
The very next year, I started my "clean eating" phase and refused to allow myself to make these even though they were amazing.
Instead, I tried to create a refined flour/sugar/anything fun free recipe to mimic those goodies. Sure they tasted good, but they were no where near the original recipe I craved.
These Golden Oreo Truffles are my way of saying welcome home, back to the life of food freedom.
There is no good food and there is no bad food. There is just food. We are the ones who demonize it and cast judgement on it. And that is why it can be so hard to feel at peace with rich and delicious treats. We have internalized them as foods that will bring about guilt.
No more, friends, no more. Not this holiday season.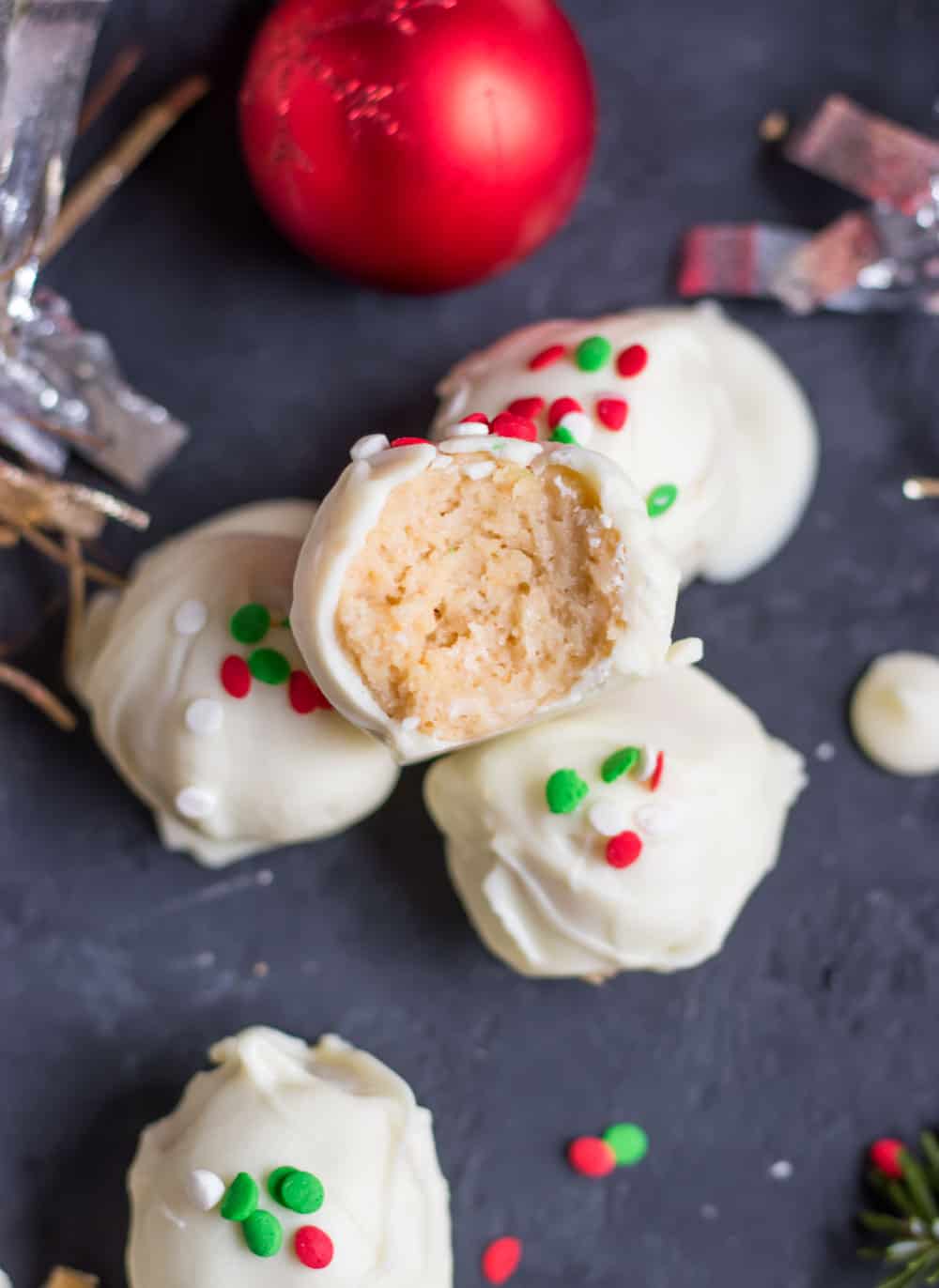 Doesn't the song say everyone wishes for Silver and Gold??? Oh yes indeed it does. So therefore, a Golden treat is found in these golden Oreo truffles.
Sure you can honestly use any other Oreo flavor but if you want a truffle that legit tastes like a sugar cookie, then look no further.
Golden Oreos are my FAVORITE.
I discovered them last year and literally am not the same. I mean, don't get me wrong, the classic Oreo is, well, classic. I am still happy to have my cookies and cream ice cream and anything else with the chocolate goodness, but the Golden Oreos just get me.
One bite into these white chocolate dipped, cream cheese cookie goodness will have you dreaming of jingle bells and mistletoe and have you right in the Christmas spirit.
But even more, you will NOT be a scrooge one bit because they were so so sooo easy to make. That certainly is a win all-around! I would say these Christmas Oreo Truffles are sounding better and better by the minute. 
Things to know about these Christmas Oreo Truffles:
While I suggest the golden Oreos, any sandwich cookie similar to an Oreo should do the trick. I know that Oreos have a lot of flavors out there these days so feel free to play around!
These can easily be made for any holiday: Valentine's Day? Red and pink sprinkles for the win! Easter gathering? Pastel sprinkles. Change the color of the sprinkles to literally make these work for any special occasion!
I love to use the double boiler method when melting chocolate but a microwave can be great as well. Definitely go with your favorite method.
While the recipe says to stir in the cream cheese, I have used the food processor to mix it in with very little issue. You just have to really break up the cream cheese into pieces and make sure it't somewhat soft.
These make amazing Christmas gifts! Package them up and treat someone on your list!
Looking for more simple holiday treats? Check these out!
And so many more holiday recipes here!
DID YOU MAKE ONE OF MY RECIPES? LEAVE A COMMENT AND LET ME KNOW! I ALSO LOVE TO SEE YOUR LEMONS + ZEST RECIPES ON SOCIAL MEDIA–TAG ME @LEMONSANDZEST ON INSTAGRAM OR FACEBOOK!
Ingredients
1

14.3 oz.

package Golden Oreos

1

8 oz.

block of cream cheese, softened

1

tsp

vanilla extract

12

oz.

white melting chocolate

sprinkles
Instructions
In a food processor, add oreos and process until fine crumbs.

Transfer to a bowl and add cream cheese (broken up into small pieces) and vanilla. I am going to say use a spoon to combine well but what I really mean is use your hands, hands work best here. Just make sure they are washed.

Roll into small, bite sized balls. (pop a few while you are at it, these are soooo good!) For best results, freeze for about 10-15 minutes.

Melt white chocolate using either double boiler method or package instructions. Roll each truffle in chocolate to coat evenly and place on parchment paper. Sprinkle with desired color of sprinkles.

Repeat with remaining balls and allow to cool and dry before eating--or don't, I certainly couldn't wait! Store in the fridge for up to one week.
Nutrition
Calories:
196
kcal
|
Carbohydrates:
22
g
|
Protein:
2
g
|
Fat:
11
g
|
Saturated Fat:
5
g
|
Cholesterol:
13
mg
|
Sodium:
106
mg
|
Potassium:
70
mg
|
Fiber:
1
g
|
Sugar:
16
g
|
Vitamin A:
131
IU
|
Vitamin C:
1
mg
|
Calcium:
42
mg
|
Iron:
1
mg