Simple roasted and maple sweetened spiced pecans recipe with a dusting of cinnamon and hints of vanilla are the perfect snack, holiday treat, salad topper and more! This easy recipe makes perfect holiday gifts as well!
My absolute favorite nuts are pecans.
I throw them on salads, oats, treats and more. If a recipe calls for walnuts, 99% of the time I am subbing pecans.
I am "that guy." You know, the one who picks out all of the pecans from the bowl of mixed nuts. Sorry, NOT sorry. I love them! Even in these Stove-top Maple Cinnamon Candied Mixed Nuts-- if there are pecans, you won't get a single one.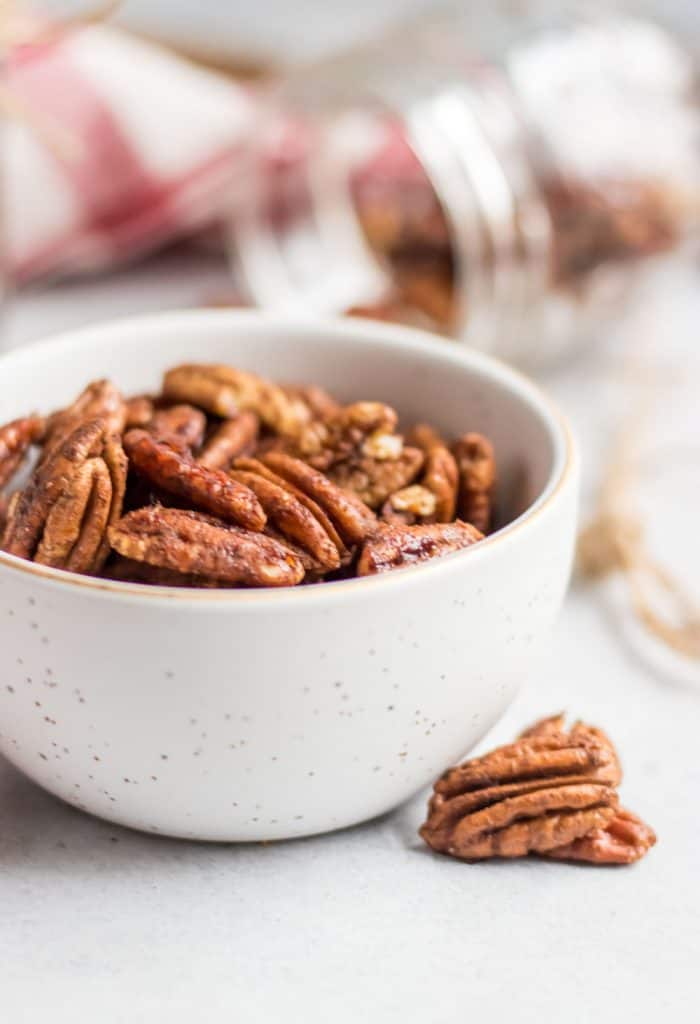 While I love my pecans straight up, you cannot go wrong with a good sweet, maple coated pecan that is perfectly spiced. Walking into a room and smelling them roasting up is heavenly.
These Maple Vanilla Spiced Pecans are so simple to make and very versatile. Not a lot of work goes into this recipe but if you share these with friends, they will think you must've gone through so much trouble to make them!
This recipe makes a perfect holiday gift!
I don't know about you, but some of my favorite gifts to receive are the edible kind. (Naturally, I mean, food is my job!!)
So who are these pecans the perfect gift for?
Aside from EVERYONE on your list? Ha, literally. But let's get a bit more specific.
teachers: I was a teacher for 10 years. A treat like this was always amazing. I know some schools are cracking down on rules with nuts as well as baked goods, so just make sure they are allowed.
neighbors: we LOVE our neighbors. Like, LOVE. I would like to get them everything and more for the holidays, but we all have our lists. A batch of some sort of goodie though is still a great way to say thanks.
the last minute guest: sometimes we have a random guest show up and we want to give them something special in return. If you keep a few jars of these around over the holidays, you will certainly be ready for everything.
postal and delivery workers: if you want to say thank you to the ones who get your goodies delivered on time and in the cold, set aside a jar for them.
a favorite waiter or waitress: I mean, I know they would appreciate a bigger tip around the holidays, but add these simple pecans to the extra tip to feel more personal.
I know there are lots and lots more we could add to the list. Who are we missing?
Also, it does NOT have to be the holiday season to enjoy these spiced pecans. Seriously, they are a year round treat. Make them Winter, Spring, Summer and Fall!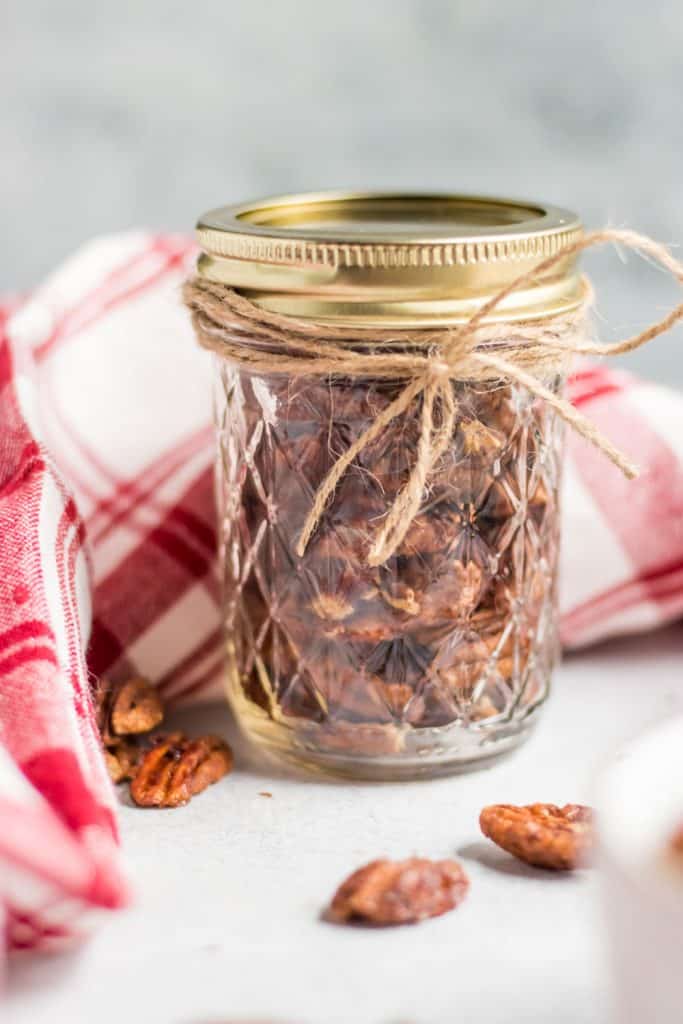 What you will need to make this Maple Vanilla Spiced Pecans Recipe:
pecans: naturally, right?? Raw pecans, that is. Pecan halves can be pretty pricey. I try to get them in the bulk section at the grocery when they are on sale. You can also use pecan pieces as they seem to be more affordable.
maple syrup: make sure it is real maple and not pancake syrup. You won't get the same richness of flavor if you don't use the real deal.
vanilla: a good vanilla extract is where it's at. You can also opt for vanilla bean powder for a stronger vanilla flavor if desired. It's not as easy to find though. I think the extract is great.
coconut oil: I have always used coconut oil in my roasted pecans. You could opt for another oil such as canola if desired. I like the slight sweetness and the flavor of the coconut oil. If you are not a fan of the coconut flavor, grab a jar of refined coconut oil.
cinnamon: any kind of cinnamon will do! I am a fan of Ceylon. I am also a fan of the store brand in the little tin container at the grocery for $1.49!
sea salt: a touch of sea salt is great to enhance the flavor of the spiced pecans. You could skip it if you'd like, but I love the touch of salt.
Some things to Note when making this Maple Vanilla Spiced Pecan Recipe:
The maple will settle to the bottom of all of the pecans. It will then become nice and crunchy and candy like. If you don't want too much of this, try spooning out the pecans from the bowl with a slotted spoon to allow excess maple to strain. This will allow for enough so that the pecans will stick together a bit, but there won't be too much.
Allow these to cool completely before breaking them up if you like crunchy clusters of pecans.
You do not have to stop at cinnamon when it comes to the spices. Feel free to play around. Add a touch of cloves or ginger. Maybe you are feeling some pumpkin spice. A touch of cardamom would be nice as well. Have fun playing!
You can eat these spiced pecans by the handful or you can literally put them on just about ANYTHING. Oatmeal, ice cream, salads, chopped up on sweet rolls, and so much more.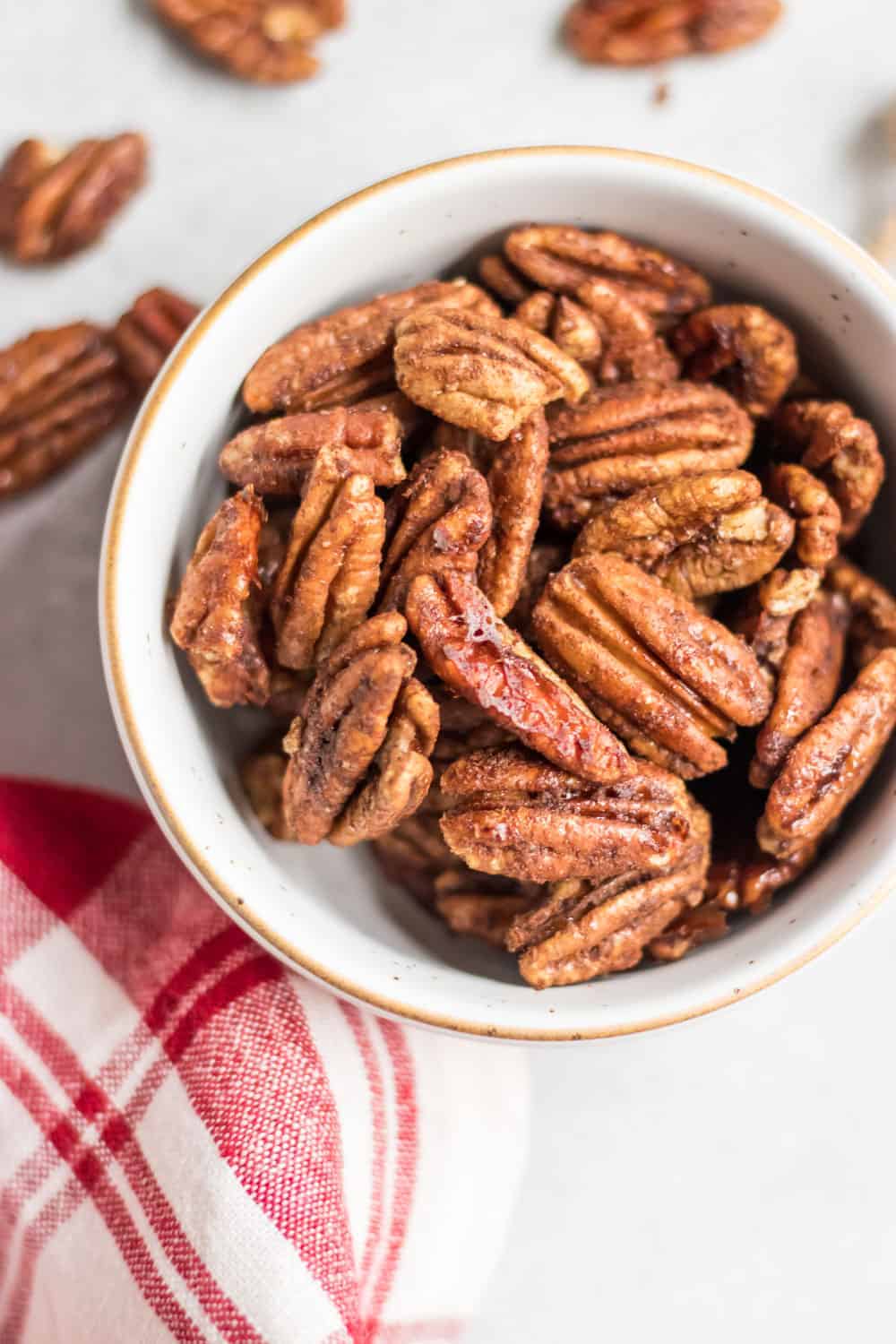 Try these other holiday recipes:
DID YOU MAKE ONE OF MY RECIPES? LEAVE A COMMENT AND LET ME KNOW! I ALSO LOVE TO SEE YOUR LEMONS + ZEST RECIPES ON SOCIAL MEDIA–TAG ME @LEMONSANDZEST ON INSTAGRAM OR FACEBOOK!
Maple Vanilla Spiced Pecans
Simple roasted and maple sweetened spiced pecans recipe with a dusting of cinnamon and hints of vanilla are the perfect snack, holiday treat, salad topper and more! This easy recipe makes perfect holiday gifts as well!
Print
Pin
Rate
Instructions
Preheat oven to 300° F.

Combine pecans, maple syrup, vanilla and coconut in a small mixing bowl. Stir until all of the pecans are coated.

Add in cinnamon and stir until pecans are evenly coated.

Spread pecans on a baking sheet lined with parchment paper.

Bake for about 25 minutes.

Let cool completely before eating and store in an airtight container.
Notes
This is the base recipe and then you can easily spice things up more by adding:
a pinch of nutmeg
½ teaspoon pumpkin pie spice
1 teaspoon ginger
and more!
Recipe originally posted in February 2015. Post updated in December 2019 to add more detail about the recipe and recipe notes