Simple roasted and maple sweetened spiced pecans recipe with a dusting of cinnamon and a hint of vanilla are the perfect snack, holiday treat, salad topper and more! This easy recipe makes perfect holiday gifts as well!
My absolute favorite nuts are pecans. I throw them on salads, oats, treats and more.  If a recipe calls for walnuts, 99% of the time I am subbing pecans.
I am "that guy." You know, the one who picks out all of the pecans from the bowl of mixed nuts. Sorry, NOT sorry. I love them! Even in these Stove-top Maple Cinnamon Candied Mixed Nuts-- if there are pecans, you won't get a single one.
These maple vanilla roasted spiced pecans are my favorite for all things holiday and beyond. Love eating them, receiving them and gifting them!
Why You Will Love These Maple Spiced Pecans:
They take all of 5 minutes to prep. Stir and toss onto a pan. That is ALL. The delicious flavor will wow you and the lack of effort will amaze you!
These pecans keep for quite a while. Unlike a lot of holiday treats, these pecans will keep for several weeks. At room temperature and in an air tight container, they are good for quite some time!
A great treat to gift. I love giving food gifts. These pecans are a fun alternative to cookies. I like to add them to mason jars and add a bow. I often add this holiday bark and Christmas puppy chow as well to the gifting treat list.
Perfect for the party spread. Whether you have a table full of appetizers or the perfect charcuterie board, these roasted spiced pecans are an incredible addition. I love to pop them in a big bowl and set it with all the snacks. They are gone so fast--fair warning.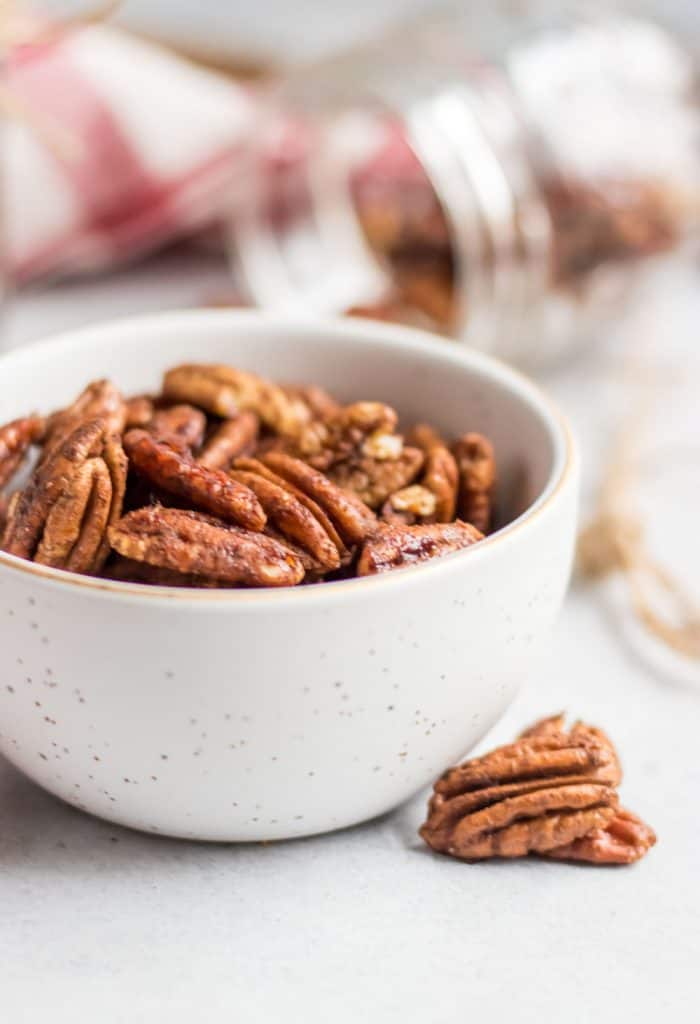 What you will need to make this Maple Vanilla Spiced Pecans Recipe:
pecans: naturally, right?? Raw pecans, that is. Pecan halves can be pretty pricey. I try to get them in the bulk section at the grocery when they are on sale. You can also use pecan pieces as they seem to be more affordable.
maple syrup: make sure it is real maple and not pancake syrup. You won't get the same richness of flavor if you don't use the real deal.
vanilla: a good vanilla extract is where it's at. You can also opt for vanilla bean powder for a stronger vanilla flavor if desired. It's not as easy to find though. I think the extract is great.
coconut oil: I have always used coconut oil in my roasted pecans. You could opt for another oil such as canola if desired. I like the slight sweetness and the flavor of the coconut oil. If you are not a fan of the coconut flavor, grab a jar of refined coconut oil.
cinnamon: any kind of cinnamon will do! I am a fan of Ceylon. I am also a fan of the store brand in the little tin container at the grocery for $1.49!
sea salt: a touch of sea salt is great to enhance the flavor of the spiced pecans. You could skip it if you'd like, but I love the touch of salt.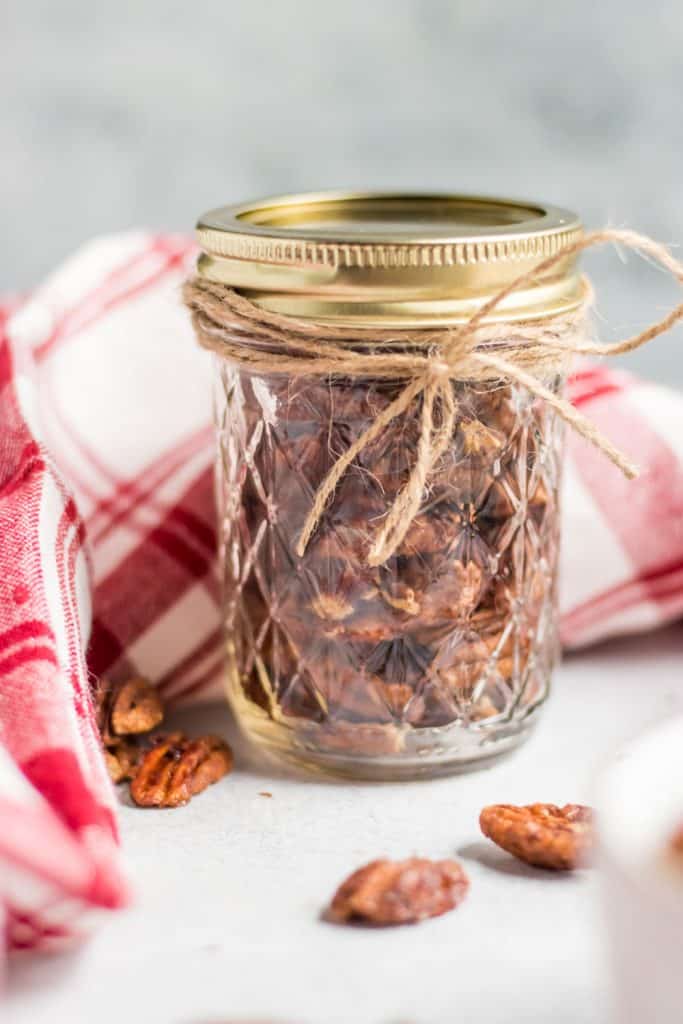 Recipe Notes:
The maple will settle to the bottom of all of the pecans. It will then become nice and crunchy and candy like. If you don't want too much of this, try spooning out the pecans from the bowl with a slotted spoon to allow excess maple to strain. This will allow for enough so that the pecans will stick together a bit, but there won't be too much.
Allow these to cool completely before breaking them up if you like crunchy clusters of pecans.
You do not have to stop at cinnamon when it comes to the spices. Feel free to play around. Add a touch of cloves or ginger. Maybe you are feeling some pumpkin spice. A touch of cardamom would be nice as well. Have fun playing!
You can eat these spiced pecans by the handful or you can literally put them on just about ANYTHING. Oatmeal, ice cream, salads, chopped up on sweet rolls, and so much more.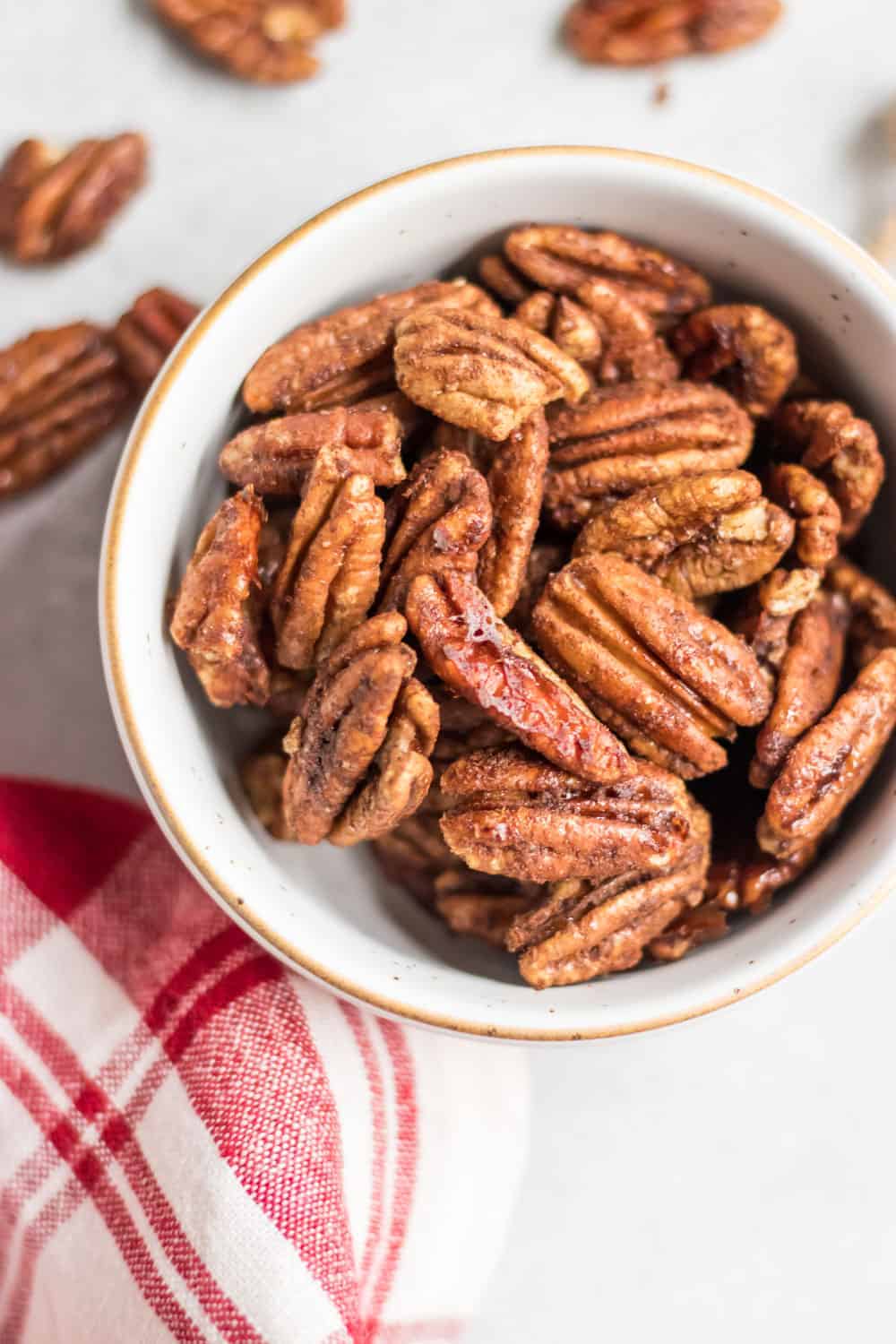 Other Holiday Recipes:
HUNGRY FOR MORE? Subscribe to my newsletter and follow me on Facebook, Instagram and Pinterest for all the latest!
Maple Vanilla Spiced Pecans
Simple roasted and maple sweetened spiced pecans recipe with a dusting of cinnamon and hints of vanilla are the perfect snack, holiday treat, salad topper and more! This easy recipe makes perfect holiday gifts as well!
Print
Pin
Rate
Instructions
Preheat oven to 300° F.

Combine pecans, maple syrup, vanilla and coconut in a small mixing bowl. Stir until all of the pecans are coated.

Add in cinnamon and stir until pecans are evenly coated.

Spread pecans on a baking sheet lined with parchment paper.

Bake for about 25 minutes.

Let cool completely before eating and store in an airtight container.
Notes
This is the base recipe and then you can easily spice things up more by adding:
a pinch of nutmeg
½ teaspoon pumpkin pie spice
1 teaspoon ginger
and more!
Recipe originally posted in February 2015. Post updated in December 2019 to add more detail about the recipe and recipe notes